Plums. Aren't they beautiful? My grandparents always grew their own in their backyard and this time of the year was when we could pick them off the tree, ripe and hot from the sun. I remember how sweet they were, and how the juice would explode in my mouth, dribbling down my chin and staining my clothes. There is nothing like eating perfectly ripe home-grown fruit in season. I wish I could grow fruit trees where I live, but it's just way too hot up here the the north west of Australia for fruit to grow. No matter, I'm still excited to see them at the local supermarket. This is the best time of the year for fruit, so I get a little excited sometimes and buy more than I need. When there's too much fruit in the bowl, I make sure they don't go to waste. This plum cake came about from exactly that, trying to find a way to use up excess plums that were getting a little too squishy to eat.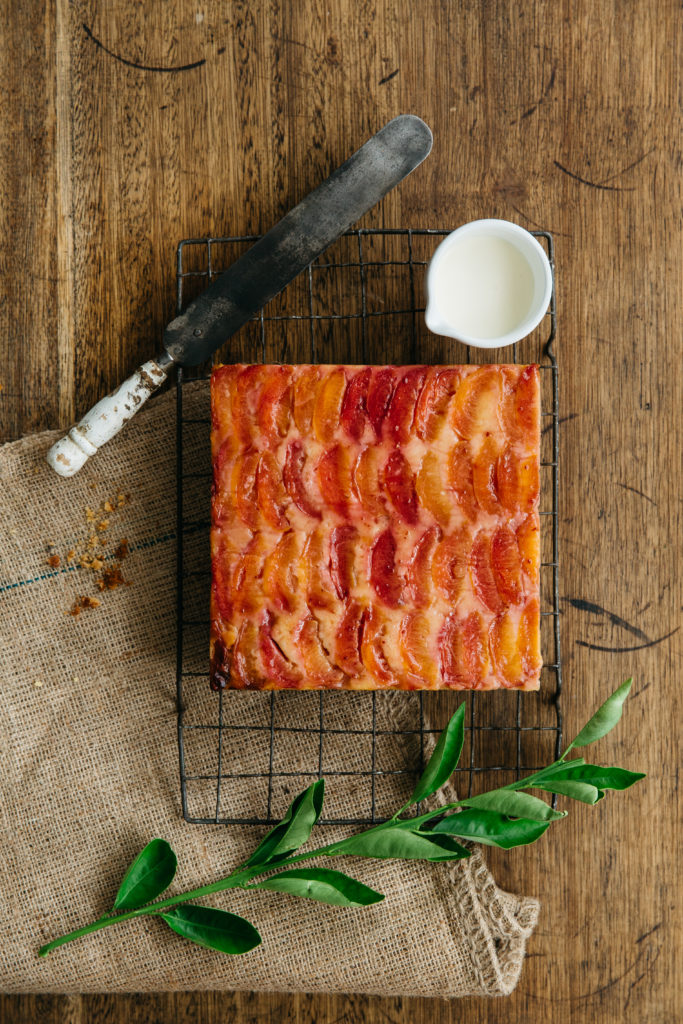 This is a typical fruit cake from Italy, you will often see versions of different cakes like this one, studded with ripe pretty fruit slices, or sometimes halves. It's basically an 'upside down' cake. The fruit is placed in the bottom of the cake tin and the batter is poured over the top and baked. Once cooked, you flip it over to reveal the beautiful ruby red fruit that decorate the top.
This recipe is an excerpt from my first book: Easy Home Cooking Italian Style.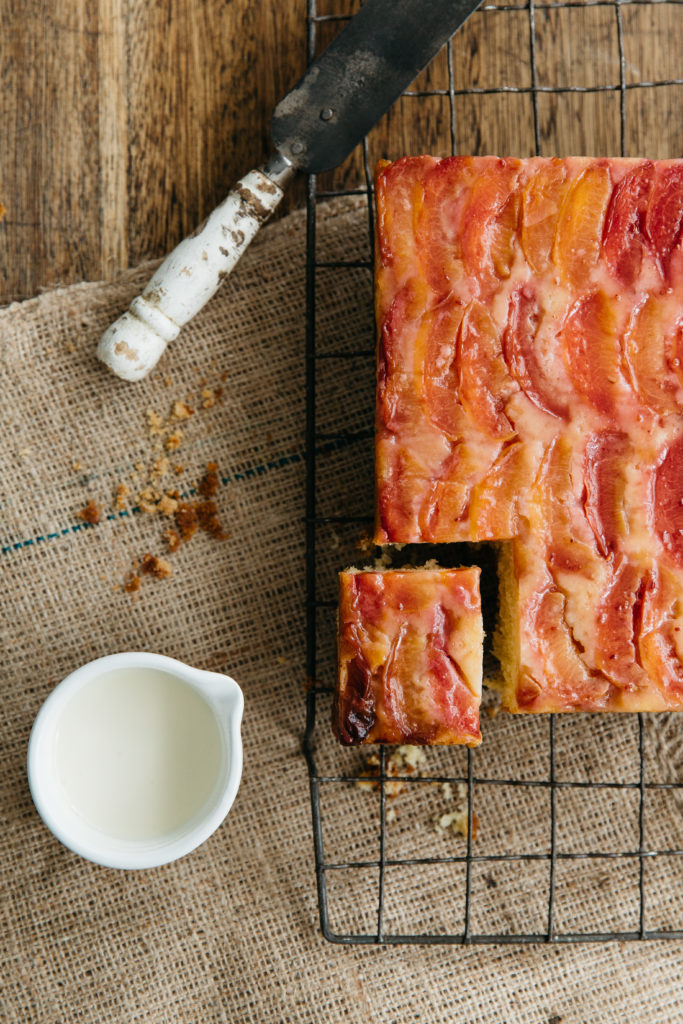 Fresh Plum Cake
3 plums
2 tbsp brown sugar
180g caster sugar
160g butter, room temperature, diced
2 eggs
finely grated rind of 1/2 a lemon
200g self-raising flour
1 tsp baking powder
1/2 cup milk
1 tsp vanilla extract
Preheat your oven to 180 C ( 160 C fan forced).
Grease and line a 20cm round or square cake tin with baking paper.
Cut the plums into slices and discard the seed. Place the slices into a small bowl and sprinkle with the brown sugar. Toss and set aside.
Meanwhile put the butter and caster sugar into a bowl and beat with an electric mixer until light, fluffy, and sugar is dissolved. Test by rubbing a little in-between your fingertips. It should not feel grainy.
Add the eggs, one at a time, beating well in-between additions.
Add the rind, flour, baking powder, milk and vanilla extract and fold everything together with a spatula until the batter is smooth.
Lay the plum slices in a single layer into the base of the prepared cake tin. You can do this any way you like – if using a square tin like I have done here, you might like to line them up. If using a round tin it looks lovely to fan them out, or place in a spiral pattern. There are no rules, it's up to you.
Pour the batter over the top of the plum slices and gently smooth so the top is even.
Bake for 50 – 55 minutes, or until a skewer inserted into the centre comes out clean.
Remove from the oven and allow to stand for 10 minutes before flipping over onto a wire rack.
This cake can be eaten warm or cold. I love it with a little vanilla ice-cream or a drizzle of cream.
Feeds  8 – 10