I love the lead up to Christmas. All that food to plan and eat! Growing up, I remember my Nonna's amazing homemade fruit mince. She would use it to make all sorts of delicious Christmas treats. Making your own fruit mince isn't difficult, but it does need planning. It needs to be done far enough in advance for all the fruit to soak up the liquid. The longer it sits, the better it tastes. Nonna would even make her own citrus peel, everything she made was organic and from scratch.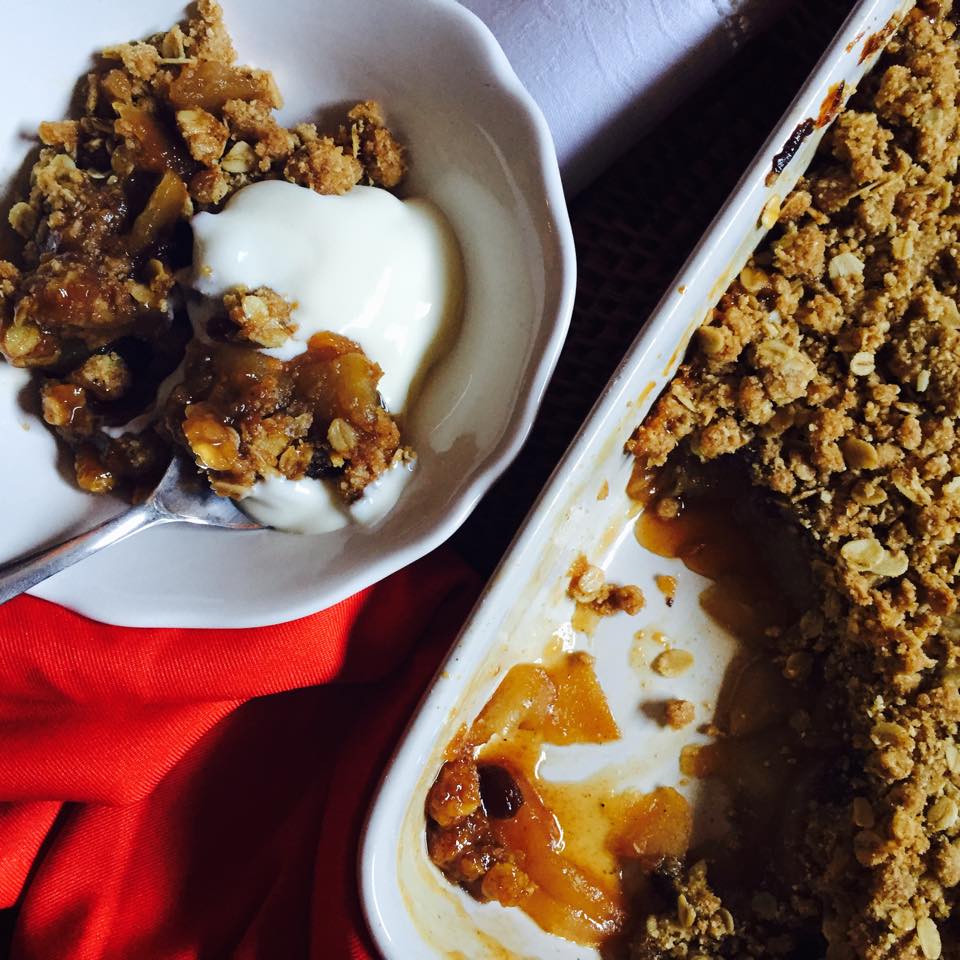 There are times, however when you crave that sweet fruit mince flavour, and you haven't got a batch of home made stuff in the fridge. Thankfully you can buy fruit mince in jars from the supermarket. There are different qualities, of course, but they will never taste as good as homemade. Nevertheless they have their place, and are a great standby. Where I live, you can only buy fruit mince from October through to December, so I always make sure I grab a jar to keep in my pantry. A little fruit mince can pack a whole lot of Christmas flavour when mixed with other ingredients. Think Christmas ice cream; mix store bought vanilla ice cream with a jar of fruit mince and re-freeze. Delicious with a serve of custard on the side.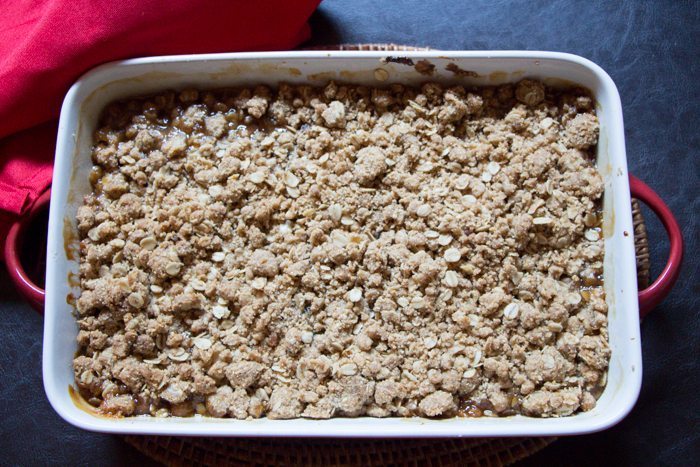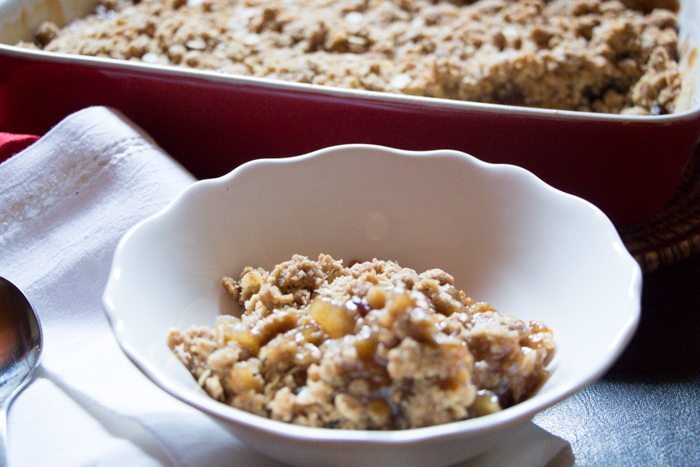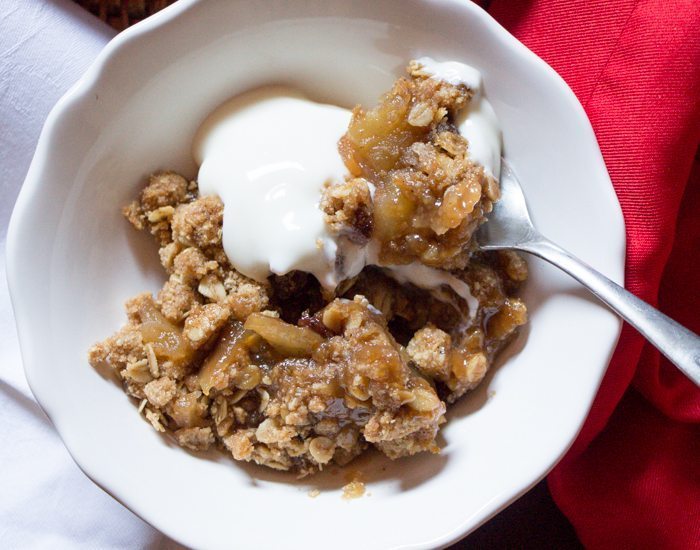 I like this recipe, which turns an apple crumble into something very special. The fruit mince makes this taste almost strudel-like, and the crunchy crumble topping is rich with brown sugar and almond flour. This is an easy dessert that is just as good hot or cold, although I like it warm with lashings of cream.  It's a rich dessert for our hot Christmas, but comforting and perfect just the same. You don't need to wait for Christmas to eat this, just keep a jar of fruit mince in your pantry and you can have this dessert on the table any time of the year.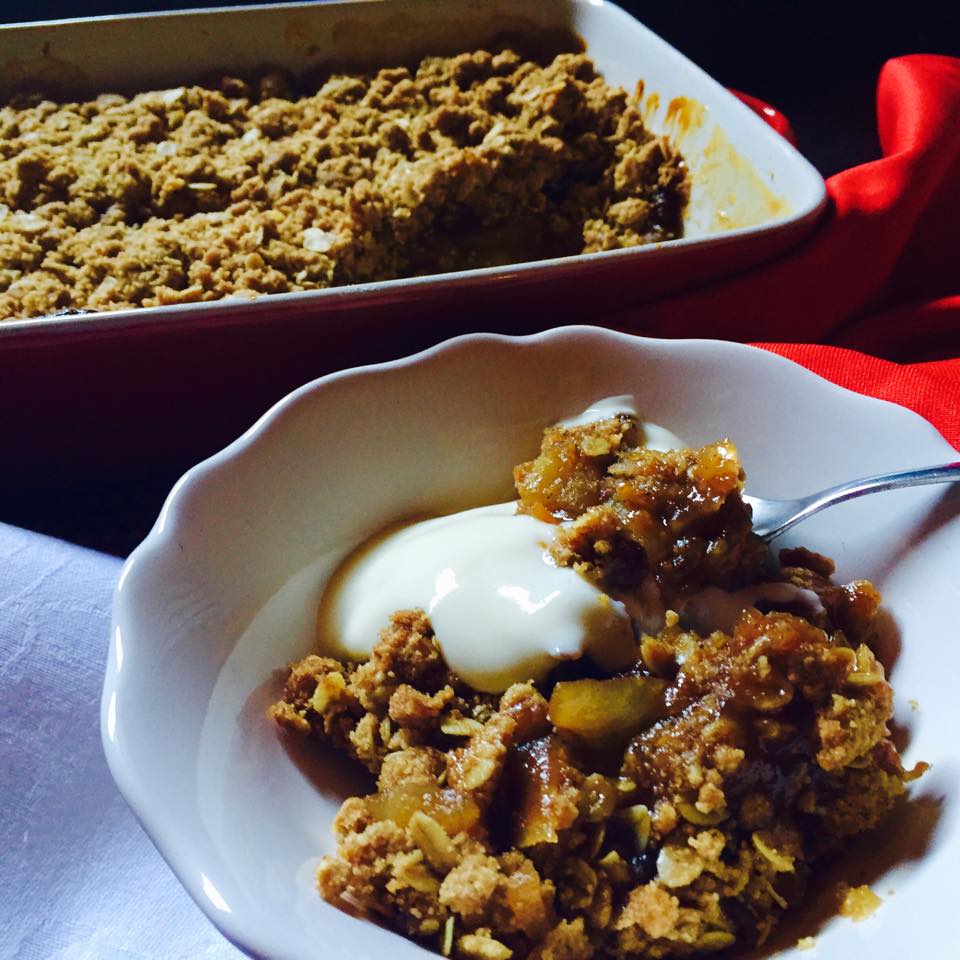 Best of all, it keeps well in the fridge for a couple of days, so you can make it ahead.
Enjoy x
Apple and Fruit Mince Crumble
Author:
An easy crumble with plenty of flavour from the rich fruit mince.
Ingredients
5 Granny Smith apples, peeled, cored and sliced
3 tblspns sugar
1 410gm jar fruit mince (about 2 cups)
¾ cup plain flour
¾ cup almond meal
1 cup brown sugar
1 cup rolled oats
1 tspn ground cinnamon
½ tspn ground cloves
125gm butter, melted
Instructions
Preheat oven to 180 degrees.
Butter a large oven proof baking dish and add apples in an even layer. Sprinkle evenly with sugar. Dollop evenly with fruit mince.
Place the flour, almond meal, sugar, oats, spices and butter in a bowl and mix to combine. Spread this mixture over the top of the fruit mince layer.
Cook for 30 – 40 minutes or until browned. Serve hot or cold.