The days are longer and warmer now, and the garden struggles to survive.  The fragile leaves of the herbs in my little patch simply wilt and I can almost hear them gasping for air. The intensity of the sun bares down with ferocity and we retreat inside, thankful for the air conditioner which provides a cool refuge. With scorching temperatures over 45 degrees, December in the north west of Australia can be a challenge. But with the heat comes the realisation we are almost at the end of the year. School is almost over and even though we may be sweltering, the whiff of Christmas in the air brings feelings of joyous anticipation.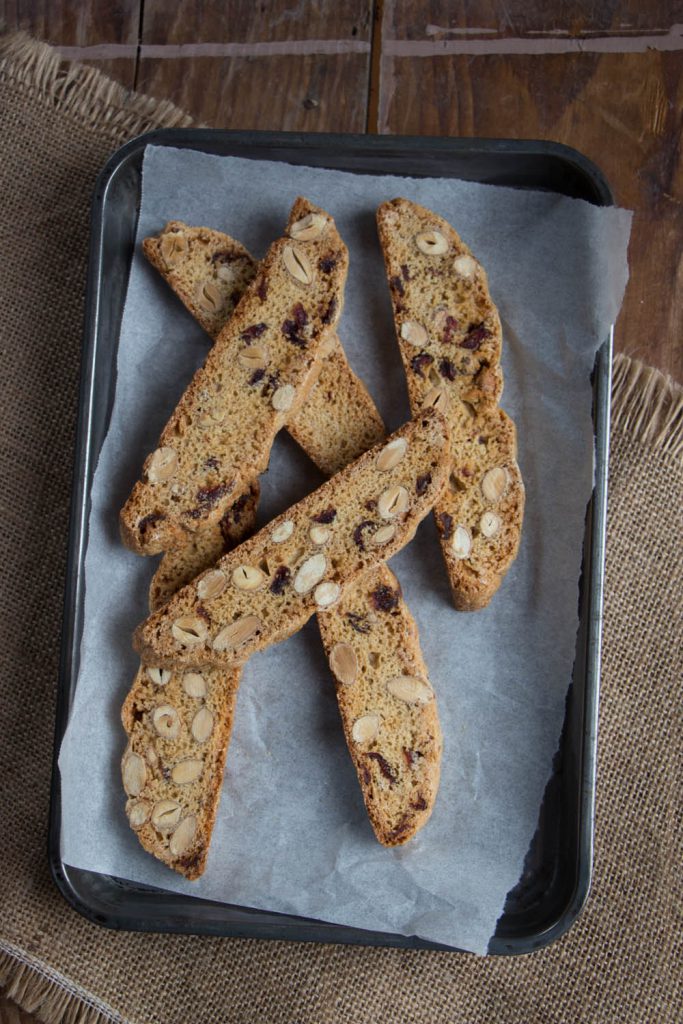 I remember those hot balmy December days as a child. We didn't have air conditioners back then so we sat outside a lot, eating simple food like wedges of sweet watermelon and fresh sliced cucumber from the garden trying to catch a cool afternoon breeze. December was the best month of the year. You could feel the Christmas spirit rolling in like thunder. I remember feeling excited about the end of the school year, feeling 'grown up' about entering the next year in a higher grade. The last few weeks of school were mostly fun, with no homework. Reports had been written so the teachers were happy with us playing games and watching movies.  The weekends were filled with pre-Christmas visits from friends and family accompanied with plenty of food and laughter.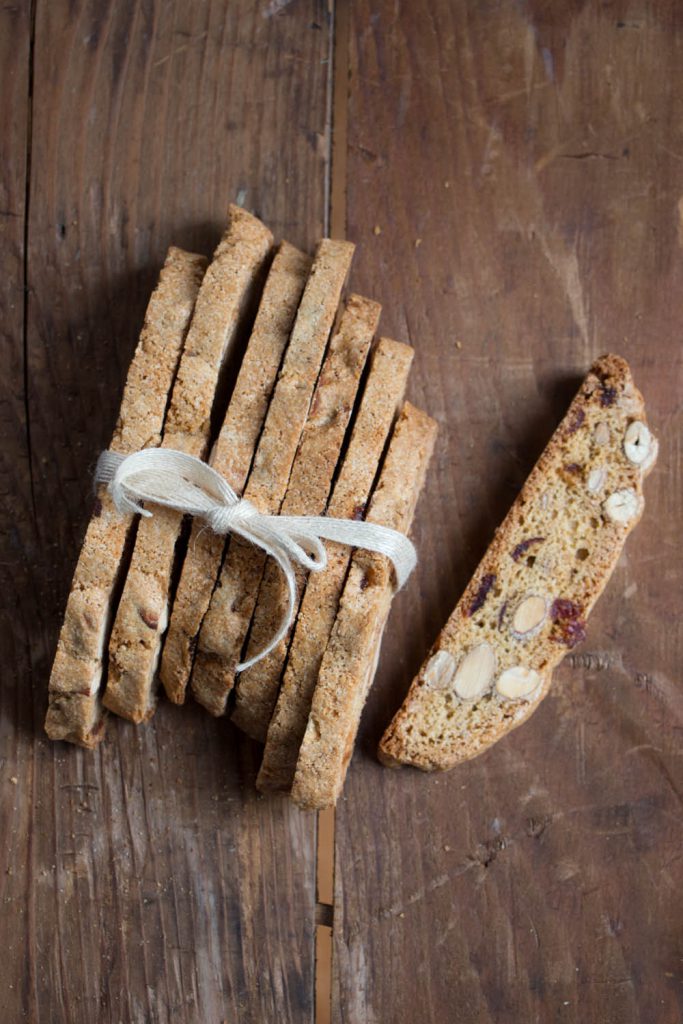 December was always busy in the kitchen, most days Mum baked sweet things to offer guests who dropped by, and to take as gifts when we visited all the Zias and Zios (Uncles and Aunts), Comare and Compares (a respectful way of saying 'friend') and family who we needed to see before the big day. Everything was made in bulk. Our pantry was full of Tupperware containers brimming with biscuits that seemed to last forever. Especially the biscotti, which we were still eating all through the following next year.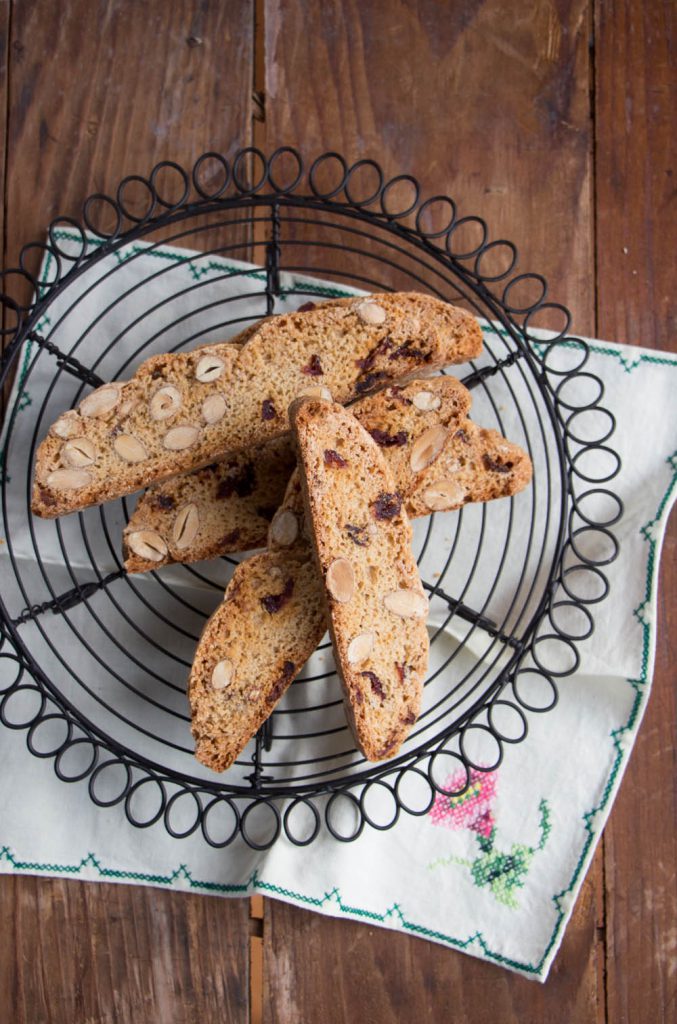 Biscotti originated in ancient Rome where they were cooked twice ( bis meaning twice and cotta meaning cooked) to achieve a hard, dry biscuit with a long shelf life. This made them convenient food for travellers. Apparently, Christopher Columbus himself took them on his long sea voyages. Gaius Plinius Secondus (23AD), a writer from those times famously wrote "they would be edible for centuries".  I have to agree, I've never eaten a stale biscotti in my life.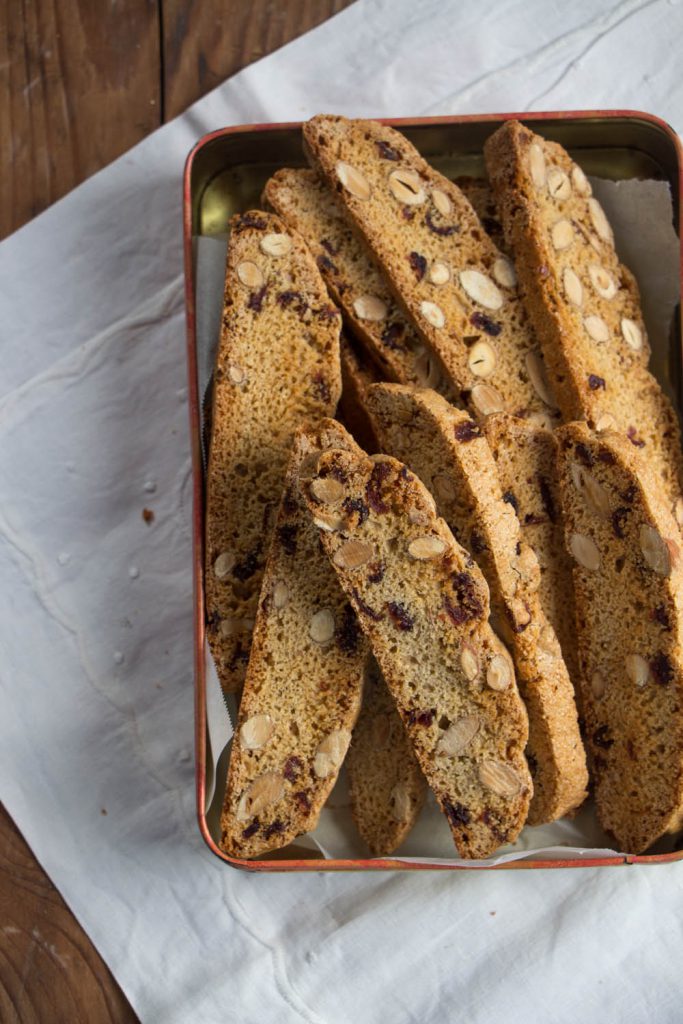 The Tuscans took the biscotti as their own during the Renaissance and renamed them Cantucci. Usually made just with almonds, they are slightly shorter and fatter and commonly used to dunk into sweet wine, Vin Santo, at the end of a meal.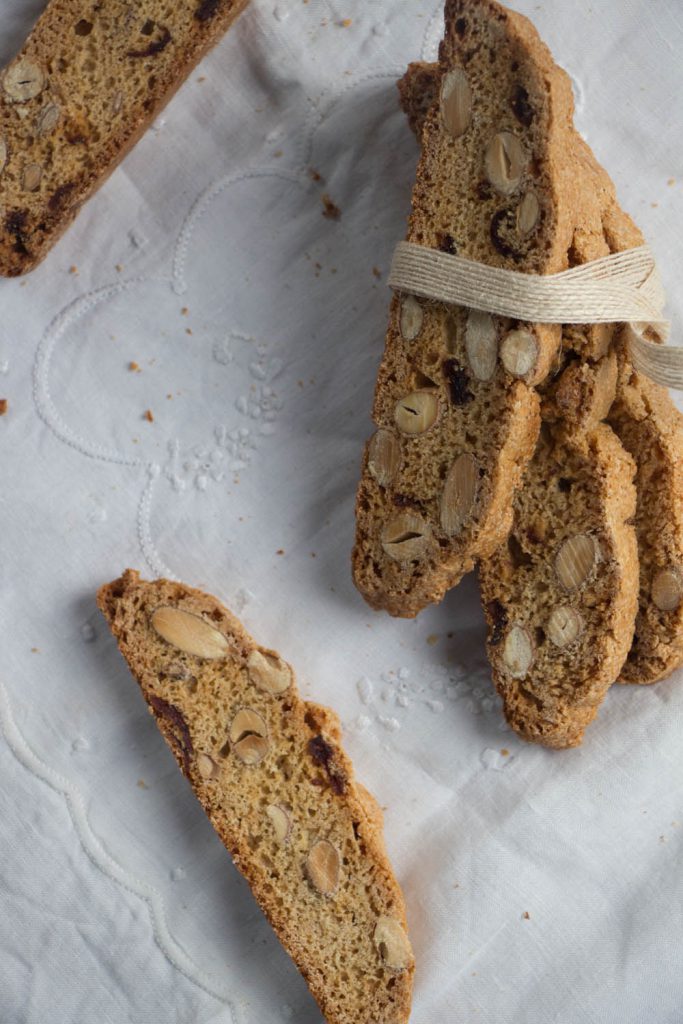 Biscotti are made and enjoyed all through the year, but for me they symbolise Christmas. Being the first day of December I felt a strong compulsion to start making biscuits, and these came straight to mind.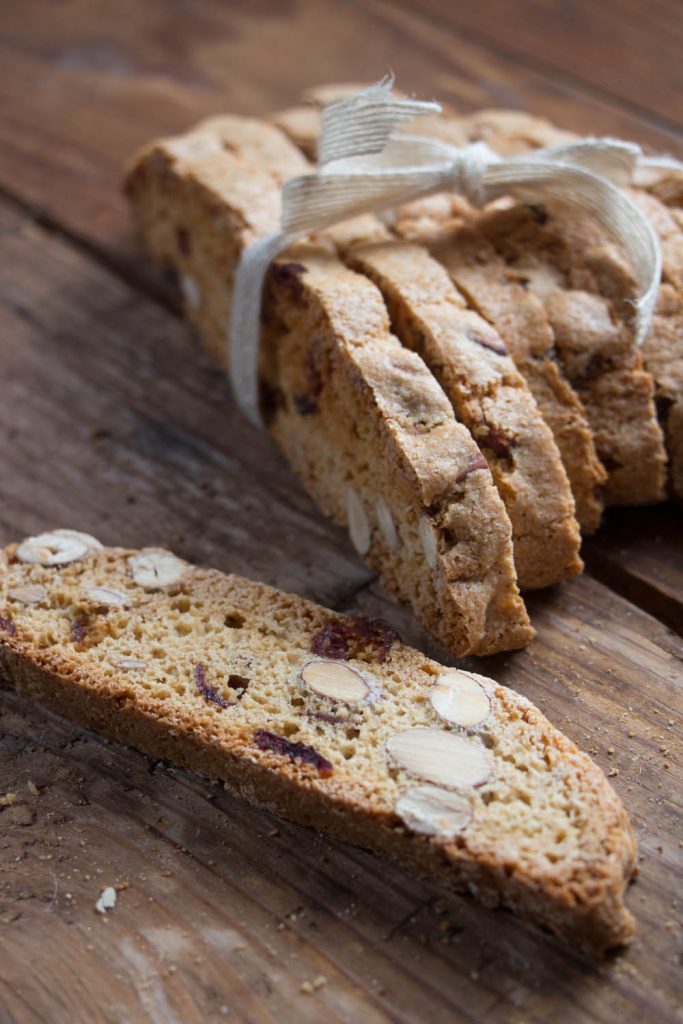 These are really simple to make. The ingredients mix together in minutes, then formed into a log shape and baked until golden. This is the 'first' cook. One cool, they are sliced on the diagonal and returned to the oven for another 10 minutes. This is the second 'cook' and ensures a nice crisp dry biscotti.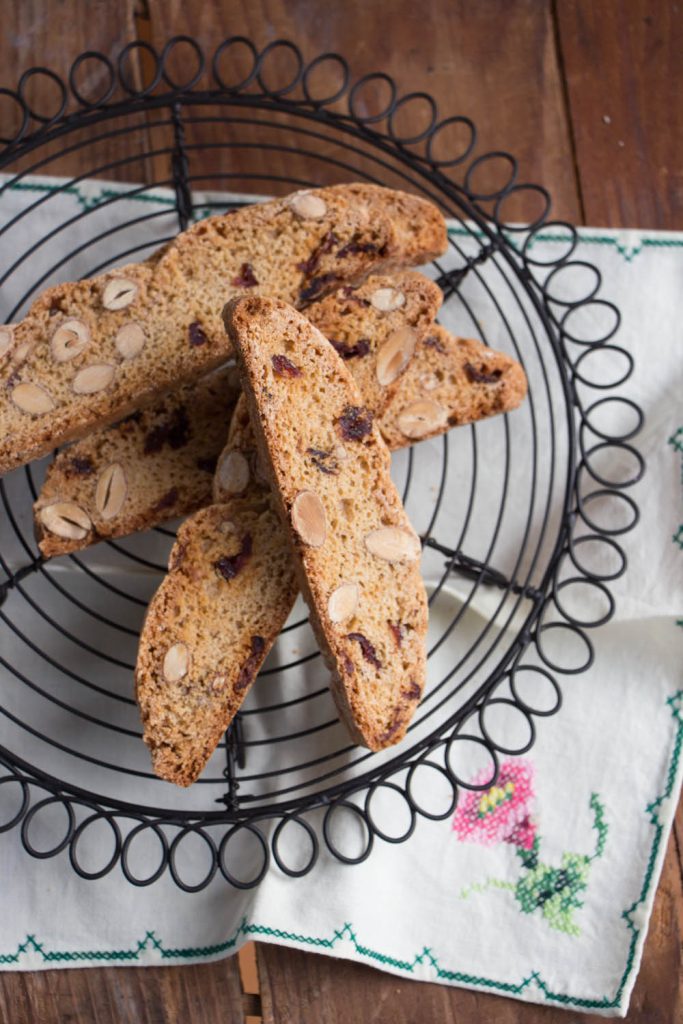 I love using the traditional almonds here, but any nut can be used. My addition of dried cranberries not only adds a little festive colour, but I love it's sweet/sour tang. You can leave them out, or replace with another dried fruit or even chopped chocolate if you like. Sometimes I add some grated lemon or orange zest for a citrus kick. That is what I love about these biscuits, the recipe is a blue-print for many variations. And seeing as they last for so long, it's worth making a few batches and storing them away for when visitors drop in, or just keep them in the pantry so you've always got something good to go with your morning coffee.
Almond and Cranberry Biscotti
2 cups plain flour
2 tsp baking powder
1 cup caster sugar
1 tsp ground cinnamon
½ tsp ground nutmeg
3 eggs
½ tsp vanilla extract
¾ cup almond kernels
¾ cup dried cranberries
Preheat the oven to 180 degrees Celsius. Line a large oven tray with baking paper.
Put the flour, baking powder, sugar, cinnamon and nutmeg into a large bowl and mix to combine.
Make a well in the centre and add the eggs and vanilla.  Mix with a wooden spoon until a shaggy dough forms.
Add the almonds and cranberries and mix well so that everything is evenly combined.
Scoop out onto the line baking tray and form a log, roughly 30 cm x 10cm (don't get too precise here).  If you find the dough too sticky, wet your hands slightly to smooth into an even shape.
Bake for 30 minutes, or until golden.  Remove and set aside to cool.
Reduce the oven to 150 degrees Celsius.
Use a serrated knife to cut the cooled biscotti log on the diagonal into roughly ½ cm slices.  Lay cut side up onto the baking tray (you may need to use two baking trays here) and return to the oven for 10 minutes, or until dry and crisp.
Set aside to cool, then store in sealed containers.
Makes 24 – 26