Oh my God I love pomegranate – it takes me back to my childhood and I can still remember painstakingly removing the seeds of the pomegranate from my Nonna's garden to be rewarded by their tart, yet sweet juicy flesh. Pomegranate are not easy to eat, but so worth the effort. They lend a citrusy sweetness that is difficult to substitute.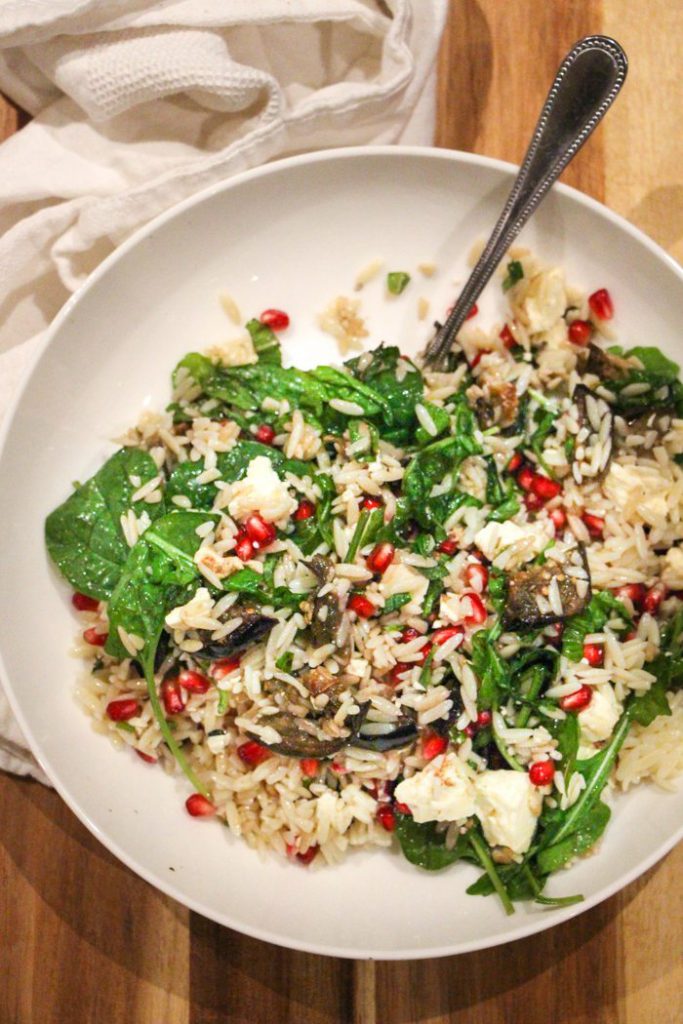 Pomegranates make a great addition to salads.  I like using Risoni ( the small rice-shape pasta often used in soups) for this pasta salad because you get a mouthful of everything (not just pasta – which is often the case with pasta salads when you use bigger varieties) in every bite. The smoky, meaty eggplant is perfect with the tart pomegranate jewels that burst in your mouth.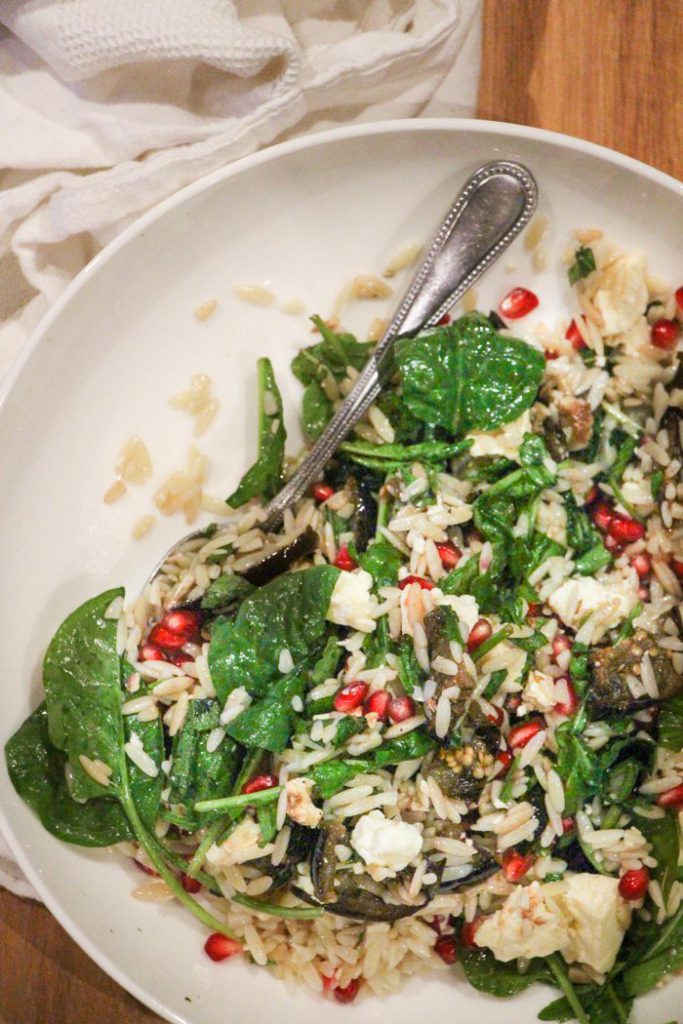 This is not the time to cook the pasta until it's al dente, you need to cook the Risoni so that it is soft. Make sure you rinse your pasta after cooking to remove all the starch to prevent it from all sticking together like glue as it cools. This is the ONLY time you ever rinse the starch out of pasta after cooking, when making salads.
I've added some feta to this pasta, but goats cheese or ricotta would work too. This salad keeps well, so pack some up for lunch the next day.
Risoni with Eggplant and Pomegranate
Author:
Prep time:
Cook time:
Total time:
Pomegranate give bursts of flavour to any salad, paired with smoky eggplant and creamy feta this is a really delicious side to roast lamb or chicken.
Ingredients
200g Risoni pasta
Salt
1 Mediterranean eggplant
1/3 cup olive oil
1 pomegranate
½ cup fresh mint, chopped
1 cup baby spinach leaves
2 tblsp white wine vinegar
1 tblsp balsamic vinegar
½ tsp sugar
freshly cracked black pepper
150g Feta, crumbled
Instructions
Cook Risoni in boiling salted water as per packet directions. Drain, tip into a bowl and drizzle with 2 tblsp of olive oil and toss to combine. Set aside.
Preheat oven to 180 degrees Celsius. Line an oven tray with baking paper. Cut eggplant in half, then in quarters. Cut ½ cm slices and arrange on oven tray in a single layer. Sprinkle with a little salt and 2 tblsp olive oil and toss to combine. Cook for 20 minutes, turning once, or until tender. Remove and set aside.
Cut the pomegranate in half and remove the seeds by whacking on the base with a wooden spoon, or by tearing the segments apart and releasing the seeds.
Place the Risoni, cooked eggplant, pomegranate seeds, spinach leaves and mint in a large bowl and toss to combine. Add the remaining olive oil, vinegars, sugar, season with salt and black pepper and toss to combine. Crumble the feta over and toss gently again.
Serve at room temperature alongside chicken, lamb or beef.