Ricciarelli are addictive. Seriously. I can say this confidently. Take one bite and you will understand. Sweet, tender, with a hint of orange, these biscuits have an almost chewy texture and just melt in your mouth. I can't stop eating them. But that's ok. There are worse addictions, and if Ricciarelli is mine then so be it.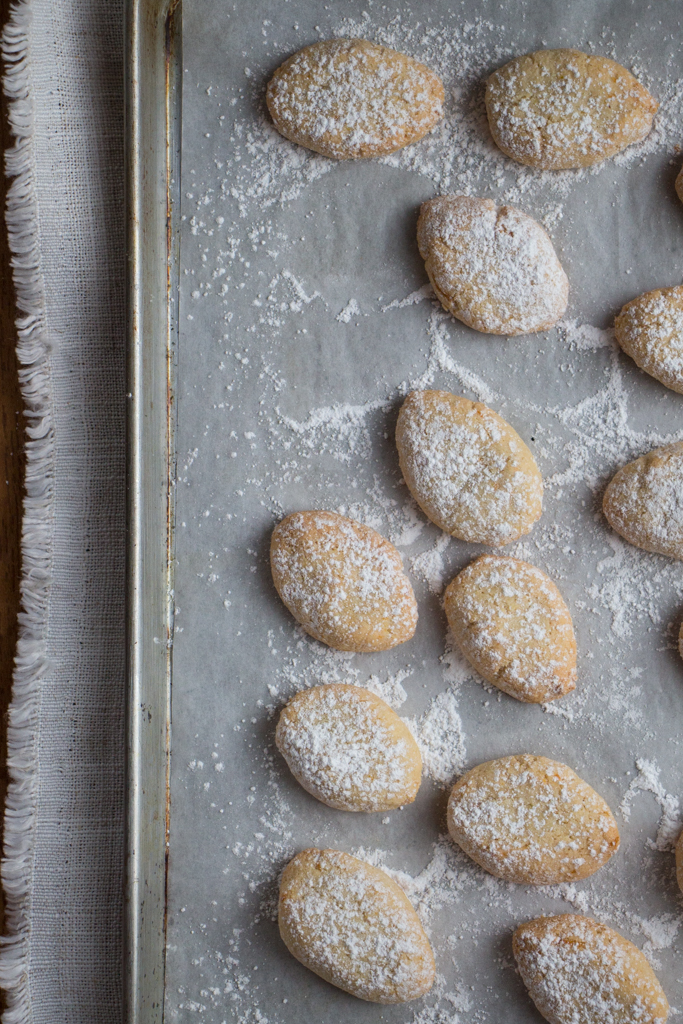 Ricciarelli are traditional Italian biscuits hailing from the Tuscan city of Siena.  Legend says it was king Ricciardetto della Gherardesca who introduced them in the 14th century on his return from crusades in the Middle East. He named them after the shape of the Turkish sultan's pointed curly slippers ('arricciati' means 'curled' in Italian).  They have been popular all over Italy ever since.
Originally made with almond paste (marzipan), they are sometimes called Marzapanetti.  There are many different versions, some contain honey instead of sugar, or lemon zest in place of orange. Hazelnuts or pine-nuts are sometimes used instead of almonds. Some recipes call for sweet or bitter almonds, and instructions on how to roast them and grind them to make an almond paste. Personally, I like to take any shortcuts I can, so I just use almond meal.
My recipe is based one from Pellegrino Artusi's book, Science in the Kitchen and the Art of Eating Well (1891). Known as one of the most significant Italian cookbooks of all time, I find myself referring to it often. Artusi's method includes blanching almonds, then drying them in the sun or over a fire before crushing with a mortar and pestle. I have simplified it by using regular almond meal easily found in the supermarket.
This recipe takes no longer than 5 minutes to make and shape the dough, then another 20 – 25 minutes to cook. The biscuits will keep well, at least a couple of weeks, in a sealed container. But honestly, if you have any left after a day or two I would be surprised! They are so good!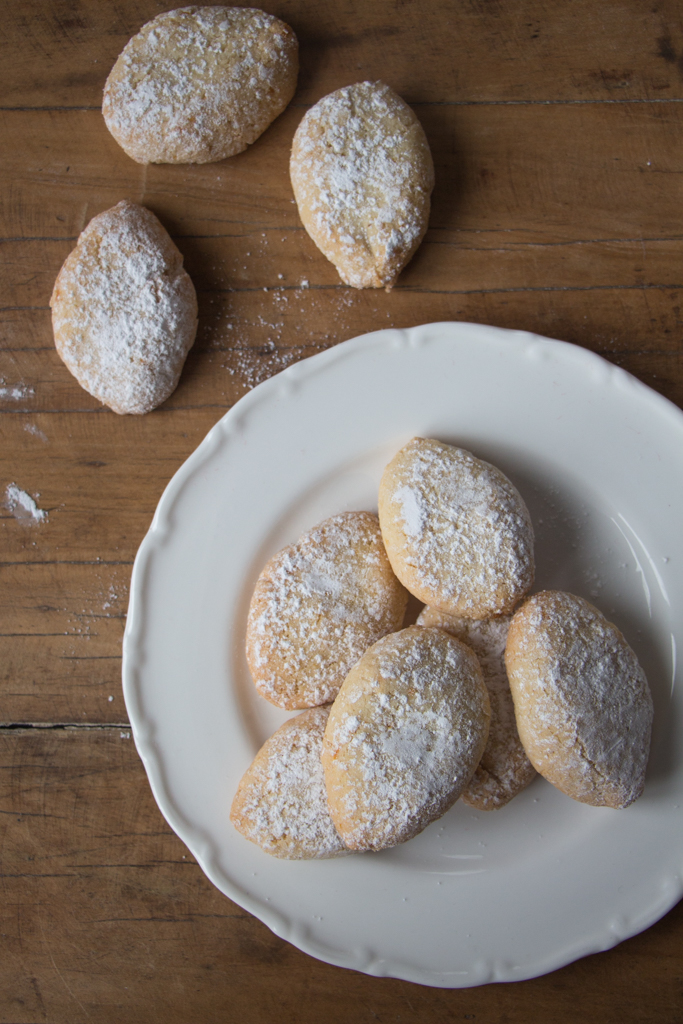 Ricciarelli
2 egg whites
220g caster sugar
220g almond meal
finely grated rind of 1 orange
plain flour, for rolling
icing sugar, for dusting
Preheat your oven to 160 C (140 C fan forced). Line a large oven tray with baking paper.
Put the egg whites into a small bowl and whisk until frothy.
Put the sugar, almond meal and orange rind into a large bowl and mix to combine.
Add the whisked egg whites and mix until a dough forms. I find using my hands to be the best way to do this. Squish it all together.
Sprinkle a little flour onto your bench, this helps to roll the dough. Don't use too much, just a scant sprinkling – say 1/2 – 1 tsp is enough. Divide the dough into three portions and roll each into a fat log, around 3cm thick. Cut into lengths of around 5cm, then mould into an oval shape and flatten slightly. Lay onto the prepared oven tray allowing a little room in-between each one.
Bake for 20 – 25 minutes, or until firm and just starting to colour.
Allow to cool before dusting liberally with icing sugar.
Makes 20