When life is frantic, and everyone in the family has a million things on, and if you're a parent you've got all the running around after the kids to do as well as all your own jobs, most likely the last thing you feel like doing is cooking dinner.  I get it, believe me, as much as  food is such a big part of my life, my work and the thing I love to do, at the end of a busy day, or many busy days, the whole exercise of shopping for and cooking dinner for everyone when all I feel like doing is collapsing in a chair with a glass of wine can be overwhelming.  That's why it's so important to have some essentials in your pantry at all times that can be turned into an easy meal in minutes without needing to make a trip to the shops.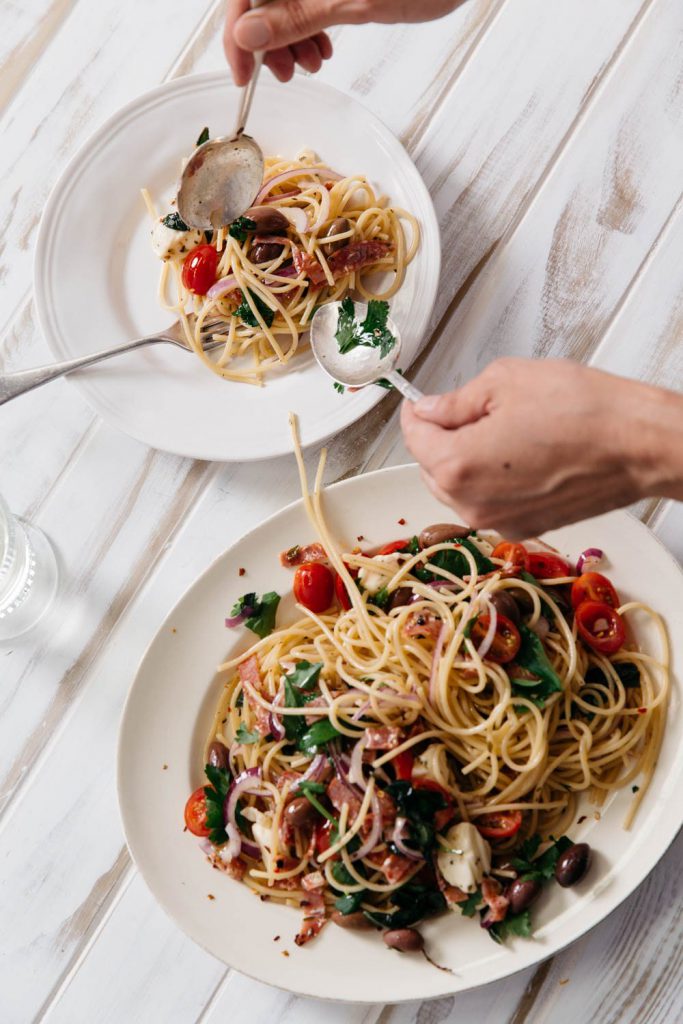 I always keep jars of antipasti in the pantry. Not only are they great for when people pop over and you want to have a few nibbles with drinks, they can form the basis of so many meals. I'm talking about jars of marinated grilled capsicums, artichokes, olives, eggplant, capers, sundried tomatoes and the like. You can add them to ready made pizza bases for a cheats pizza, fill focaccia, add some cheese and toast in a sandwich press for an authentic Italian panini (we have these all the time on the weekends), or toss through pasta like in this recipe for Spaghetti Pizzaiola.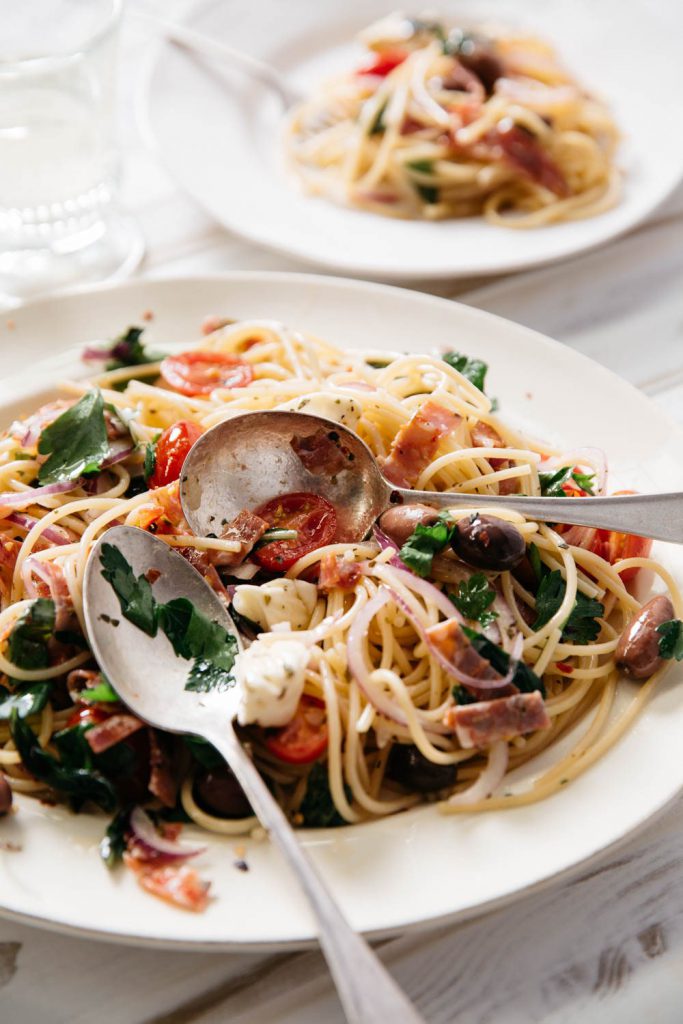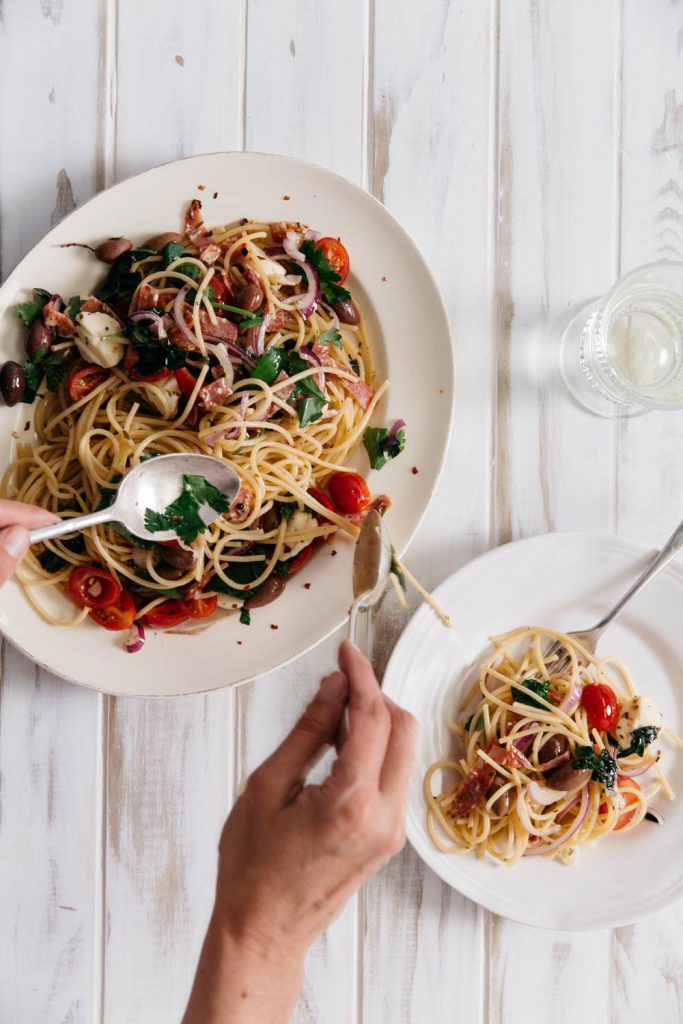 Pizzaiola literally means in the style of pizza. This pasta dish resembles the flavours you get on a pizza using some jarred goodies. I've only added olives to this recipe, but feel free to add other marinated vegetables like capsicum and artichoke if you like. This recipe also includes pepperoni, which makes it more 'pizza-like' in flavour. I always keep some in the fridge, but you can omit if you want to go meat-free, or substitute with cooked chicken, chorizo or ham.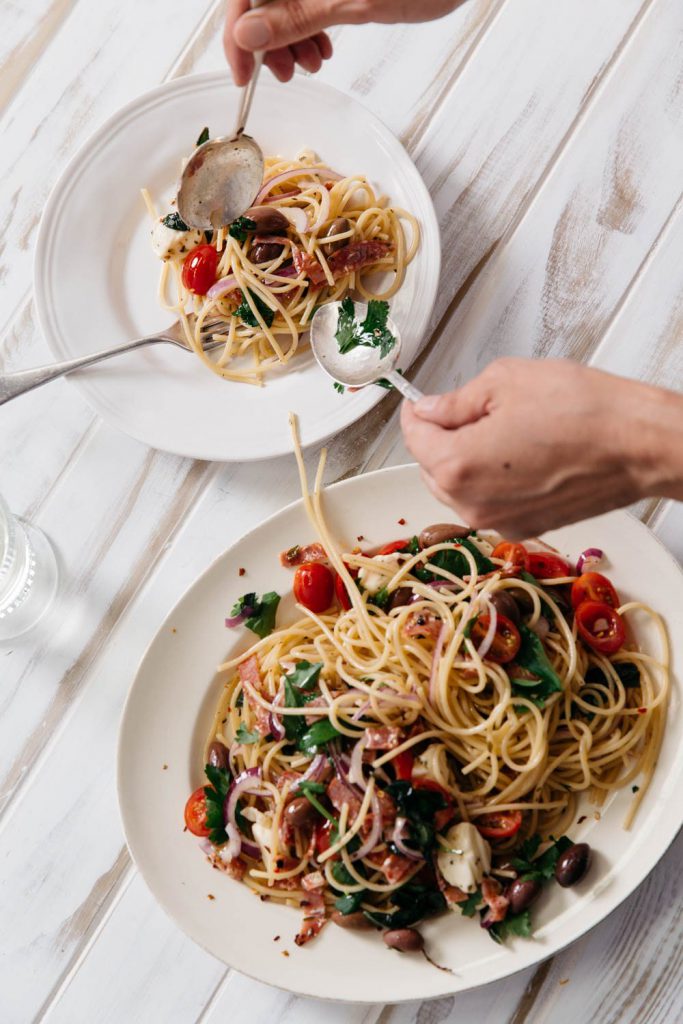 The best thing about this dish is there is no need to cook the sauce. You just chop everything up and toss it into a bowl, then you cook the pasta, add to the 'sauce', mix together and voila dinner is on the table in as long as it takes for your pasta to cook.  The flavours improve if you have time to let the sauce ingredients sit for 30 minutes before you mix with the cooked pasta, but it's not essential. Better than any takeaway, and hardly any cleaning up to do either, which is just what you want when you're exhausted at the end of the day.  You can make this dish your own by adding whatever you've got on hand so just use this recipe as a guide. Add chilli if you like it hot, crumble over some feta if you prefer it to parmesan. The canvas is yours.
Spaghetti Pizzaiola
Author:
Prep time:
Cook time:
Total time:
A simple and delicious family meal that's on the table in minutes with barely any cooking involved.
Ingredients
500 g baby Roma or cherry tomatoes OR
5 large ripe tomatoes
small handful of fresh basil leaves, torn
1 tbsp dried oregano
2 garlic cloves, peeled, finely sliced
1⁄4 red onion, finely diced
80 g pitted Kalamata olives
80 g Pepperoni, cut into small thin pieces
200 g fresh mozzarella, cut into small pieces
5 tbsp olive oil
salt
freshly ground black pepper
chili flakes (optional)
parmesan cheese, grated (optional)
Instructions
If using baby Roma or cherry tomatoes, chop in half. If using standard tomatoes, chop into bite-size pieces. Combine in a large bowl with the basil, oregano, red onion, garlic, olives, pepperoni, mozzarella and 3 tablespoons of the olive oil. Season well with salt and pepper. Set aside for 30 minutes if you have time to allow the flavours to develop.
Meanwhile, cook the spaghetti in a pot of boiling salted water until al dente. Drain, reserving a little of the pasta cooking water.
Return the spaghetti to the empty pot and tip in the tomato mixture and the remaining olive oil and toss to combine. Add a few splashes of cooking water if necessary to loosen the sauce.
Serve with chilli and grated parmesan if desired.