This has got to be one of my ultimate favourite creations.  I love cannoli (who doesn't?) and I love a good chocolate cake, especially covered in rich chocolate ganache. So I thought up a way of combining the two and here it is.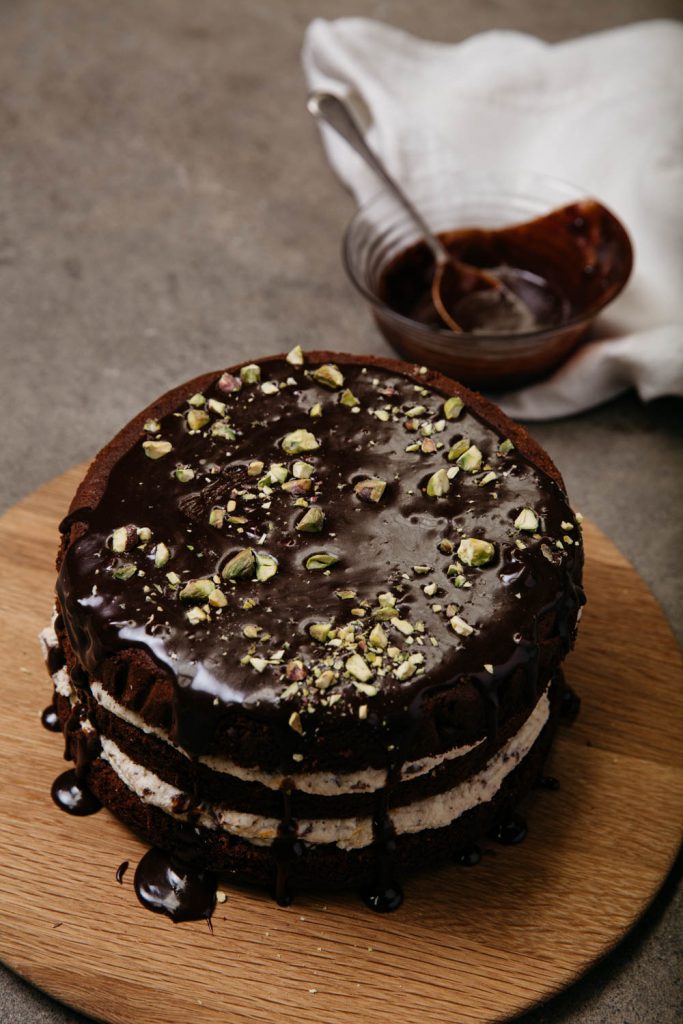 The cake itself contains ground pistachios, making it rich and dense (just like a cake containing almond meal). It's easy to make, just throw some pistachios into your food processor. The ricotta and mascarpone  filling is similar to the  filling I use in my traditional cannoli. Just like the Sicilian version,  it's laced with citrus, Marsala and chocolate.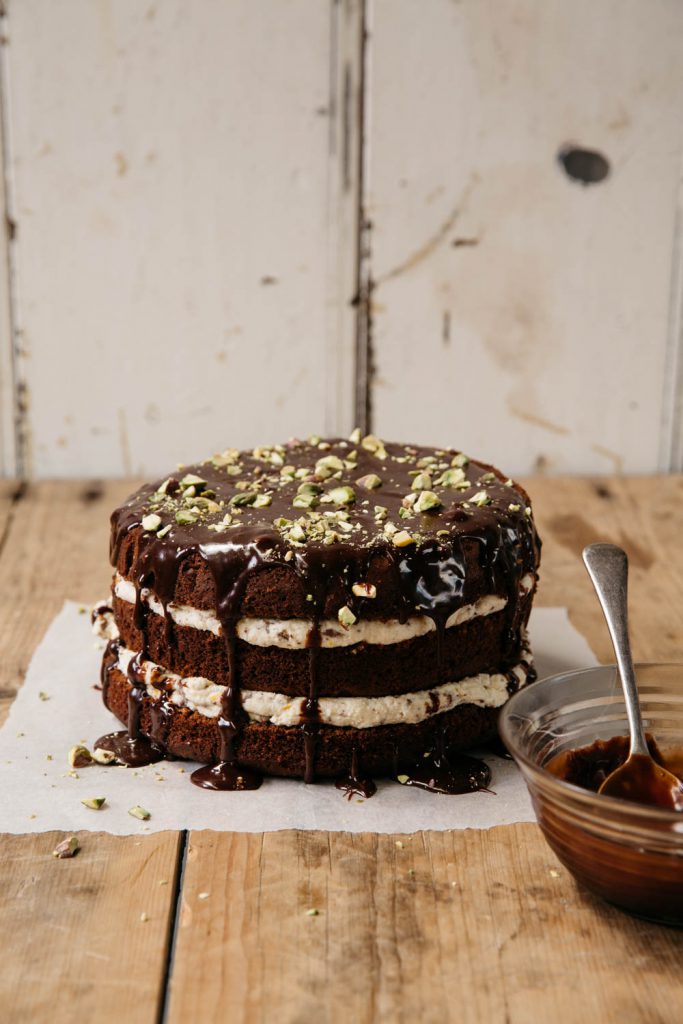 I love making cannoli, but they do need a little patience and time. That's why this cake is so good, all the flavour without the fuss. It looks really impressive too so it's great to bring out for a special celebration.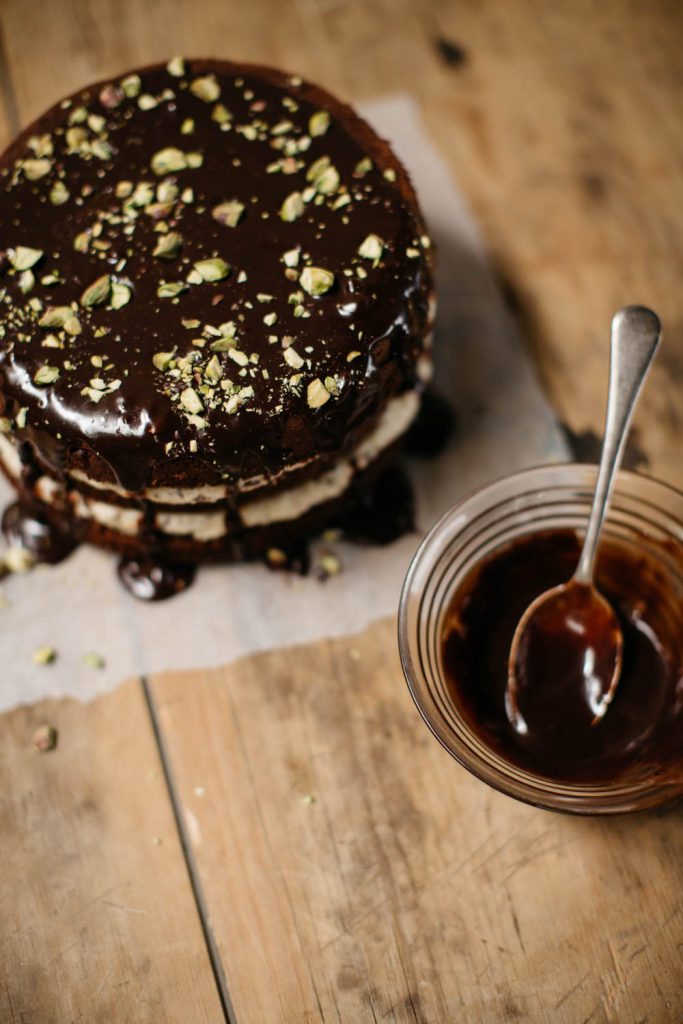 The silky chocolate ganache is literally 'the icing on the cake' and completes this decadent show stopper.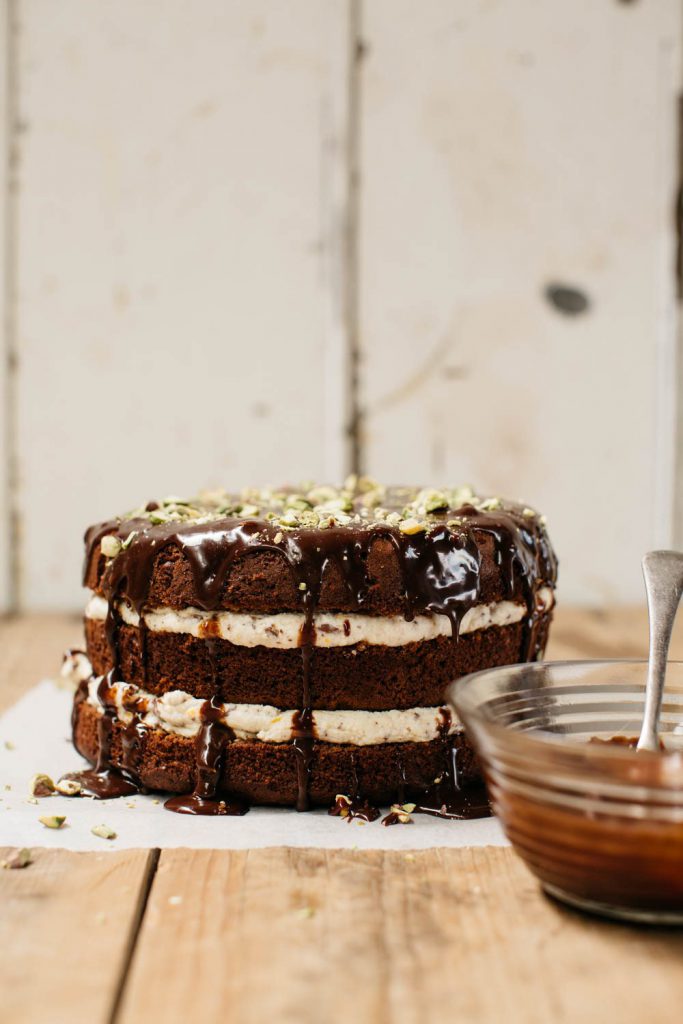 This recipe is from my new book Food for Sharing Italian Style. Make it for someone you love.
Chocolate Pistachio Cannoli Cake
Author:
Prep time:
Cook time:
Total time:
All the flavours of a traditional Italian cannoli in a gooey chocolate cake.
Ingredients
200 g dark chocolate, finely chopped
2 tbsp ground coffee
500 ml water
250 g unsalted butter, softened
360 g brown sugar
6 eggs
450 g self raising flour
100 g ground pistachios
65 g cocoa powder
60 g pistachios, roughly chopped, extra
GANACHE
150 g dark chocolate chopped
160 ml cream
CANNOLI CREAM FILLING
375 g ricotta
375 g mascarpone
85 g icing sugar, sifted
zest of 1 lemon
zest of 2 oranges
250 g dark chocolate, finely chopped
2 tsp vanilla extract
2 tbsp Marsala
Instructions
Preheat your oven to 160°C. Grease and line three 20 cm round cake tins.
Put the chocolate, coffee and water into a small saucepan. Heat, while stirring, until the chocolate is melted. Set aside to cool.
Beat the butter and sugar with an electric mixer until light and creamy. Add eggs, one at a time, incorporating each egg before you add the next. Add the flour, ground pistachios, cocoa powder and cooled chocolate mixture and fold in with a spatula until combined.
Pour equal amounts into the prepared cake tins. Cook for 45 minutes, or until cooked through.
Allow to cool in the tins for 10 minutes before turning out on a wire rack to cool completely.
Spread half the cannoli cream filling onto one of the cakes. Top with another cake, then spread with the remaining filling. Place the third layer on top, cover with ganache and sprinkle with pistachios.
GANACHE
Place the chopped chocolate into a heat proof bowl. Put the cream into a small saucepan and heat until almost boiling. Immediately pour over the chocolate and let it sit for a minute. Stir until smooth and refrigerate until it is a spreadable consistency.
CANNOLI CREAM FILLING
Mix the ricotta and mascarpone together. Add the icing sugar, zest, chocolate, vanilla and Marsala and mix well. Cover and refrigerate until you're ready to fill the cooled cake.