I have a family of pea haters. It all started with my husband, he claims it to be one of the foods he dislikes from his childhood (mashed potatoes is the other). I'm sure the gene was passed down to my children because as hard as I've tried they won't touch peas. I, on the other hand, love peas. It brings back memories of my Dad's little vegetable patch down the side of our house. I would pick as many peas as I could find, then sit down and pod and eat them all at once. I can still taste the sweetness from those fresh garden peas.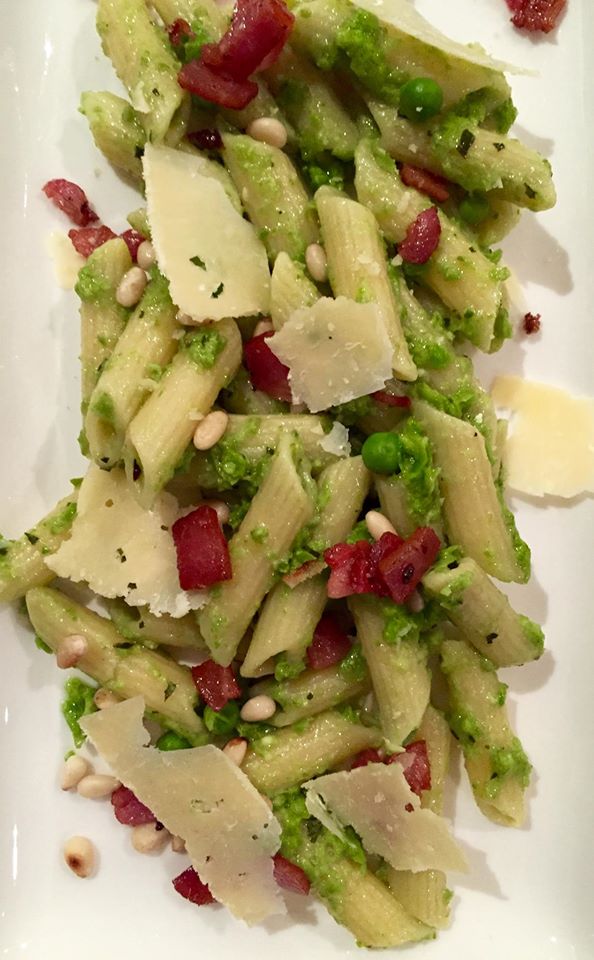 Always on the lookout to get my family enjoying vegetables, I decided to turn some peas into a beautiful pea pesto, packed with the flavour of basil and parmesan, it's a perfectly fresh way to bring some green goodness into a family meal. Teamed with crispy bacon (because let's face it, bacon makes everything taste better) and a scattering of pinenuts, this pasta dish is really delicious. Fingers crossed my kids will lose their father's pea paranoia with this one…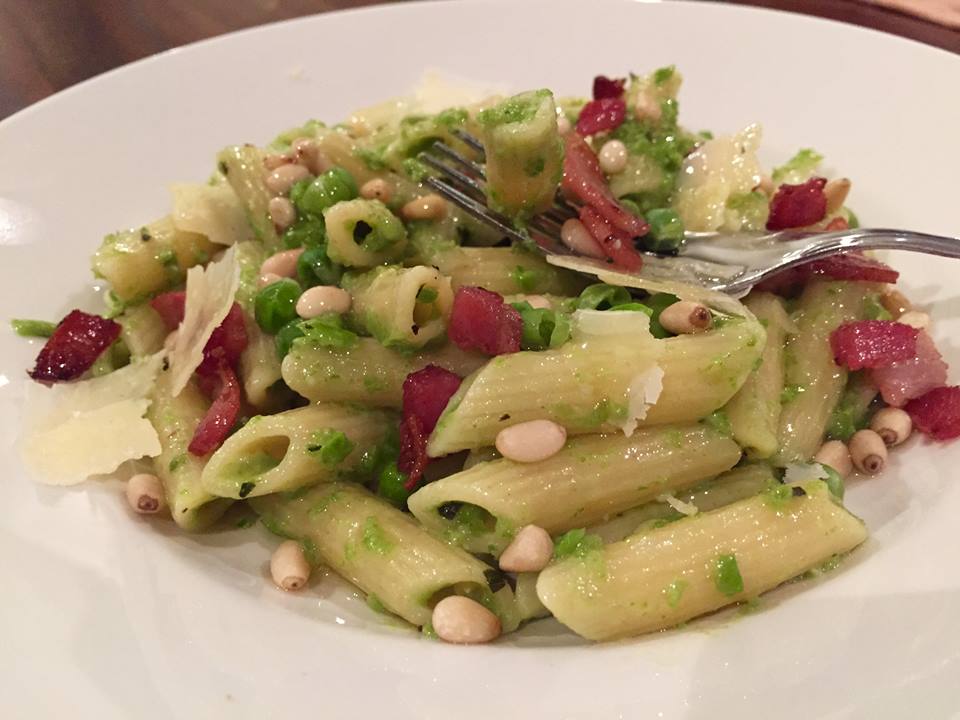 Pasta with Pea Pesto, Bacon and Pinenuts
Author:
Prep time:
Cook time:
Total time:
Pea pesto is such a fresh and nutritious way to dress up your pasta.
Ingredients
250 gm frozen peas
Salt
2 garlic cloves, peeled
8 fresh basil leaves
6 fresh mint leaves
40 gm Parmesan cheese
5 tbsp olive oil
400 gm dried pasta
3 tbsp pinenuts
100gm rindless bacon, chopped
extra parmesan (optional)
Instructions
Fill a medium pot with water and bring to the boil. Add the peas, a pinch of salt and the garlic cloves. Cook for 3 minutes. Drain. Remove ¼ cup peas and set aside.
Put the remaining cooked peas, garlic, basil, mint, and Parmesan into the bowl of a food processor. Pulse until everything is combined and finely chopped. Add the olive oil and ¼ tspn salt and pulse until mixture is smooth.
Fill a large pot with water and bring to the boil. Add a good pinch of salt and the pasta. Stir and cook until al dente (refer to packer directions).
Meanwhile, heat a frypan on medium-high and add the pinenuts. Toss for a minute or two or until starting to turn golden. Remove and set aside. Add the bacon to the pan and cook until crisp. Set aside.
Drain pasta (reserving a little cooking water) and immediately add the pea pesto, tossing to combine. Add up to ¼ cup pasta water to loosen if it is a little thick. Add the bacon, pinenuts and extra peas and toss to combine.
Serve immediately with shavings of parmesan if desired.