It's still school holidays and my boys are home. I love having them around.  I enjoy their company. The house just feels right with them both here. My eldest son spends much of the year at university, 2000km from home, so this time of the year is extra special for me. Don't get me wrong, I'm not going to carry on about how I never yell at them, how angelic they are and that every day is smiles and roses. They're messy, provide me with a tonne of laundry every day and don't get me started on water bottles. I mean, what's with that? It's like they magically appear in ten-fold, half drunk, lids missing, everywhere I turn! Then there's the bathroom. Uggh!! I just can't get it to stay clean more than half a day. And food. Boy can they eat. Why are they always so hungry?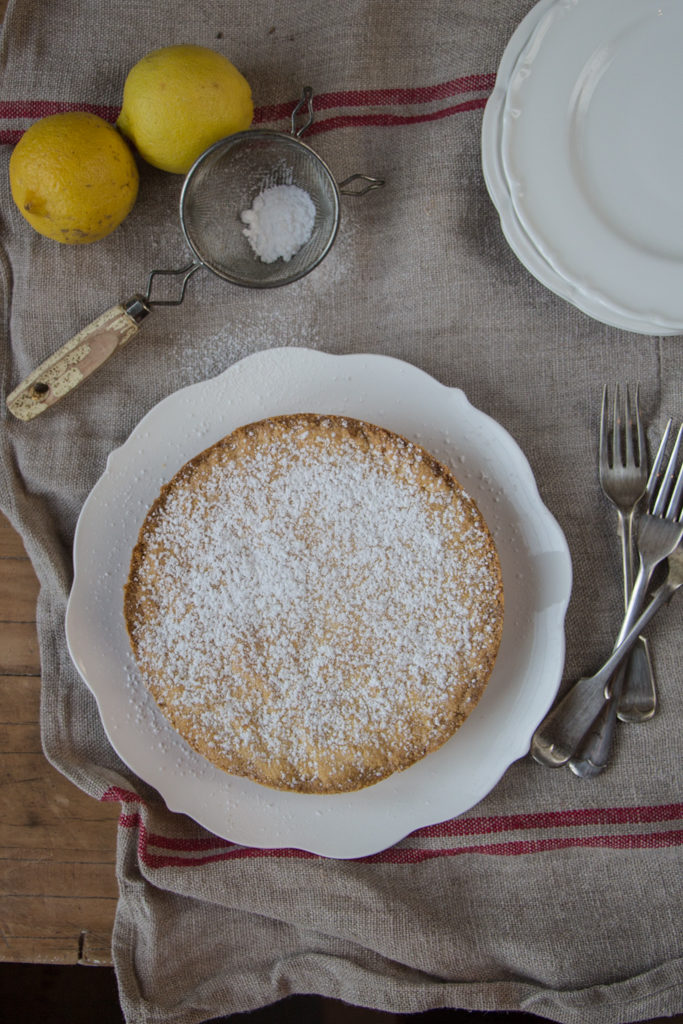 Still, I am happy to have them around. And of course, I cook. I cook what they like, because that makes me happy. I've been baking a little more since they're home. Partly because without the running around and having to get to school on time and  helping out with homework I actually have the time to bake more. Also, because they eat everything I make so fast I feel the urge to replenish. I much prefer them to eat cookies and cake that I have baked myself, so I am constantly looking out for easy recipes that I can whip up quickly and will satisfy their afternoon cravings (and morning and night too!).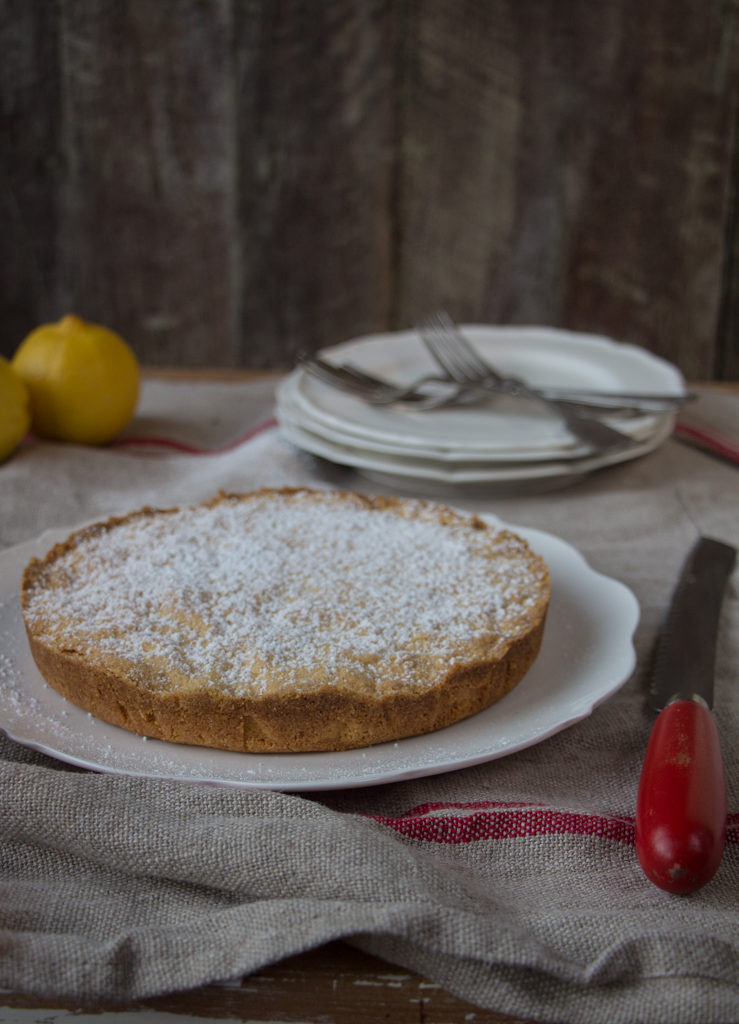 This Torta Sbrisolona (Crumbly Cake) is a humble little cake that ticks all the boxes.  I intended to include the recipe in my new cookbook (out next month), but I just couldn't fit it in. It's a traditional cake, originating from the city of Mantua, Northern Italy. As with many classic recipes, it was created from cucina povera (kitchens of the poor) with inexpensive ingredients. Originally a mix of hazelnuts, lard and cornflour, it was a delicious cake-like, unsweetened treat  (sugar was a rare commodity to poor families). It became so popular it was even served to families of nobility. More expensive ingredients such as almonds, sugar and butter were then introduced to create a sweeter, richer version.  The texture, however, remained the same. Crunchy, crumbly, almost cookie-like.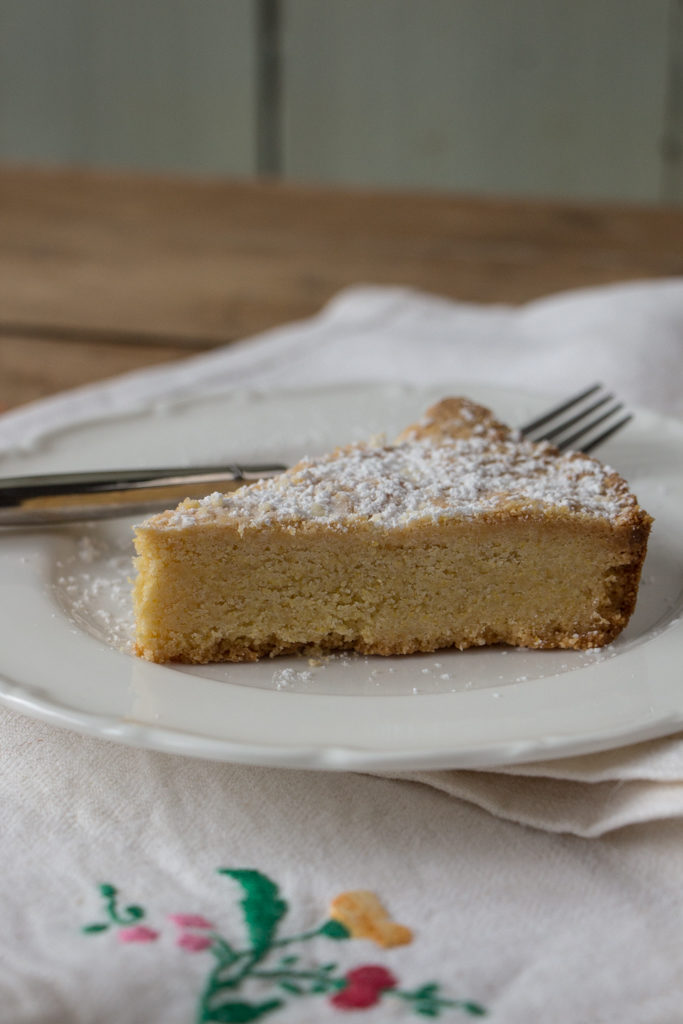 The classic way to make this cake is to mix everything by hand, ensuring the mix remains 'crumbly'. I have made it both by hand and using a food processor (I like to speed up the process if I can) and both methods have given me similar results. This recipe is loosely based on one by Anna del Conte, the famous British food writer. The first time I made it I kept double-checking the recipe looking for the wet ingredients. It is a very dry mix, with only egg yolks and butter supplying any cohesion. Don't be alarmed, it's more like a crumbly dough than what you would expect from a runny cake batter.  Anna del Conte's recipe calls for blanching and roasting your own almonds, but I've just gone with almond meal to make things easier.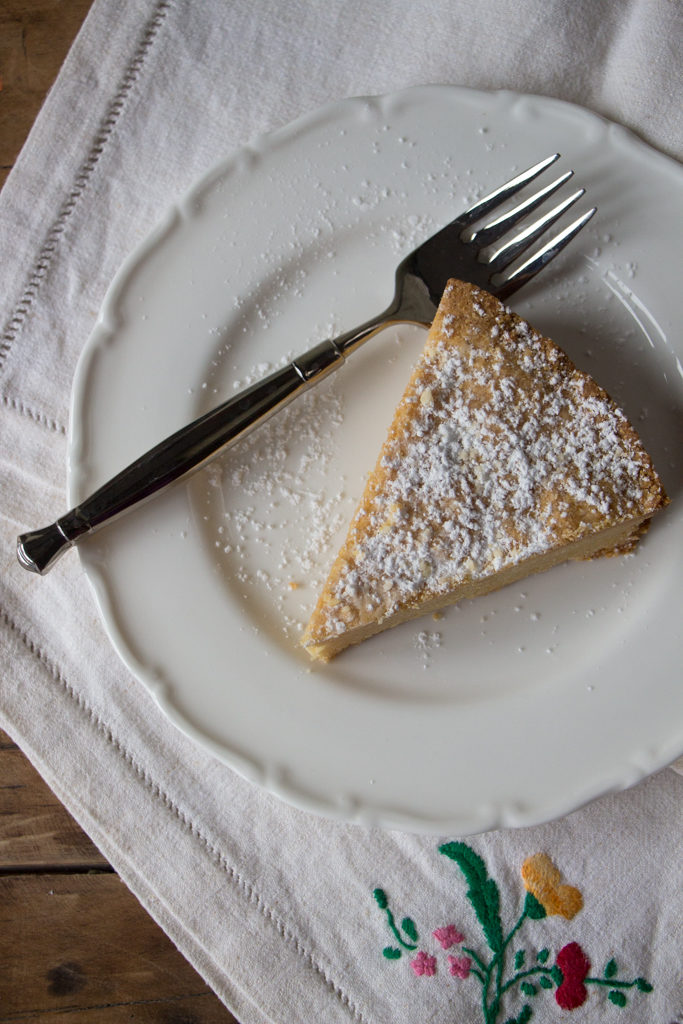 There's a good hit of lemon here, I've used the zest of two lemons because I love that real citrus zing. Halve this amount if you want it to be more subtle, or use orange in place.
Torta Sbrisolona – Crumbly Cake
130g almond meal
130g sugar
150g plain flour
130g polenta
finely grated rind from 2 lemons
2 egg yolks
130g butter, room temperature, diced
icing sugar, for dusting
Preheat your oven to 180 C (160 C fan forced).
Grease and line a 20cm round cake tin with baking paper.
Put the almond meal, sugar, plain flour, polenta and lemon rind into the bowl of a food processor. Pulse to combine. If you don't own a food processor just throw it all into a large bowl and give it a good stir.
Add the egg yolks and diced butter and pulse until the mixture forms a crumbly dough. If doing this by hand, mix with a spatula (or use your hands).
Tip the crumbly mixture out into your prepared cake tin. Smooth and press down with your hands to level the top. Once baked, the cake's texture will end up being more or less crumbly depending on how much you compact it. I like to be able to slice the end result, so I really pack it in.
Bake for 45 minutes, or until golden and firm. Remove and allow to sit for 10 minutes before turning out onto a wire rack to cool. Make sure you turn it out onto something flat or the base may bend and crack.
Once cool, dust liberally with icing sugar and serve.
Serves 8