I am a sucker for a big bowl of pasta to share – and this Angel Hair Pasta with Chilli and Crab is perfect for an intimate dinner.  It's a dish you would order at a restaurant, so even though it's ready in minutes, it looks and taste very impressive. But honestly, this is dead easy to make – all you need to do is make sure you buy fresh good quality ingredients and this meal is on the table in next to no time. You must use fresh crab here, please don't use something out of a can. If you can't find fresh crab meat, substitute with shelled green prawns if you like. Just fry them briefly in the pan until pink first to make sure they cook through.
This is a fresh, delicate pasta dish that's not heavy so  you'll still have plenty of room to share a nice bottle of wine.  Chin chin!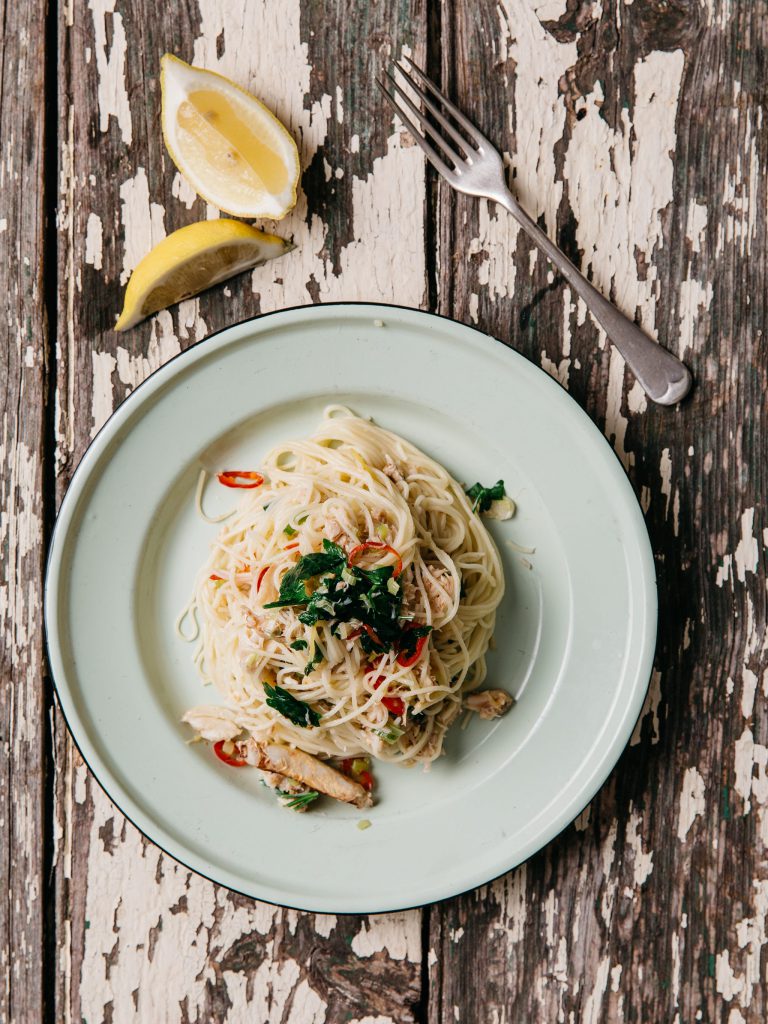 Make this for your loved one and the night is sure to be a good one! My favourite part of eating at home instead of going out is slouching around in my PJs if I want, and the wine is definitely cheaper!  Now that's a great night in!
Angel Hair Pasta with Chilli and Crab
Author:
Prep time:
Cook time:
Total time:
A delicate pasta dish that showcases the beautiful flavour of fresh crab.
Ingredients
500gm packet Angel Hair pasta
Salt
1 tblspn olive oil
2 spring onions, finely chopped
1 red chilli, seeds removed, finely chopped
3 garlic cloves, peeled and finely chopped
200ml white wine
Zest of ½ a lemon
Juice of 1 lemon
Olive oil, extra
250gm picked Blue Manna crab meat
½ cup fresh parsley, finely chopped
Freshly ground black pepper
Instructions
Get a large pot of water on to the boil. Once boiling, add a good pinch of salt and the angel hair pasta. Stir, then cook until al dente. This will only take a few minutes.
Meanwhile, heat the olive oil in a non-stick fry pan over medium heat and add the spring onions and the chilli. Cook for one minute, then add the garlic and cook for a further minute, or until garlic starts to turn golden. Add all the wine and allow to bubble away for a minute or two, or until it reduces by half. Add the lemon juice and rind, a good splash of olive oil and the crab meat. Toss quickly.
Drain the pasta and immediately add it to the pan. Toss to combine and coat the pasta. Throw in the fresh parsley and a good grinding of black pepper. Serve immediately drizzled with a little olive oil.