There are many versions of lasagne out there.  This is mine.  Coming from the south of Italy, we never topped out Lasagne with Beschamel Sauce. Instead we cover it generously with cheese. I like my lasagne built with as many layers of pasta, I like to see the wedge of  pasta on the plate.  The sauce is the hero of the dish, and you need to ensure your bolognese is tasty before you even start.  Try my bolognese recipe here.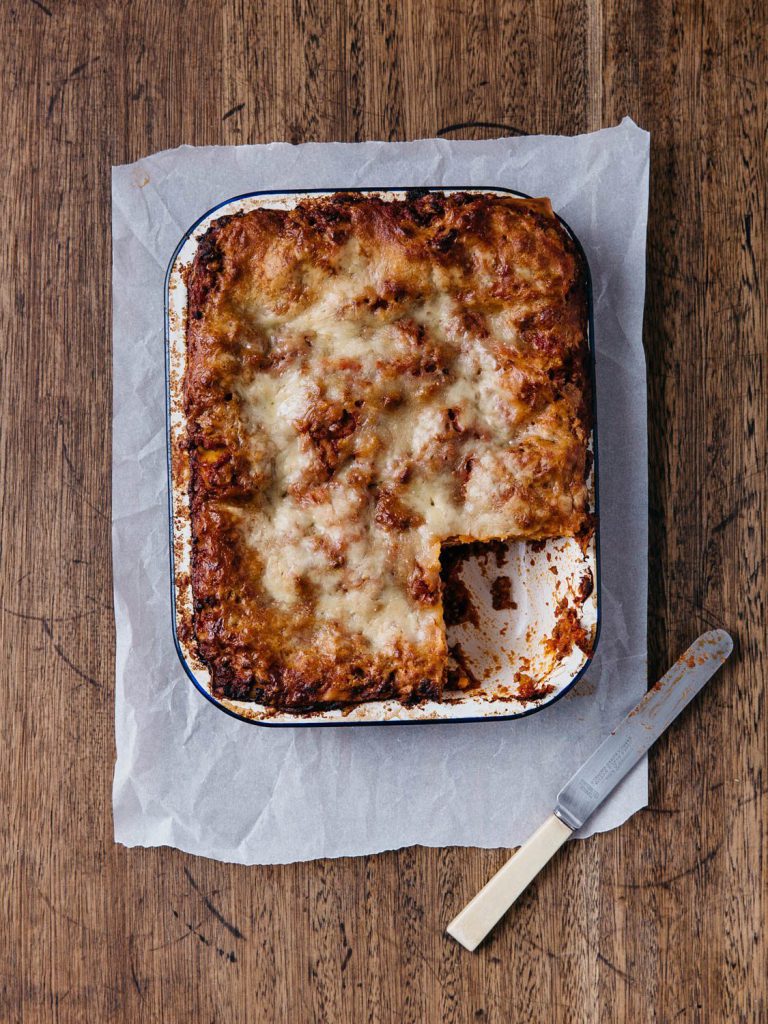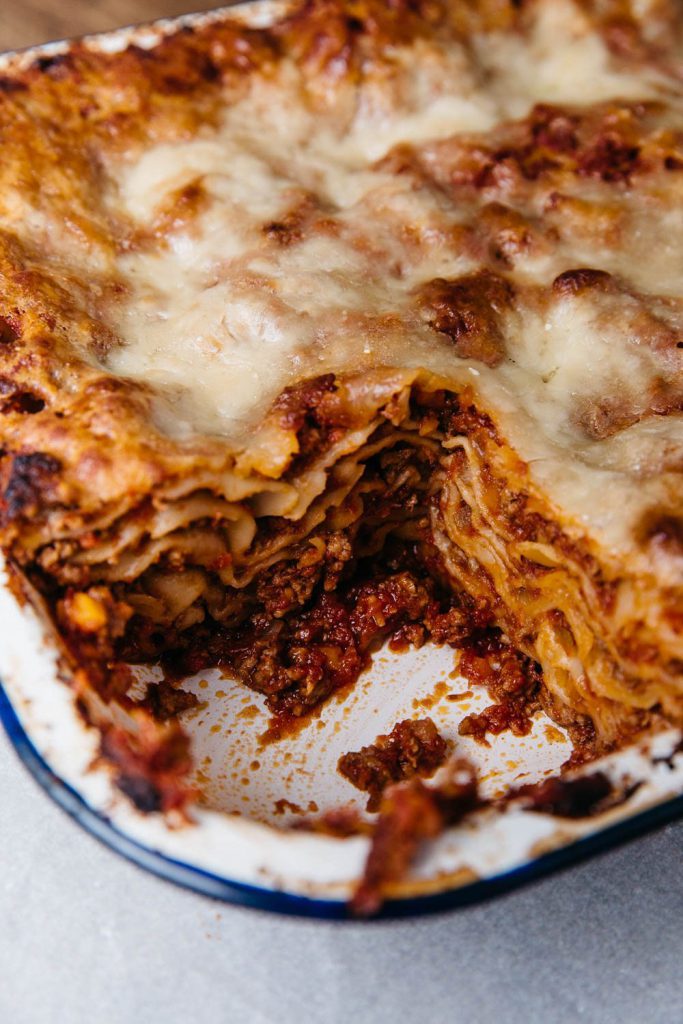 Lasagne can be made over the course of two days, the sauce one day and the assembly the next.  Once cooked, lasagne keeps really well. You can even freeze individual portions for those days when you just don't have time to cook.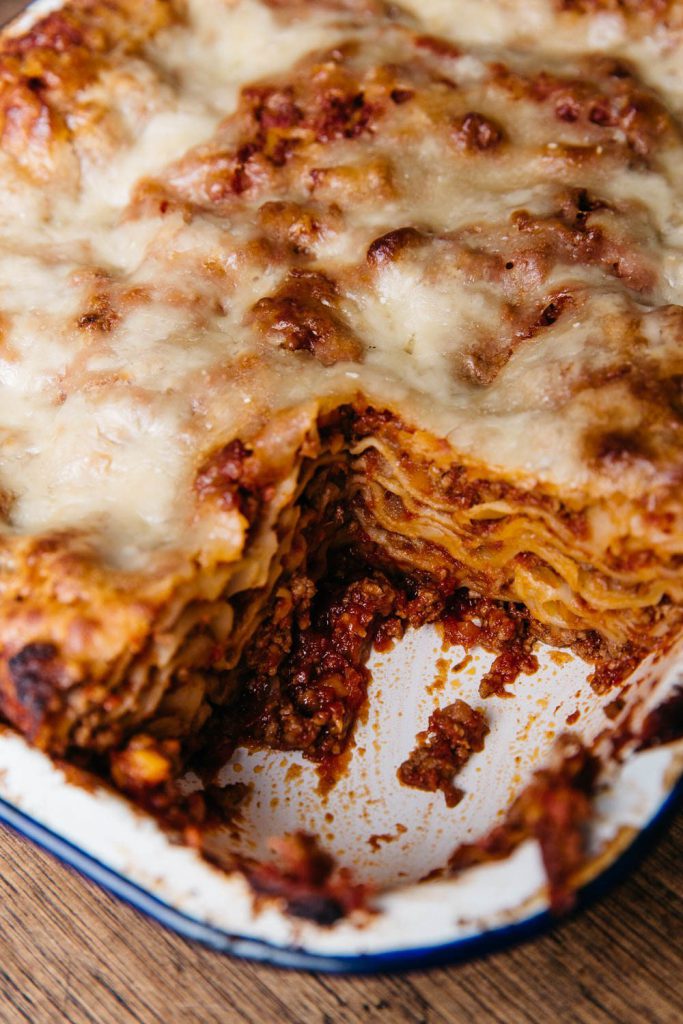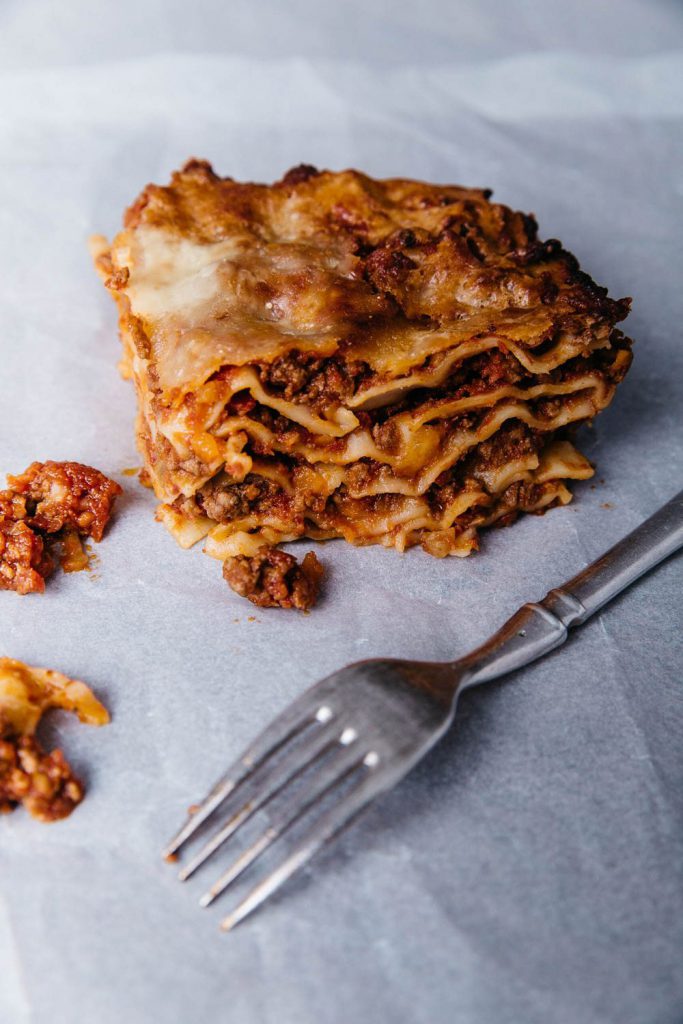 An eternal crowd pleaser, double this recipe if you have a horde of people to feed.
Follow my recipe for BOLOGNESE SAUCE here.
Family Lasagne
Author:
Prep time:
Cook time:
Total time:
This is my family's home style lasagne. Hearty and full of pasta – it's comfort food at it's best.
Ingredients
1 x quantity of Bolognese sauce
2 packets large dried lasagne sheets
700g cheddar cheese, grated
Instructions
Preheat oven to 180C.
Spoon a little sauce into the base of a large baking dish ( the dish I use is 25cm x 40cm and about 10 cm deep, but adjust to suit whatever size dish you have at home). Spread to cover the bottom.
Lay lasagne sheets to cover the base without overlapping. If the lasagne sheets don't fit, just break them in half to fit in one single layer.
Top the lasagne sheets with a few ladlefuls of sauce. Scatter with a handful of cheese.
Keep layering with pasta sheets and sauce and cheese until you reach the top of your dish.
Top the last layer with sauce, then cover liberally with cheese.
Depending on the size of your dish, you may not need all the cheese or sauce.
Here's the trick: if your sauce was thick, especially if you made it the day before, you will need to add some moisture . Pour about a cup of water around the sides of the dish. My rule is to see watery looking sauce about halfway up the lasagne. This will disappear as the lasagne cooks.
Cover with a sheet of baking paper, then top with alfoil to seal.
Bake, covered for 40 minutes, then remove alfoil and cook for a further 15 minutes or until golden and cooked through.
Allow to sit for 20 minutes before serving. This allows the layers to settle and it will be easier to cut.