Out of everything I like to cook, pasta always has a special place in my heart. From the memories of it gracing our table pretty much every night of the week when I was growing up, to the smiles on my kids's faces when I dish them up a hearty plate of pasta for our dinner, there's something about pasta that everyone loves.  It is the perfect blank canvas, ready to be dressed up with whatever you like, to suit your tastes, the seasons, or with whatever you've got when the cupboard is looking bare.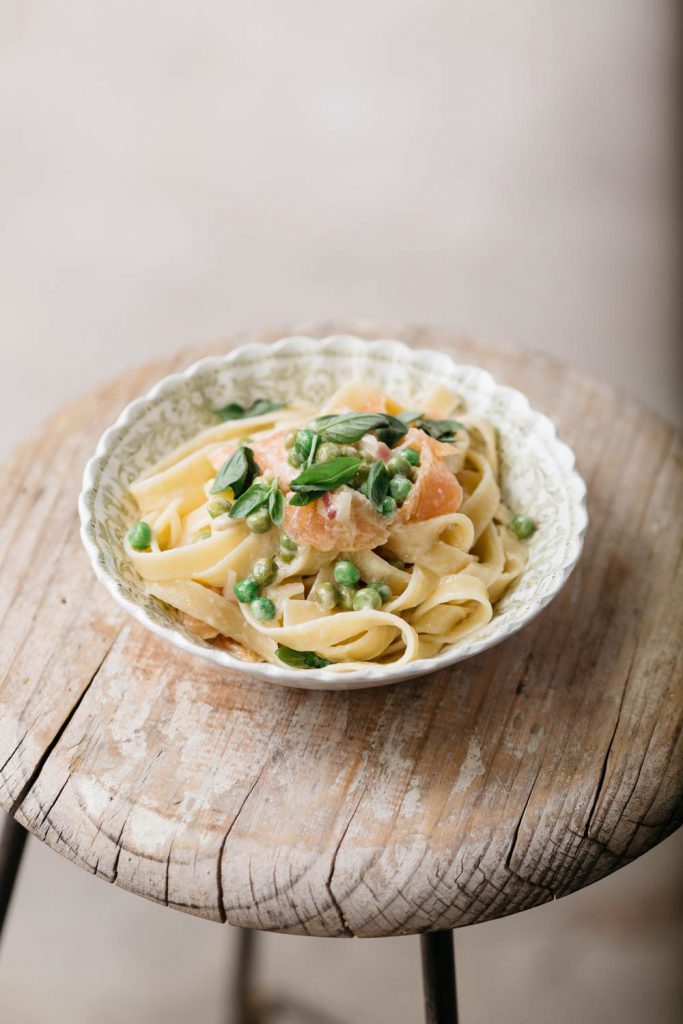 Because I love to cook so much, and I'm Italian, and pasta is my 'thing', people assume that I always make fresh pasta by hand.  Some even tell me they're embarassed to tell me they use 'packet pasta'. I always have a bit of a laugh at that. For starters, as much as I love making fresh pasta I certainly don't have the time to make it fresh every time I want to eat it.  Secondly, there is absolutely nothing wrong with 'packet' or 'dried' pasta. In fact, sometimes it is the better choice!  If you go to most Italian households, you will find plenty of packets of good quality pasta in their pantries! In fact, many would never make fresh pasta (or would just buy it) and would use dried pasta in most of their cooking.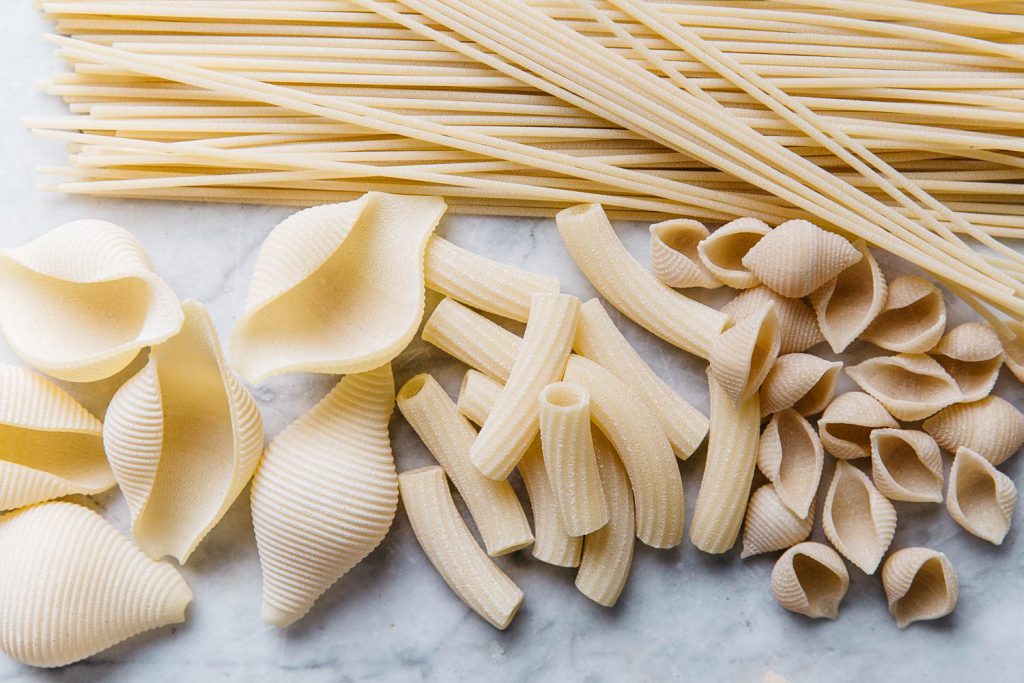 Having good quality dried pasta in your pantry is the promise of an easy meal.  It is quicker to rustle up a few ingredients while you put some water on to boil than it is to order takeaway – and MUCH more delicious too.  A super quick and delicious meal needs nothing much more than a little garlic, olive oil and parmesan cheese tossed through al dente pasta. Add a little chilli, a handful of fresh herbs, maybe a squeeze of lemon and now things are getting interesting.
If you're organised, you'll have some leftover tomato sauce from another night's dinner in the freezer, ready and waiting for this moment – when you have 10 minutes to get dinner on the table.  Or last night's leftover roast chicken, not enough to share as is, can be shredded and tossed through your favourite pasta to stretch into dinner for 4.  Pasta truly is the frugal cook's dream. It's cheap, it's delicious, and it's a fantastic way to use up leftovers (without it feeling like you're eating leftovers – if you know what I mean).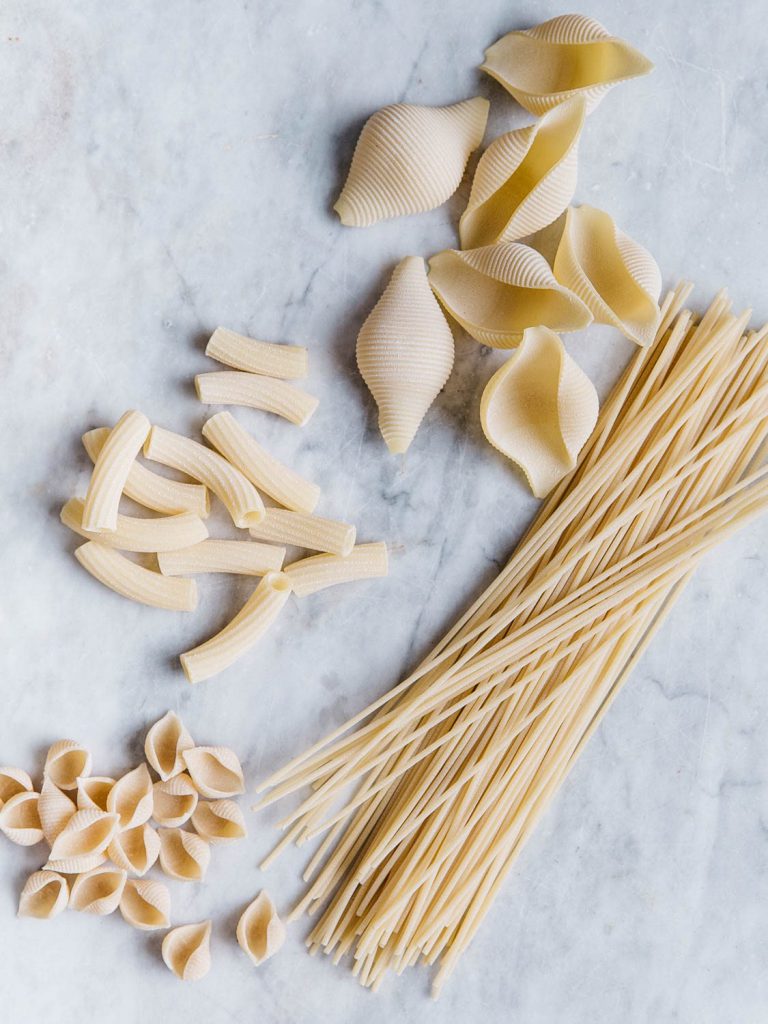 Which pasta you use is up to you.  But Italians generally have a few rules as to what type goes with which sauce.  The finer the pasta, the more delicate the sauce should be. Likewise the thicker the pasta, the more hearty the sauce should be.  However, you don't have to play by the rules, use what you like.  I love the long flat pasta varieties, linguine, fettuccine, papparedelle.  I like to twirl my pasta on a fork.  And I like to use a spoon too – very un-Italian apparently, but that's how my Dad did it (and his accent was thicker than anyone from the Godfather), so that's how I do it too.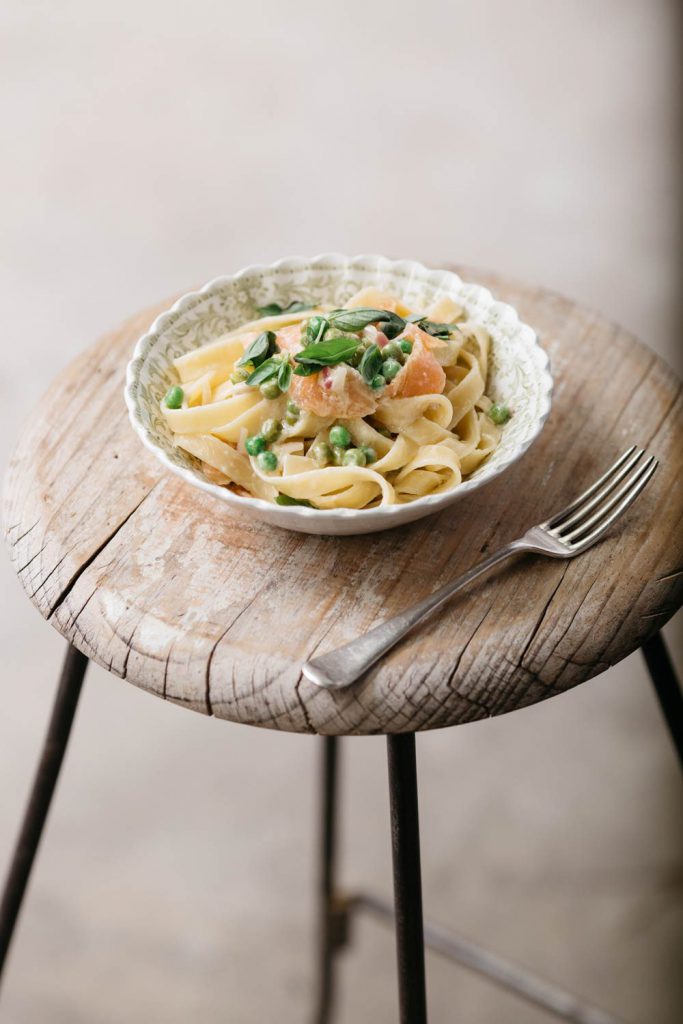 This recipe for fettuccine with salmon, mascarpone, lemon and peas is incredibly easy, and a great dish to make if you want to impress. There's something about smoked salmon in a dish that just feels luxurious – but a small amount here goes a long way and this is still a very economical meal.  The mascarpone, which is an Italian cream cheese, gives a bit of tang and richness. A squeeze of lemon, a handful of peas, and you've got a beautiful creamy plate of goodness that is light and delicious.  Who said pasta had to be heavy and rich?  I love fettuccine, but please feel free to use whatever is in your pantry.  If you're not a salmon fan, replace it with cooked chicken.  Don't like peas? Try asparagus. Don't want to buy a tub of mascarpone? Use cream instead.  Whatever you do, make this dish once, then you will see just how easy it is to get dinner on the table fast.
Fettuccine with Salmon, Mascarpone, Lemon and Peas
Author:
Prep time:
Cook time:
Total time:
This pasta dish is easy to make, the sauce is ready by the time the pasta has finished cooking, so make sure everyone is sitting at the table ready to dig in.
Ingredients
2 tbsp olive oil
1 garlic clove, peeled and finely chopped
½ cup of frozen or fresh peas
juice of 1 lemon
2 tbsp lemon zest
225 g mascarpone
500 g fettuccine
100 g smoked salmon, torn into pieces
1 handful fresh basil, chopped
freshly cracked black pepper
salt
Instructions
Heat the olive oil in a large non-stick frypan over medium heat. Add the garlic and peas and cook, stirring, for about one minute, until peas are tender and garlic is fragrant.
Add the the lemon juice, zest and mascarpone. Reduce the heat and stir to warm the mascarpone. Do not bring to the boil.
Meanwhile, cook your fettuccine in a pot of boiling salted water until al dente. Drain, reserving a little of the cooking water.
Add the drained linguine to the pan and toss to combine. Add the salmon and half the basil leaves and toss. If it is too thick, add a splash of the reserved cooking water to loosen. Season with a little salt and pepper and serve topped with reserved fresh basil leaves.