A twist on the good old roast chicken, the pomegranate glaze gives a sweet, yet tart flavour to the chicken and results in an incredibly moist bird that is irresistible.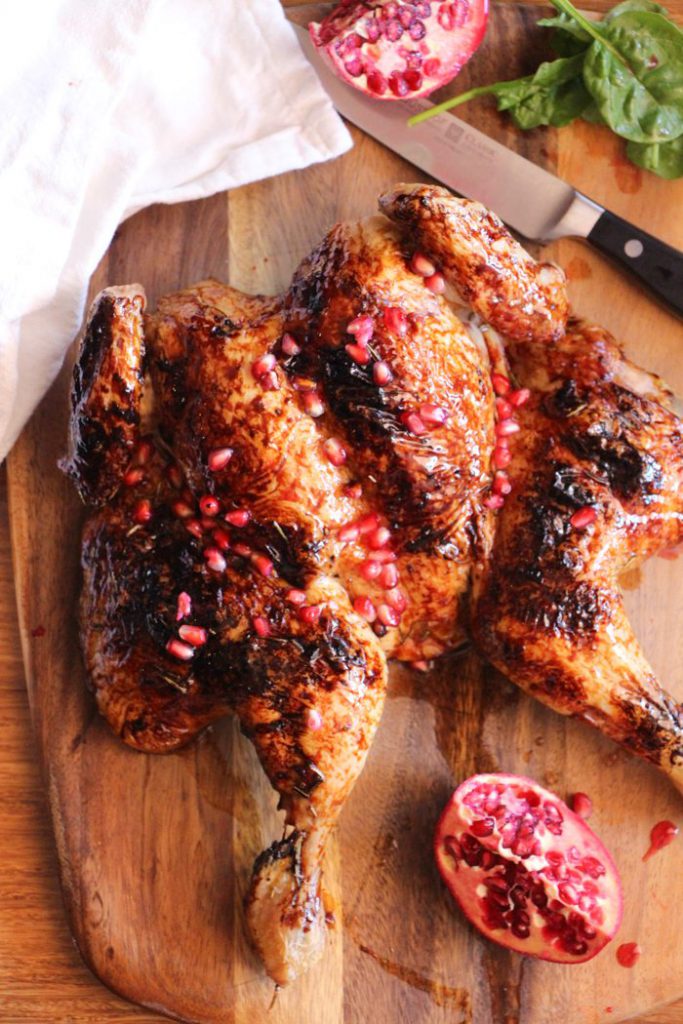 The first time I ever saw a pomegranate was in my Nonna's garden. It wasn't a common fruit back then, and certainly not something you found in the local fruit and veg store. So I only really got to eat them when I was lucky enough to score one from her tree.  I can still remember painstakingly removing each kernel, one by one, sucking on the red juicy exterior and discarding the seed. Those pomegranates, the one , maybe two per year that I was able to get my hands on were very special, exotic, and something I loved.
I now look forward to pomegranate season, as I can thankfully find them most places these days.  Instead of sitting down eating the kernels one by one I like to incorporate them in my cooking (although I do eat them just as they are as well).  They are fantastic in savoury recipes as they have a sweet, but tart flavour.  The juice makes a beautiful sweet glaze for cakes and tarts, but can also be made savoury to add rich flavour to chicken, pork and lamb. I particularly like this glaze with chicken, and it looks amazing on the plate. I love the colour.
I like to spatchcock my chicken, meaning to remove the spine and flatten it out. It speeds up the cooking process and results in crispier skin (the best bit!).  To do this, just cut down either side of the backbone to pull it out, then turn over and flatten with the palm of your hand.
Roast Chicken with Pomegranate Glaze
Author:
Prep time:
Cook time:
Total time:
Pomegranate gives a sweet yet tart flavour to the every day roast chicken.
Ingredients
1 medium chicken
3 tblsp olive oil
1 tsp salt
1 tsp fresh rosemary, chopped
2 cups pomegranate juice
juice of 1 orange
1 tbslp freshly ground black pepper
1 tblsp honey
1 fresh pomegranate
Instructions
Preheat oven to 200 degrees Celsius. Line a roasting tray with baking paper.
Using kitchen scissors, cut down either side of the chicken's backbone and remove. Turn over and use the heel of you hand to flatten it out – this is called spatchcocking your chicken. Drizzle with olive oil, sprinkle with salt and rosemary and bake for 15 minutes.
Meanwhile, put the pomegranate juice, orange juice, pepper and honey in a small saucepan and heat over high heat while stirring until boiling. Reduce heat to medium and simmer for 10 – 15 minutes, or until the mixture has reduced by 2/3 and is a thick syrup.
Once chicken has cooked for 15 minutes, brush some of the pomegranate glaze over the chicken, Return to the oven and cook a further 5 minutes. Keep brushing the chicken with glaze and cooking for a further 20 minutes, or until the chicken is cooked through and glaze is dark, shiny and golden.
Remove the chicken from the oven. Cut the fresh pomegranate in half and squeeze and little juice over the hot chicken. Remove seeds from the pomegranate and sprinkle over the chicken. Serve.