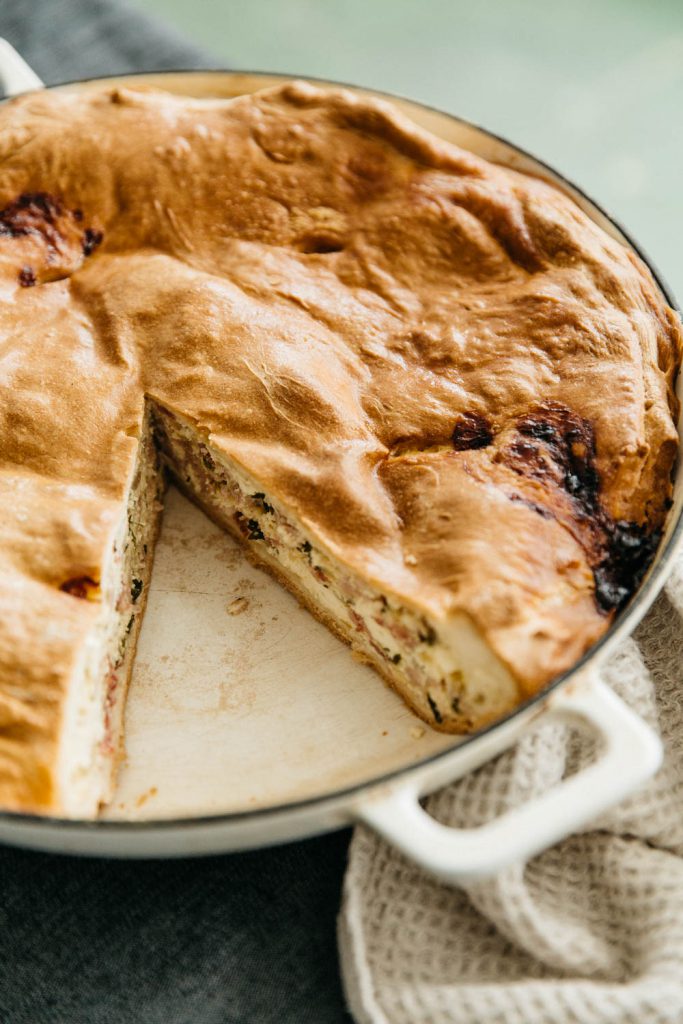 Just like Dean Martin sings " When the moon hits your eye like a big pizza pie that's amore… " you will fall in love with this delicious rustic Italian pie. As the name suggests it's rustic, so no perfectionism required, and even though I've weighed out all the ingredients I've used to make the pie pictured so you have a foolproof recipe that I know you will love, you can make this your own by adding whatever filling ingredients you like.  That's how this recipe came together, just using all my favourite pizza toppings and turning them into pie that could be sliced up and shared.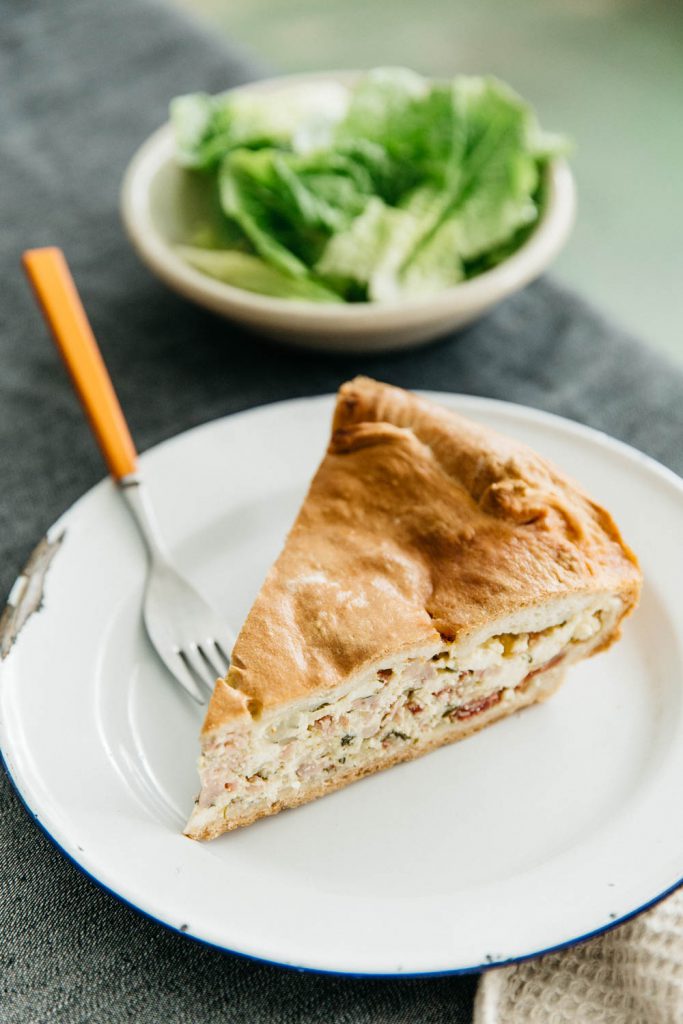 This is  a 'blue-print' recipe, meaning one where you learn the basics, then you are open to an infinite amount of possibilities. Most of my recipes are like that, because that's how I learned from my Nonna and my Mum. Their cooking was simple, and always delicious, and most often evolved from one 'blue-print' recipe that were turned into so many different versions depending on what was lying around or what was in season. It's the best way to cook because that's how you develop your confidence in the kitchen, and the recipes no longer remain 'recipes' as such, but a structure for which to create your own recipes using things that inspire you. Once you start cooking with a few blue-prints often enough, they stay with you, and you find yourself inventing new dishes without fear, knowing they will work every time.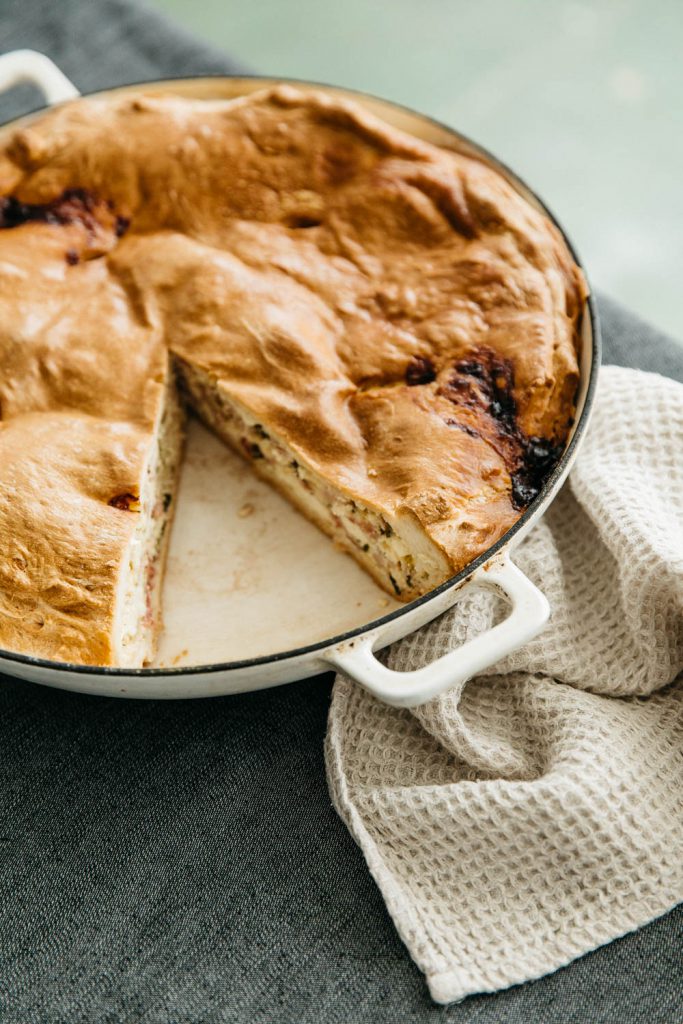 For the pastry I use my basic pizza dough recipe, it's really easy to make and works every time.  Using pizza dough instead of a pastry dough not only gives the pie a fantastic texture, almost bread-like, it makes rolling out the dough and lining the pie tin so much simpler.  Pizza dough is another example of a blue-print recipe, and can be used for so much more than pizza.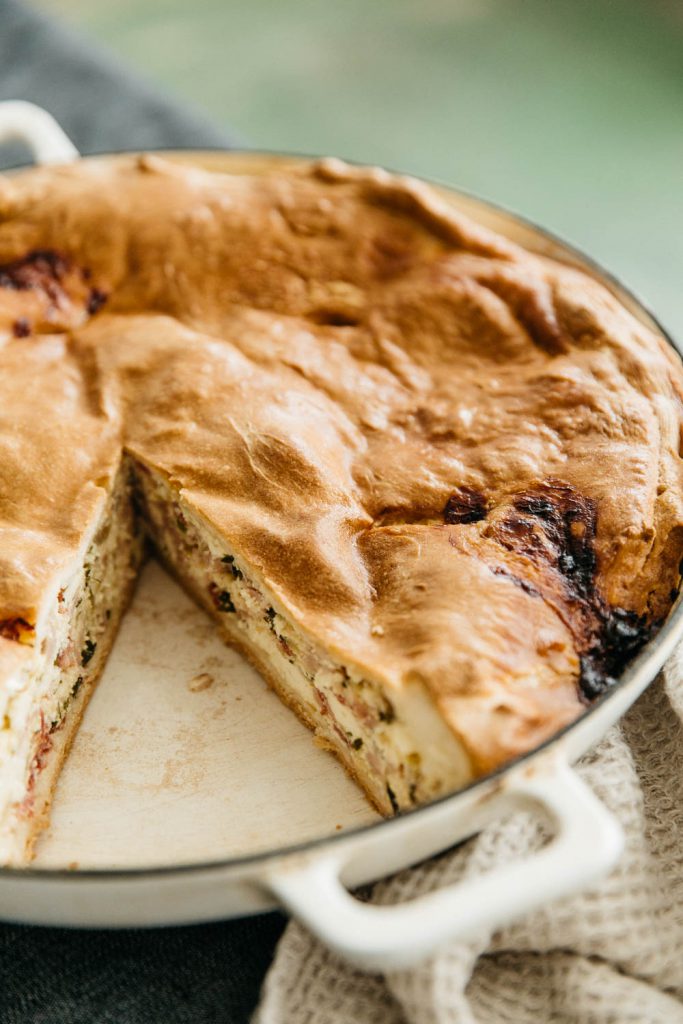 I find the easiest way to make this if you're making it one day (you can, of course make the dough the day before and refrigerate) is to make the dough and set it aside to rise. While this is happening, make the filling. It's just a matter of frying the sausage meat, bacon, garlic and onion in a little olive oil. Allow it to cool, then mix in with the rest of the filling ingredients.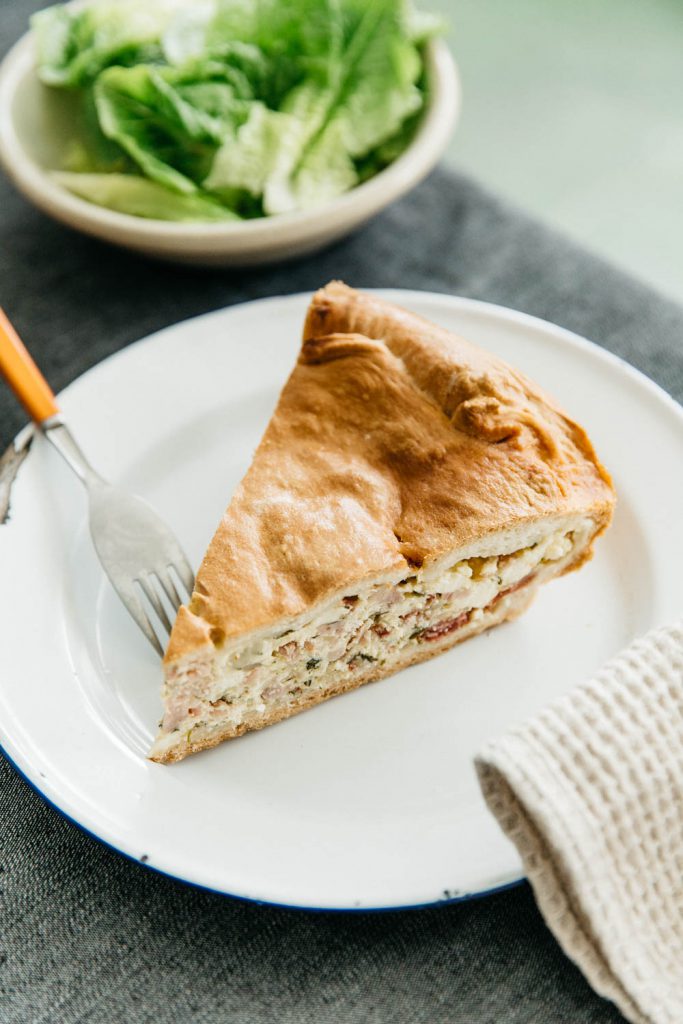 Once the pizza dough is around double in size, punch it down to deflate the air, knead a little then cut in half. Roll one piece out  to fit the pie dish. Spoon the filling mixture in, then roll out the rest of the dough and lay over the top, sealing the edges together. Brush all over with egg wash and bake for around 40 minutes or until the dough is golden.  This pie needs to sit a little to allow everything to settle before cutting, then slice into wedges to serve.  I actually prefer this room temperature so it a great recipe to make ahead.   It's quite substantial so all it needs is a fresh salad and dinner is done.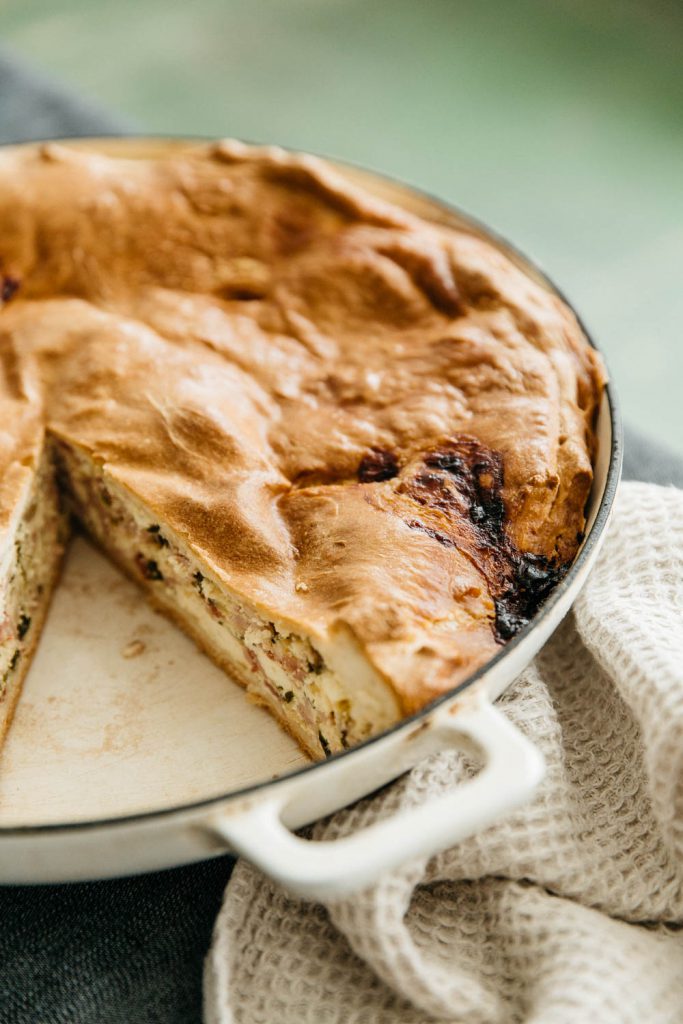 Play around with the fillings if you like, add spinach, olives, marinated  artichokes, cooked chicken, or even leftover roasted vegetables. For a vegetarian version you could omit all the meat ingredients and replace with cooked drained spinach and your favourite pre-roasted vegetables.
This recipe is featured in my first book, Easy Home Cooking Italian Style, along with loads of other easy recipes that will help you cook just like an Italian. To order a copy click on the link above or contact me.
You will need to make my Basic Pizza Dough for this recipe. Click here for the recipe 
Enjoy x
PIzza Rustica
Author:
Prep time:
Cook time:
Total time:
Ingredients
2 tbsp olive oil
500g fresh Italian-style sausage, meat removed from casings
250g rindless bacon,chopped
2 cloves garlic, peeled and chopped
1⁄2 brown onion, peeled and chopped
500g fresh ricotta, drained
1 cup mozzarella, cubed
1 cup Cheddar cheese, grated
1⁄4 cup Parmesan cheese, grated
250g pepperoni or cacciatore sausage, diced
1⁄4 cup fresh parsley, finely chopped
1⁄4 cup fresh basil, finely chopped
1 tbsp dried oregano
Freshly cracked black pepper
3 eggs, beaten
1kg pizza dough
1 extra egg, beaten, for egg wash
Instructions
Preheat oven to 200°C.
Heat the olive oil in a non-stick frying pan. Crumble the sausage meat and add to the pan with the bacon and onion. Cook, stirring until meat is cooked, bacon is almost crisp and onion translucent. Add garlic and sauté another minute. Set aside to cool.
In a large bowl combine the ricotta, Cheddar, Parmesan, sausage, herbs and cooked meat mixture. Add the eggs and a good grinding of black pepper and thoroughly mix.
Cut the pizza dough into two pieces, one slightly larger than the other. Roll out the larger piece so that it is big enough to line a pie tin with a 3cm overhang (my tin is about 25cm). You want it nice and thin. Fill the pie with your mixture. Now roll the remaining dough and place over the top, pinching the overhanging edges inward to seal. Make a couple of slits with a sharp knife in the centre to allow the steam to escape. Brush all over with beaten egg and place in the oven.
Bake for 15 minutes, then lower the temperature to 150°C (300°F) and cook for a further 40 minutes, or until the pie-crust is golden. Allow to cool for 30 minutes before slicing and serving. Best at room temperature.