I am so excited to be able to announce that my newest book is available now.  Food for Sharing – Italian Style is all about food you want to share, big plates of food plonked down into the middle of the table for everyone to dig in.  This book was inspired by my family, and the many meals we have shared at the table. The memories from those meals, and the way food connects people. How the simple notion of sitting together at the table, with no formalities, just great food, can bring so much happiness and the opportunity to share not only the meal, but our day, our feelings and our lives.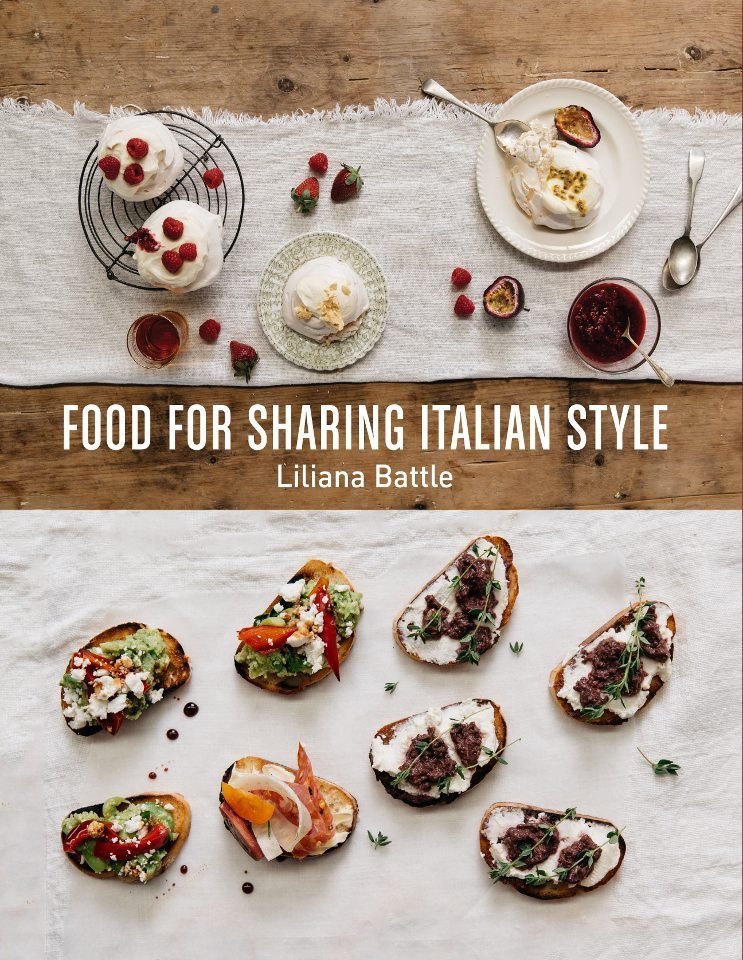 There's a little of everything in this book, from Breakfasts – Jam Crostata, Avocado Smash Italian Style to Little Bites – Mortadella Mousse with Pistachios, Fried Cheese Ravioli , food to eat with your hands – Pulled Porchetta Sliders, Artichoke Pesto and Provolone in Carozza and food to slice and share – Rustic Caprese Tart, Smoked Salmon, Mascarpone and Wasabi Pizza. 
Of course there's plenty of pasta dishes including express meals from a packet and fresh pasta varieties for when you have the time, including squid ink pasta and beetroot gnocchi.  There's Seafood dishes – Fish with Braised Lentils, Roasted Tomatoes and Salsa Verde, Pan Fried Whiting with Lemon and Capers, Chicken – Sticky Balsamic Chicken Wings, Tray Bake Chicken Parmigiana,  and Meat dishes – Pork, Chilli and Fennel Meatballs with Polenta, Steak with Bagna Cauda Sauce. There's a large selection of sides to serve alongside too – like Stuffed Tomatoes and Pear and Prosciutto Salad.
Lastly, there's plenty of sweet treats for you to cook for your loved ones. From biscuits – Fig and Walnut Biscuits – to delicious cakes and tarts – Sponge Kisses with Lemon Custard, Tuscan Apple Cake. There's a couple of showstoppers too – Chocolate Pistachio Cannoli Cake and my favourite The Bombe.
I am extremely proud to share this beautiful book with you. Available at all good book stores, via New Holland Publishers or purchase from me direct by clicking on the link on this page.
Happy Cooking!!