When it comes to dessert, I have to admit I've usually filled up on savoury and struggle to fit anything else in.  That's why I love making these vanilla roasted peaches. They're the perfect end to a meal; fresh, fragrant and just sweet enough without weighing you down.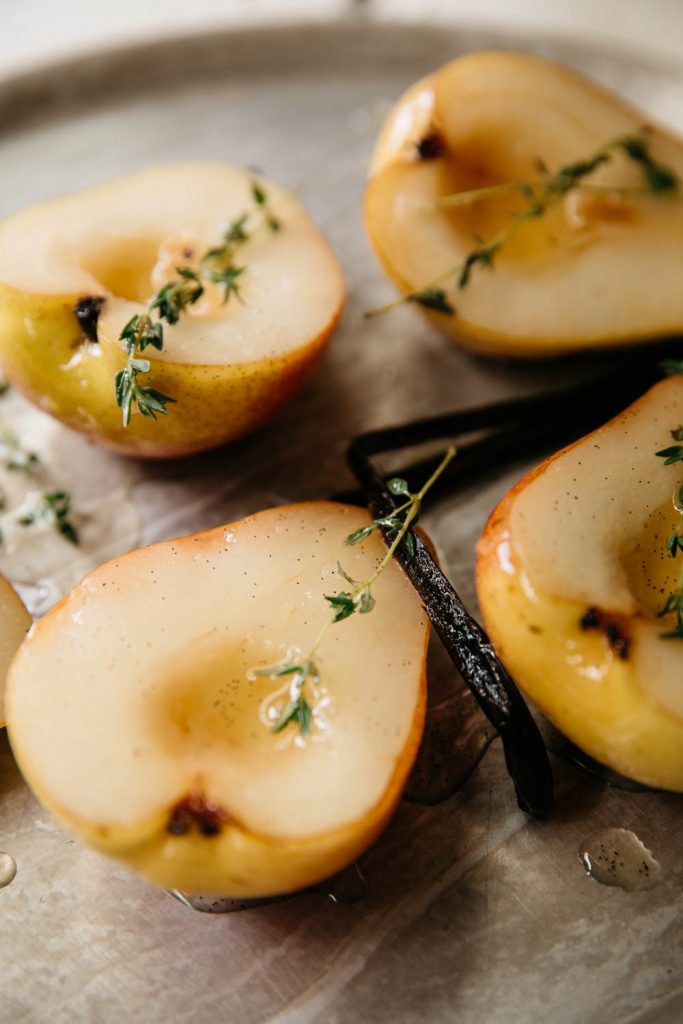 These pears are so versatile. I like them with a simple scoop of good vanilla ice-cream, maybe a scattering of chopped toasted almonds or pistachios for a little crunch.  A mix of mascarpone and cream sweetened with a little sugar would also be a great accompaniment, or if you want to go for a healthier option, serve with a dollop of greek yoghurt.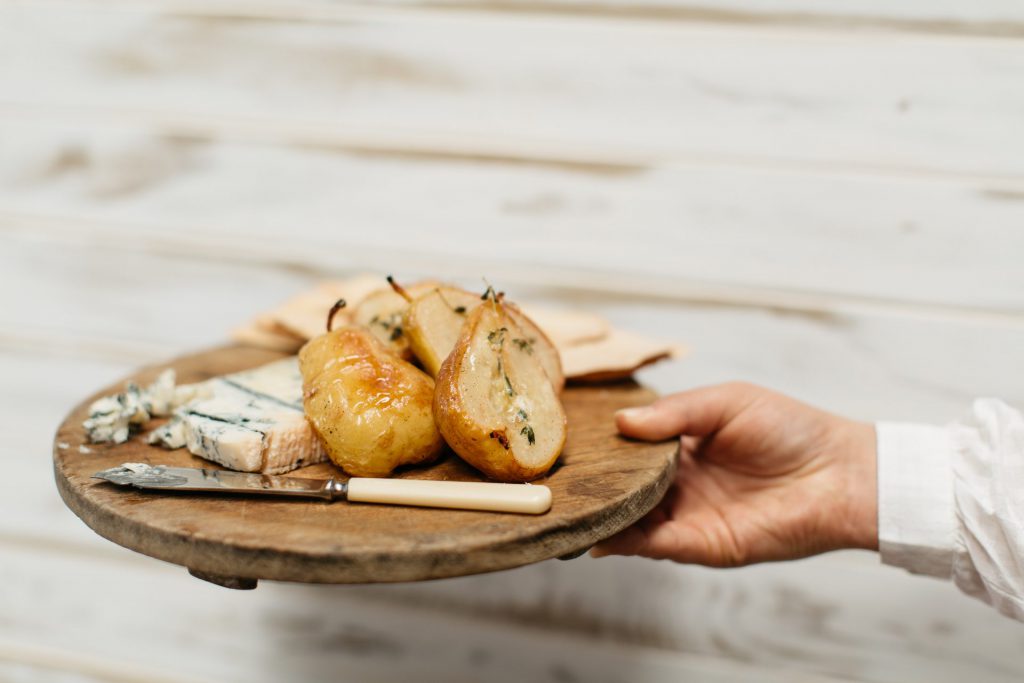 Roasting the pears really concentrates their flavour, and the thyme gives them a little savoury note. This is so easy to make, all you do is cut them in half, scoop out the seed, add a dob of butter, a drizzle of honey and then let the oven do the rest. They are delicious sliced and served with a creamy Brie or, my favourite, Gorgonzola. Add some wafer thin crackers, walnuts and a drizzle of honey and you've got a special after dinner treat.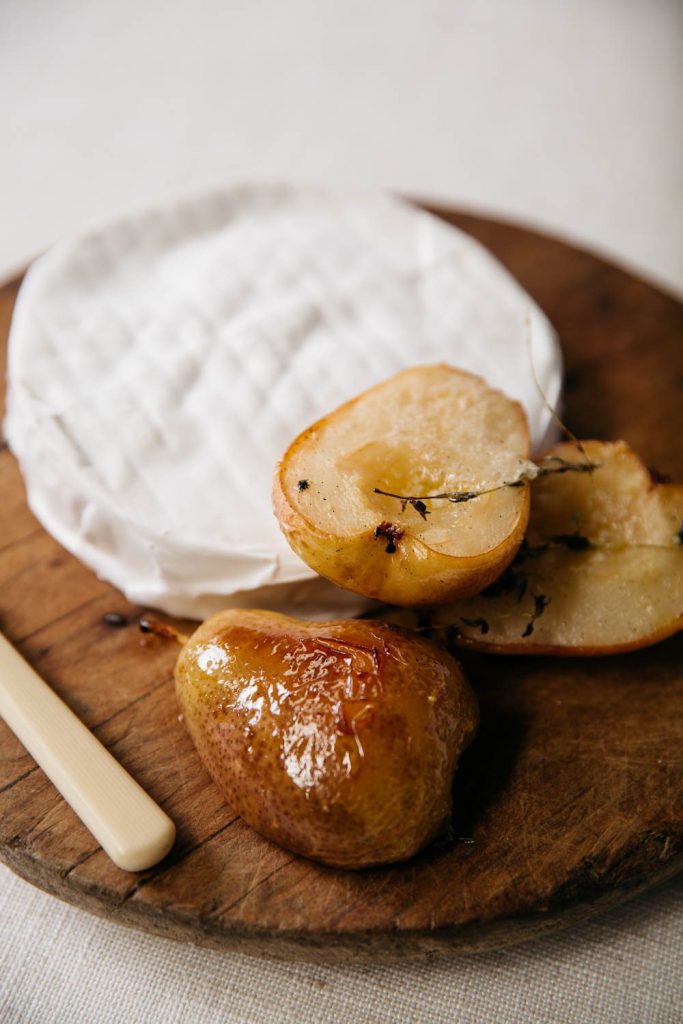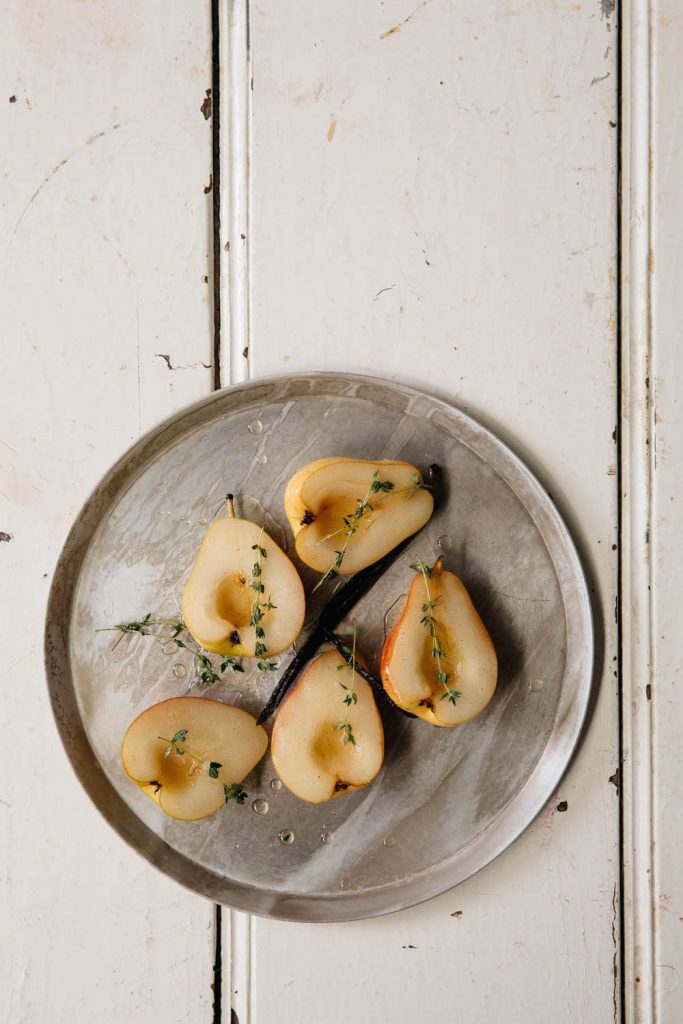 You can add slices of these pears into a salad, chop them and add to a cake batter, serve with pancakes, a little custard maybe? Once you've got a batch of these in your fridge you'll find lots of ways to eat them! Any variety of pear will work here – just go with what you can find.
This is a delicious way to end a meal when you want something sweet but not too heavy.  Perfect with a little ice-cream on the side. Roasting pears is really easy and they keep well in the fridge for a couple of days. Any leftovers are great with a little muesli and yoghurt for breakfast.
Vanilla Roasted Pears with Thyme
Author:
Prep time:
Cook time:
Total time:
This is a beautiful dessert that's a perfectly light but sweet way to end a meal.
Ingredients
4 firm pears
1/4 cup honey
½ cup hot water
Juice of ½ lemon
½ vanilla bean
3 tbsp sugar
2 tbsp butter
½ cup water
6 sprigs fresh thyme
Instructions
Preheat oven to 180 degrees Celsius.
Cut the pears in half and remove the cores. Place into a baking dish in one layer, cut side up.
Combine the honey, water and lemon juice and pour over the pears.
Split the vanilla bean and run a knife down to remove seeds. Combine the vanilla bean seeds with the sugar. Sprinkle over the pears. Add a dob of butter into each cavity and sprinkle with thyme.
Cook for 40 minutes, basting in the juices every now and then, or until the pears can be pierced easily with a knife.