Cooking something 'al forno' basically means it's baked in the oven. Pasta al forno, therefore, is simply a pasta bake.  Most people would have cooked or eaten a pasta bake in their time, it's one of the simplest meals to prepare, can be made in advance and feeds a lot of people on a shoestring.  From simple versions of just tomato sauce and cheese, to creamy, gooey, cheesy styles,  or packed with vegetables or meat, one thing they all have in common is that they provide a comforting meal pretty much everyone loves to eat.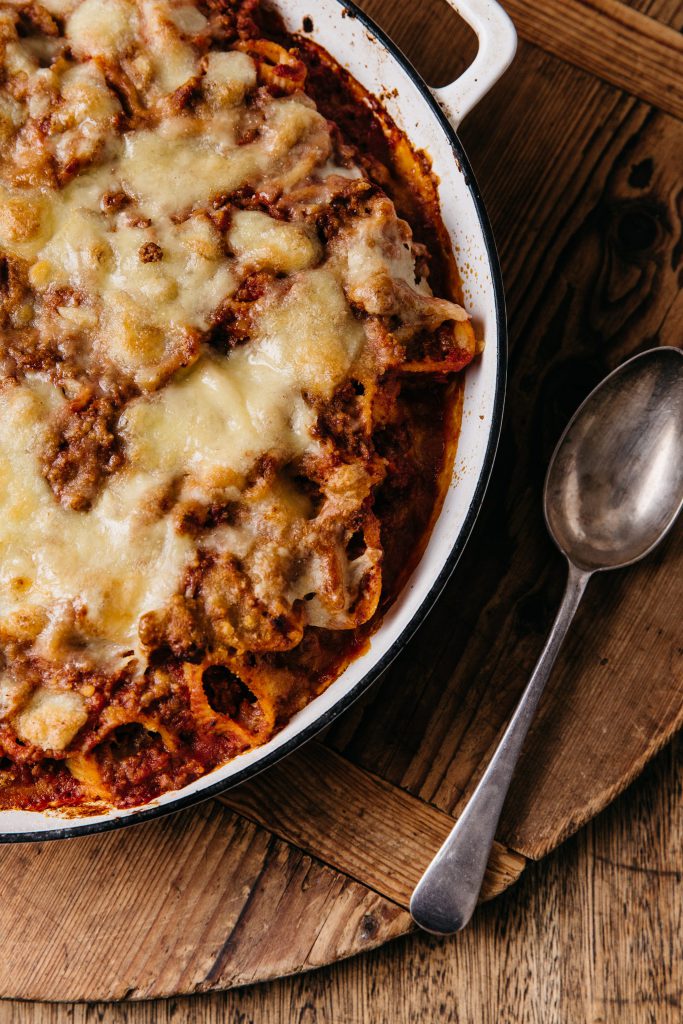 This pasta bake has a little bit of everything in it, bacon, pepperoni, olives, capsicum, Italian sausages, and even boiled eggs. It's hearty, full of flavour and perfect for a large gathering. I often make this when we have lots of people over because I can make it in advance and refrigerate. Then all you have to do is put it in the oven when guests arrive. Baking it when cold means it will take a little longer to cook – around 1 hour in a moderate oven.  Cover with foil for the first 40 minutes so the cheese on top doesn't burn, then remove so it can get all crispy and delicious (the corner crispy bits are always the best!). If you want to serve something with it a simple salad is all it needs.
You will need to make a batch of my Basic Tomato Sauce for this, or use store bought if you don't have the time.
Pasta al Forno
Author:
Prep time:
Cook time:
Total time:
Add whatever you have on hand to make this Pasta al Forno your own creation.
Ingredients
Olive oil
I onion, diced
1 garlic clove, finely sliced
1/2 red capsicum, de seeded and diced
3 bacon rashers, chopped
200gm fresh Italian sausages, skins removed
2 tbsp dried oregano
2 tbsp dried parsley
Salt
Pepper
200g cacciatore or pepperoni, sliced
3 boiled eggs, chopped
1/4 cup pitted black olives, sliced
500g dried penne pasta
3 cups Basic Tomato Sauce (or use store bought)
½ cup grated Parmesan cheese
2 cups grated cheddar cheese
1 cup grated mozzarella
1 tbsp, extra, dried oregano
Instructions
Preheat oven to 180C.
Splash a little olive oil into a large frypan. Add the onion, garlic and capsicum and sauté until onions are translucent. Add the bacon and sausage meat, and cook. Break up the sausage meat with the back of a spoon while cooking. Add the herbs, season with salt and pepper.
Remove from heat.
Fill a pot with water and bring to the boil. Add a good pinch of salt, then add the pasta. Stir with a wooden spoon, then allow to cook until just al dente, still firm.
Drain the pasta in a colander then tip the pasta back into the empty pot.
Add the cooked meat mixture from the frypan and the sauce. Stir to combine. Add the mortadella, sliced cacciatore or pepperoni, egg, Parmesan and the tomato sauce. Combine.
Tip the pasta into a large baking dish. Cover with grated cheeses and sprinkle with extra oregano. Bake for 25 minutes, or until cheese is melted and golden.