Ah the Jelly Cake, if you don't know what it is you're a lot younger than me! Jelly cake is certainly not Italian, it's very Australian – and as an Italian girl growing up in Australia, Mum made her fair share of Aussie cakes too.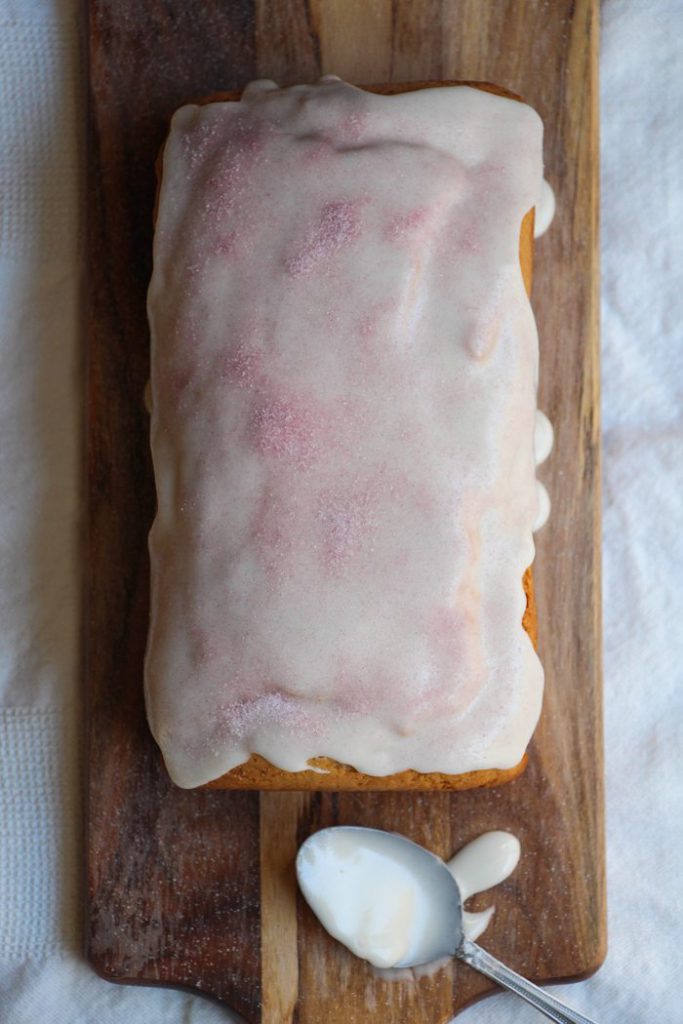 A very easy cake to make (and eat), when I'm feeling lazy I just  throw everything into the food processor and mix until smooth. It works just as well as the conventional method. Either way, after 35 minutes in the oven you have a beautiful pink loaf of deliciousness. I always sprinkle extra jelly crystals on top, but some shredded coconut would be nice too. My kids love this as a naughty lunchbox treat.
Raspberry Jelly Cake
Author:
Prep time:
Cook time:
Total time:
A sweet old fashioned treat that is quick and easy to make.
Ingredients
140gm butter, room temperature
1/3 cup Raspberry Jelly Crystals
½ cup sugar
1 ¾ cup self raising flour
2 eggs
½ cups milk
2 tsp vanilla extract
2 cups icing sugar
4 tbsp water
3 tbsp Raspberry Jelly Crystals, extra
Instructions
Preheat oven to 180 degrees celsius. Line a loaf tin with baking paper.
Put the butter, jelly crystals and sugar into a large bowl. Beat on medium speed until creamy.
Add the flour, eggs, milk and 1 tsp of the vanilla and mix for a further minute, or until well combined.
Alternatively just throw all the same ingredients into a food processor and blend until smooth.
Spoon the batter into the prepared loaf tin. Bake for 35 minutes, or until cake is cooked ( test by inserting a cake skewer into the centre – if it comes out clean it is done)
Remove from the oven, rest for 5 minutes then turn out onto a drying rack and allow to cool.
Mix the icing sugar with water and remaining vanilla. You should have a thick, spreadable consistency. If too thick add a little more water, if too runny add some more icing sugar.
Once cool, spread the cake with icing and sprinkle with extra jelly crystals