There's a time and a place when only a burger will do.  Who doesn't love one?  You can buy them everywhere from fast food chains to expensive restaurants. Some restaurants only serve burgers these days, it's become a bit of a burger phenomenon. You can get anything in a burger, from beetroot and egg, to kimchi and avocado, chorizo and pickles, and truffle and mushroom, just to name a few. Purists may say all a burger needs is good seasoned meat, sauce and cheese – others like to get the 'kitchen sink' version that has so much stuffed inside the buns it's difficult to even bite into.
But what makes a really good burger? As with anything, it's the quality of the ingredients and personal taste. The meat is important, and true burger enthusiasts will tell you to buy good quality meat such as chuck with 20 – 30% fat and then grind it freshly yourself.I'm not so hard core when it comes to what makes a good burger.  I'm too lazy to grind my own meat so I most often buy mince from the supermarket and trick it up so it tastes delicious.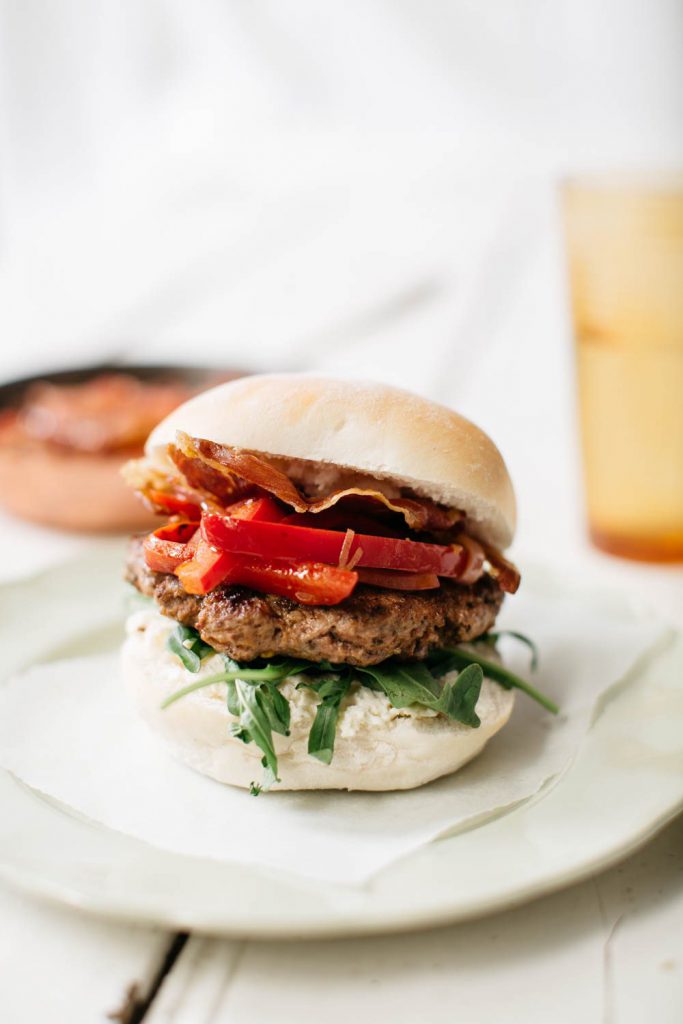 My meat patty tastes almost like a giant Italian meatball. Packed full of flavour from garlic, paprika, oregano and best of all a little oozy mozzarella surprise inside. And that, in my opinion, is almost good enough to eat just by itself. But wait, this is a burger after all.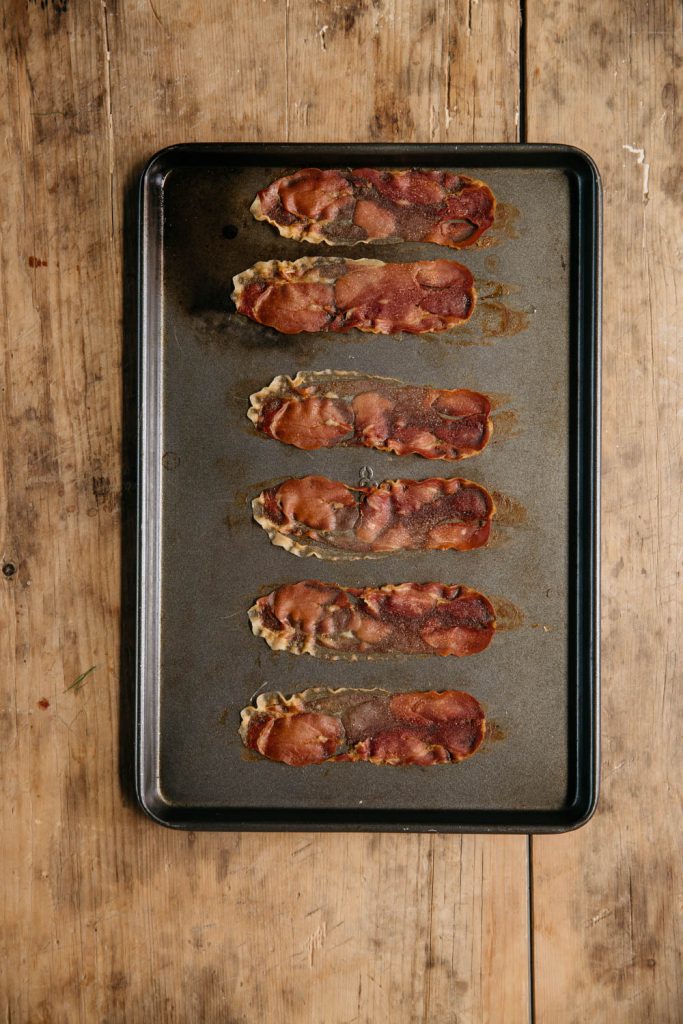 My ultimate burger must include Italian flavours – like caramelised capsicum and onions, crispy prosciutto, tomato and basil sauce, creamy ricotta and  a little baby rocket or spinach leaves dressed in red wine vinaigrette. Serve in perfectly fresh bread, with a little crust, but soft and yielding on the inside.  Mmmm. Now THAT is a burger!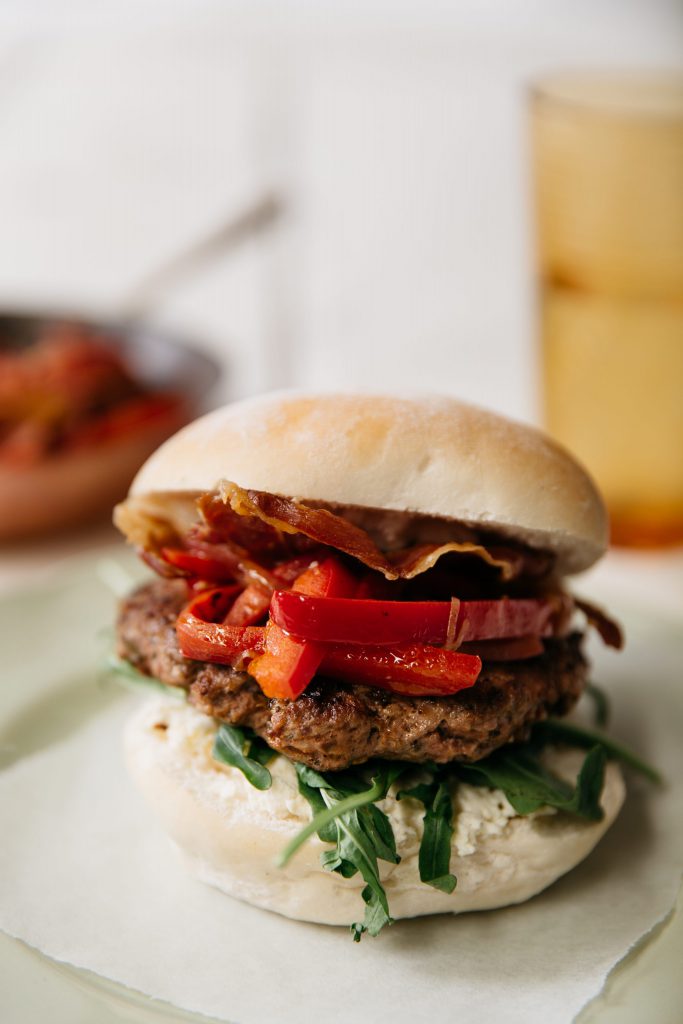 These burgers make a fantastic family meal. Do as I do and make the burger patties in advance. You can even freeze them if you like.  Then when it's time to assemble you just need to cook off the capsicum and onion, crisp up the prosciutto, cook the patties and assemble.   Give them a try – you won't be disappointed!
The Ultimate Italian Burger
Author:
Prep time:
Cook time:
Total time:
These Italian style burgers are full of flavour My favourite part is the oozy cheesy centre.
Ingredients
500g ground beef
500g ground pork
Salt
freshly ground black pepper
1 tsp chilli flakes
1 tsp ground fennel seed
1 tsp sweet paprika
2 cloves garlic, minced
½ tsp dried oregano
2 tbsp balsamic vinegar
1 cup mozzarella, grated
8 fresh basil leaves, chopped
3 tbsp olive oil
5 red capsicum, deseeded, cut into strips
2 onions, peeled and sliced
3 tbsp red wine vinegar
6 thin slices prosciutto
6 burger buns, halved
2 tbsp butter
180g ricotta
1 cup baby spinach or rocket leaves
1 cup store bought tomato pasta sauce, warmed
Instructions
To make the burger patties, mix the ground beef and pork with the a good pinch of salt, pepper, chilli, fennel, paprika, garlic, oregano and balsamic vinegar until well combined. Form 6 patties around 2 – 3cm thick.
Mix the mozzarella with the basil leaves. Make an indentation in each patty and stuff some of the mozzarella mixture inside. Seal to enclose.
Heat a barbecue or frypan over medium -high heat. Add half the olive oil, capsicum and onion and cook, stirring every now and then for 20 minutes, or until very tender. Add the red wine vinegar and salt and toss to combine. Set aside.
Add a the rest of the olive oil to the pan/barbecue and cook the burger patties for 5 – 7 minutes per side, or until cooked through and cheese inside has melted. You can check by piercing with a toothpick. If the cheese is melted it will stick to the toothpick.
Meanwhile, cook the prosciutto for 2 minutes per side, or until crisp. Set aside and when cool enough to handle, crumble into small pieces. You can use kitchen scissors if you like.
Spread a little butter over buns and cook, cut side down, onto your pan/barbecue and lightly toasted.
To assemble, spread a little ricotta over the bottom half of each bun, top with a little spinach/rocket, then a burger patty. Sprinkle some prosciutto over, a little tomato sauce and then some capsicum/onion mixture. Top with the remaining bun halves and serve.