Making fresh pasta and gnocchi has always been my passion, my joy and my therapy. I can't think of anything I'd rather do in the kitchen than get my hands into making something from scratch.  This is where I am happiest, making something amazing from a few ingredients that I know my family will love.  Today, I'm making a big batch of gnocchi and inviting some friends over to join us for dinner to share them.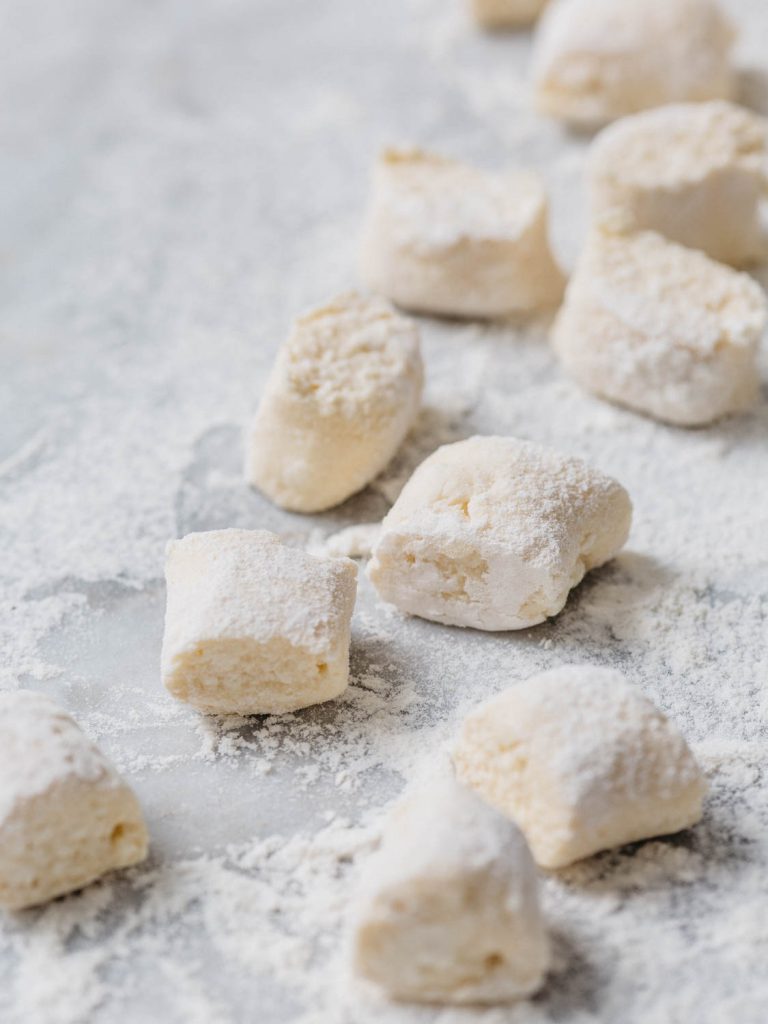 If you've only ever eaten store-bought gnocchi, you really have no idea how amazing home-made can be, and they are really easy to make. You just need a little time, and let me tell you, finding time to have fun making a batch of gnocchi is worth every minute.  Soft little pillows, they just melt in your mouth. Get your family involved and make an afternoon of it, kids love using their hands! Best of all, gnocchi can be frozen, so do what I do and make more than you need so that you've got a batch ready to go next time you need a meal in a hurry.
If you follow a few rules, your gnocchi will last amazing every time. First of all you need the right potatoes, good starchy ones like Desiree  or Royal Blue produce beautiful fluffy gnocchi, but you can use standard everyday starchy potatoes if that's what you've got.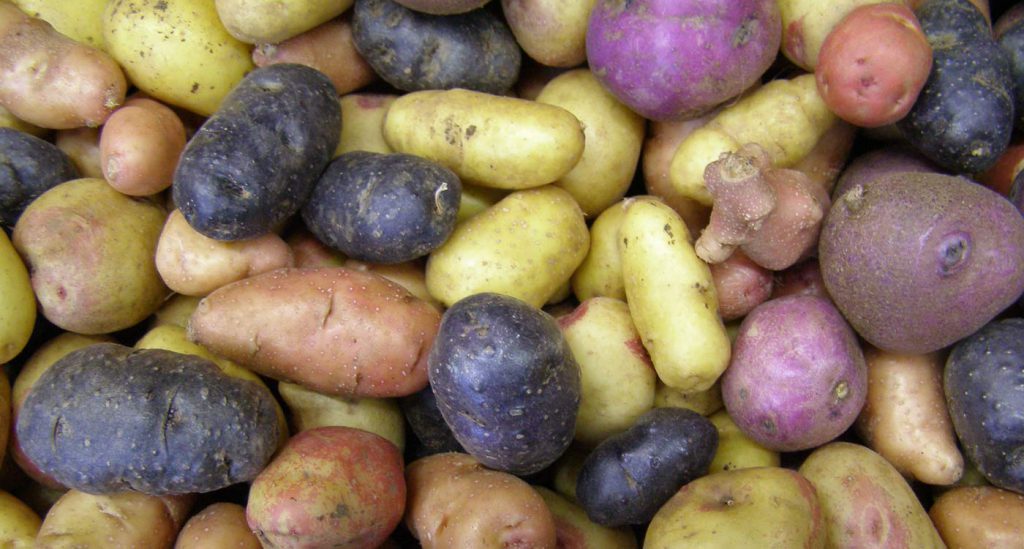 I always boil my potatoes with skins on to stop the potatoes getting too wet.  Boil them for a good hour, they need to be really soft without resistance. Once cooked, it's important to peel them and mash them while still warm.  This ensures the steam escapes from the potatoes, allowing them to dry out faster.  I prefer to use a ricer than a potato masher for a fluffier result. You could also pass the potatoes though a fine sieve.
Once the potatoes have been mashed/riced and cooled, the next important step is to add flour gradually. Depending on the flour, moisture content in the potatoes and even the weather, the amount of flour you need can be different each batch.  That's why the best approach is touch and feel, and add flour a little at a time until the dough is smooth, slightly sticky, but dry to touch.  I tend to add less flour than I need, as the lightest gnocchi are made using minimal flour.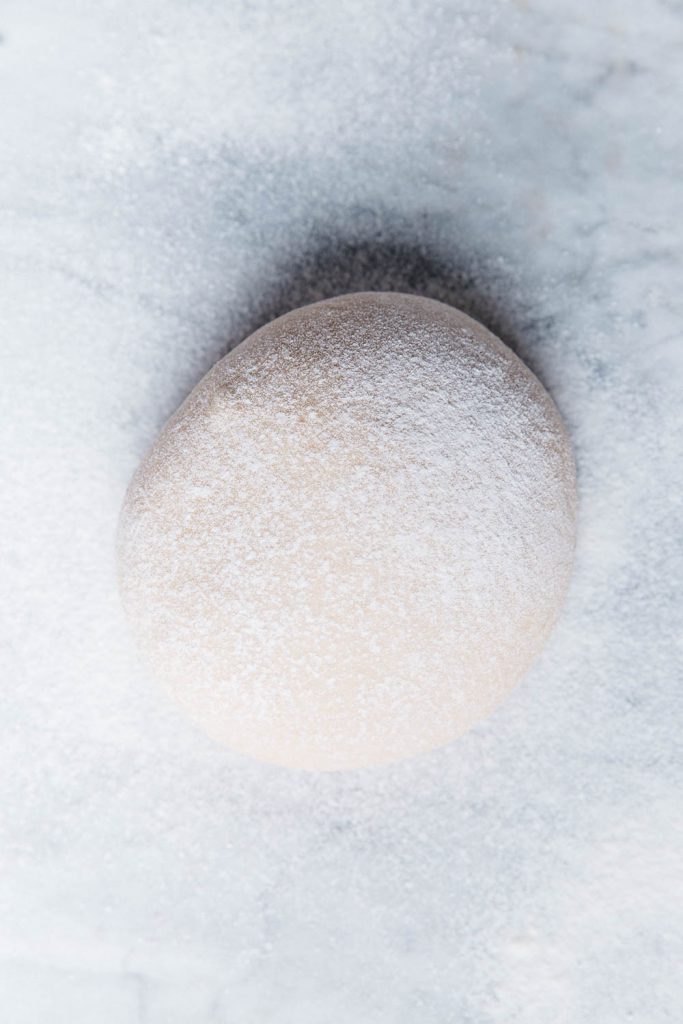 To ensure the gnocchi don't fall apart, I always test one in boiling water before I make the whole batch. That way if the gnocchi disintegrates in the water, I know it needs more flour and I just knead more in.  Once you're happy the gnocchi will cook and hold together, make the whole batch.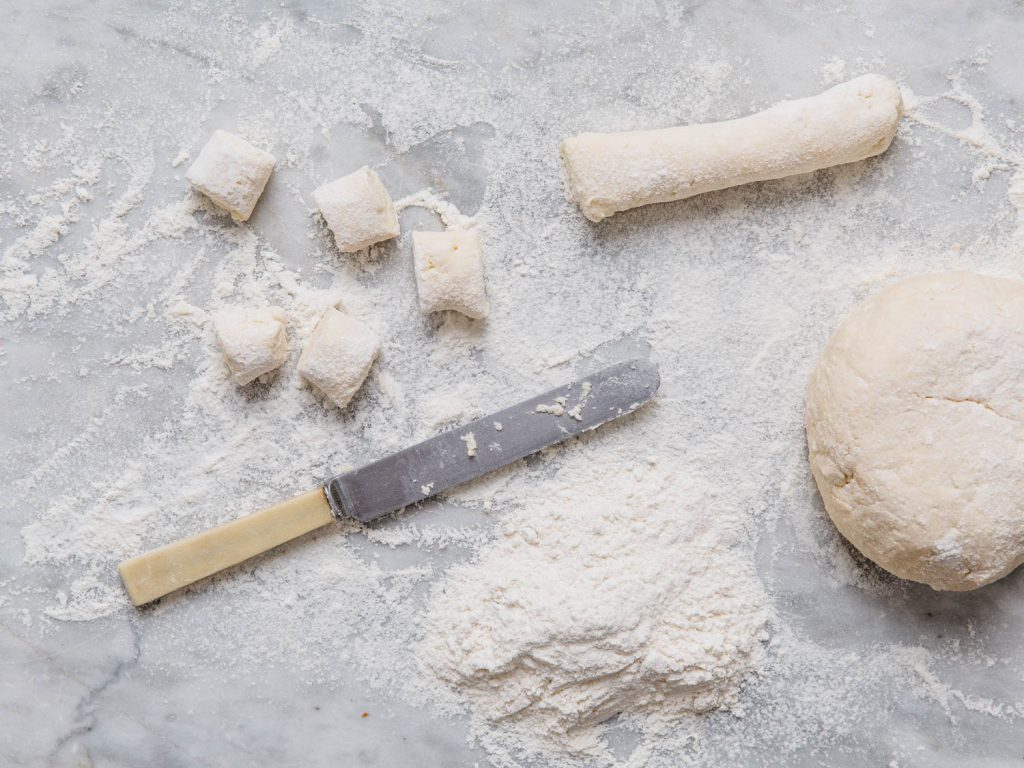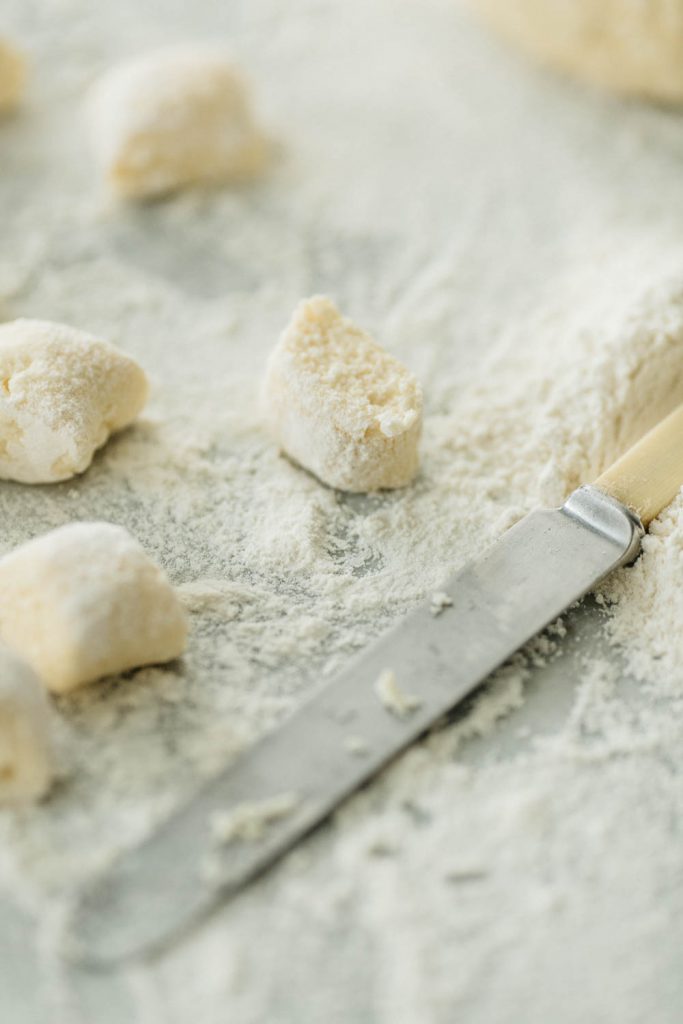 Lay them on trays, with space in-between each one so they don't stick together.  I generally freeze them straight away, even if I'm cooking them that day, as I find it easier to tip the frozen gnocchi into the boiling water.  However you can just sit them in the fridge for up to a day if you like. Once the gnocchi are frozen solid, you can transfer them into snap lock bags, ready to be poured straight into boiling water from frozen.  That way you can cook as much as you need when you need.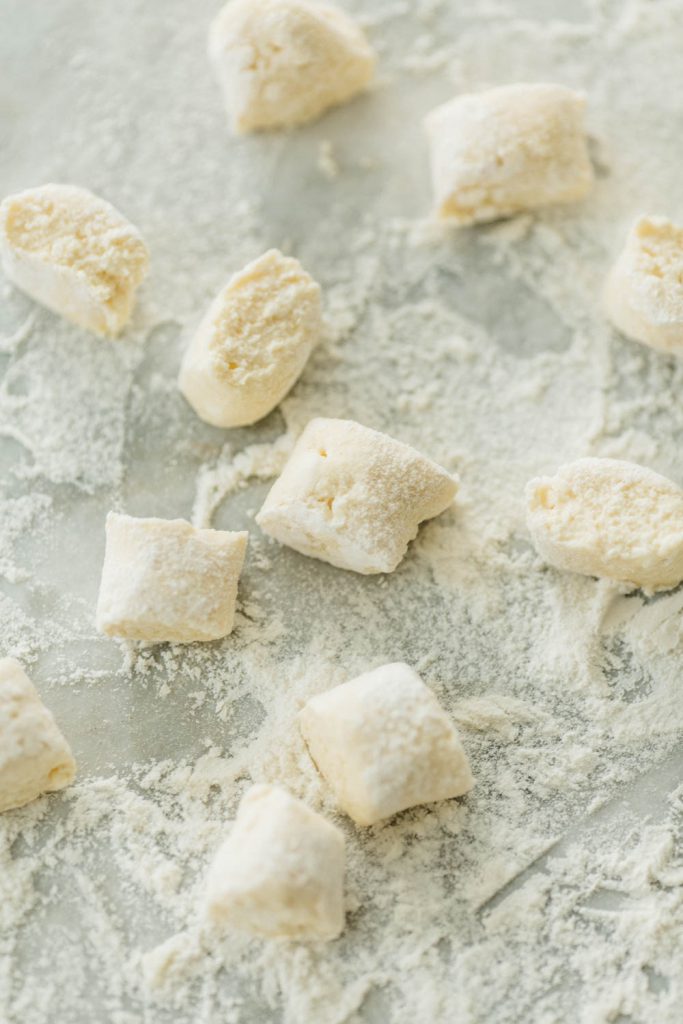 I most often serve gnocchi with a slow cooked ragu, but they are very indulgent with a creamy cheesy sauce.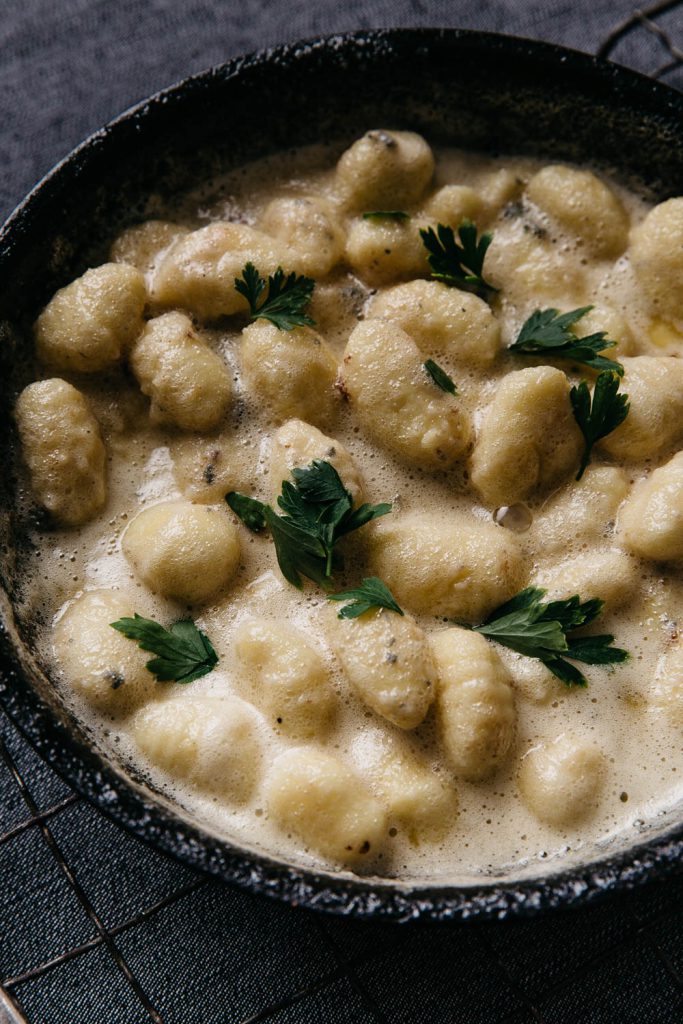 Gnocchi are equally delicious with a simple tomato sauce, or toss through pesto or burnt butter (yum).
Give them a go, and enjoy the process of making them as much as the eating!
Gnocchi
Author:
Prep time:
Cook time:
Total time:
The key to making light and fluffy gnocchi comes down to a couple of key factors – potato and flour.You need to use the right potatoes; you need to make sure they're dry after cooking, use a ricer rather than mash them, and most importantly use as little flour as possible. I don't like gnocchi that is so soft that it just tastes like mushy mashed potatoes, they need a little bite, but they should be tender and light.You can make a big batch of these and freeze them on trays in a single layer, then once frozen bag them up ready to be dropped straight into boiling water at a moment's notice.
Ingredients
1kg starchy potatoes, Desiree is a good choice
350g plain flour, plus extra for dusting
Instructions
Put the potatoes, skin on, into a large pot filled with water. Bring to the boil and cook until potatoes are very tender. Drain.
When potatoes are just cool enough to handle, press them through a ricer, straight onto your kitchen bench. Spread out and allow to cool completely.
Add the flour and mix gently to combine just until the dough comes together. Take a small chunk of dough and roll into a snake like log. Dust sparsely so the dough doesn't stick, but be careful not to add too much flour as this is what makes the gnocchi heavy and chewy.
Cut gnocchi at regular intervals into small pieces, and press onto a gnocchi board or the tines of a fork to make indentations. This helps the sauce cling to the gnocchi. Alternatively press a little dimple into each gnocchi with your thumb.
Bring a large pot of water to the boil, add a generous pinch of salt and drop in the gnocchi. Stir gently and cook until gnocchi rise to the surface. Remove with a slotted spoon, drain and serve with your favourite sauce.