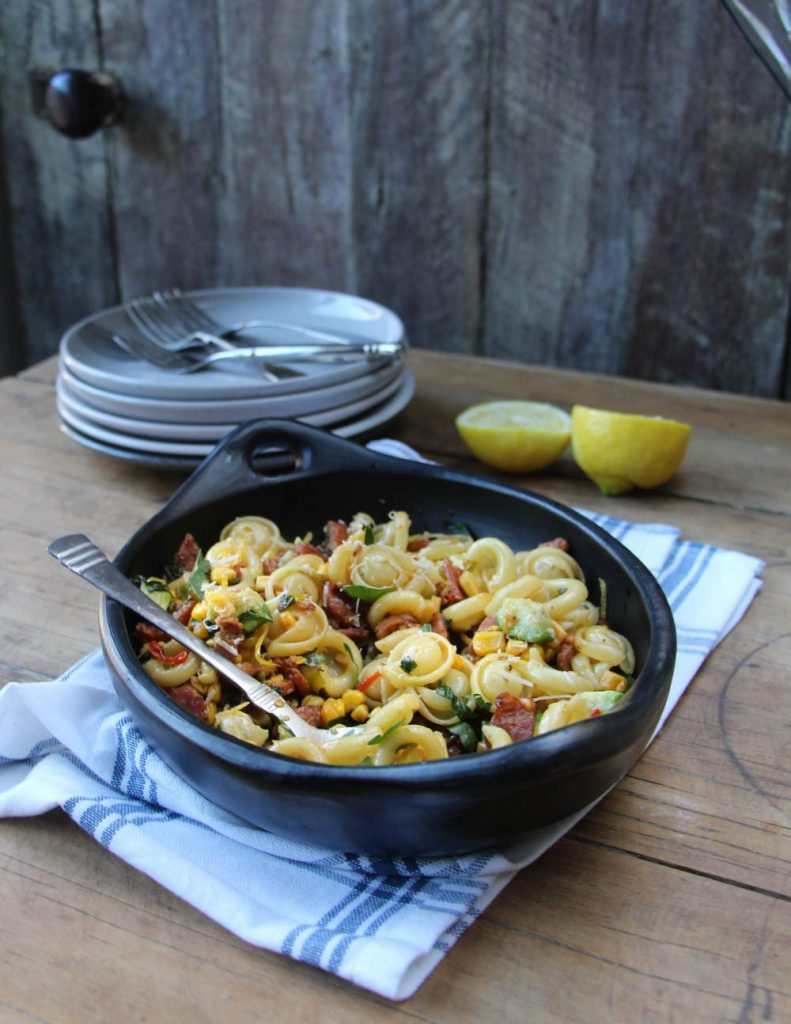 I've just come back from a weekend away in Broome. For those of you not familiar with it, Broome is a beautiful coastal town in northern Western Australia most famous for it's gorgeous beach, Cable Beach, and it's pearling industry.  I live 600km south of Broome, so it's a great escape when we get a long weekend, or just decide to take a few sneaky days off .  When you live remote as I do, a 600km drive isn't a big deal, it's just part of life, so we visit Broome quite a bit.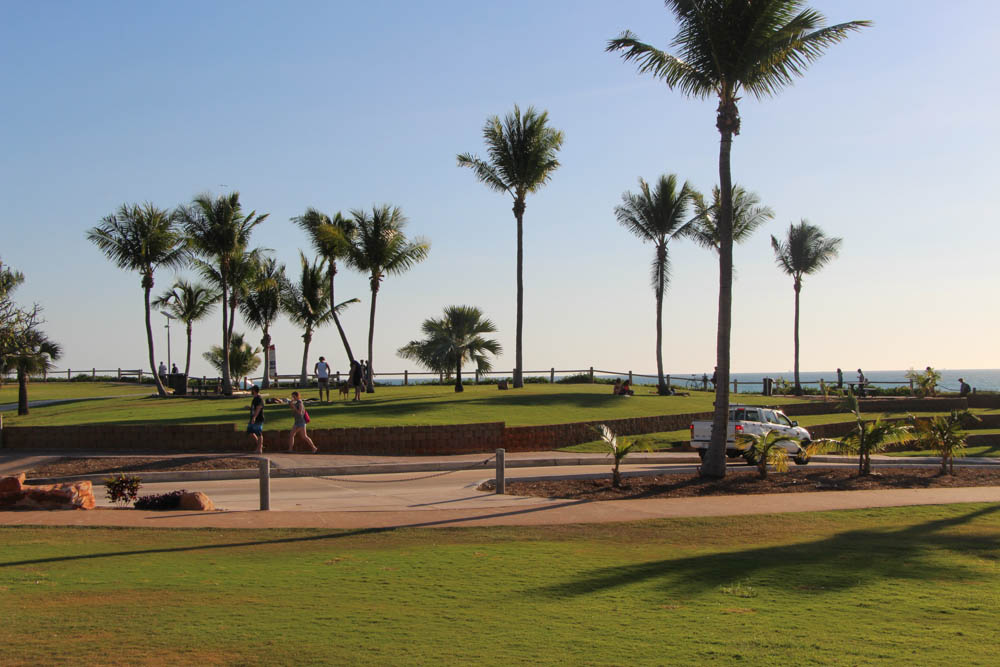 Last weekend marked the opening of Broome's annual Shinju Matsuri festival (Festival of the Pearl).  I've always wanted to go, and this was the first time I was lucky enough to be there at the right time. It's a celebration of multiculturalism in Broome, going back to the days when the Japanese, Malay, Filipino, Chinese, Koepangers and European workers flocked to Broome during the the 1800's when Broome became well known as a major producer of South Sea Pearls, and how they joined with the local Aboriginal workers on the Pearl Luggers. From then on Broome became, and still is today, a town full of diverse cultures.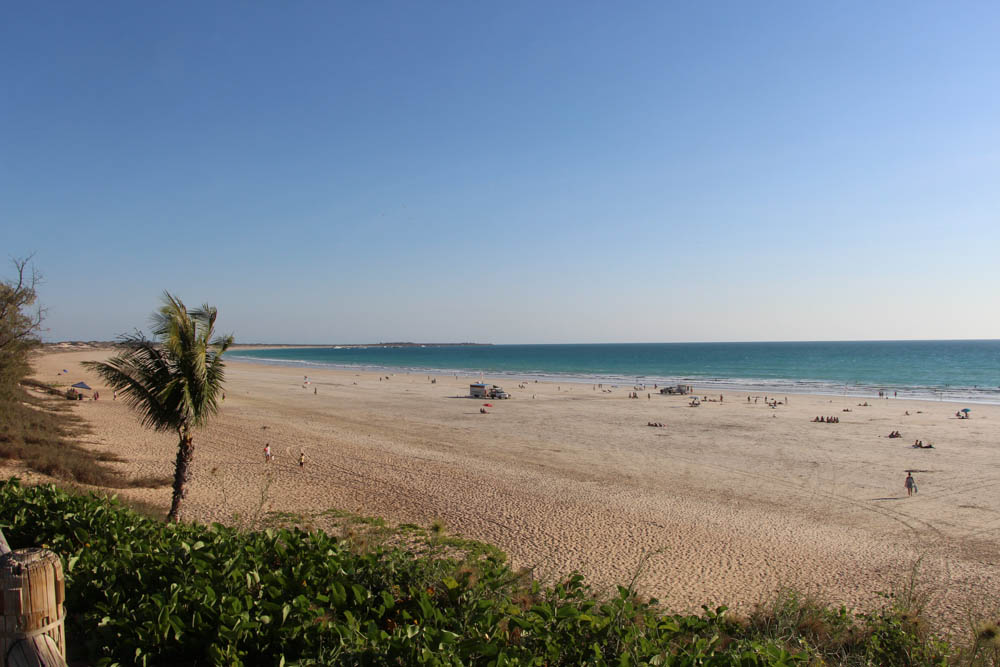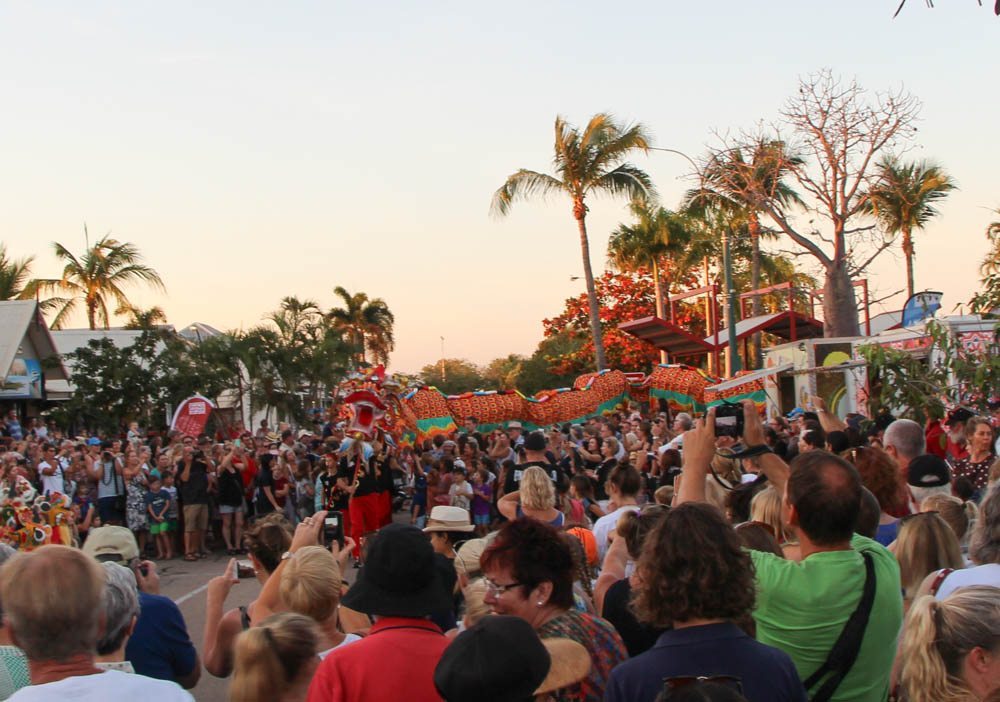 The opening of the Shinju Matsuri was marked with the awakening of Sammy the Dragon. Such a strange sight to see in a north west Australian town, but it shows how important the Asian influence has been on the town through history.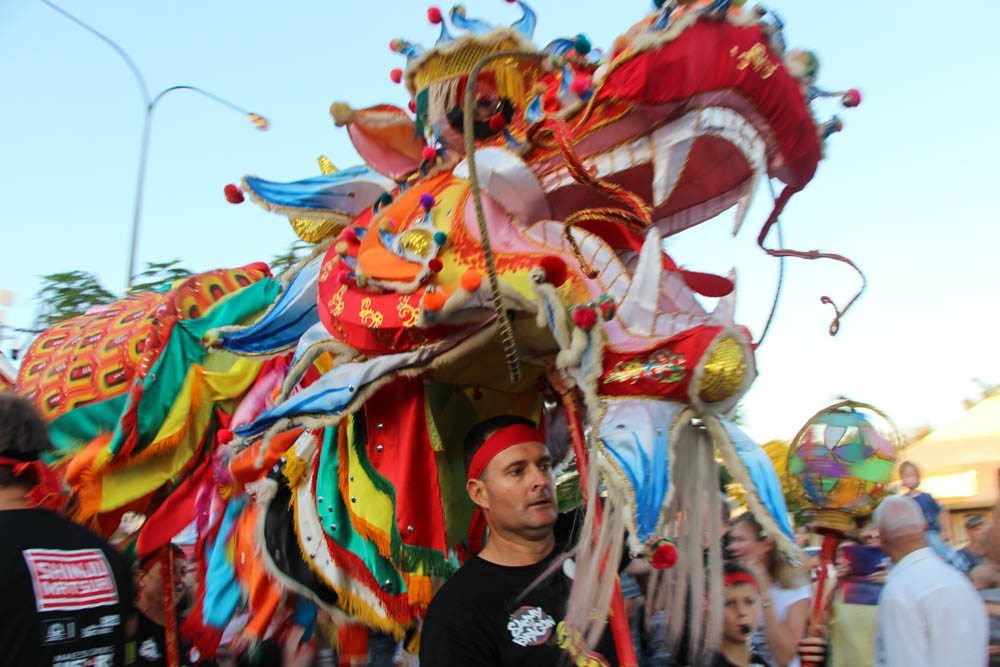 At night the town came to life with live music, ranging from traditional Aboriginal, to Filipino, to modern contemporary.  The streets were lit up with market stalls and a huge range of food trucks where you could buy anything from paella to curry, thai noodles to beef burgers, satay to pearl meat, tacos to profiteroles.  There were people in costumes, some wearing their culture's traditional dress. The colours and sounds were amazing. You seriously could not tell where in the world you were walking around that night.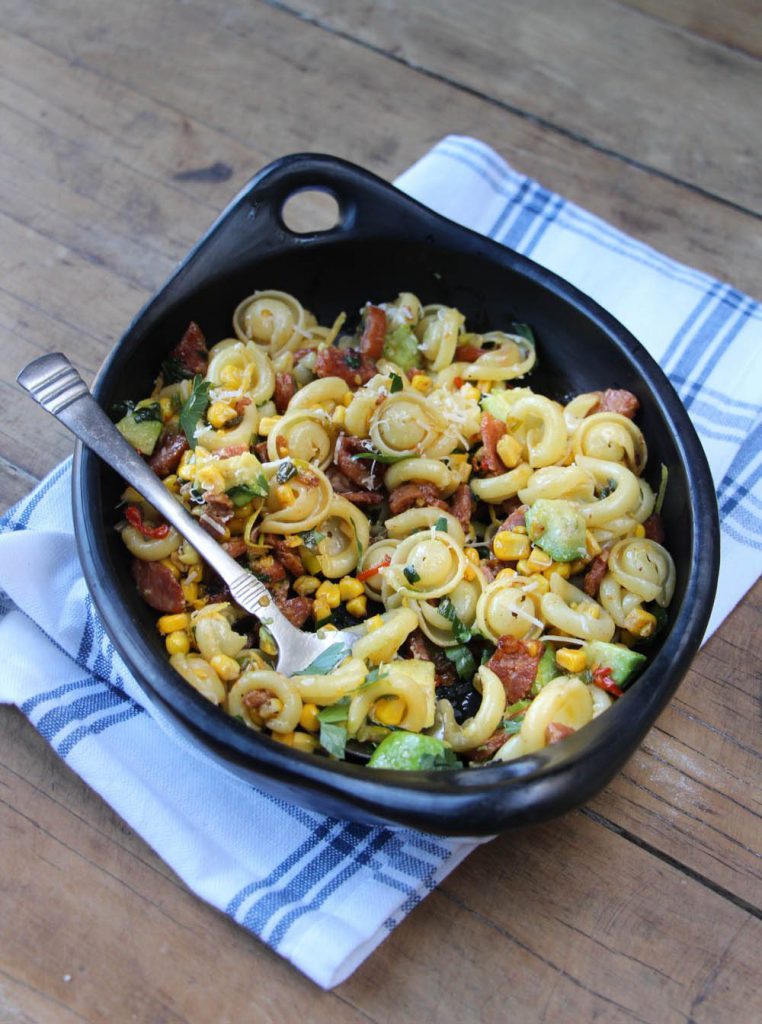 Seeing so many cultures join together really got me thinking about food and how lucky we are to live in a place that is full of diverse cultures.  You really don't see too many places in the world where you can purchase a meal from so many nationalities in one place.  I love the fact that we can experience that, learn about different flavours and techniques that we can bring to our own cooking.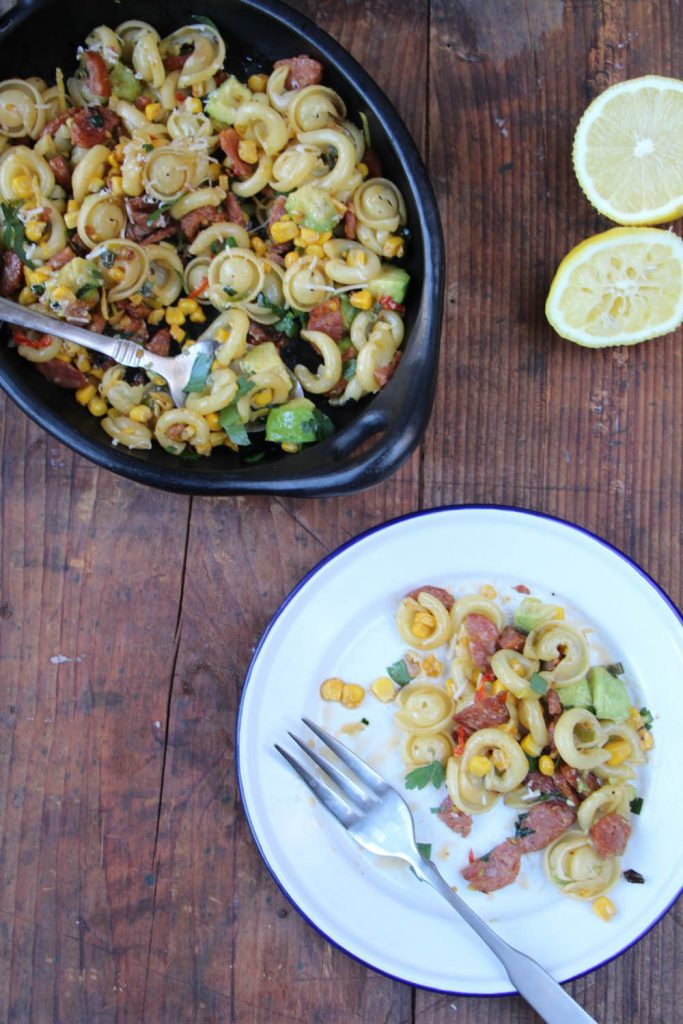 I often like to borrow an ingredient, or mix of flavours, from another culture and use it to tweak my own recipes that come from my Italian heritage.  It's not something my Nonna would have done, but I think these days it's perfectly acceptable to play with a recipe, give it a twist, and be inspired by other cultures to make something delicious. That's how I like to cook anyhow, no rules, just go with what tastes good.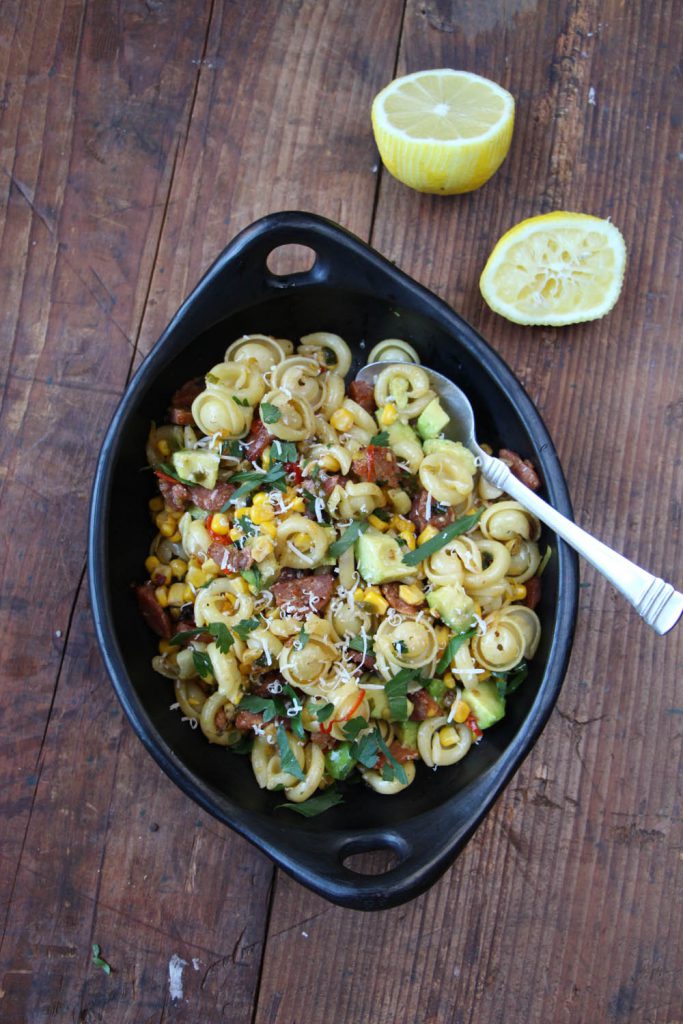 The inspiration for this pasta dish is a little Mexican, a little Spanish – but mostly it's all my most favourite ingredients mixed together. Smoky chorizo, sweet corn, creamy avocado, zesty lemon and of course the holy trinity of garlic, onion and chilli tossed through pasta is a really delicious combination. Avocado is not something you would normally associate with pasta, but it really works here. This dish can be eaten hot, or cold as a salad, so make extra if you like and there's lunch sorted for tomorrow! The whole thing takes less than 15 minutes to make so it's great for a quick weeknight meal.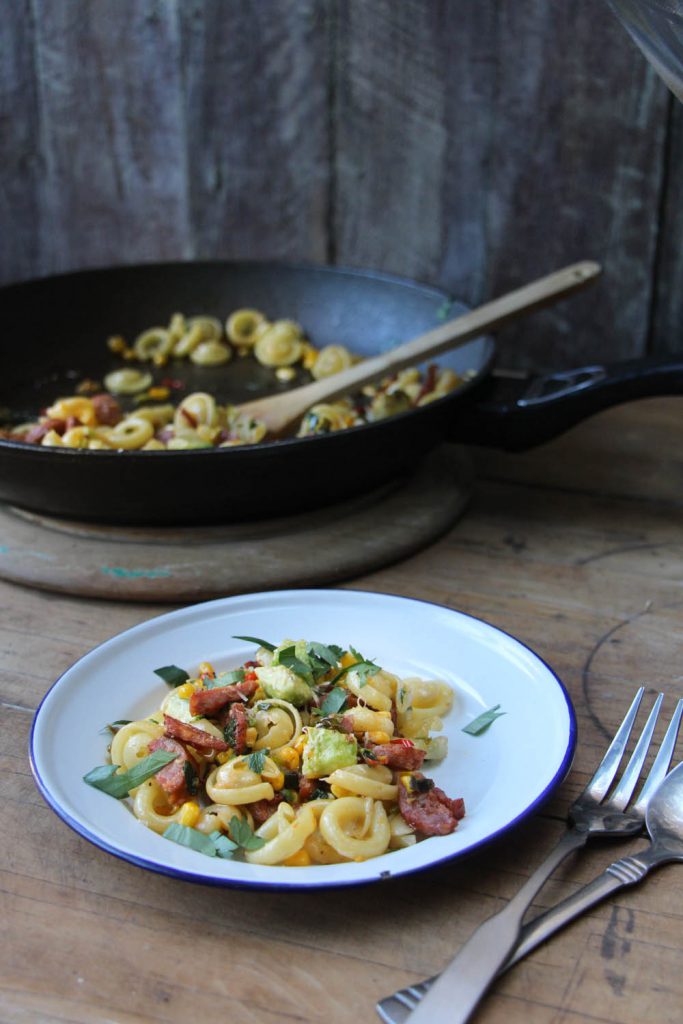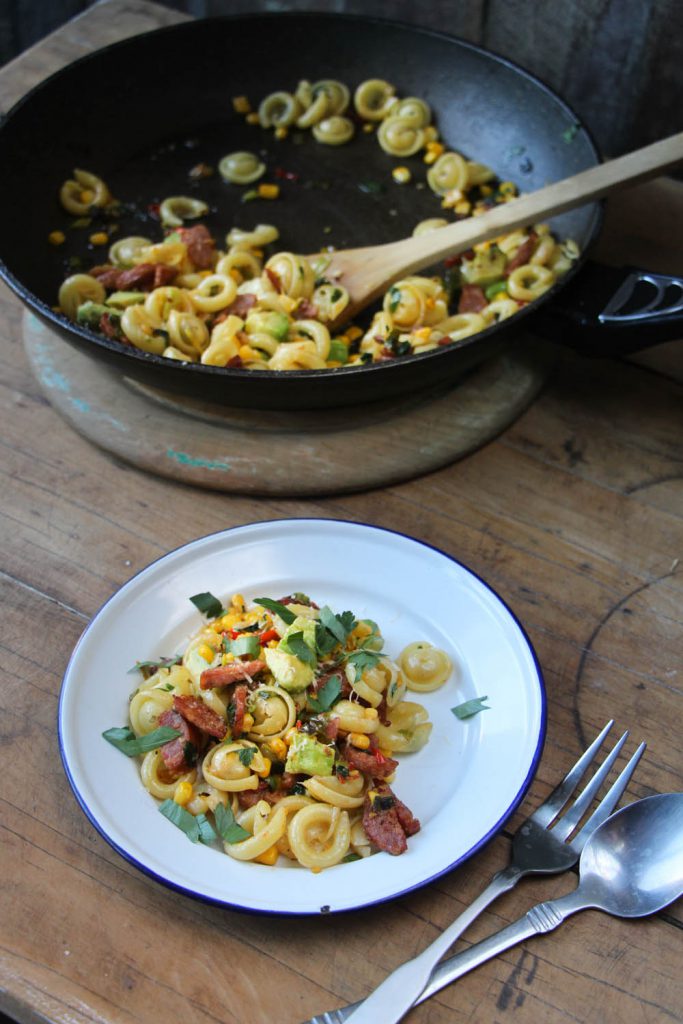 A few tips, buy the raw Chorizo, not the dried one. It has a softer texture and when fried it releases a delicious smoky paprika spiked oil that adds to this dish. I prefer using corn on the cob here, and I mostly make this dish when we've had corn cobs the night before and I have some lurking around waiting to be used up, but if you're short on time you can used tinned corn.  And of course, if you don't like the heat, leave the chilli out.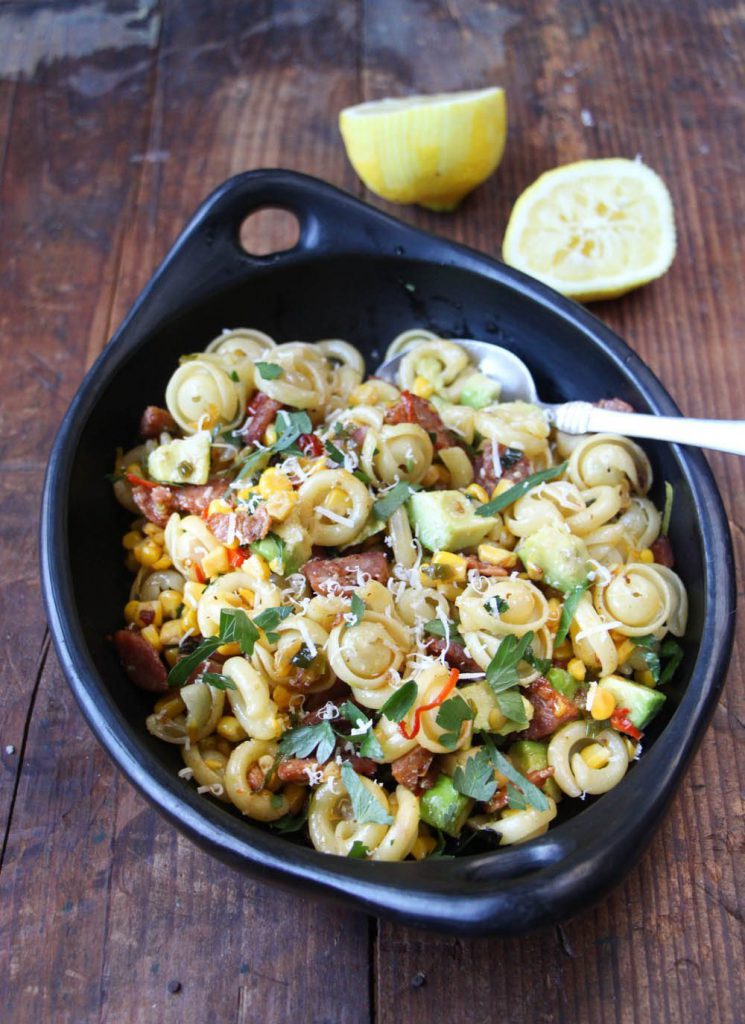 As always, use whatever pasta you've got lying around. I have used a packet of San Remo Orecchiette (little ears) here because I love how the corn kernels get trapped in the centre of the shapes so you get a little of everything with each forkful.
Orecchiette with Corn, Chorizo and Avocado
Author:
Prep time:
Cook time:
Total time:
A simple weeknight pasta dish that's on the table in 15 minutes.
Ingredients
2 corn cobs, boiled or steamed, or 1 cup tinned corn kernels, drained
¼ cup olive oil
4 spring onions, finely sliced
1 small red chilli, finely sliced
2 cloves garlic, finely sliced
2 fresh chorizos, skins removed, finely sliced
400g orecchiette pasta
1 small bunch of fresh parsley, leaves removed, chopped
juice of 1 lemon
flesh of 1 avocado, chopped
salt
freshly ground black pepper
grated parmesan cheese
Instructions
If using corn cobs, run a knife down from top to bottom to remove the corn kernels.
Tip the olive oil into a large frypan and turn heat onto medium-high. Add the corn kernels, spring onions, chilli, garlic and chorizos and cook, stirring, until chorizo is starting the crisp on the edges. Remove from the heat.
Meanwhile cook the orecchiette in plenty of boiling salted water as per packet instructions. Drain, reserving half a cup full of the pasta cooking water.
Put the frypan back onto the heat and add the drained pasta, half the reserved cooking water and parsley. Cook over medium heat for a couple of minutes, stirring everything together. If the mix is a little dry, add more water. The starch in the water will help the pasta create a sauce. Taste and season with salt and pepper and stir again.
Remove from the heat, squeeze in the lemon juice and tumble in the chopped avocado and carefully stir to combine. Top with grated parmesan cheese and serve.