Growing up, my family always grew eggplant in the garden.  When they were in season, they'd be everywhere. Beautiful purple shiny fruit, ready to be turned into many incredible, yet simple, Italian dishes.  I would love Mum's Pepperonata, usually made when we had a family barbecue and served on a large platter to share. Mum also liked to crumb her eggplant (as do I) and we would eat them just like that, or use them like pasta sheets and layer with bolognese sauce and cheese to make a kind off eggplant lasagne. Nonna would make her famous eggplant polpette, or fritters. They were the best! A little mince, basil, garlic and parmesan mixed with a mash of cooked eggplant flesh, these were my childhood favourite.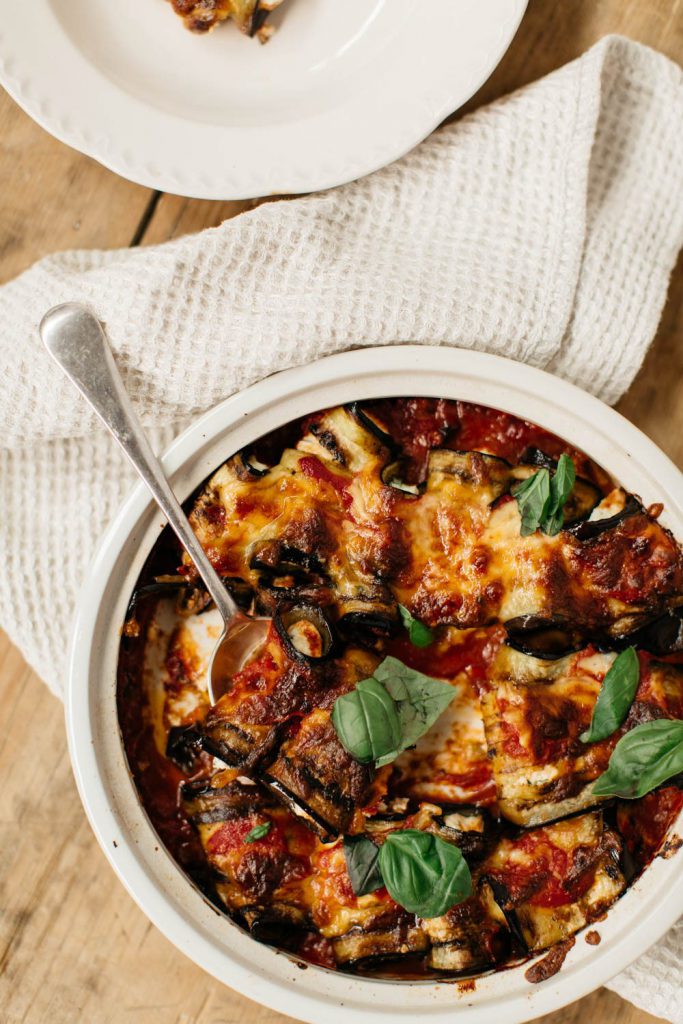 Eggplant can be cooked in so many ways, and I love it roasted, fried, pureed, mashed, cooked down in stews, or added to pasta, pizza and frittata. The dish I make most often though, is eggplant involtini. (involtini meaning "little roll"). Grilled eggplant slices rolled around a beautiful herbed ricotta filling, topped with cheese and baked in tomato sauce. It is one of my favourites, and it's meat free.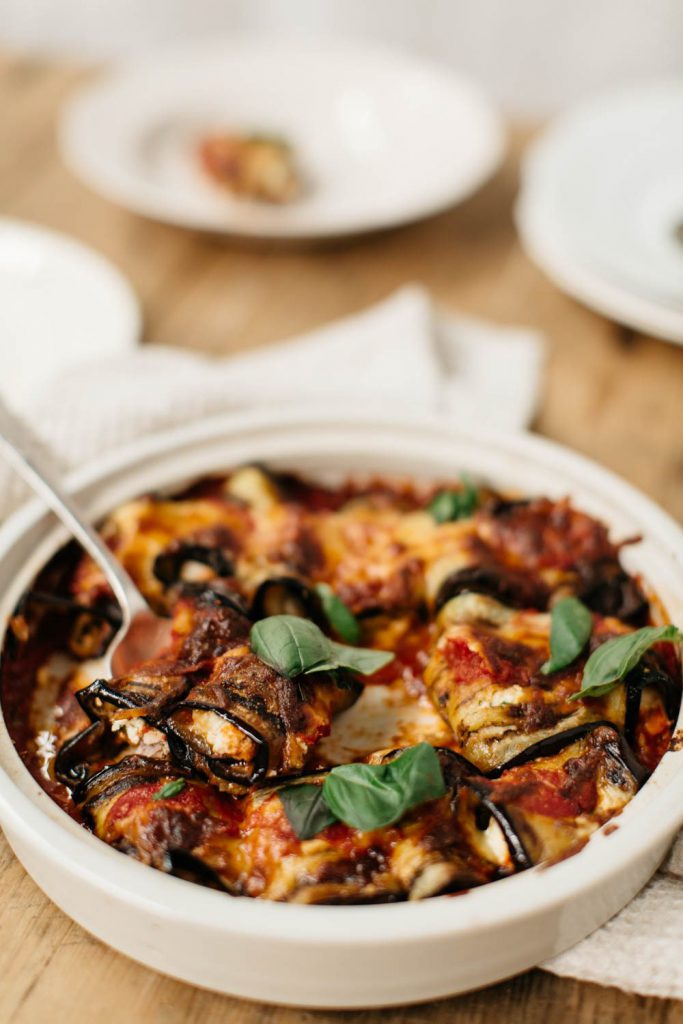 To start the dish you need to grill thin slices of eggplant, the large Mediterranean ones, not the thin slender Japanese ones, around 3mm thick.  If the seeds in your eggplant are dark you need to salt the slices before cooking to prevent them tasting bitter. Most eggplants these days don't need this process, so only salt them if the seeds are dark.  Just layer the slices in a colander, sprinkling with salt as you go.  Leave for 30 minutes, then wipe the salt and any moisture off.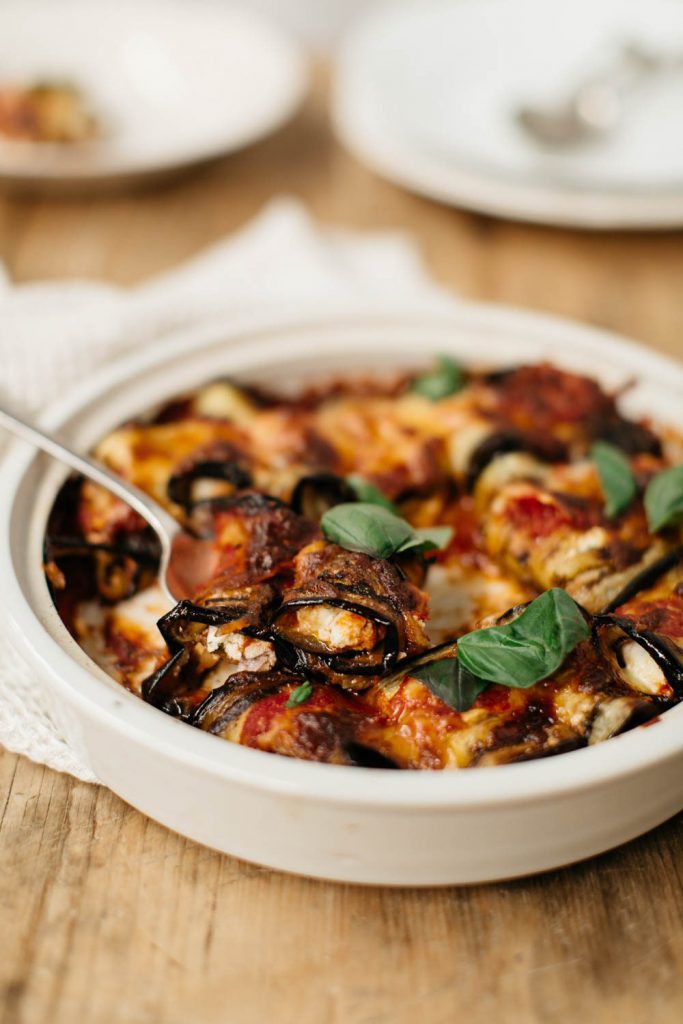 To grill them, you can use a ridged grill pan on your stove-top or a barbecue.  Drizzle a little olive oil over the slices and grill on high heat until black grill lines appear and the flesh is tender.  Set aside.  Grilled eggplant made this way can also simply be layered in a container, sprinkling with a little garlic, salt, pepper, dried oregano and chilli as you go.  Drizzle with balsamic vinegar and olive oil as you layer to add moisture and flavour.  You can then seal them up and keep in the fridge for a week. They make a delicious anitpasti or sandwich filler.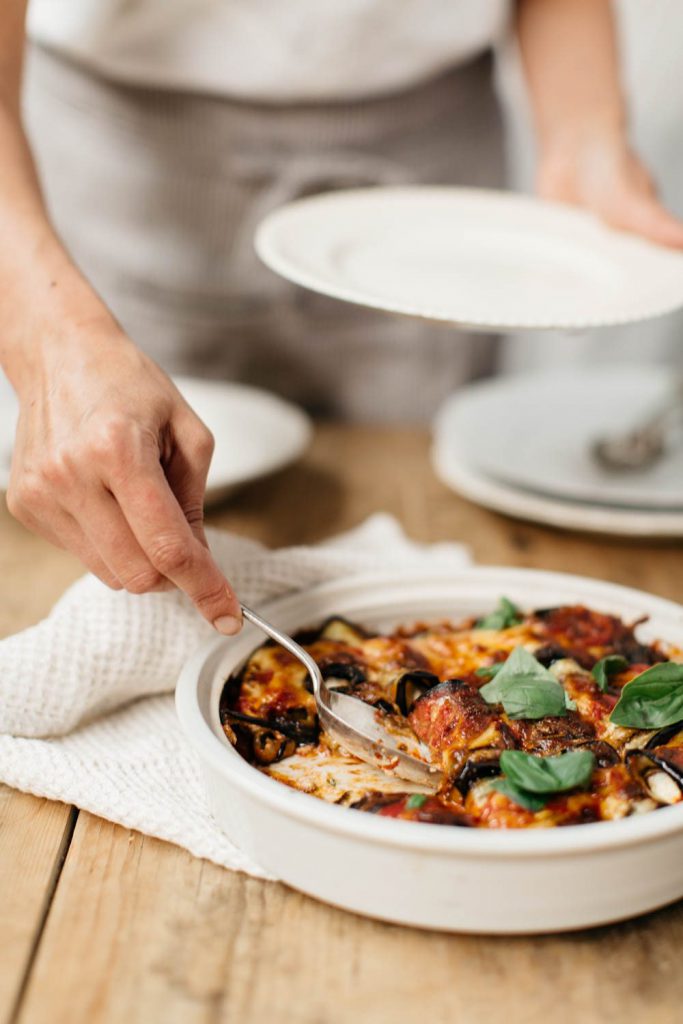 To assemble this dish, you will need some Basic Tomato Sauce.  Click here for the  recipe, Of course use a good shop bought variety to speed things up if you like.  Then mix up the ricotta filling so it's ready to go (the full recipe for this dish follows).
Making the involtini is a bit fiddly but not difficult. Spoon enough tomato sauce into your baking dish to cover the bottom. Working with one eggplant slice at a time, place a spoonful of ricotta filling onto the widest end.  Yes, hands are the best utensils to use here.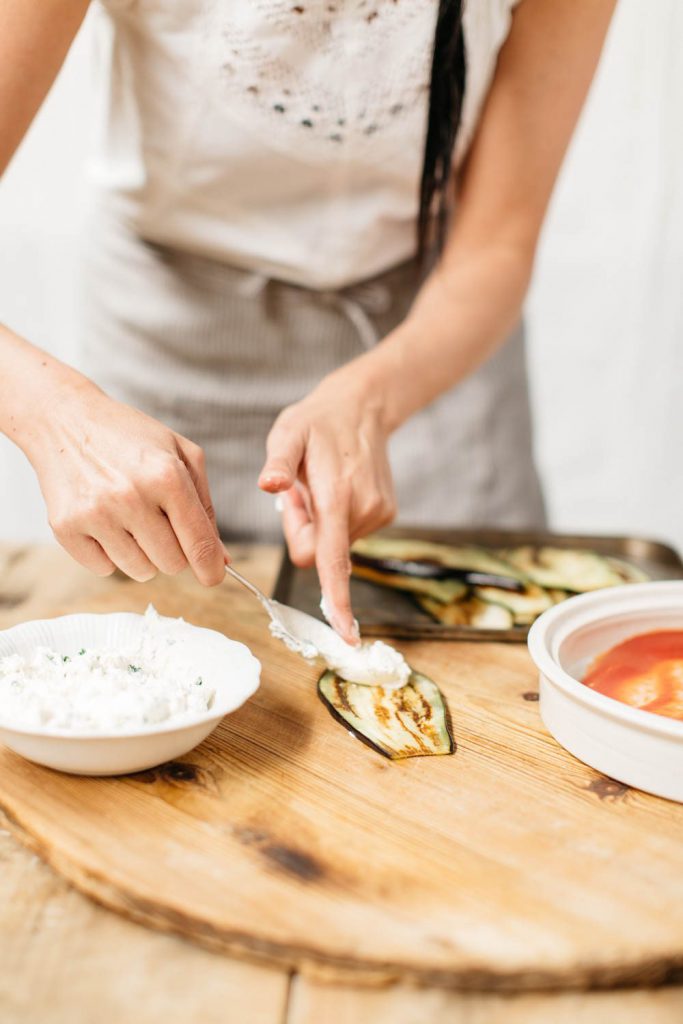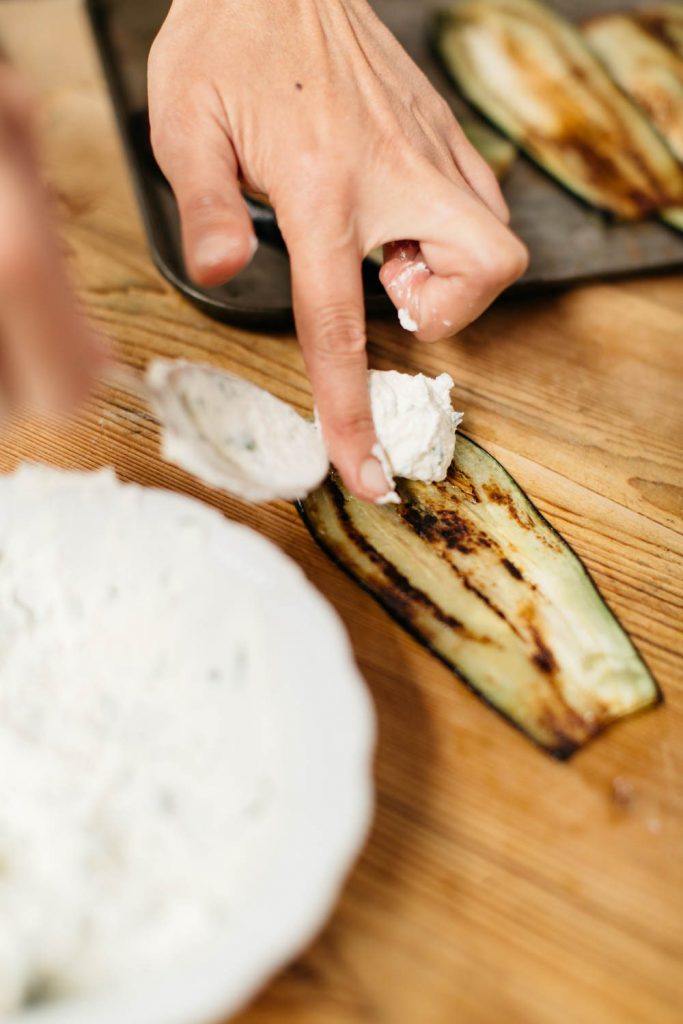 Now roll the eggplant over the filling, and keep rolling until you get to the end and have a little log. Be delicate, you don't want to press the filling out.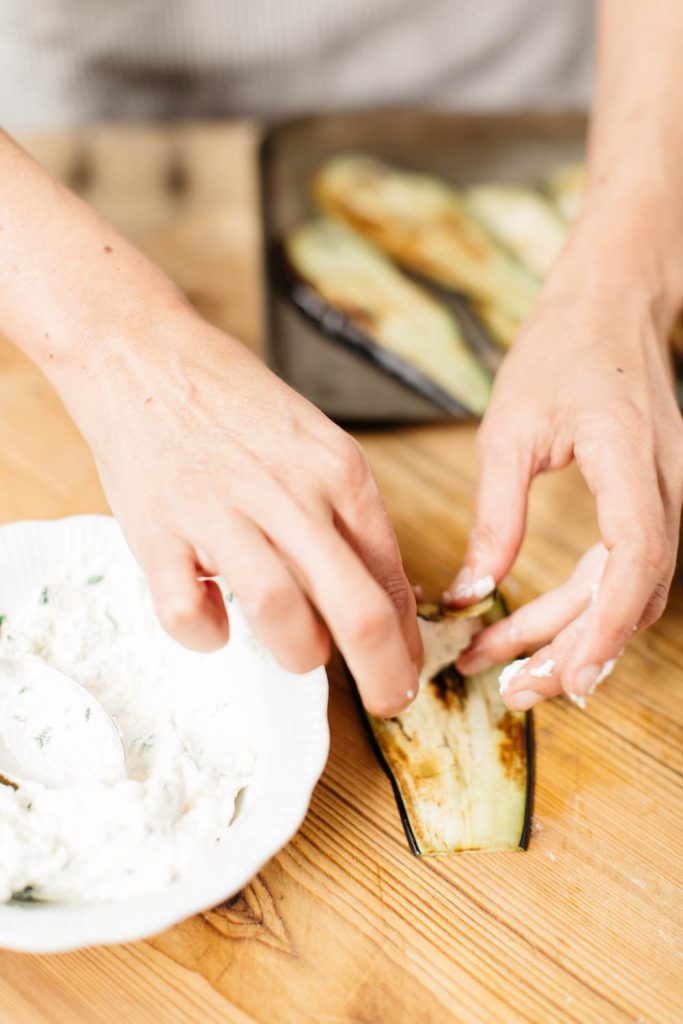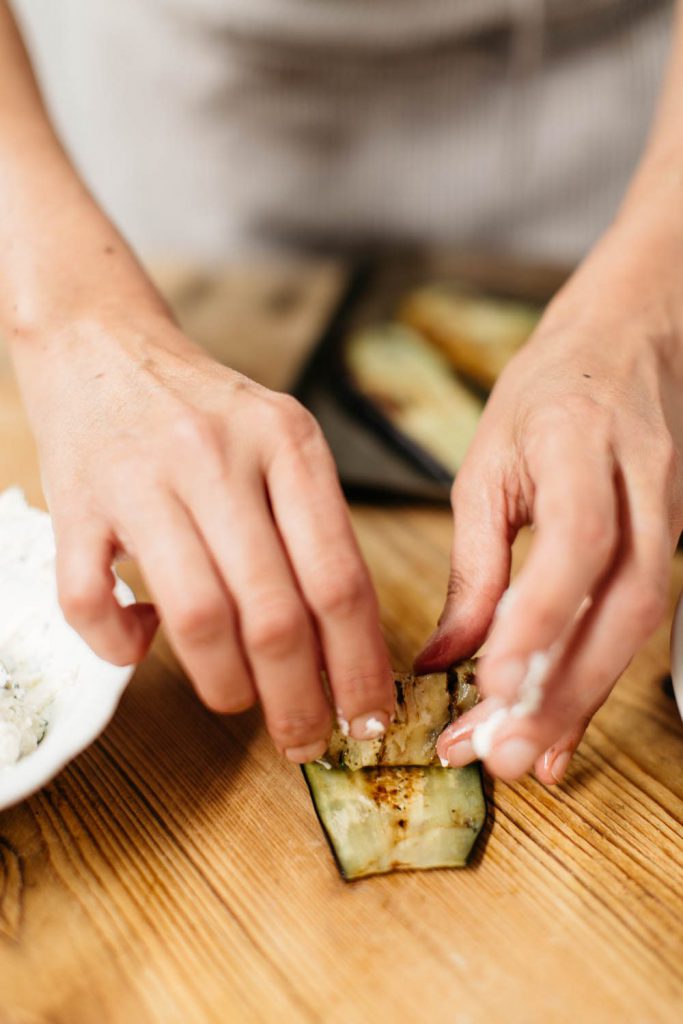 Place into your baking dish. Repeat until all the slices are now little involtini.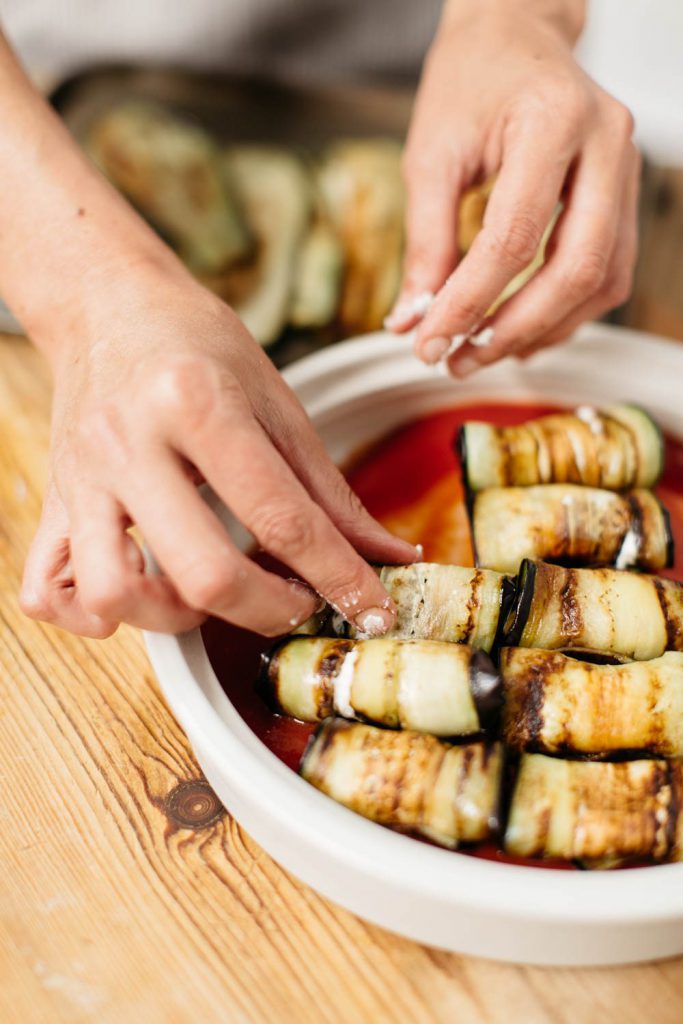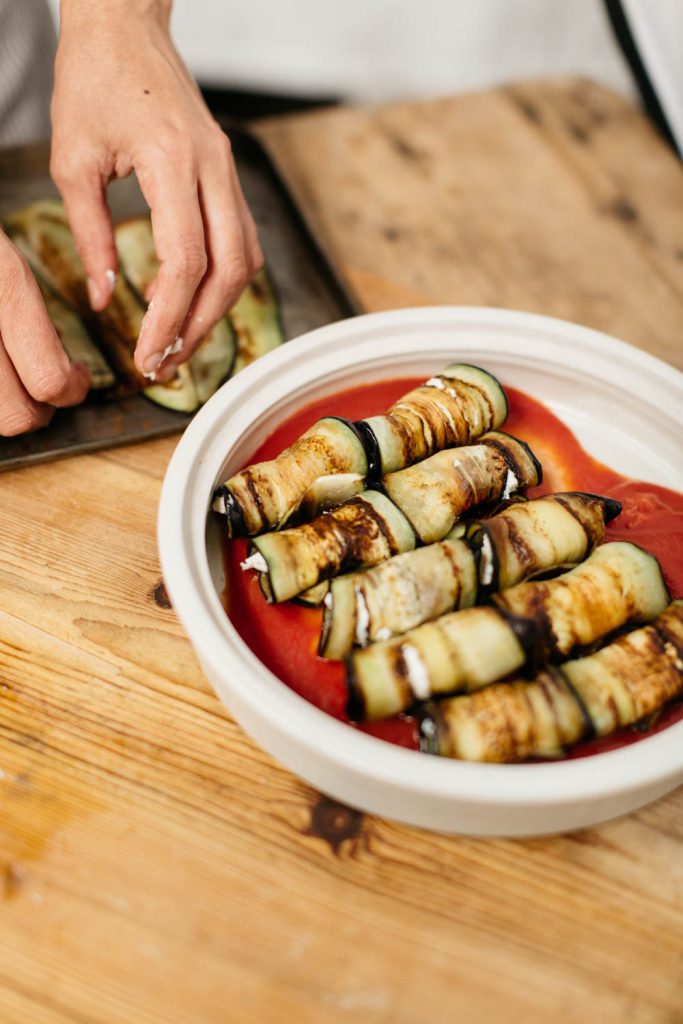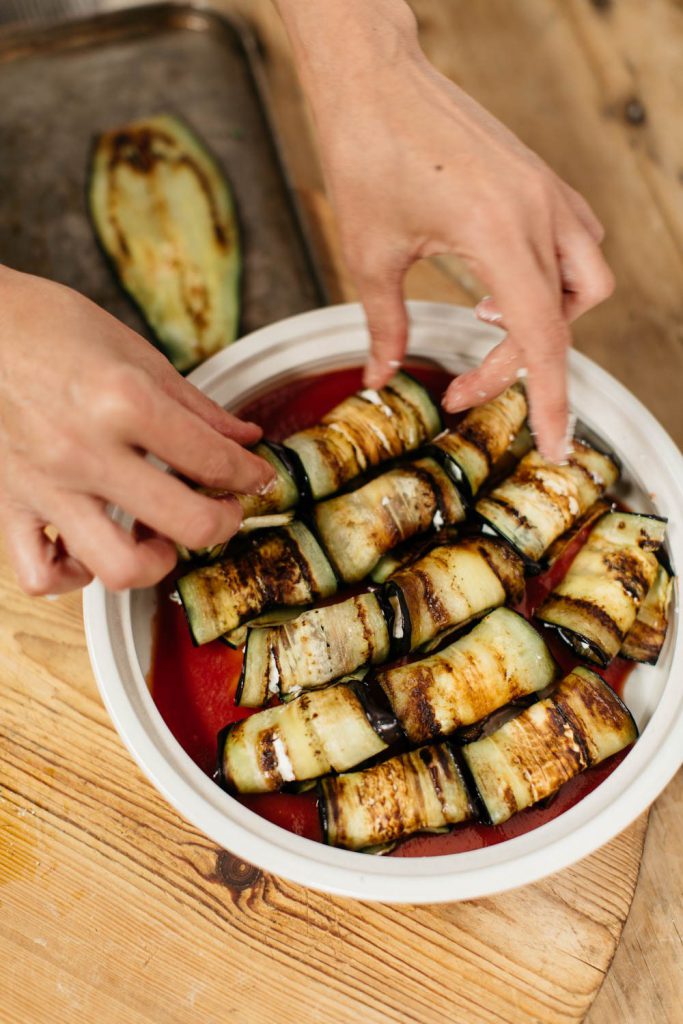 Top with more sauce and sprinkle with cheese.  You can prepare up to this point in advance and refrigerate until you're ready to cook if you like.
Once it's baked, the eggplant will be dark, the sauce will be bubbly and cheese melted.  Yum.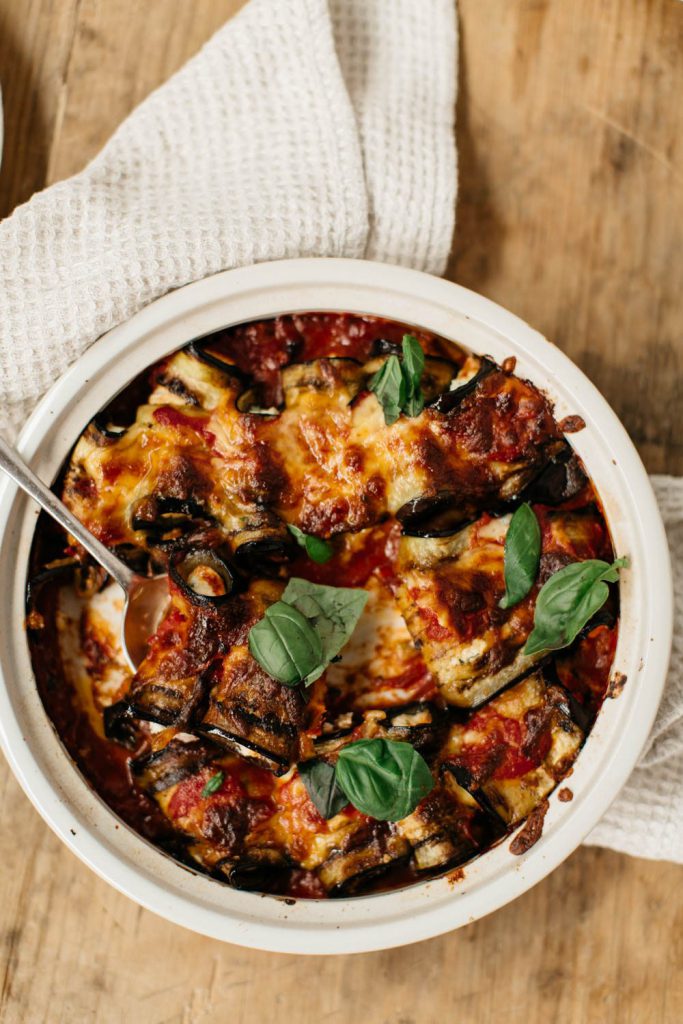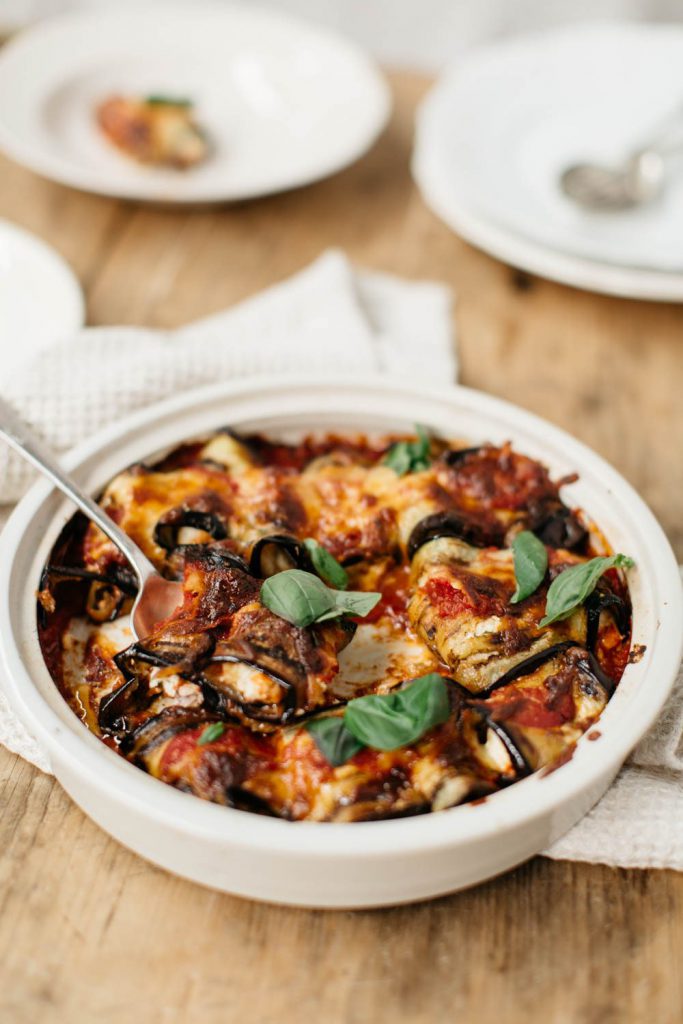 Use a large spoon or a spatula to serve a few involtini to each person, or just sit it in the middle of the table to share.  I like to grate extra parmesan over mine, my husband likes to add chilli.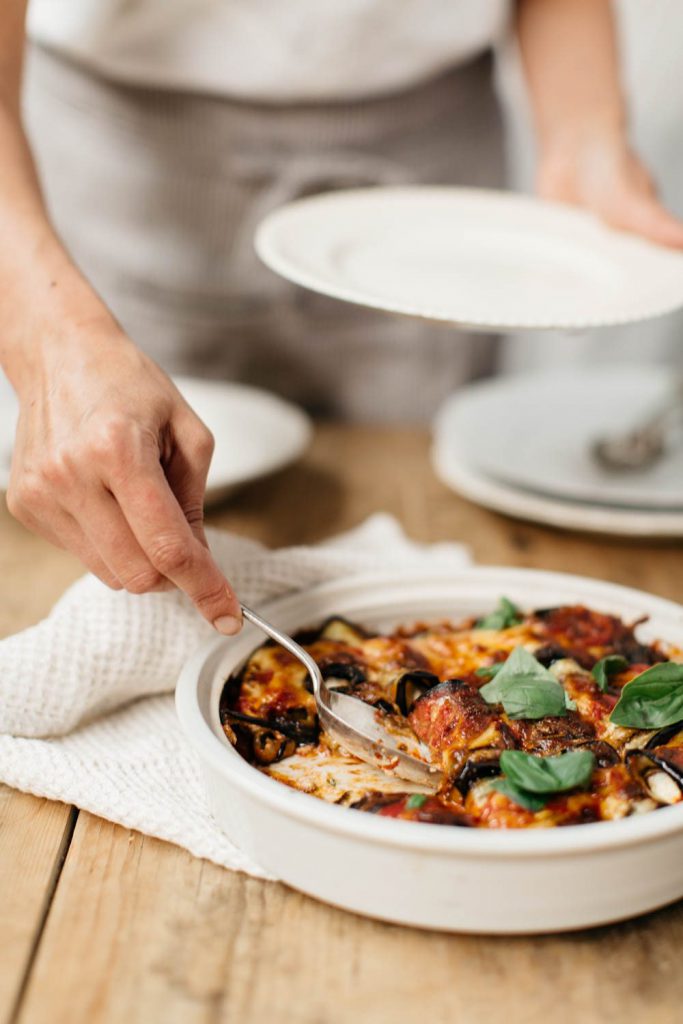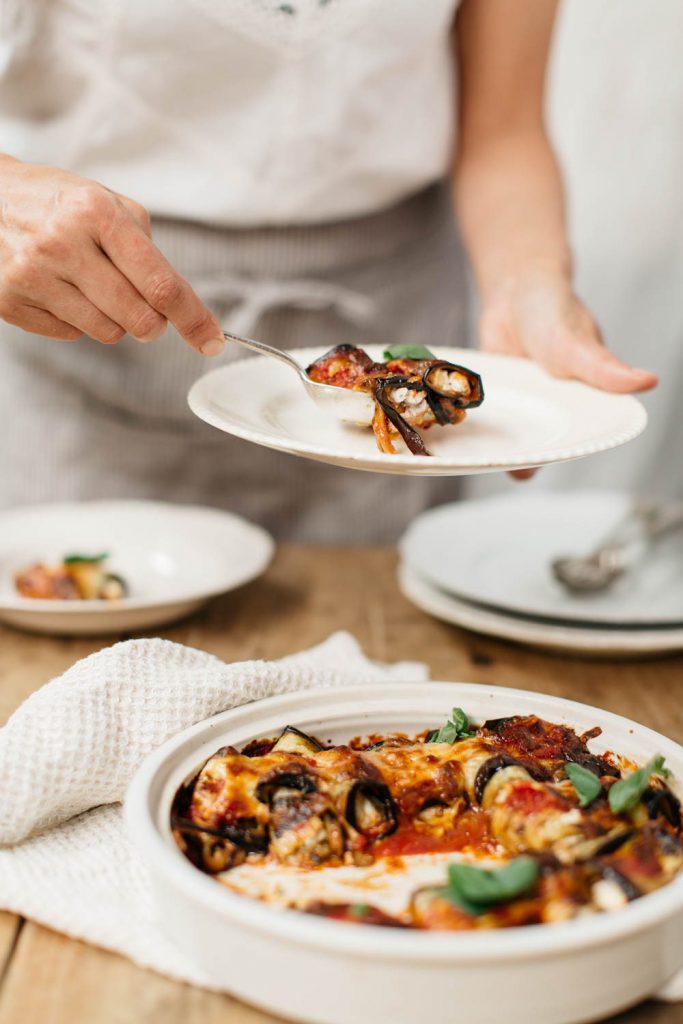 If you've got any leftovers, this dish keeps well for a few days in the fridge. Just warm it up in the oven, or give it a quick burst in the microwave.
I promise if you're not an eggplant eater, this dish will change your mind!  Try it and let me know how it turns out!
Eggplant Involtini
Author:
Prep time:
Cook time:
Total time:
Eggplant slices grilled and rolled around a herby ricotta filling, baked in tomato sauce, is a meat free wholesome meal you will love.
Ingredients
3 large Mediterranean eggplant
salt
olive oil
250 g ricotta, drained
1 egg, lightly beaten
small handful of fresh basil, finely chopped
3 tbsp fresh flat leaf parsley, finely chopped
4 tbsp grated parmesan
freshly ground black pepper
2 1/2 cups Basic Tomato Sauce
100 g cheddar cheese,grated
handful of extra fresh basil, chopped, to serve
Instructions
Cut the eggplant lengthways into 3 – 5mm thick slices.
Heat a grill pan or barbecue over high heat. Drizzle the eggplant slices with olive oil and cook for 2 minutes per side, or until charred and tender. Set aside.
Preheat your oven to 180°C.
Mix the ricotta, egg, basil, parsley and parmesan together in a bowl.Season with a little salt and pepper to taste.
Place a tablespoon of the mixture onto the base of each eggplant slice. Roll up to enclose.
Pour enough tomato sauce into a deep baking dish to cover the bottom. Lay the eggplant rolls on top of the sauce in a single layer. Spoon a little more sauce over the top and sprinkle with grated cheese.
Bake for 15–20 minutes, or until the cheese is melted. Drizzle with a little olive oil and scatter with fresh basil and serve.