Tagliatelle is one of my favourite kinds of pasta. Made from egg pasta dough, it is basically a flat noodle, wider than spaghetti but thinner than fettuccine. It's very versatile and goes with pretty much any sauce you want to throw on it. Most pasta names are derived from a meaning that describes how that pasta looks. 'Tagliare' means 'to cut' – so thinking with Italian Mamma logic imagine that pasta is first made into large sheets, then 'cut' into thin strips – the tagliatelle.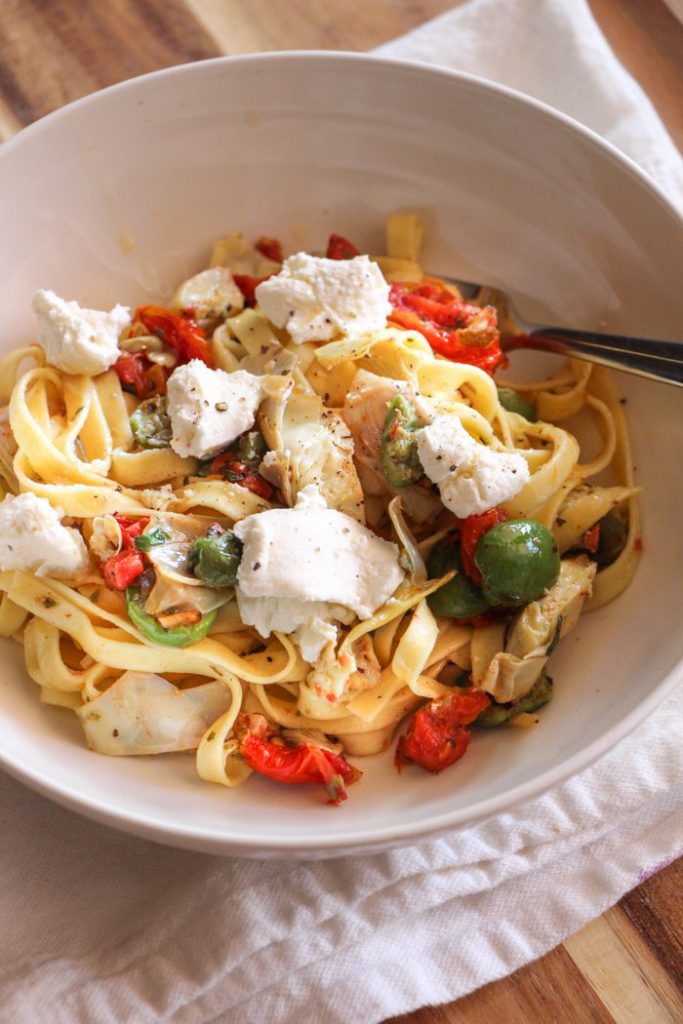 I love love love fresh pasta and honestly I don't think anything compares to tagliatelle that you make yourself. It's easy, and so worth the time.  You can make it in advance and snap freeze it, ready to be added straight into a pot of boiling water. If you want to try your hand at making fresh pasta, it is ridiculously easy. For every 100gm plain flour you add 1 egg.  The recipe is a cinch. Click here for my method and tips for getting the kneading and rolling right every time.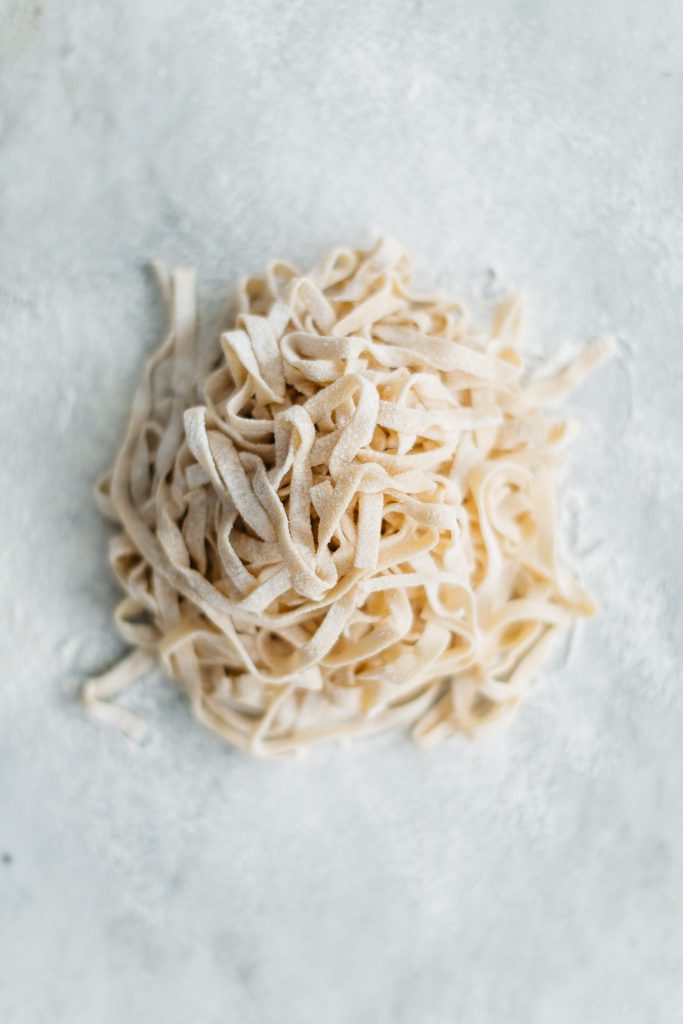 However, if you don't have the time or confidence to make your own fresh pasta,  that's ok – you can buy really good quality fresh tagliatelle fresh from the fridge section of your supermarket, or a dried version off the shelf.  I always keep a couple of packets handy in my pantry.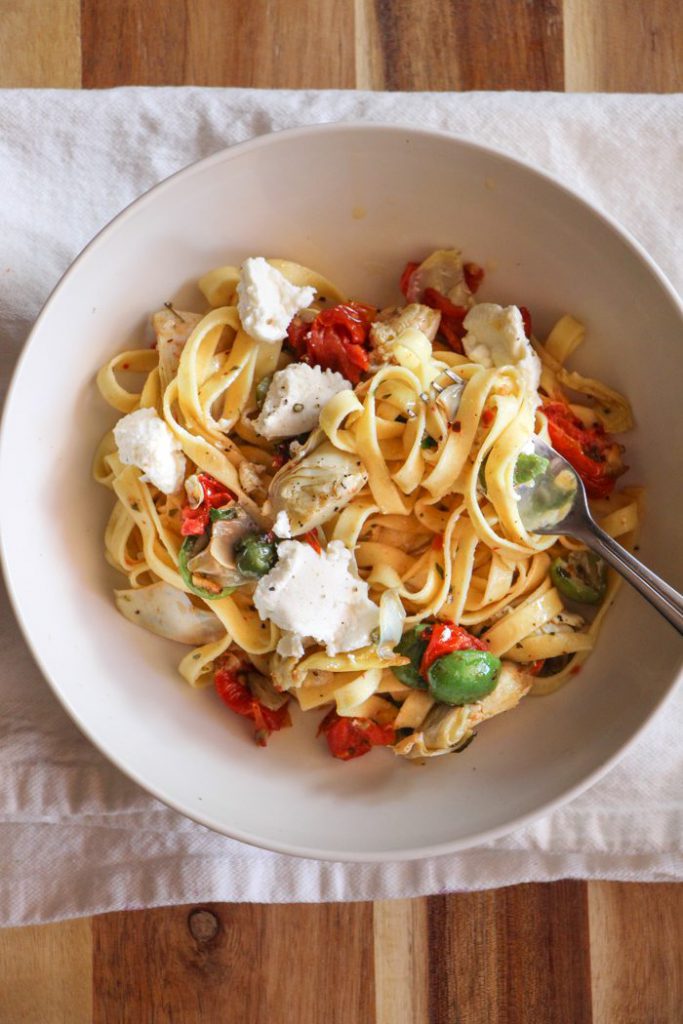 This recipe uses all my favourite stand-by jars of antipasti ingredients like artichokes, sun-dried tomatoes and olives I keep in the pantry at all times to throw a meal together in minutes. Of course making your own pasta takes extra time, but  I would always make this dish with either fresh pasta I've made and frozen, or store bought, so this is a meal that comes together as quick as it takes the water to boil. It's also meat free, but if you've got leftover chicken  in the fridge, chop it up and add to the pan.
I love the creamy ricotta on top, it balances the briny jarred vegetables, but feel free to substitute with grated parmesan if you like.
Tagliatelle with Artichokes, Tomatoes, Olives and Ricotta
Author:
Prep time:
Cook time:
Total time:
A flavoursome meat free meal the whole family will love.
Ingredients
1 garlic clove, finely chopped
½ cup olive oil
¾ cup semi dried tomatoes
½ cup marinated artichokes, cut into large chunks
1/3 cup pitted green or black olives, cut in halves
½ tsp dried chilli flakes
1 tsp dried oregano
½ tsp freshly ground black pepper
juice of ½ lemon
½ cup fresh basil leaves, finely chopped
salt
400gm tagliatelle
100gm fresh ricotta
Instructions
Cook garlic with olive oil in a large frypan over medium-high heat for one minute. Add the tomatoes, artichokes, olives, chilli, oregano and black pepper. Toss and cook for 2 minutes. Add the lemon juice and basil and toss to combine. Season with a little salt.
Meanwhile cook the tagliatelle in boiling salted water until al dente. Drain and add directly to the frypan. Toss to combine
Serve in bowls topped with dollops of ricotta.