I am a sucker for things in bite-size. I'd much rather eat a little pavlova made just for me than a chunk of a large one.  That way you get more crisp from the pavlova, rather than just the soft mushy middle. They look prettier too.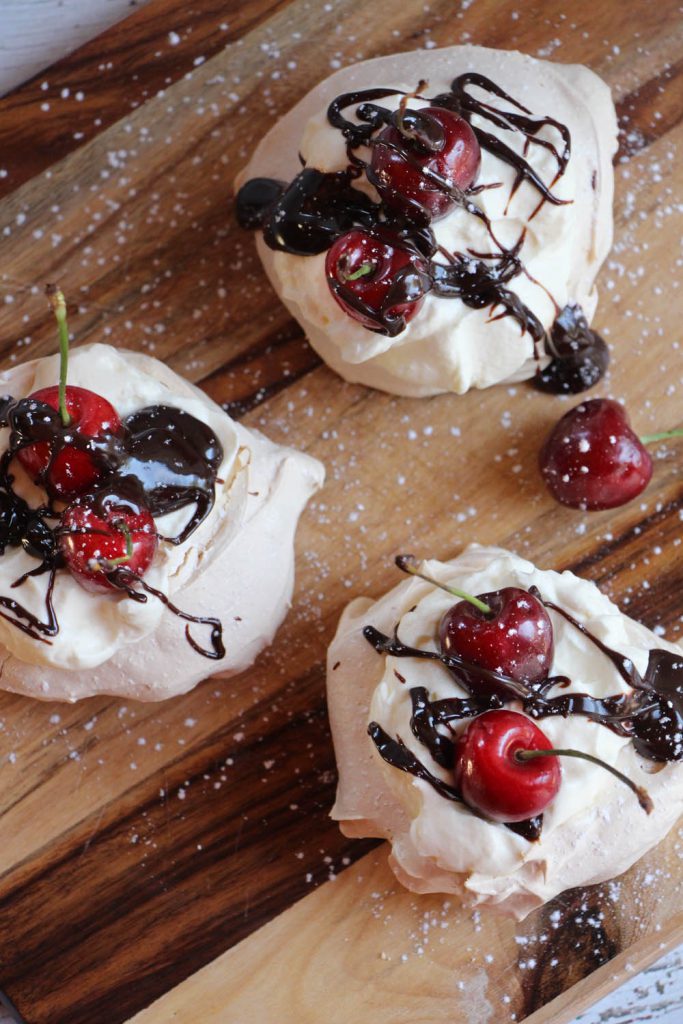 These mini pavlovas are easy to make, but when making any meringue recipe there are a few tips to ensure they turn out crispy on the outside and chewy on the inside, the perfect meringue! Start with roo temperature eggs, this will help them whip up and create the volume you want. Add the sugar slowly, ensuring the sugar is completely dissolved before adding more. The meringue mixture is ready when it is completely smooth, rub a little between your fingers. You should not be able to feel any graininess at all. Then it's all about your oven, even though the dial says 140 C doesn't mean it's accurate, so keep an eye on them and lower the temperature and cook for longer if you need so the inside cooks through without the outside becoming burnt.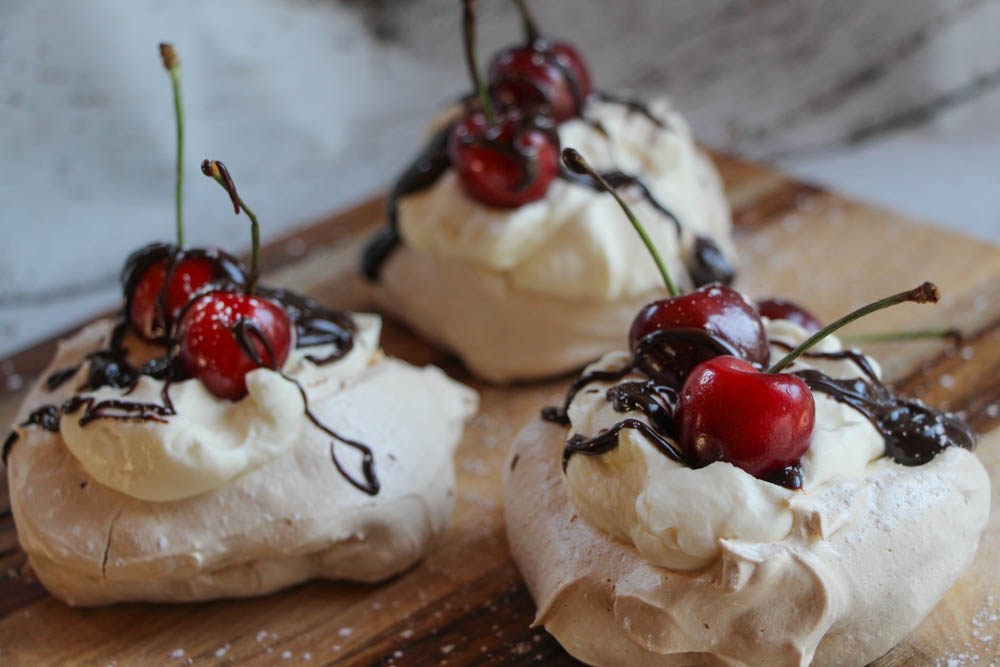 Cherries and chocolate are a match made in heaven, and I like to make these at Christmastime. They look so festive and are a perfect addition to the table. Cut the cherries in half and remove the seed if you like, but I love them as they are with stems attached. Of course these would be just as delicious with any fruit and cream, go with what you love.
You will most likely end up with too much chocolate ganache, but that's a bonus. Cover and store in the fridge ready to be warmed (I just heat in bursts in the microwave and stir until smooth) and drizzled over over ice cream, used as a fondue for dipping fruit into, or drizzling over a homemade chocolate cake
Mini Pavlovas with Cherries and Chocolate
Author:
Prep time:
Cook time:
Total time:
These mini pavlovas are perfect for Christmas using seasonal cherries – but top with with whatever you like any time of the year
Ingredients
6 egg whites, room temperature
Pinch of salt
1 ½ cups caster sugar
1 tbsp sifted cornflour
1 tsp vanilla extract
1 tsp white vinegar
100g dark chocolate, chopped
300ml thickened cream
1 tbsp icing sugar, sifted
A handful of fresh cherries to serve
Instructions
Preheat your oven to 160 C. Line two large baking trays with baking paper
Place the egg whites into a clean, dry bowl. Add a pinch of salt and whisk with an electric mixer on high speed until soft peaks form. With mixer still going, add the sugar, a tbsp at a time, waiting 30 seconds between additions for the sugar to dissolve. Add the cornflour and vinegar and continue to whisk until stiff peaks form and the mixture is thick and glossy.
Place heaped tablespoon sizes of the meringue onto your oven trays, leaving a little room in-between each one for spreading.
Place in the oven and immediately turn the heat down to 140 C. Cook for 30 minutes, or until pale and crisp. Turn off the heat and let the meringues cool in the oven for around 1 hour. A few may have cracked, don't worry, that's perfectly normal.
To make the chocolate ganache – place the chocolate into a heatproof bowl. Heat 60ml of the cream in a small saucepan until simmering, then remove and pour over the chocolate. Allow to sit for a minute, then stir until smooth. Allow to cool at room temperature.
Whisk the cream and icing sugar with an electric mixer until soft peaks form.
To assemble, top each pavlova with a good spoonful of sweetened cream, a drizzle of chocolate ganache and fresh cherries. Dust with icing sugar if desired.