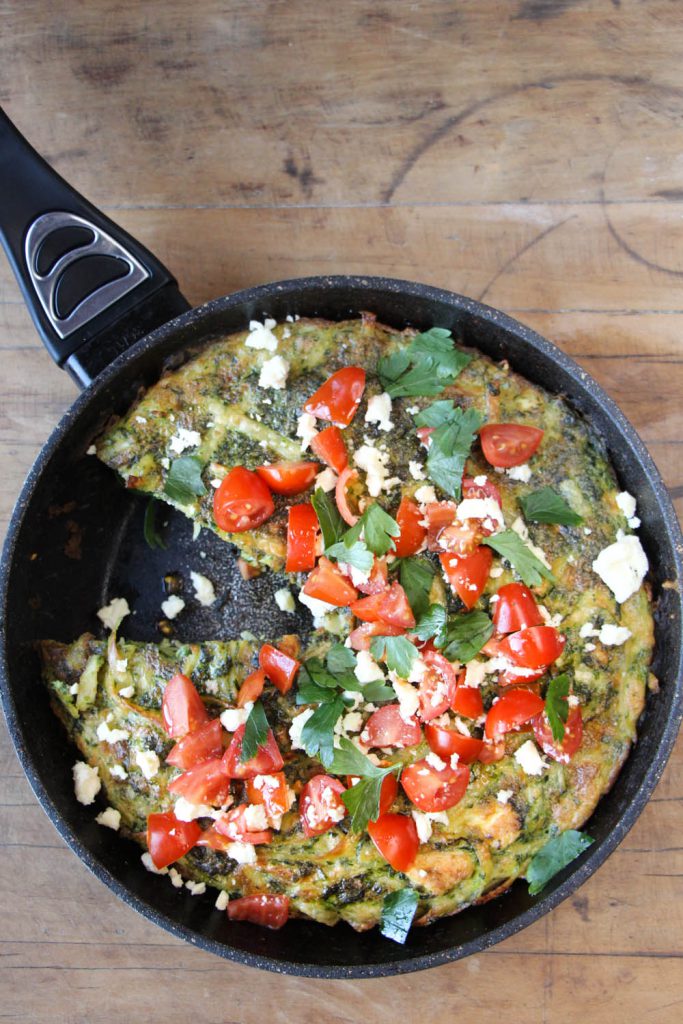 If there is something I do well, it's cook waayyy too much food. I know it's a classic Italian stero-type, the Italian Mama that likes to over-feed you, but in my case it's definitely true.  Maybe not so much the over-feeding bit, but definitely guilty of the 'cooking too much' bit. I do like to tell my kids that when you're full it's your body's way of telling you to stop eating, and I never force anyone to eat more than they need (unlike other certain-someones during my childhood up who nagged me to eat every time I walked into a room – "mangia, you're too skinny, skin and bones"..). But I confess that most nights I serve far too much food than we can eat.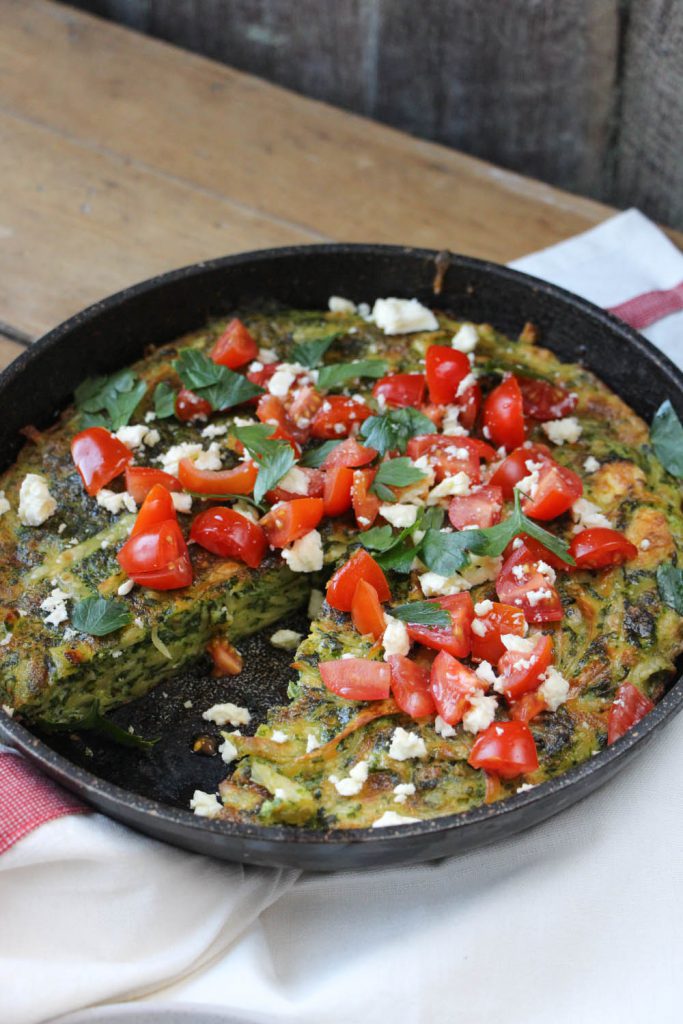 It's just three of us at the moment (my eldest is away at uni) so we really don't need much on the table. But I like to serve lots of different things so dinner isn't boring, and everyone can have more of this, less of that, lots of different vegetables and sides so that we keep our meat portions balanced. I find that the more different platters of salads and veggies we have on the table, the less meat we eat. Not that meat is bad for you, we eat some kind of protein every night, but in general I think families can consume too much protein. The Italian way is to eat very small amounts of meat alongside portions of pasta, vegetables or salads. That's how I like to eat, and how I cook for my family.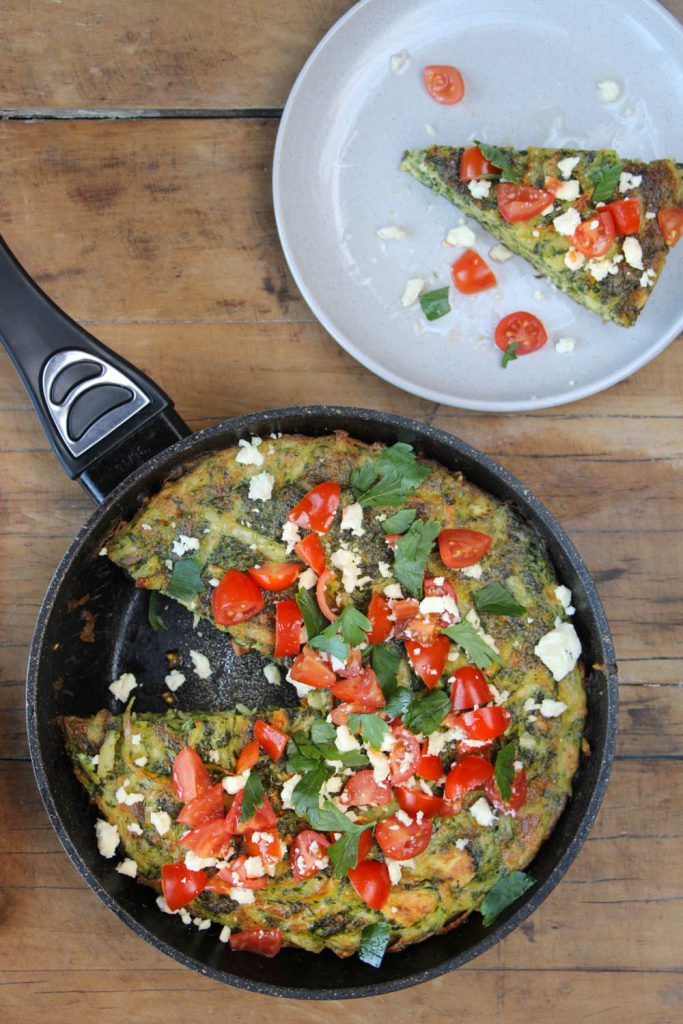 Unfortunately when you cook a lot of different sides, it's easy to cook too much of each thing. This is especially true when cooking pasta. I always cook a whole packet of pasta, regardless of how many I have to feed. I hate having opened packets of pasta in the pantry, they end up spilling out and making a mess, and you end up with so many different bits and pieces that never get used.  So annoying. Anyway, leftover pasta keeps well and is only a nuke in the microwave away from a quick lunch.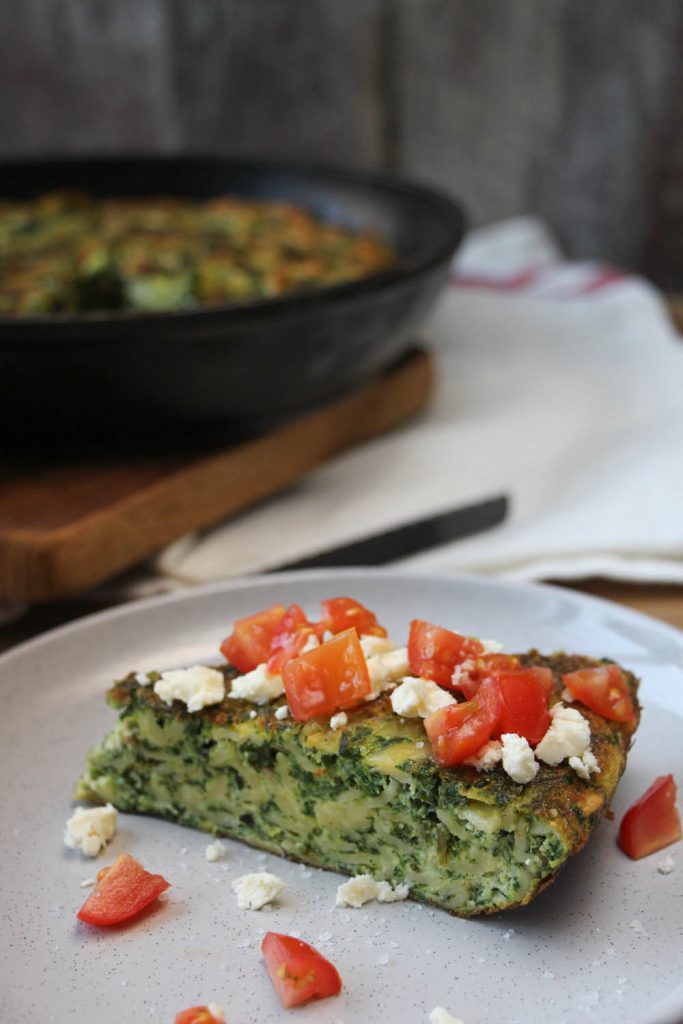 I know I always bang on about cooking extra and someone will eat it the next day, but sometimes (often) I cook so much that there seems to be more leftovers than the food we actually consumed for dinner (sometimes I get a bit excited about a few new things I want everyone to try). That's when I get the side-ways look from my husband and the "how many people are you trying to feed here?". OK, so sometimes too much food is TOO MUCH.  Maybe I do need to learn to cook half a packet of pasta?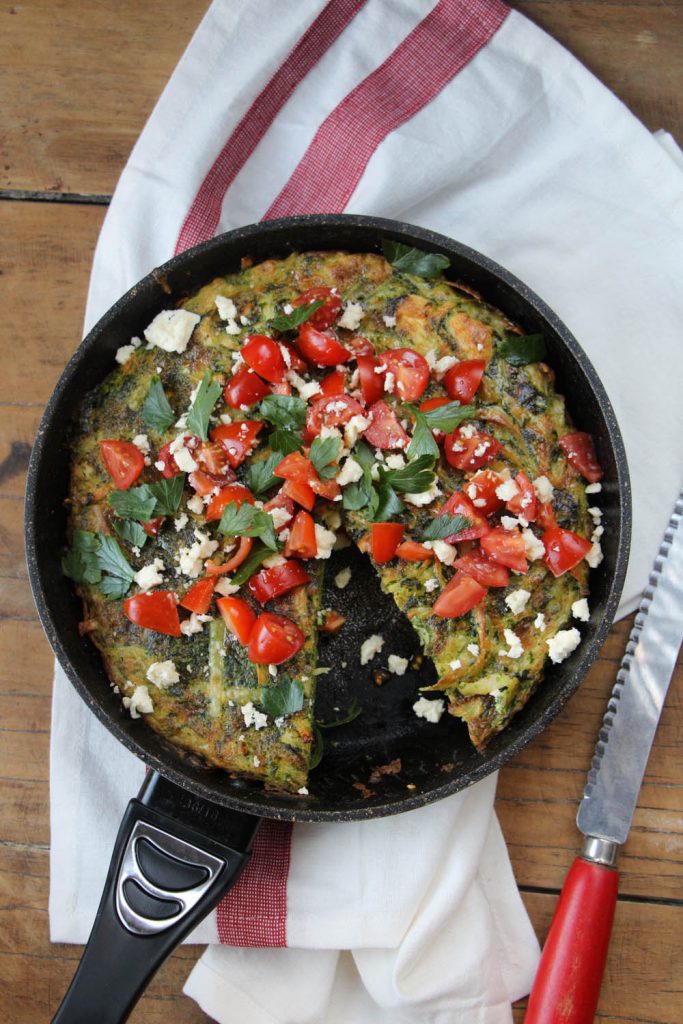 Anyway, this recipe came about after one of those nights. I cooked some nice fish my husband had caught a few days before and thought I'd serve it with salad. But then I thought, "hmm that's not enough food" (very typical thought that pops in my head which is usually wrong)  "maybe I'll just cook some spaghetti to go with it". I make a really simple recipe, just garlic, oil, chilli, lemon and fresh herbs – perfect to go with fish.  But yes, I cooked the whole packet of spaghetti, and once I cooked all the fish (yep, cooked too much of that too) and tossed the salad (enough for an army) we sat down to a mountain of food. The fish and salad would have been more than enough so I was left with a massive bowl of spaghetti. What to do with it?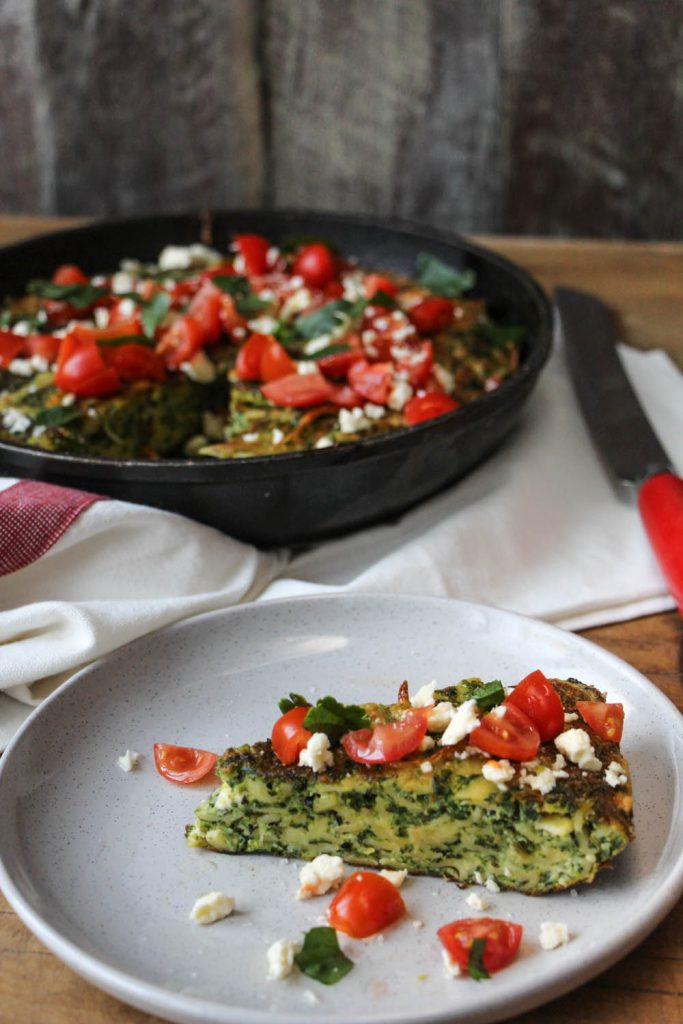 Because there was so much leftover spaghetti I knew it would never get eaten as lunch, so I decided to make a frittata with it. I love frittata,  the word literally means 'fried' in Italian and is a type of Italian omelette. It is the BEST vehicle for using up leftovers, and the result can often be even better than the original meal. Using leftover spaghetti in a frittata is nothing new, Italians have been doing it for ages as a cheap way of feeding a family and making sure nothing goes to waste.
I added spinach to the mix to bump up the healthy veggie content, and some crumbled feta. I know Feta is more Greek than Italian but it works so well in frittata as it adds a creamy saltiness yet retains it's shape.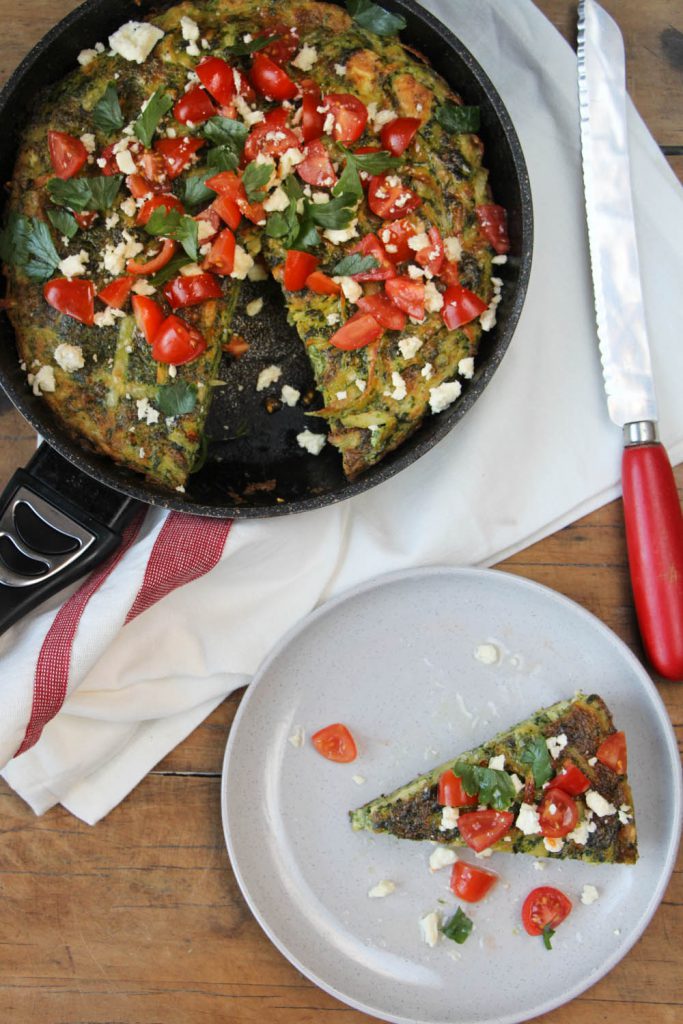 Basically all you do is whisk up half a dozen eggs with a little cream, season and set aside.  Throw the spaghetti and all the other ingredients into a large bowl and mix up. Don't get too hung up on the ingredients here, you can use whatever you've got, try different herbs, different cheeses, you can even throw in leftover chicken, sliced ham, or even sliced pepperoni. The options are endless really.  Whatever pasta you've got is fine too, even if its smothered in tomato sauce, or a cheesy type, it'll all work. Then tip in the eggs and toss everything together to coat. If you've used more ingredients and the mix looks a little dry just add an extra egg.  I know I talk a lot about 'blue-print' recipes, but this is one of the best. Once you get the framework, you can make this recipe with so many variations. That's the beauty of learning basic recipes that you can adapt to what you've got rather than needing to buy special ingredients.
Once everything is mixed all you do is add a splash of olive oil to a non-stick oven-proof frypan (the non-stick feature  is important here as it makes the frittata easier to get out).  Let the base cook a little, 5 minutes or so, your nose will tell you when it's ready (don't let it burn).  Then whack it in the oven under the grill and cook until done, up to another 10 minutes.  It should be golden and glistening on top.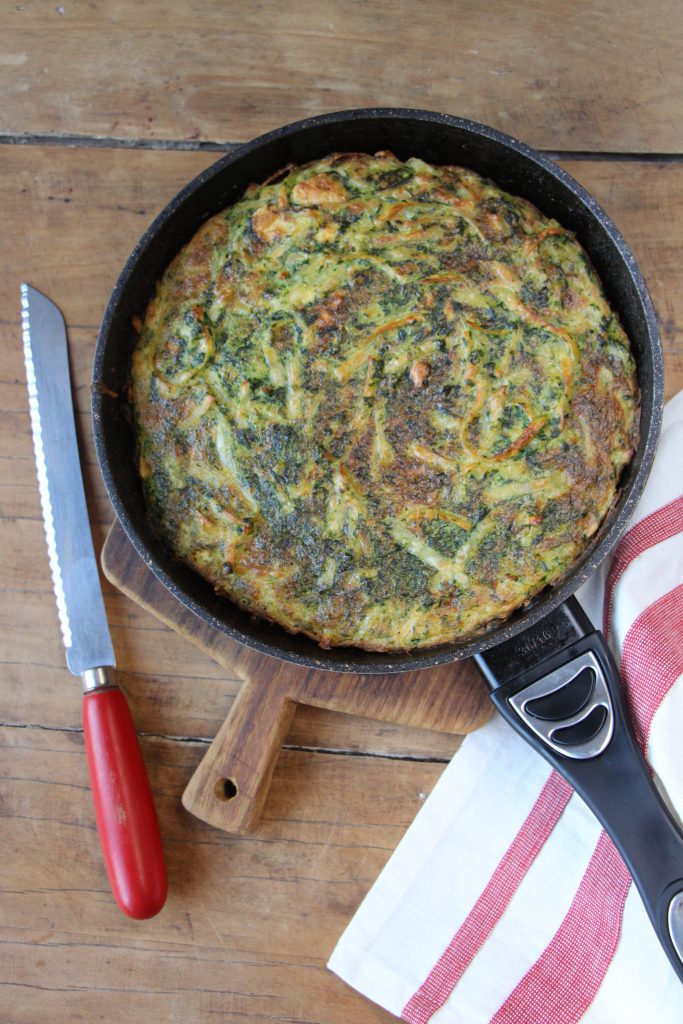 Now you can serve this frittata just like it is above, hot straight from the oven, just place the pan on the table and cut wedges to serve with a nice fresh salad.  Or you can do what I've done and let it cool a little, I like it warm to room temperature, and top with ripe tomatoes, basil and more feta. It's a meal on its own.  I love the colours, it's so beautiful – no-one would ever guess it's just a sneaky way to use up leftovers from the night before!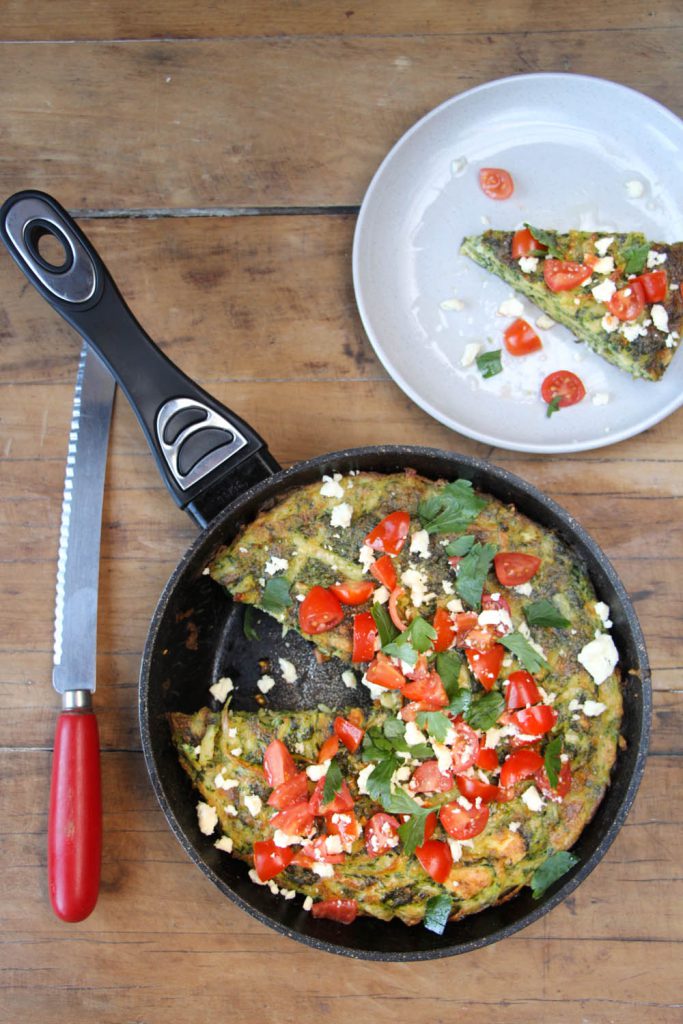 So next time you've got some spaghetti, or any kind of pasta, leftover from dinner, don't give it to the dog, and definitely DO NOT throw it out. Give this spaghetti frittata a go and you'll see just how delicious leftovers can be.  Making too much food isn't such a bad idea after all!
Spaghetti Frittata with Tomatoes and Feta
Author:
Prep time:
Cook time:
Total time:
Leftover spaghetti gets a makeover into an inexpensive meal that will feed the whole family.
Ingredients
200g (around 2 cups) cooked spaghetti
olive oil
salt
freshly ground black pepper
finely grated rind of ½ a lemon
a good handful of fresh basil, chopped
250 g Greek style feta, roughly crumbled
¼ cup grated parmesan cheese
¼ cup grated cheddar cheese
100g frozen spinach, thawed, drained of all moisture
6 eggs
½ cup cream
150g cherry or baby Roma tomatoes, chopped
handful of fresh parsley, chopped
1 tbsp white wine vinegar
Instructions
Tip the spaghetti into a large mixing bowl. If it's cold and stuck together try to separate the strands a little. Add a splash of olive oil, a good pinch of salt, a grinding of pepper, lemon rind, basil, most of the feta (leave some to garnish for later), parmesan, cheddar and spinach and mix to combine.
Crack the eggs into a small bowl and whisk to break up. Add the cream, a little salt and pepper and whisk until smooth.
Pour the egg/cream mixture over the spaghetti and mix everything together to coat. If you have used more spaghetti than me and the mixture seems a little dry, add an extra whisked egg.
Splash a little olive oil into an oven proof non stick frypan and place over medium heat. Add the spaghetti mixture and cook for 5 minutes, or until you can see the edges starting to brown from the bottom. Be careful as the bottom can burn if it's over too high a heat. Turn on the oven grill and place the frypan in the oven. Make sure the frittata has a little space between it and the grill (the first rack down is best) or the top will burn. Cook for 7 – 10 minutes or until the top is golden and when you gently shake the pan the frittata is set. Remove and set aside to cool slightly.
Place the chopped tomatoes into a bowl and add the parsley, a drizzle of olive oil, the vinegar and season with salt and pepper. Toss to combine.
Top the frittata with the tomato mixture and crumble over the remaining feta. Drizzle with a lilttle olive oil and serve straight from the pan, hot or cold.