Take advantage of the beautiful seasonal fruit this summer and use them to make delicious desserts.  I love roasting fruit as it brings out their natural sweetness, and peaches are my absolute favourite.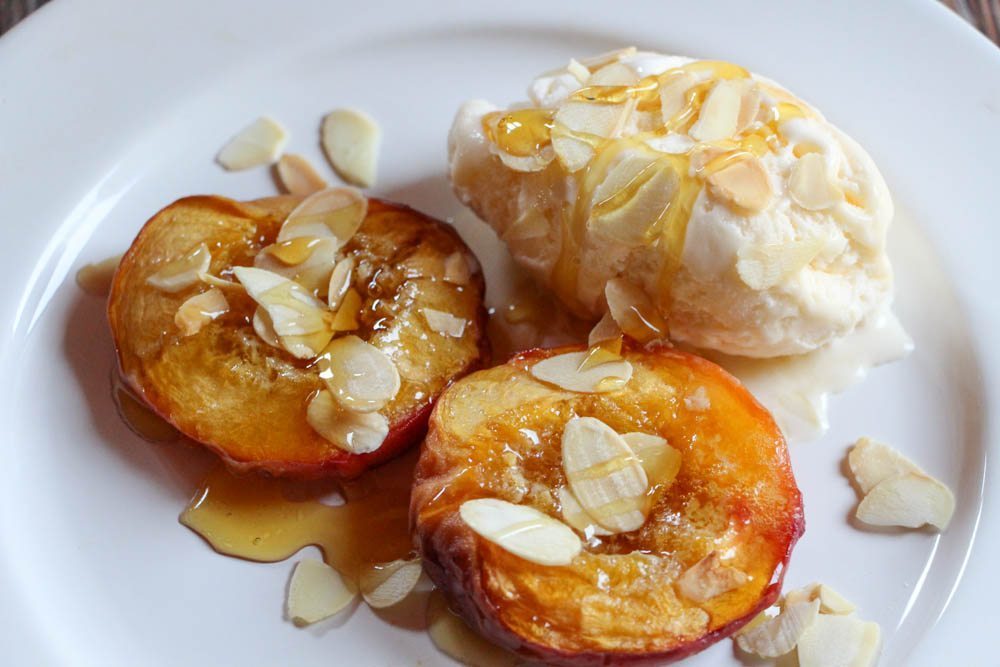 All you need is a scoop of ice-cream for a summertime treat. This is a great make – ahead meal for a family gathering. Just increase the quantities.
Honey Roasted Peaches with Toasted Almonds
Author:
Prep time:
Cook time:
Total time:
So simple yet so delicious – baked fruit makes a fantastic dessert.
Ingredients
4 peaches, halved, stones removed
50g butter, cut into small cubes
3 tbsp honey, plus extra for serving
50g flaked almonds
Instructions
Preheat your oven to 180 degrees Celsius. Line an oven tray with baking paper and place your halved peaches on top in a single layer, cut side up.
Place a cube of butter into the cavity of each peach half and drizzle with a little honey.
Bake for 20 minutes, or until peaches are starting to turn golden around the edges. Remove from the oven and allow to cool a little.
Place your almonds into a dry non-stick pan and cook over medium – high heat, stirring often, until fragrant and starting to turn golden. Be careful as these can burn quickly. Remove and set aside.
Serve peaches drizzled with a little more honey, a scattering of toasted almonds and a scoop of your favourite icecream.