These little cakes are so incredibly moist they almost seem 'wet' in texture when you eat them. I love orange cakes, well all citrus to be honest. These are sweet and have a tang of sourness at the same time.  Using almond meal instead of flour creates a slightly dense texture that I love, almost like a dessert than a cake. If you use gluten free baking powder you can make these cakes totally gluten free.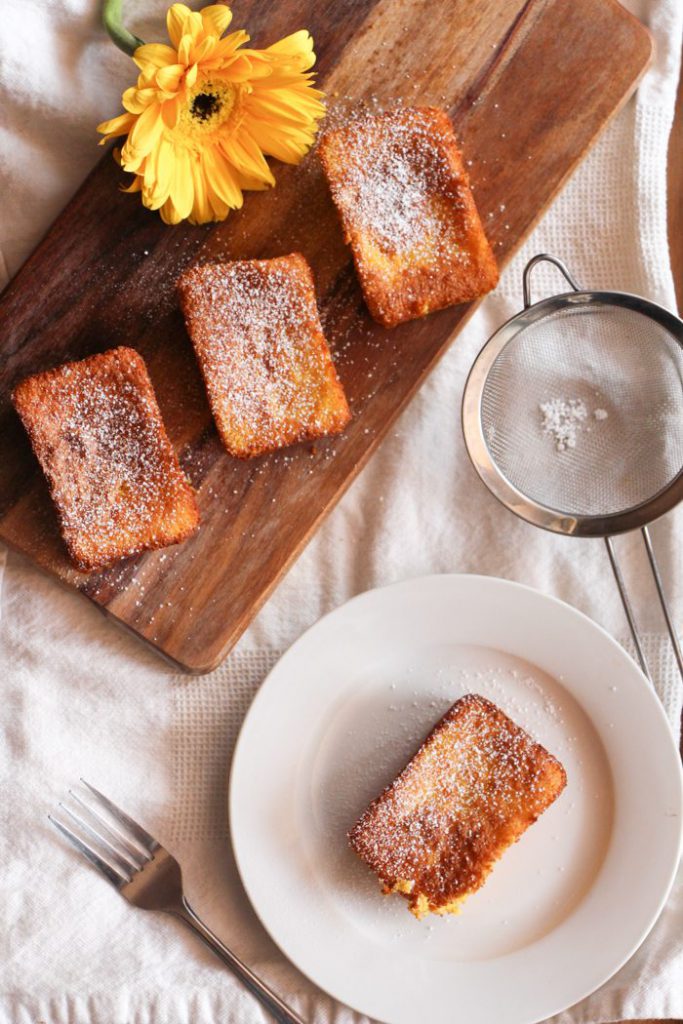 As with all the cakes I make on a regular basis, this is an easy, throw it all in and mix it up kind of recipe that makes it easy enough to make any day of the week. Perfect for wrapping up and letting it hang about in the fridge ready to cut up for afternoon tea, or to fill a lunchbox. Just make sure you let it get to room temperature before you eat it for the best flavour.
I've used a cake tin with rectangular cavities, but a simple muffin tin will work just as well. They freeze well too, just wrap individually in cling film.
Whole Orange Cakes
Author:
Prep time:
Cook time:
Total time:
This cake is heady with orange and deliciously easy to make
Ingredients
2 Naval oranges, whole (unpeeled)
5 eggs
1 1/4 cups sugar
2 ¾ cups almond meal
1 tspn baking powder
1 tspn vanilla extract
Icing sugar – for dusting
Instructions
Line two muffin, or individual rectangular cake tins (as pictured) with baking paper.
Preheat oven to 170 degrees celsius.
Put the oranges into a medium saucepan. Cover with water and put on to boil. Once boiling, reduce heat, cover, and allow to simmer for 1 hour. Remove and allow to cool slightly.
Chop the oranges and place in a food processor. Pulse until smooth. Set aside.
Beat the eggs with the sugar until thick (about 8 minutes). Add the almond meal, baking powder, vanilla and orange puree and mix to combine.
Spoon the mixture into the prepared tin and place in the oven. Bake for 25 minutes or until when touched the cakes spring back. Allow to sit for 30 minutes before removing from the tin and allowing to cool on a wire rack.
Dust with icing sugar and serve