Panna Cotta – literally meaning 'cooked cream' is a really easy, make ahead dessert that can be flavoured in so many ways.  Here, I've used coconut cream as the base and paired it with pineapple to create a fresh and light dessert that's perfect for summery nights.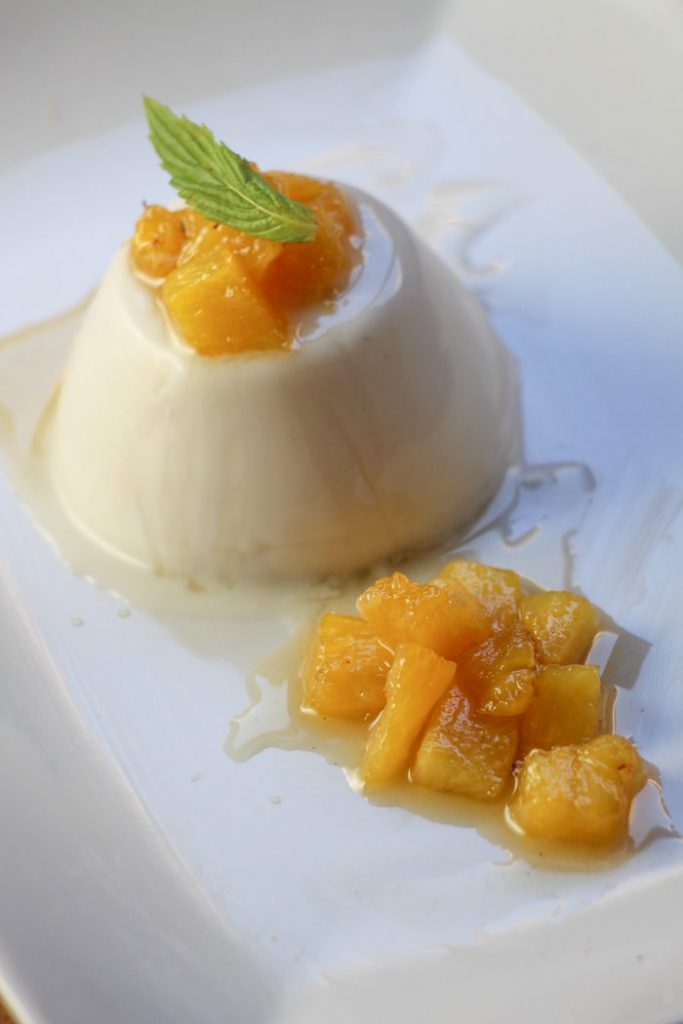 This is a great choice for a dinner party as you can make it the day before, ready to be upturned onto your plate when it's ready to be served, and it looks super impressive.  The only trick to getting them out of the moulds is the quickly dip the base in hot water, but don't over heat or the panna cotta will start to melt, then run a knife around the outside to loosen before you quickly upturn onto a plate (with confidence!).  Jiggle a little and they should come out just fine.
If you're still not convinced, just pour the mixture in nice glasses instead. Top with the caramelized pineapple and serve as they are.
Coconut Panna Cotta with Pineapple
Author:
Prep time:
Total time:
Fresh and light, this is an easy make ahead dessert.
Ingredients
400ml coconut cream
200ml full cream milk
60g sugar
½ tsp vanilla extract
1 ½ tsp gelatin powder
½ cup fresh pineapple, diced
4 tblsp sugar, extra
juice of 1 orange
80 ml water
Instructions
Mix the coconut cream and milk in a medium saucepan. Add the sugar and vanilla and place over medium heat. Stir so sugar dissolves and mixture comes to the boil. Remove from heat.
Scoop a cup full of the hot mixture from the saucepan and mix it with the gelatin powder. Whisk until dissolved. Return to the saucepan and stir to combine.
Pour the mixture into 4 ramekins or dariole moulds – just over ½ cup capacity (note – you may have more mixture than you need, depending on the size of your moulds. It's always a good idea to make an extra one as a backup incase one doesn't turn out).. Place in the fridge and chill for 4 – 6 hrs, or until set.
Put the pineapple and sugar into a non-stick frypan and heat on medium. Cook, stirring, until the pineapple is golden. Add the orange juice and water and continue to cook, stirring, until liquid is almost all gone.
To serve, dip the mould briefly into boiling water (this helps loosen them). Run a knife around the edge of the panna cotta and turn upside down onto a plate. Give it a few taps to encourage it to come out. Top with a little of the caramelized pineapple. Serve