The Spanish combination of prawn and chorizo is a match made in heaven. Here I've added pasta, my all time favourite ingredient, to make a complete meal.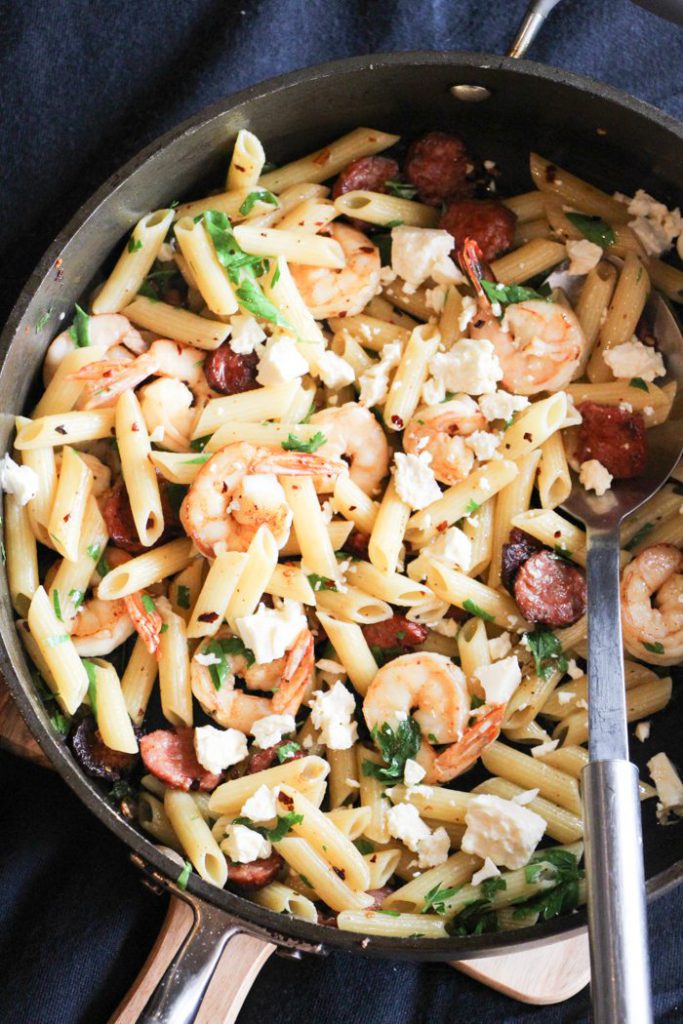 This is a simple oil based sauce, and you can really add anything to it. The classic combination of garlic, chilli and lemon provides a base for anything from seafood to chicken, or  vegetables such as broccoli or asparagus. I am partial to using chorizo, as the flavour from the Spanish sausage leeches into the olive oil and really ramps up the flavour.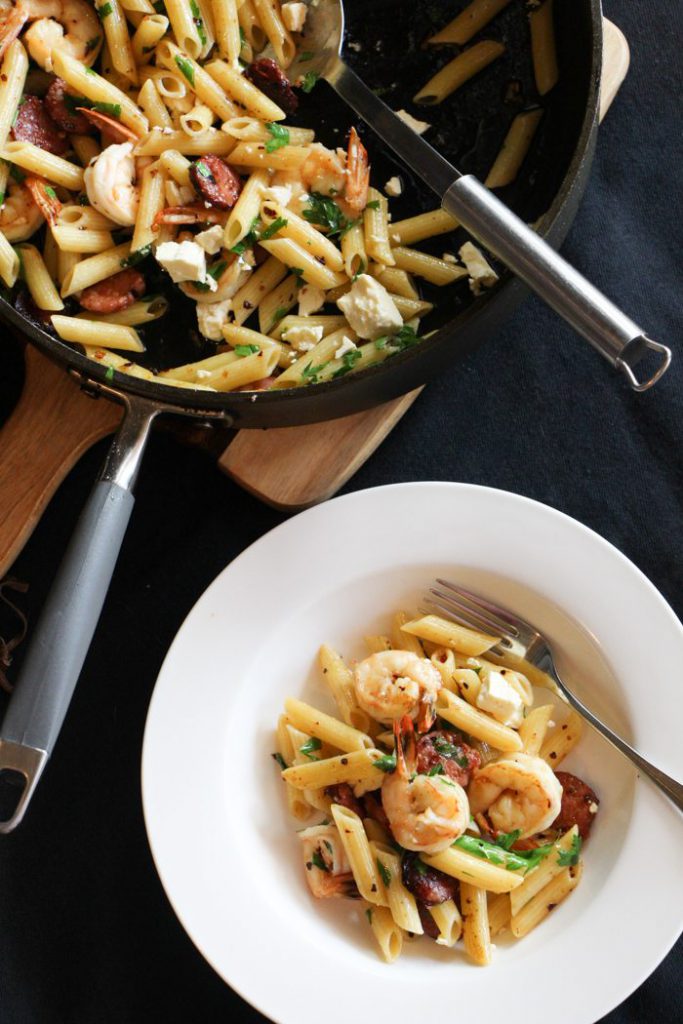 The classic combination of seafood and pork somehow just works, and the crumbled feta brings this simple dish together. This is a really quick meal to make, so get all the ingredients out and ready, get the water onto boil and by the time the pasta is cooked everything will be ready to toss together and serve. This is simple Italian cooking at it's best.
Prawn Chorizo and Feta Pasta
Author:
Prep time:
Cook time:
Total time:
This is a super easy meal that is full of flavour.
Ingredients
400gm penne, or other type of pasta
Salt
¼ cup olive oil
1 Chorizo, peeled and sliced
16 green tiger prawns, peeled and deveined
4 garlic cloves, peeled and finely sliced
1 tsp chilli flakes
juice of ½ a large lemon
1 bunch flat leaf parsley, chopped
150 g feta, crumbled
Instructions
Put a large pot of water on to high heat and bring to the boil. Add a good pinch of salt and the pasta. Stir. Cook until al dente.
Meanwhile, heat a large frypan over medium – high heat. Add the olive oil and Chorizo and cook for 1 2 minutes, or until Chorizo is starting to crisp on the edges.
Add the prawns and garlic. Cook for a further 2 minutes, or until prawns are just cooked.
Drain the pasta and then add directly into the pan with the Chorizo and prawns. Stir to combine. Season with a little salt, add the chilli, lemon juice, parsley and feta and stir to combine.
Serve immediately.