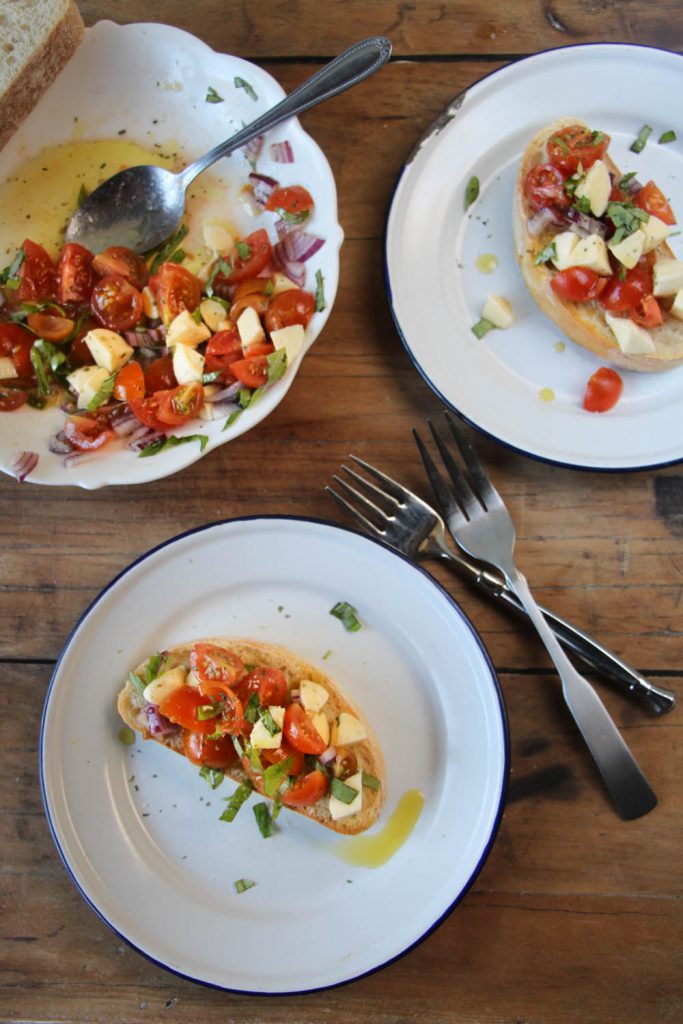 The classic combination of tomatoes, basil and fresh mozzarella is pretty hard to beat.  Caprese salad is a really simple dish where slices of tomatoes and fresh mozzarella (traditionally buffalo mozzarella) are layered on a plate with fresh basil and a drizzle of olive oil. It's so simple, but really delicious. Because it is so simple, it's incredibly important for all the ingredients to be top notch from the ripeness of the tomatoes to the quality of the olive oil.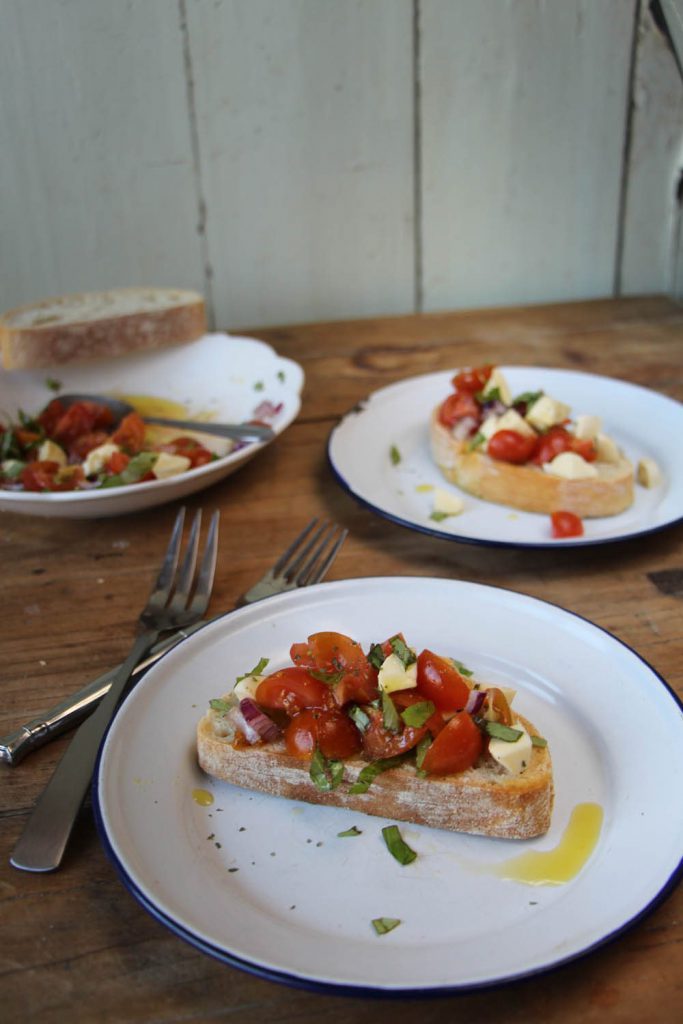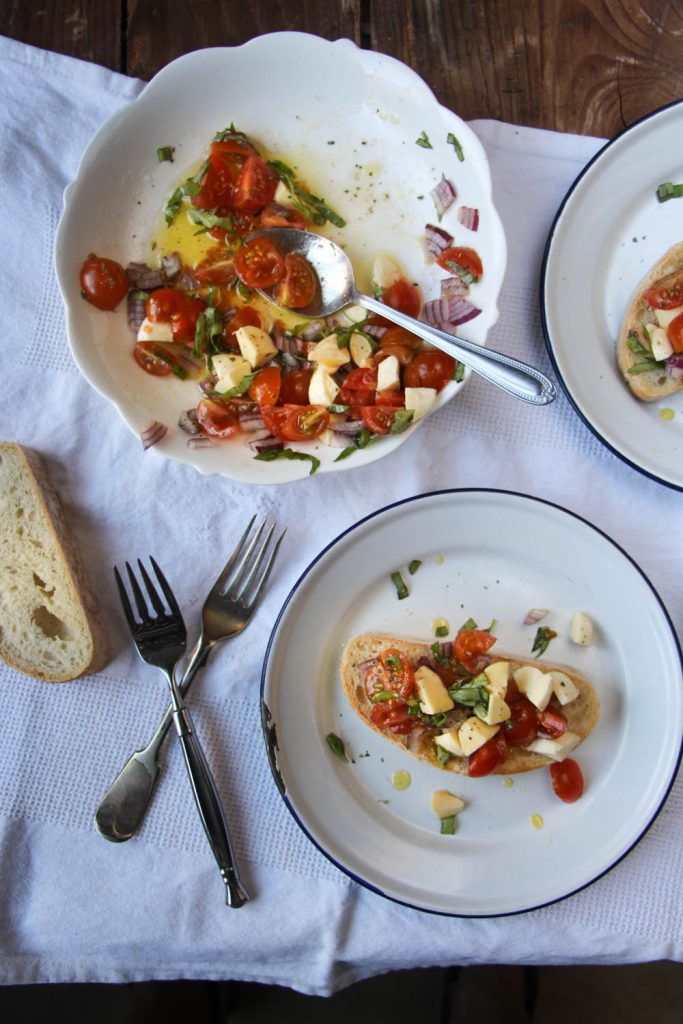 I've actually experienced my worst Caprese salad while in Italy can you believe? I remember going to a little restaurant close to the Pantheon in Rome (which was probably a bad move as most of the restaurants close to the famous sights are tourist traps) and we ordered a Caprese salad, our new favourite salad as we had enjoyed so many while on our trip. The tomatoes in Italy truly are something else! So ripe, red and full of flavour. When it came out the tomatoes were white and floury, and we even had a few slices from the tops of the tomatoes (with the stem attached).   I can speak a little Italian so I asked the waitress over and said in my broken Italian "excuse me, can you please get me some tomatoes that taste like they're from Italy and not these ones you serve to tourists?" or something I hoped sounded like that. It's not rude, Italians appreciate you standing up for yourself, and I don't think there's anything wrong with politely saying you're unhappy with a meal if it is truly deserved.  She apologised, took the dish away and returned with a plate of the best tomatoes we had on the trip.  I guess we looked like gullible tourists who they could palm off their old produce to.  It's taught me a lesson, be careful when eating around the major sights. Eat in the little places off the beaten track where the food is consistent and you don't get given the crap saved for the tourists!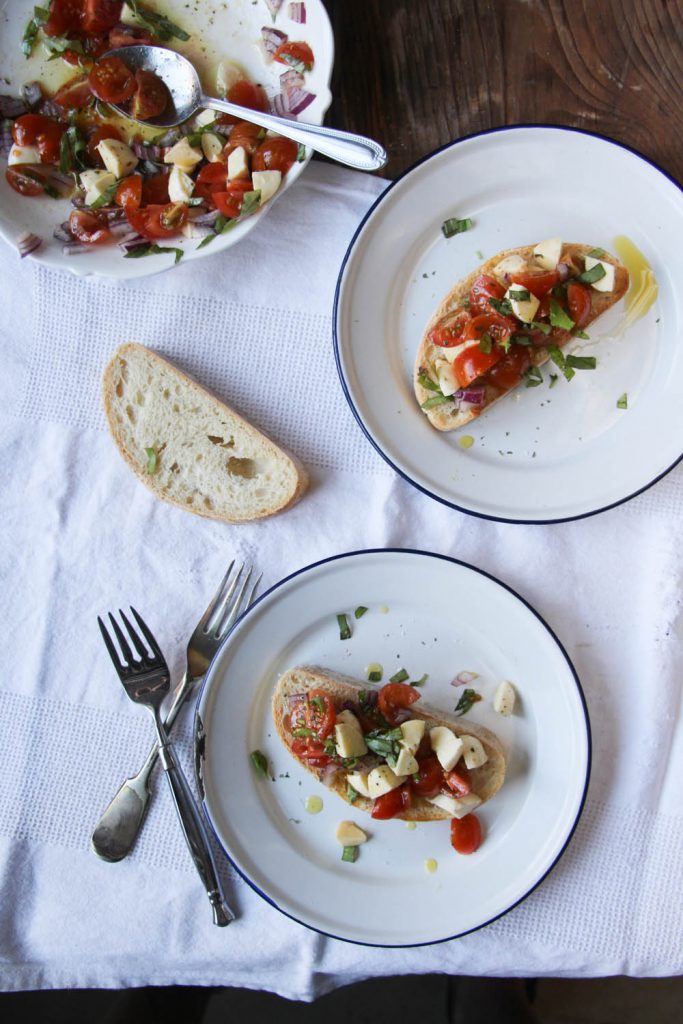 I actually struggle to find really good tomatoes where I live. Living remote with dry, hot conditions, there aren't any farms so all our produce comes to us by truck.  This usually means the tomatoes are picked early so they can withstand travel time and sitting on the shelf time.  Like the tomatoes I was served at that restaurant in Italy, they are often floury and tasteless. That's why I tend to buy the little punnets of baby Roma or cherry tomatoes. They are always good, ripe and sweet.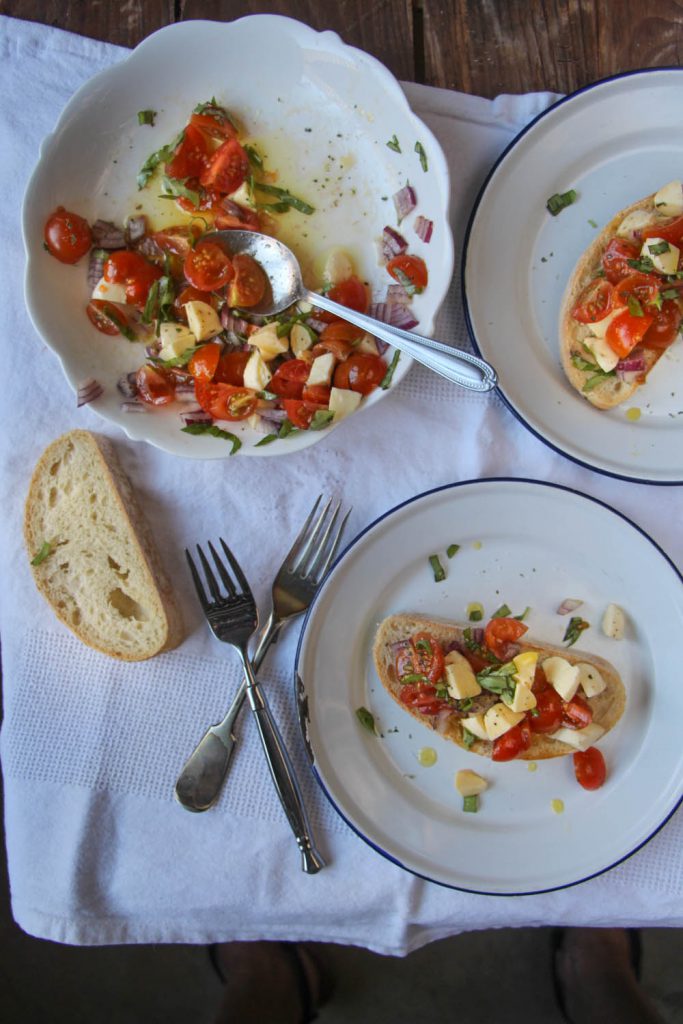 Being so much smaller, making a classic Caprese salad with baby tomatoes doesn't really work, so I just chop everything up and make a salad.  Plus the only fresh mozzarella I can get my hands on is in a tub on the supermarket shelf, which are good, but not quite like the fresh creamy buffalo mozzarella the salad is renowned for. To amp up the flavour I add what goes into my family's tomato salad, red onion, garlic and dried oregano.  If you have access to amazing large tomatoes, especially the heirloom varieties (I am very jealous!), by all means chop them up and use them here.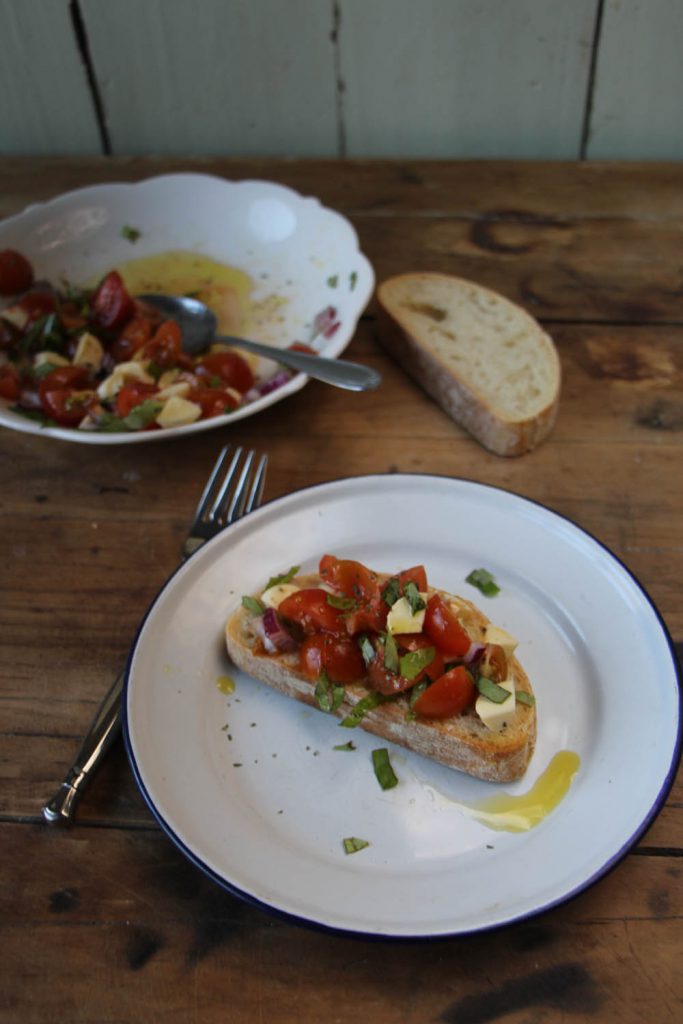 The salad is great on it's own, but for me this salad needs bread. All those incredible flavours in the dressing that's been infused with the juice from the fresh tomatoes is begging to be mopped up with bread, and honestly that's how I grew up eating it. Mum's tomato salad was always in the centre of the table and once we finished it off, out came the bread to dip into the leftover juices sitting in the bottom of the bowl. That's why I love this version, because everyone get's their own piece of bread without having to fight over what's leftover in the bowl at the end.  Bruschetta basically means 'burnt', and is traditionally made by grilling pieces of thick bread over a fire, but you can just grill in a pan, over a bbq or use a toaster. Just don't over-toast the bread – it still needs to be soft in the centre.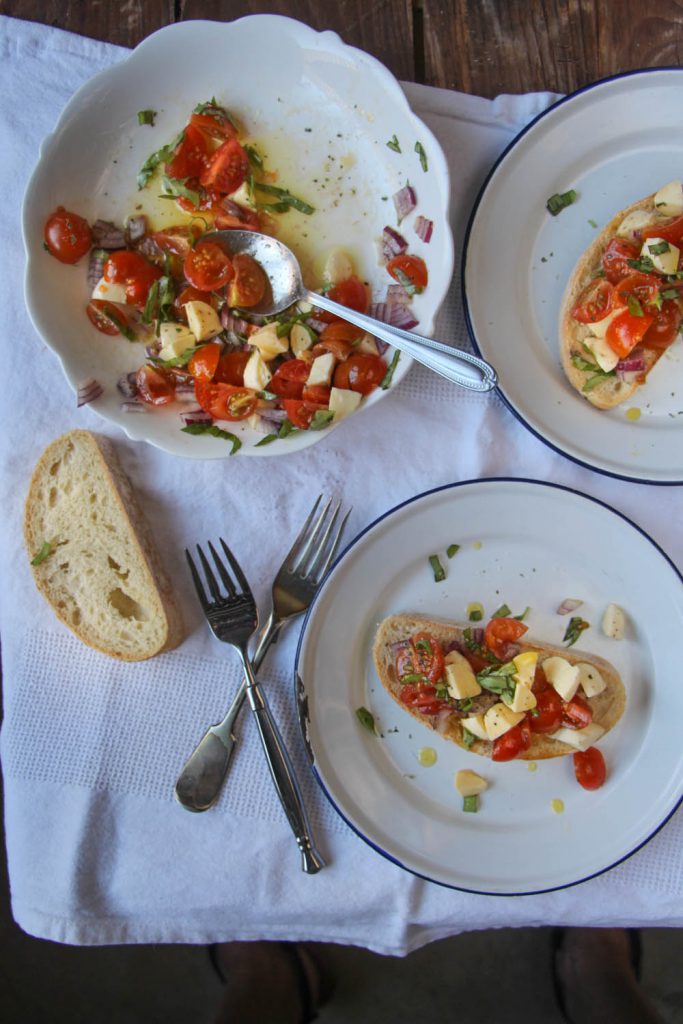 You can spoon the salad onto the bread and serve up on each person's plate, or do what I like to do. I make a big bowl of the salad and place it in the middle of the table next to a plate of toasted bread so everyone can dig in and make their own. Make sure you place a bottle of extra virgin olive oil on the table and some salt too, to be added as needed. That extra lick of oil and salt really makes it.
This is a great meal to make for a simple end of the week dinner, or a great way to start the night with a bunch of friends or family over.  I think it's way better than a cheese and cracker board. Pour the vino and enjoy!
Bruschetta Caprese
Author:
Prep time:
Cook time:
Total time:
A classic combination of tomatoes, basil and fresh mozzarella is hard to beat. The mixture itself is beautiful to eat on it's own as a salad, but I love it scooped onto freshly toasted ciabatta bread. My version of the age old caprese salad is laced with oregano as well as the classic basil, it gives this a little more herbal oomph. You need good quality olive oil here – you really can taste the difference. Use any ripe tomatoes you have, I like using cherry tomatoes because of their sweetness, but if you're using larger ones just ensure you cut them small enough to make the bruschetta easy to eat. There's nothing worse than everything falling off as you take a bite.
Ingredients
2 punnets (500g) cherry tomatoes
½ red onion, peeled and finely chopped
handful of fresh basil leaves, finely chopped
1 garlic clove, peeled, finely sliced
1 tsp dried oregano
150g cherry bocconcini (fresh mozzarella, sold in tubs in the refrigerator section)
1 ½ tbsp white wine vinegar
3 tbsp extra virgin olive oil
salt
sliced Ciabatta, or other crusty bread, toasted
extra virgin olive oil, for drizzling
Instructions
Cut the tomatoes into quarters and place into a large bowl with the onion, basil, garlic and oregano.
Cut the bocconcini into quarters and add to the bowl.
Add the vinegar, olive oil and a good pinch of salt and toss everything together. Taste and add more salt as needed.
Spoon the tomato mixture onto toasted bread and drizzle with a little extra olive oil.