This is an interesting little salad full of colour and texture with the warmth of sweet roasted root vegetables.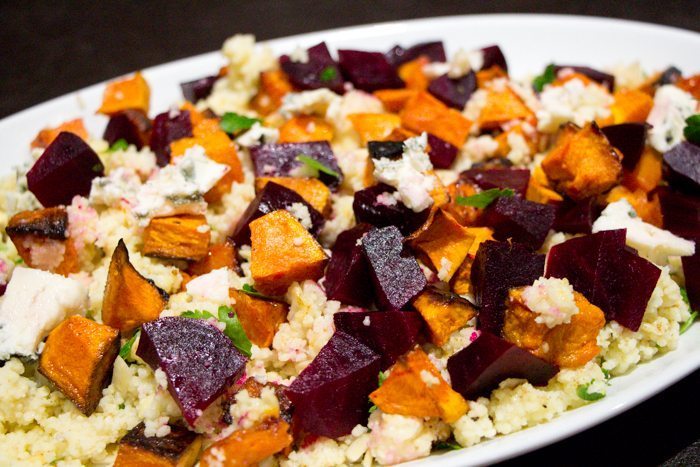 I love couscous salads as they can be prepared ahead, ready to serve when your barbecue is ready. Sweet roasted pumpkin matches beautifully with beetroot. Roasting your own beetroot gives such better results than using tinned ones, but if you are in a hurry you can substitute tinned baby beets.
Couscous with Roasted Pumpkin, Beetroot and Feta
Author:
Prep time:
Cook time:
Total time:
Loads of colour and full of goodness, the sweetness of the pumpkin and beetroot make this salad a winner.
Ingredients
2 medium beetroots
1 red onion, peeled and cut into thin wedges
150 gm butternut pumpkin, peeled and cut into cubes
1 tsp ground cumin
Olive oil
Salt
Freshly ground black pepper
1 cup couscous
1 tbsp lemon zest
1 cup boiling chicken stock
1 tbsp white wine vinegar
¼ cup roasted cashew nuts, finely chopped
¼ cup toasted flaked almonds, chopped
½ cup fresh parsley, finely chopped
200gm feta, crumbled
Instructions
Preheat oven to 180 degrees (160 degrees fan forced).
Wrap each beetroot in aluminium foil. Place in the oven and bake for 1 hour.
Meanwhile line a baking tray and add the red onion and pumpkin. Sprinkle with ground cumin and drizzle with olive oil to coat. Season with salt and pepper and toss to combine. Bake for 40 minutes, turning every now and then until pumpkin is tender and starting to crisp on the edges. Remove from oven and allow to cool.
Once beetroot is cooked, remove from oven and peel. Chop into small cubes and allow to cool.
Place couscous and lemon zest into a heatproof bowl and cover with boiling chicken stock. Cover and allow to steam for 10 minutes, or until all the liquid is absorbed. Allow to cool a little then fluff gently with a fork.
Combine the couscous with the nuts and parsley. Add the vinegar and 1 tblspn olive oil. Fold through the pumpkin and beetroot. Top with the feta and serve.