I am a bit of a sucker for a good biscuit. I grew up having to do the rounds of all the Italian families for the "visits". This usually meant Mum and Dad chatting and me sitting trying not to look bored. Oh how I wish we had Ipads and Iphones back then – my kids have no idea what it was like to have to just sit there looking like you're listening and interested (which was hard to do for me a lot of the time when the Italian dialect was thick and fast and I could barely understand what was being said).
The one thing I do remember was the incredible homemade biscuits that were always on offer to go with the strong cups of Espresso. Everyone made something slightly different, but they were all traditional Italian homemade classics. Biscotti of all flavours, Amaretti, Crostoli, Cherry Biscuits, Honey Biscuits, you name it, I ate it.
One of my all time favourites were the Florentines. They didn't come out very often, they're not your everyday biscuit. So vibrant and colourful, glistening with red cherries, dipped in chocolate, they were usually saved for special occasions, or Christmas time. But honestly, these biscuits are dead easy to make, there is no reason not to make them more often.
This is my kind of recipe, as everything is thrown into one bowl. There is no flour, eggs, butter or milk. It's quite incredible how it comes together, but it does. I've added some cranberries to my recipe, which is a little unconventional, but I love their sweet/sour taste and the added hit of colour just makes these even more vibrant.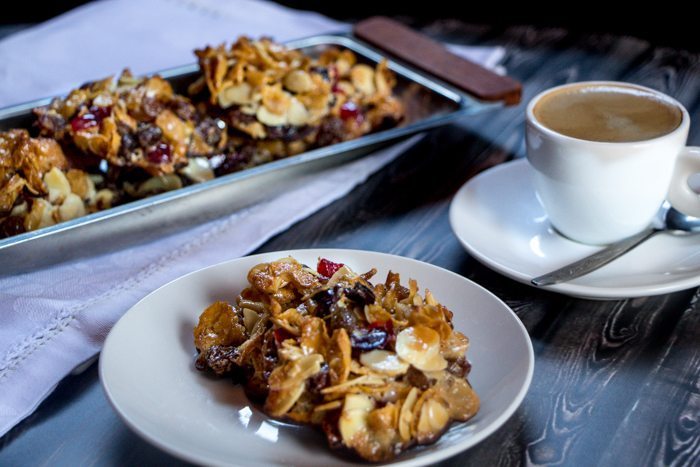 Try out my Florentine recipe. It makes a large batch, which is great because they keep well. I store mine in the fridge, but if you live in a cooler climate just add them to your Cookie Jar. A little bit of special made everyday!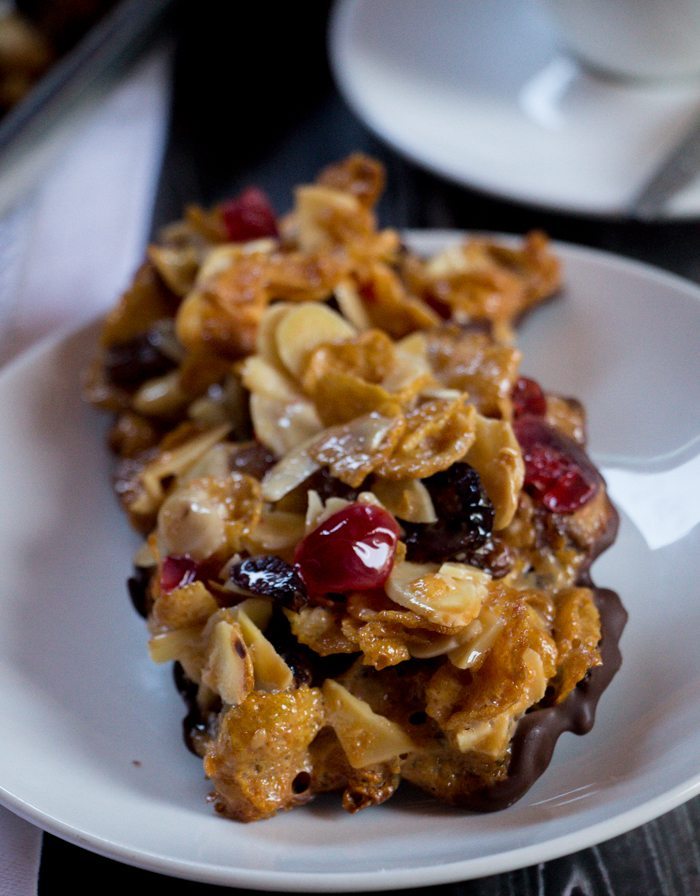 An Italian classic, Florentines are so vibrant and beautiful, sweet, crunchy and delicious. My untraditional addition is the cranberries, I just love their sweet/sour taste. These biscuits  look very impressive, but are so easy to make.
Florentines
Author:
Florentines are elegant, colourful and classic.
Ingredients
1 cup sultanas
4 cups cornflakes
200g slivered almonds
200g chopped glace cherries
2 tablespoons lemon rind
100g cranberries
1 1/2 cups sweetened condensed milk
400g dark chocolate
Instructions
Preheat the oven to 180°C. Line 4 large baking trays with non-stick baking paper.
Combine all the ingredients expect the dark chocolate in a large bowl.
Place tablespoonfuls onto the baking trays, leaving plenty of room for spreading. . Bake for 10 minutes, or until golden. Remove from the oven and allow to cool for 5 minutes before transferring to a wire rack to cool completely.,
Melt the chocolate by placing in a heatproof bowl over simmering water. Allow to cool a little to thicken, then dip the bottoms of the Florentines into the chocolate to cover. You can use a fork to make a wiggly pattern on the chocolate if you like. Turn upside down onto a wire rack until chocolate sets.
Store in an airtight container, or in the fridge if you live in a warm climate