An easy weeknight meal, this dish takes a small amount of fish and stretches it to feed a whole family.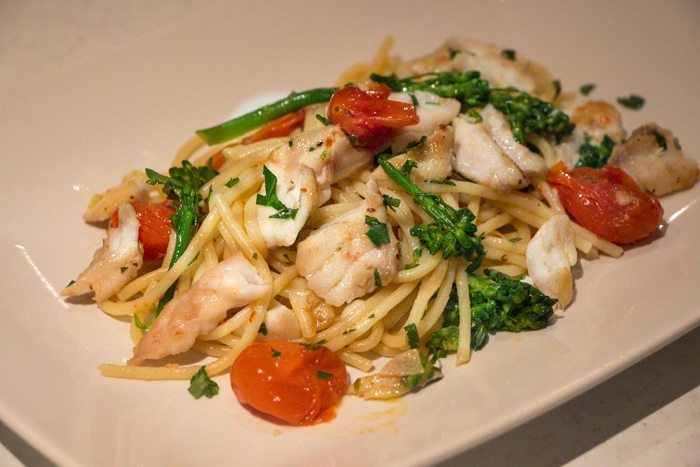 Fresh, vibrant, fast and good for you. It's a light way to eat a plate of spaghetti and get the family eating fish for dinner without it being battered and deep fried.
Spaghetti with Fish, Broccolini and Cherry Tomatoes
Author:
Prep time:
Cook time:
Total time:
Succulent bite sized pieces of fish come to life combined with garlic, lemon and chilli with some pan roasted baby tomatoes and tender Broccolini.
Ingredients
200gm (about two fillets) of fresh fish, skinned and boned (I used Cod)
Salt
Pepper
Olive Oil
1 punnet Baby Roma or Cherry Tomatoes
2 anchovies (from a can or jar)
2 garlic cloves, finely chopped
1 tsp chilli flakes, or
1 red chilli, seeds removed, finely chopped
Finely grated rind of 1 lemon
Juice of 1 lemon
½ bunch (a handful) of fresh parsley, finely chopped
1 bunch Broccolini, trimmed, cut into thin florets
250gm spaghetti
Instructions
Heat 1 tblspn olive oil in a saucepan over med – high heat and cook the fish very quickly on each side until just cooked (around 1 minute or so per side). Remove and set aside.
Fill a large pot with water and bring to the boil. Add a good pinch of salt and the spaghetti. Stir a little as it softens so the strands don't stick together. Cook as per packet instructions, or until al dente (just cooked). When it is about a minute away from being ready, add the broccolini. Cook until the spaghetti is cooked and the broccolini is tender. Drain, reserving a cupful of the pasta water.
Meanwhile, add ½ cup olive oil to a clean frypan. Add the tomatoes and cook over medium heat until tomatoes start collapsing, around 3 minutes. Add the anchovies and stir for another minute. The anchovies will melt into the oil. Then add the garlic and chilli and stir for a minute, or until you can smell the garlic aroma.
Add the drained pasta and broccolini to the frypan, moving quickly to incorporate the oily sauce into the pasta. Add the lemon rind, lemon juice, parsley and fish. Carefully combine all the ingredients over a medium heat. If the spaghetti seems dry, add a little of the reserved pasta water.
Remove from the heat and serve. If you like it hot, add a little more chilli.