This salad has become one of my new favourites. I just love the colour of the pink watermelon contrasted with the green pistachios and white feta. The freshness of the mint ties it all together. It doesn't sound like it would taste that spectacular, maybe even a little weird, but seriously this is divine! The balsamic vinegar changes the watermelon from sweet to almost savoury and gutsy. I just love it.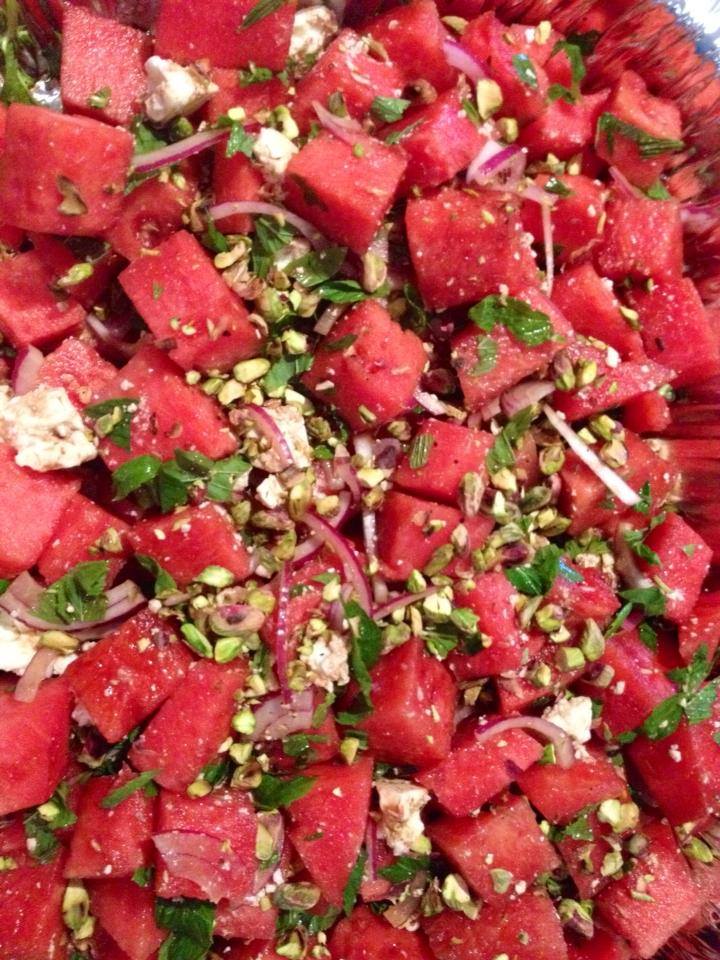 So good as a make ahead salad to take to a friend's house for a weekend barbecue or serve it as a change from the norm for your family's dinner. Delicious with lamb or chicken, and perfect with prawns (which by the way you could add to the salad if you want to make it more substantial).  Give it a try – you'll love it!
A little bit different but seriously, give this salad a try.   It's my new fave!
Watermelon Salad with Pistachio, Feta and Mint
Author:
An incredibly fresh and vibrant salad that is surprisingly addictive. Perfect for your next barbecue
Ingredients
½ red seedless watermelon
1 red onion, cut into thin slices
1/3 cup good quality balsamic vinegar
150 gm finely chopped pistachios
300 gm feta, roughly crumbled
1 punch fresh mint, roughly chopped
Instructions
Cut the rind off the watermelon and cut into medium sized chunks.
Place watermelon and onion in a large bowl. Add the balsamic vinegar and toss to combine.
Now add the pistachios, mint (reserve a little to sprinkle on top) and feta. Toss again.
Serve on a large platter with a scattering of mint over the top.