Most people I know hate brussel sprouts. I don't get it, but then again I didn't grow up with them and I hear stories of smelly, overcooked sprouts that made you want to gag.  I actually love them, and the baby ones are so much sweeter than the larger ones.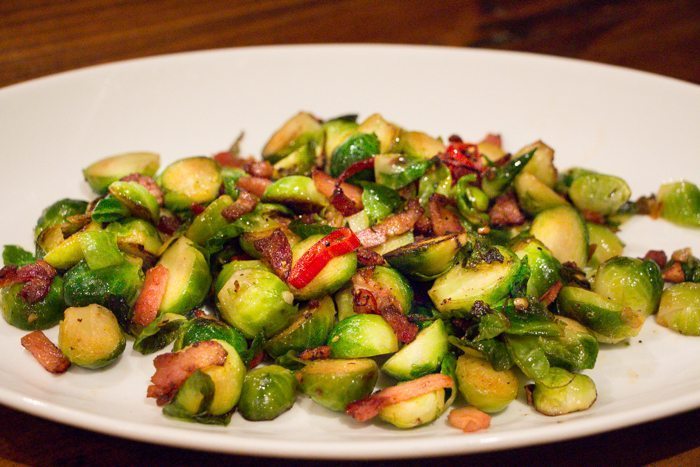 The key is to cook them until they're just tender.  I think pretty much everything tastes good with bacon, so here I've added some garlic, chilli and bacon to make these just cooked tender sprouts a delicious side to a family roast.  Give them a try!
Brussel Sprouts with Chilli, Garlic and Bacon
Author:
Prep time:
Cook time:
Total time:
Brusel sprouts can taste amazing with a little boosted flavour of chilli, garlic and bacon. These are really delicious and packed with nutrients.
Ingredients
300gm baby Brussel Sprouts, halved
salt
3 tblspns olive oil
½ Thai red chilli
2 bacon rashers, chopped
2 garlic cloves, peeled, finely sliced
black pepper
Instructions
Put the brussel sprouts into a pot and cover with cold water. Add a good pinch of salt. Cook on high heat until boiling, then continue to boil until just tender. Drain.
Add the olive oil to a frypan and cook the chilli and bacon over medium-high heat until bacon is crispy, add the garlic and cook for another minute.
Add the drained brussel sprouts to the pan and cook, while stirring, for another 2 minutes. Drizzle with a little extra olive oil and season with some salt and freshly ground black pepper.
Serve.