This is called "Liliana's Rainbow Cake" because it's the one I made on Masterchef.  It has become my most asked for recipe, which is bizarre as it is the dish that sent me home. I made this in 2 hours (hence it didn't work out for me) but for this cake to turn out perfectly it needs a lot more time.
After cooking, the cakes need to be completely cool before icing. Assemble the cake and then give it a 'rough ice' to cover it and get it all together. At this point I like to give it an hour at least in the fridge to set it and make sure it is stable.  Then you have a clean edge to apply the final layer of buttercream and the cake will look really professional.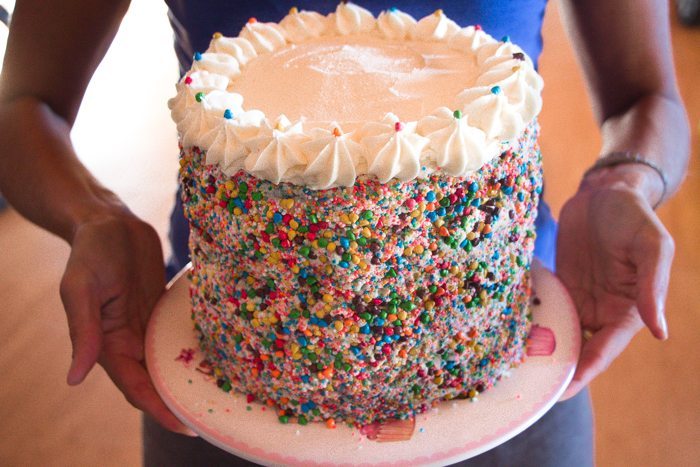 I've stipulated 2 batches of buttercream. Make this in two lots (don't just double the quantity and make one big batch). The reason being as you add the icing sugar your mixer will tend to 'fluff' it up and your kitchen be covered in fine powder.  One batch at a time is easier to manage.  You may not need all the buttercream, but there is nothing worse than running out halfway into icing the assembled cake. Any leftovers keep well in the fridge to ice cupcakes another day.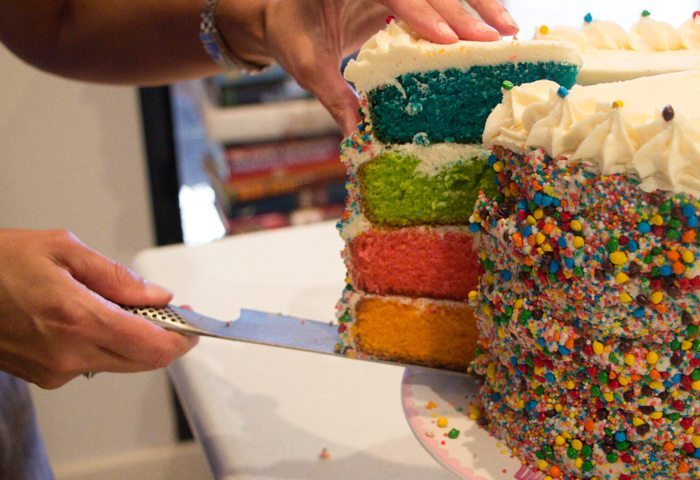 The best part of this cake is the moment of cutting. That first slice that reveals the technicolour cakes is a sight to behold.  This is a huge cake, I make no apologies for that. It is a celebration cake, so it needs to be big, wonderful, over the top. It was created for my son's birthday and has become something very special to us.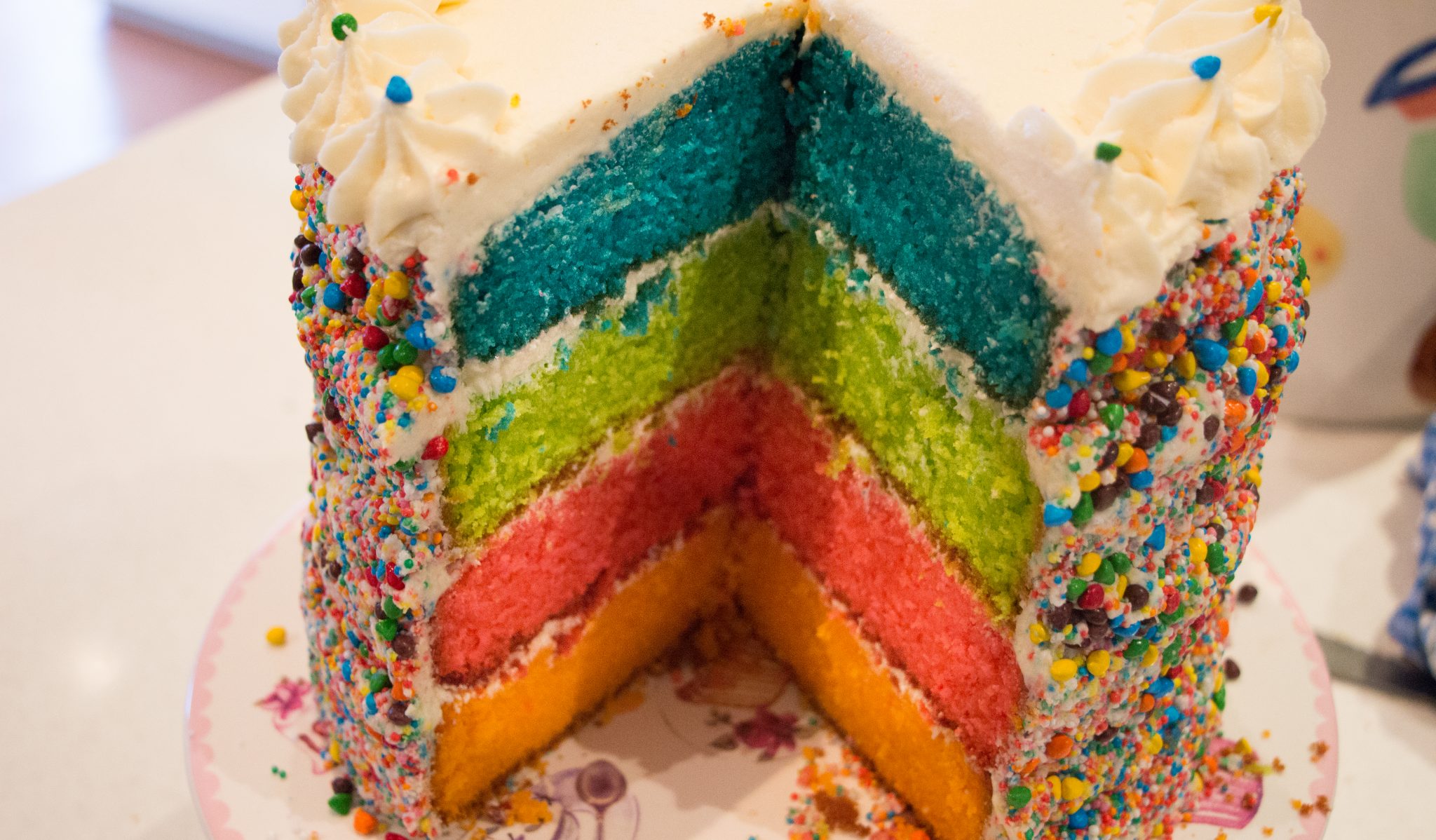 Make this for someone you love. It's a labour of love that is well worth it.
Liliana's Rainbow Cake
Author:
Prep time:
Cook time:
Total time:
My Rainbow Cake – sky high, sweet and a real kids favourite
Ingredients
Make four cakes – each cake contains:
250g softened unsalted butter, chopped
250 g caster sugar
4 eggs
1 tsp vanilla extract
1/2 cup of milk
250g plain flour, sifted
2 tsp baking powder, sifted
4 various food colours , I use the Ameri Color Electric range
2 x Buttercream (recipe follows)
400gm assorted sprinkles of your choice
1 batch of buttercream =
230gm softened unsalted butter, chopped
1kg icing sugar, sifted
1/2 cup milk
1 tspn vanilla extract
Instructions
Preheat oven to 180 degrees celcius (160 fan forced)
You need to make 4 cakes for this cake. You can make 4 times the mix all at once (if your mixer is big enough), then split into 4 portions before you add colouring if you like. However making one cake mix at a time is more manageable.
Line a 4 x 22cm round cake tins with baking paper.
Beat the butter and sugar together with an electric mixer until smooth and creamy.
Add eggs, 1 at a time, making sure fully incorporated each time.
Add vanilla and milk. Beat to incorporate. Don't worry if it appears to look curdled. It will come together once the flour is mixed in.
Stir in the flour and baking powder, then beat with the mixer again for another 3 -5 minutes or until the mixture is quite smooth.
Add a few drops of your desired food colour. Mix to thoroughly combine.
Pour mixture into the cake tins. Smooth the tops. Bake for 50 minutes, or until a skewer comes out clean.
Allow to cool for 5 minutes, run a knife around the edge to loosen, then turn out onto a wire rack. Allow to cool completely while you make the buttercream.
Beat the butter with half the icing sugar, all the milk and vanilla with an electric mixer until smooth and creamy (about 4 minutes).
Gradually add the rest of the icing sugar, a cup at a time, beating 2 minutes before the next addition, until it is all incorporated. The buttercream should be a spreadable consistency and very white.
You will need two batches of the buttercream recipe (make it twice rather than all at once).
Assemble the cake:
Trim the tops of the cakes with a knife so they are flat.
Put one cake on a cake board. Spread with buttercream.
Put another cake on top and spread with buttercream, repeat until you have a four layered cake.
Completely ice the sides of the cake with a thin layer of buttercream. Use your palette knife to smooth the icing around the sides so it is neat. Let it set for 10 minutes. Then apply a thicker coat of buttercream so it is completely covered.
Transfer the cake into a large deep tray and pour the sprinkles around it. Scoop up handfuls of sprinkles and with a flat hand and stick them all over the sides of the cake, pressing gently until completely covered.
Transfer cake onto a cake board and spread the buttercream over the top of the cake, saving some for piping.
Tidy the edges.
Place remaining buttercream in a piping bag fitted with a star nozzle. Pipe small rosettes around the top of the cake.
Serve and be prepared for squeals of delight.