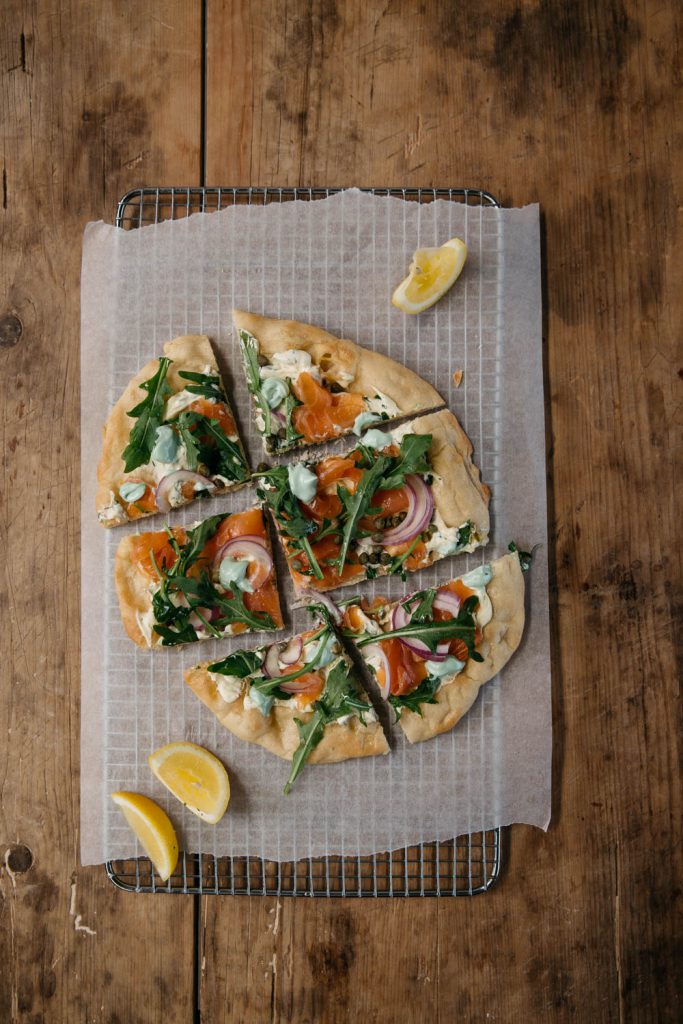 Pizza has got to be one of the most loved meals in the world.  There are so many versions and so many possibilities. Like pasta, a pizza base is a blank canvas waiting for you to add an infinite variety of toppings to suit your taste (or most often for me, whatever you've got lying around).  I am a huge fan of a proper Italian pizza, thin crust, fresh tomato sauce, cheese and fresh basil, cooked in the hottest of ovens so that it puffs up yet retain that burnished thin crust.  Mmmm – I can taste it now. But why stop there?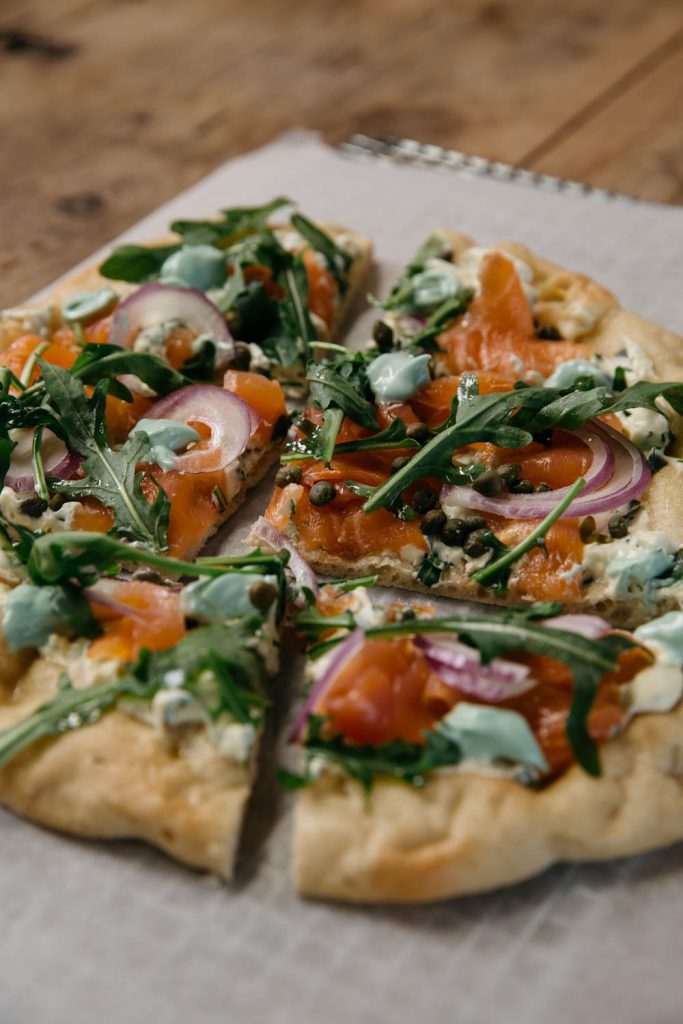 I know that Italians can be very fussy about playing around with authentic recipes. In the best pizzerias in Italy you will often find only one or two varieties – simple, traditional and set to what they believe to be pizza perfection. It's a serious business! Definitely no pineapple to be seen!
As much as I'm all for tradition, I do like to tinker in the kitchen too. The fact that I live in Australia, a melting pot full of different cultures and cuisines, encourages me to play around with ingredients that have been inspired by the food I've eaten on my travels.  Plus I'm a big believer in there being no rules in the kitchen, just go with what you like and you can't go wrong.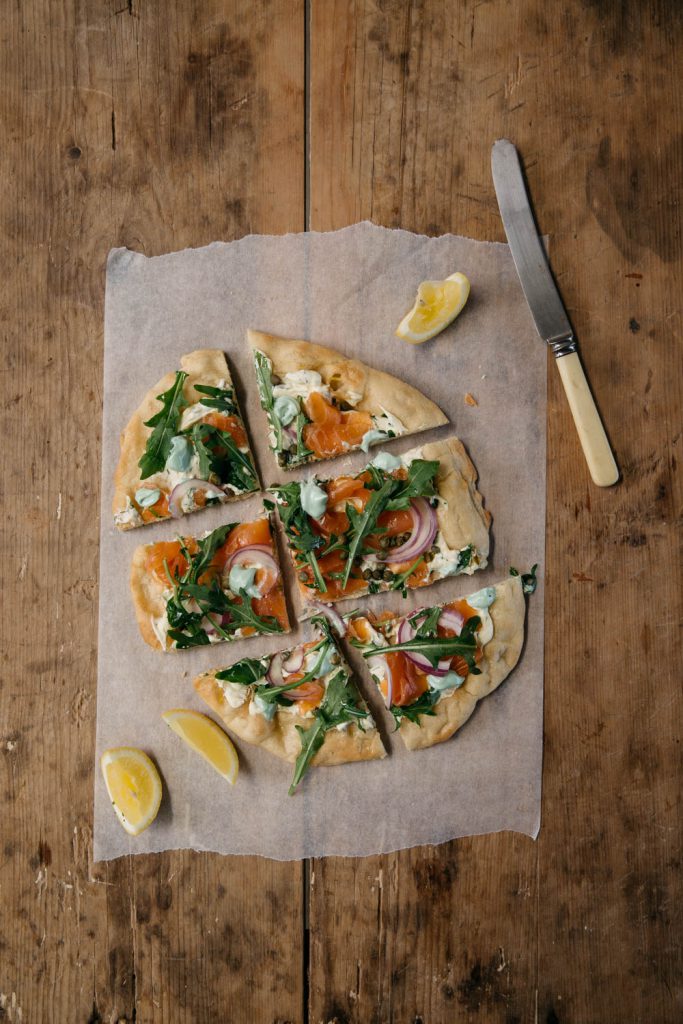 The idea for this pizza came from a sandwich I ate while on holiday on the east coast of Australia a few years back. I ate a delicious turkish bread sandwich smothered in cream cheese, topped with smoked salmon, some greens and drizzled with a mayonnaise that delivered a kick that was amazing. I had to ask what it was and was surprised to find it was Wasabi mayonnaise. You can buy it in a tube on the supermarket shelf, the brand is Kewpie, or  simply add some wasabi paste to your favourite mayonnaise.
Anyway, the combination of salmon and the heat of the wasabi is perfection. I love it. I've added a creamy mascarpone to the base and some red onion and capers to finish off and give it some crunch and a briny hit of salt.  This recipe is featured in my book Food for Sharing Italian Style.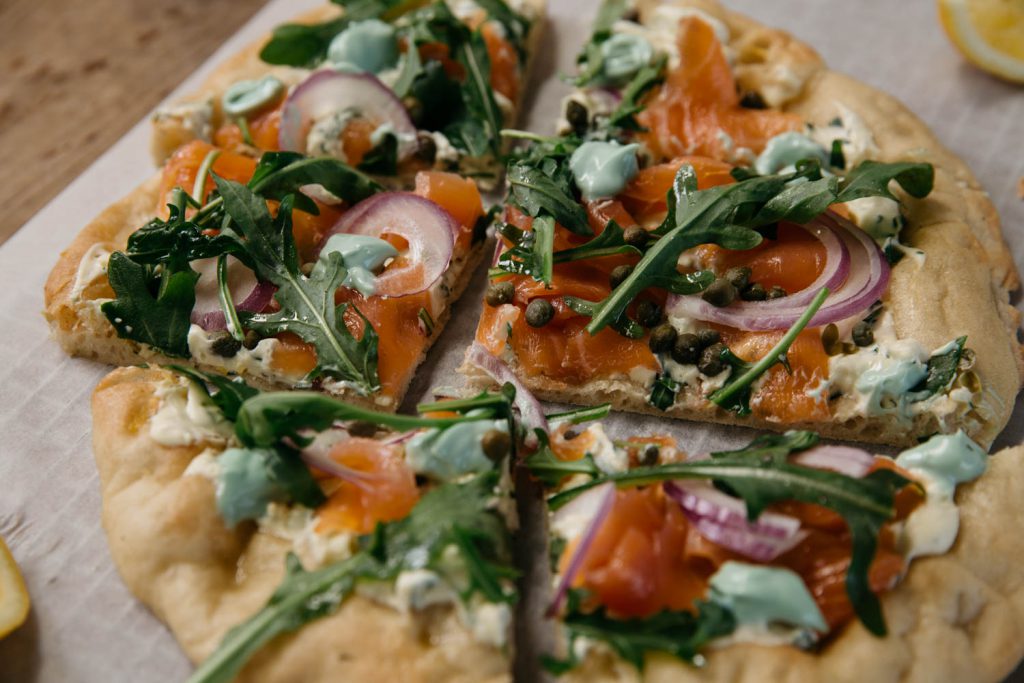 You can make this pizza using a store bought pizza base, there are plenty of good ones on the market so if you want a very easy, quick meal go for it. However if you do have the time to make your own dough the results are definitely worth it.  Give my easy pizza dough recipe a go here.
Smoked Salmon, Mascarpone and Wasabi Pizza
Author:
Prep time:
Cook time:
Total time:
A twist on a traditional Italian recipe – this pizza is decadent and delicious with a secret ingredient
Ingredients
125 g mascarpone
1 tsp lemon zest
1 tsp fresh flat leaf parsley, finely chopped
salt
freshly ground black pepper
good handful of baby rocket leaves
olive oil
1 tsp lemon juice
1 PIzza Base (home made or store bought)
2 tbsp wasabi mayonnaise
200 g smoked salmon, torn into pieces
1⁄4 small red onion, finely sliced
2 tsp capers
Instructions
Preheat the oven to its hottest setting.
Combine the mascarpone, zest, parsley, a pinch of salt and a grinding of black pepper. Mix well.
Toss the rocket leaves with olive oil and lemon juice. Season with salt and pepper.
If making your own pizza base, once rolled out place on a lined baking tray and brush with a little olive oil. Cook for 5–15 minutes (time will depend on temperature of your oven) or until golden and crisp. Remove from the oven. If using store bought cook for 5 minutes, or until hot and slightly crisp.
Spread the cooked pizza base with the mascarpone mixture and drizzle with wasabi mayonnaise. Top with the smoked salmon, red onion, capers and dressed rocket.
Serve.