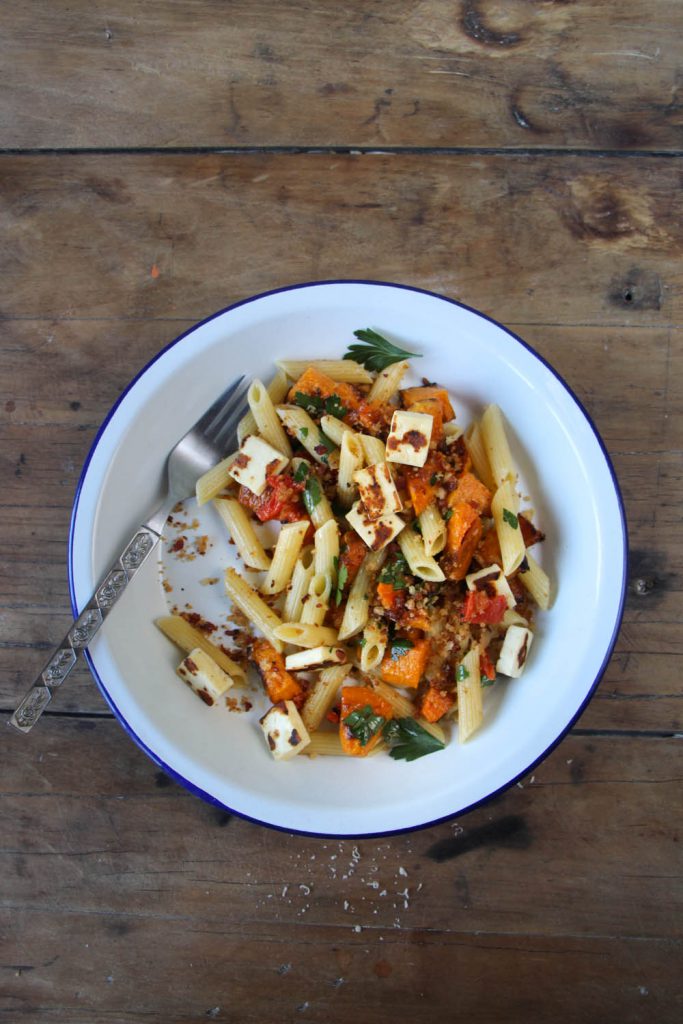 I'm always trying to think of new ways to throw together a meal using a packet of pasta. It's my 'go to' blank canvas and I could never imagine my pantry being without at least a few varieties waiting to be dressed up for dinner.  As much as I love the weekend where I can slow cook a heavy meaty ragu and let it bubble away for half the day, during the week I want something that is pulled together quickly, and I find we eat a little lighter on week days too so I'm generally looking in the vegetable drawer for inspiration.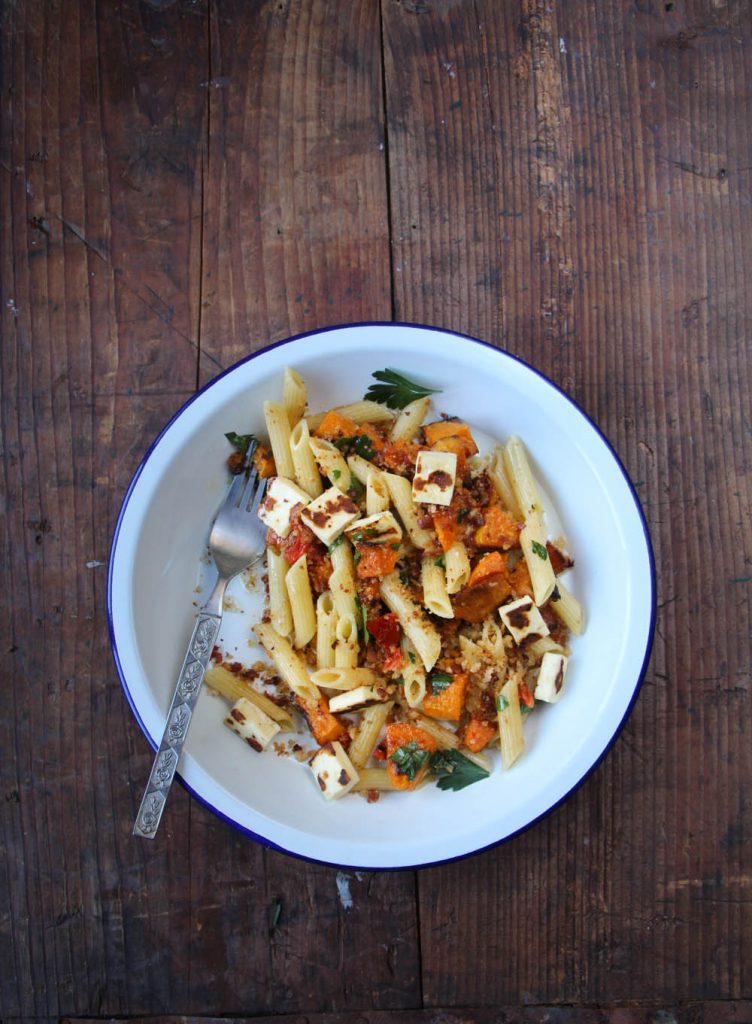 I love roasted pumpkin and it's a pretty regular feature on our table at night.  I always add a little cumin to pumpkin because it gives it a real earthiness that really sets off the sweetness the pumpkin gets once roasted.  Cumin is generally recognised as a Middle Eastern spice, but it's common in the south of Italy too.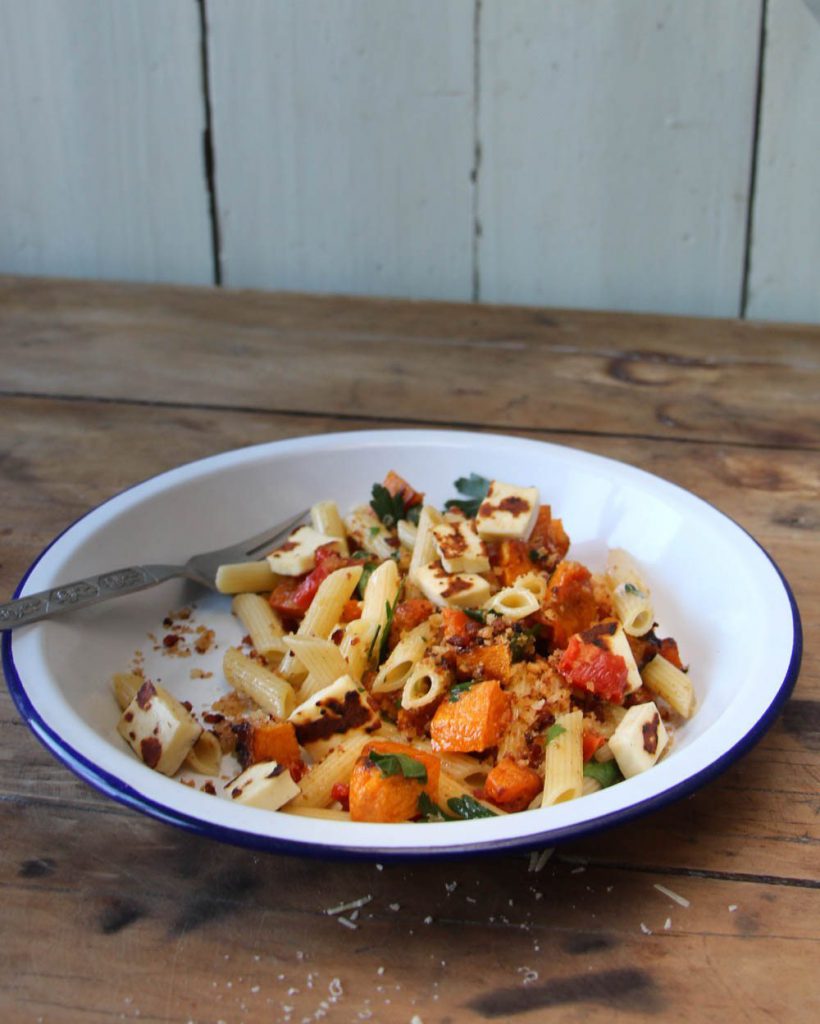 Going with that vibe this dish also includes roasted capsicum and grilled haloumi.  Haloumi may sound a bit weird to serve on pasta, but hey it's grilled cheese, what's there to question?   I love it's creaminess, and it's a nice change from the usual parmesan. The only thing about about grilling haloumi is that it get's rubbery as it cools, so make sure it's the very last thing you do before you serve dinner.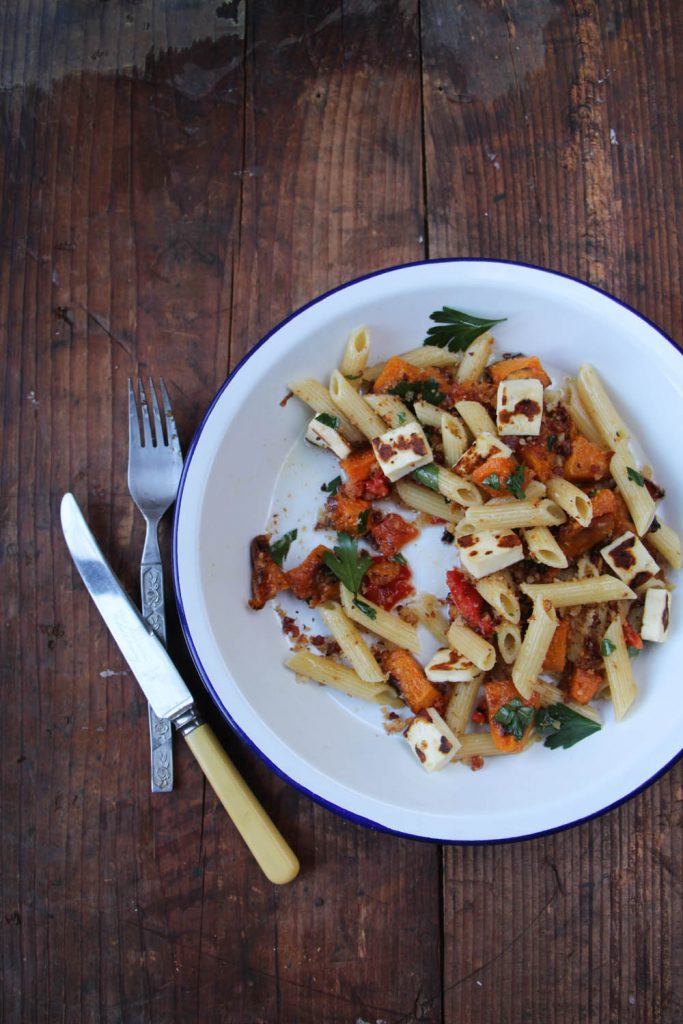 If the combination of  pumpkin, capsicum, herbs, garlic and haloumi isn't enough to convince you to give this recipe a go, I have two words for you. Chorizo crumb. Seriously, this stuff is is a game changer and this recipe will make more than you need to sprinkle over your pasta, but I've done that on purpose because a jar of this crunchy, salty little flavour bomb will be your best friend.  I absolutely find it addictive and will add it to anything I can.  It adds oomph in flavour and a crunchy texture that adds life to vegetables, pasta, risotto, even salads.  Keep it in the fridge for a couple of weeks if it lasts that long!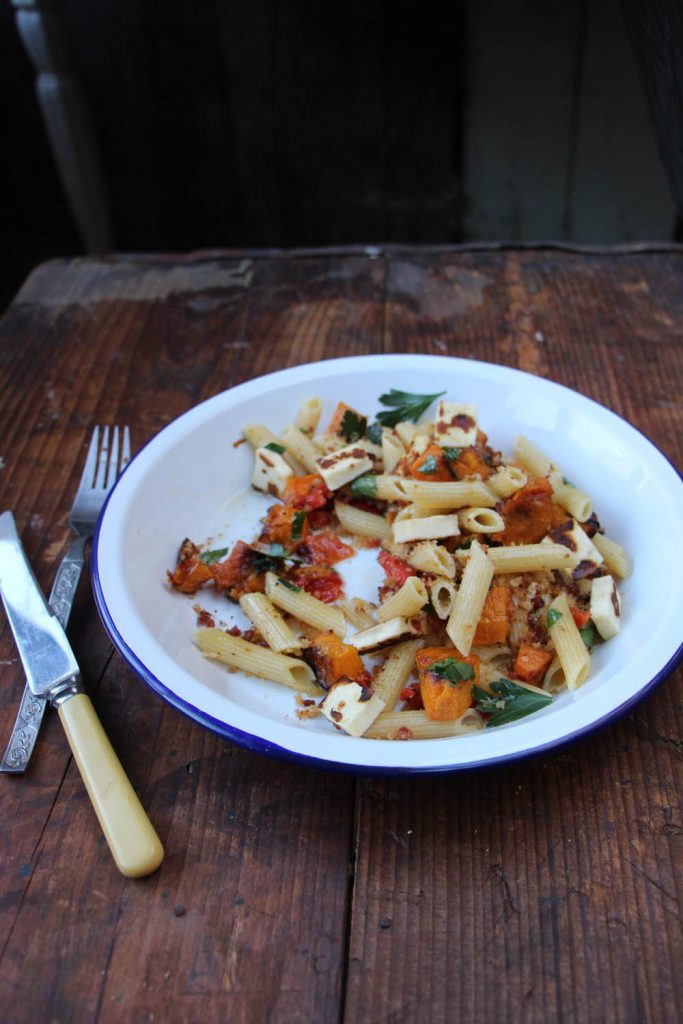 Have a great week!
Penne with Roasted Pumpkin, Capsicum, Haloumi and Chorizo Crumb
Author:
Prep time:
Cook time:
Total time:
One of my favourite vegetables is pumpkin, when roasted it is earthy yet sweet. It's perfectly paired with capsicum, and the creamy haloumi gives this a little twist from the normal parmesan topping. The star of this dish is the chorizo crumb. Salty, crunchy and so moreish, this recipe makes more than you need but it stores well in the fridge ready to be added to anything from vegetables to chicken to sea food. It is very addictive! To make things easy I've used char grilled capsicum from a jar, but feel free to make your own if you feel inclined
Ingredients
3 – 4 slices of stale sour dough or other crusty bread
1 fresh chorizo, skin removed, finely chopped
1 garlic clove, peeled
finely grated rind of ½ a lemon
olive oil
1/2 a small butternut pumpkin, peeled and cut into small cubes
1 tbsp ground cumin
salt
2 garlic cloves, peeled and finely sliced
½ tsp chilli flakes
¼ cup jarred char grilled capsicum, sliced
400g penne pasta
½ packet (100g) haloumi
handful of fresh parsley, finely chopped
ground black pepper
Instructions
Place the bread and chorizo onto a large oven tray in a single layer and bake in a moderate oven for 15 minutes or until the bread is hard and dry and the chorizo is starting to crisp on the edges. Remove and allow to cool completely. Once cool tear up the bread, the chorizo and any oil that has seeped from the chorizo while cooking, the garlic clove and rind into a food processor. Pulse to form rough breadcrumbs. Transfer to a non-stick frypan, add the 3 tbsp of olive oil and cook over medium – high heat, stirring, until golden. Remove and set aside to cool.
Place the pumpkin in a single layer onto a large oven tray. Drizzle with 1 – 2 tbsp olive oil and scatter over the cumin and a pinch of salt. Toss to coat and cook in a hot oven for 20 minutes, or until pumpkin is cooked and starting to crisp on the edges. Remove.
Place a large frypan over medium-high heat and add ¼ cup olive oil. Cook the sliced garlic and chilli flakes, stirring, until fragrant. Add the capsicum and pumpkin and stir to combine. Set aside.
Cook the penne in plenty of boiling salted water until al dente. While the pasta is cooking, get a clean frypan and place over high heat. Cut the haloumi into cubes and cook a couple of minutes each side until golden. The haloumi needs to be cooked last minute otherwise it will get rubbery as it cools. You want it to be ready just before you serve everything up.
Once the pasta is cooked, drain and reserve ½ a cup full of the pasta water. Return the frypan with the pumpkin back to high heat and add the drained pasta, parsley and a a good grinding of black pepper. Toss everything together, adding a little of the reserved pasta water if mixture is dry. Top with just cooked haloumi and a generous sprinkling of chorizo crumb.