A good bolognese sauce can be the basis of so many meals. The classic Spaghetti Bolognese, Lasagne or even a family Pasta Bake. It can be eaten with white long grain rice, a simple risotto or just scooped up and eaten with fresh crusty bread.  It keeps well, and can be frozen. It is so versatile and so easy to make.  There are only a few tricks to ensuring a great sauce, but the most important things are give it time, and taste.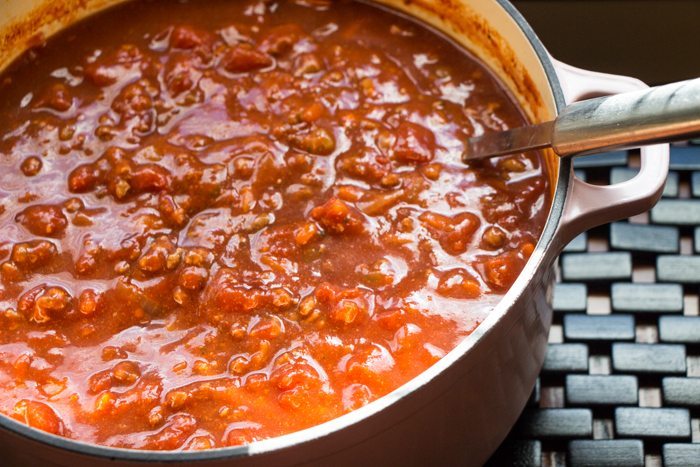 The first is time. Don't skimp on time.  A good sauce needs time to develop, reduce and concentrate in flavour. The second is a heavy pot. The sauce needs to cook in a heavy based pan to ensure it doesn't 'catch' and burn on the bottom over the long cooking time. The third is taste. Always adjust seasoning, add a little salt, more oregano, be in tune with the flavours and be confident to add what it needs.
My Bolognese Sauce
Author:
Prep time:
Cook time:
Total time:
A beautiful rich bolognese sauce, perfect for the classic Spaghetti Bolognese, or my Family Lasagne.
Ingredients
1/4 cup Olive oil
1 brown onion, finely diced
1 large garlic clove, finely sliced
1 celery stick, peeled and finely diced
1 small carrot, peeled and finely diced
1 kg regular beef mince
Pinch salt
2 tbsp dried oregano
1/2 tspn freshly cracked black pepper
1 tsp sugar
2 cups water
4 x 400g tins chopped tomatoes (preferably Italian tomatoes)
1 x 700g jar passata
2 dried bay leaves
Salt
Instructions
Slosh the olive oil into a large heavy based pot and put on a medium heat.
Add the onions, garlic, celery and carrots and cook, stirring, until onions are translucent.
Turn heat to high, and add the mince. Stir and cook until mince is browned.
Add a pinch of salt, oregano, pepper and salt and stir to combine.
Add the water, tinned tomatoes, passata and bay leaves. Stir to combine.
Bring to the boil, then turn the heat to low, cover with a lid, and cook for 2 hours.
Remove lid, turn heat to medium and cook for another 30 minutes, stirring every now and then, or until sauce is desired thickness.
Taste and season with salt as necessary
Note: if using this sauce to make lasagne, you don't need to let it reduce and thicken too much as it will continue to cook in the oven.