The humble sponge is one of those dishes that cooks judge themselves on.  There is a reason why it is on the competition listing at every country show. It's a classic. When done well it is ethereally light, cloud like almost, and oozing with creamy, jammy unctuousness. It looks easy, but it is not. Like anything that seems simple, there is more to it than meets the eye.
There are so many tricks and tips to a perfect sponge, it has become a real art. The CWA is a wealth of knowledge on the subject. However, my Mum makes a damn good sponge cake and this is her recipe, passed on to me, now shared with you.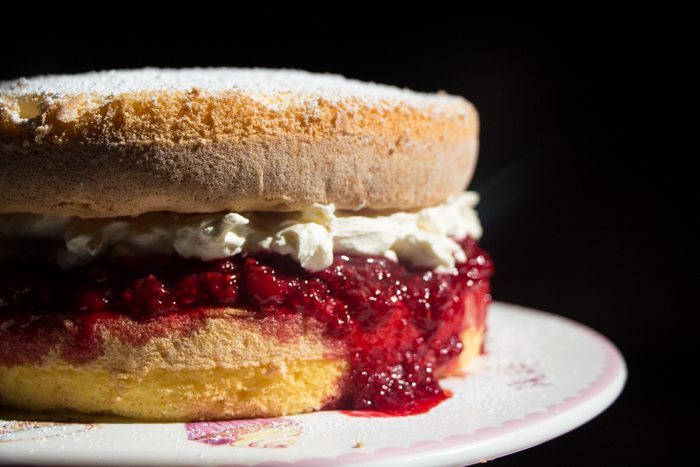 Ok so lets go over the important rules:
Room temperature – make sure everything is at room temperature before you start – including the eggs
Beat like the clappers – the key to a light sponge is air. Beat those eggs like there's no tomorrow.
Gently does it – Fold carefully, think of a figure 8 around the outside and through the middle. Be gentle, as if your life depended on it.
Be patient – don't open the oven until 20 minutes is up. I mean it. it is crucial the oven temperature is constant. Do you want a sponge with a dent in the middle? I thought not.
Tip upside down – Cool the cooked cake in the tin for a couple of minutes, then tip upside down onto a clean tea towel. Lift the tin off within 10 minutes. This stops the cake from getting soggy ad helps it come out clean (ie no breaks).
Don't fill until you're almost ready to serve. It's a sponge – so it will suck up any moisture from the fillings over time. The longer it sits around with filling the soggier it will become.
Alright, so I know there are a lot of rules, but honestly once you get the hang of it, this is a fail safe recipe. So good you will want to eat it plain, warm from the oven. It's the custard powder, that amazing smell that reminds you of Christmas and Birthdays all at once. Hey, why resist? As a child my Mum would make an extra cake for me so I could eat it just like it came out of the oven. Funny things is that's exactly how my kids like it.
Best Ever Sponge with Chantilly cream and Raspberry Compote
Author:
Prep time:
Cook time:
Total time:
This is my Mum's sponge cake. It is perfect in every way and a bit of a family secret. Feather light it is so versatile it can be used for many fillings. Here I pair it with the classic Chantilly Cream and Raspberry Compote.
Ingredients
4 eggs at room temperature
1 tspn vanilla extract
3/4 cups caster sugar
1/2 cup cornflour
1/2 cup custard powder ('Nurses Custard Powder' is my preference )
1 tblspn self raising flour
1 tspn baking powder
Raspberry Compote (recipe follows):
1/4 cup caster sugar
2 tblspns cold water
300gm frozen raspberries, defrosted and drained
Vanilla cream (recipe follows)
300gm thickened cream
2 tblspn caster sugar
1 tspn vanilla
Icing sugar for dusting
Instructions
Preheat oven to 180 degrees Celsius (160 degrees fan forced)
Grease, line and flour 2 x 20cm round cake tins.
To do this, get some paper towel and smear some softened butter onto it. Rub it all over the inside of the cake tin. Cut a circle of baking paper to fit the base of the tin, then throw in a couple of tablespoons of plain flour and shake it all around the tin so it adheres the butter to the sides. This will ensure it comes out perfectly, yet the sponge can still 'grab onto' the sides of the tin, helping it to rise.
Make sure the bowl you are using is scrupulously dry. Any moisture will stop the eggs from whipping up to their absolute best.
Put the eggs and vanilla into the bowl of an electric mixer. Using the whisk attachment, beat until it starts foaming. This will only take a minute or so.
Start adding the sugar, very gradually I almost go a tablespoon at a time. If you dump it in all at once the eggs will deflate.
Keep the mixer on, medium to high speed for 8 minutes in total. By this stage the mixture should look like it's tripled in volume.
Sift all the dry ingredients into a separate bowl so they are combined.
Now sift half of the dry ingredients directly into the egg mixture. Using a spatula, fold it through gently. Then repeat with the second half. It is important to have delicate hands here, the flours need to be incorporated but you need to ensure the mixture retains as much air as possible. I find going around the bowl and then up through the middle with the spatula is the best approach.
Pour half the mixture into each tin. Then gently tap the tin on your kitchen bench a couple of times. This will get rid of any air bubbles.
Place in the oven and cook for 20 minutes, or until golden and cooked through. Remove from the oven and allow to cool for 5 minutes. Then lay a clean tea towel onto your bench and turn the cake tins upside down onto them. Leave for 5 more minutes, then remove the cake tin and baking paper.
After 5 more minutes, invert onto a wire rack to cool completely.
When completely cool, spread with raspberry compote and vanilla cream. Dust generously with icing sugar and serve.
If you are making the cakes in advance, wrap in cling film and store in an airtight container for up to one day. These unfilled cakes also freeze really well.
To make the Raspberry Compote:
Put the sugar and water in a medium sized saucepan and stir over a low heat until the sugar has dissolved.
Increase the heat and bring to the boil, cook for 2 – 3 minutes or until thick and syrupy.
Add the raspberries and stir to combine.
Cook for another 5 minutes, or until thick.
Cool
To make the Vanilla Cream:
Put all ingredients into a bowl of an electric mixer and beat until cream has soft peaks.