I love the combination of pork, chilli and fennel. It is typical of the region of Italy my family are from, Calabria, and reminds me of those cold days we would get together as a family and make our own home-made sausages.  I can remember my Nonna, adding just the right amount of spices to the fresh meat to give that distinct gutsy flavour. We would hang them to dry and cure for a few weeks before we could eat them, but on the day we always cooked a few fresh. I can almost taste them!
If you're not able to make your own, luckily these days you can buy good  Italian sausages from your butcher. They're delicious when dry, like salami, but I love using the fresh ones to make this simple, but gutsy pasta dish. Using fresh sausage meat that is already laced with fennel and chilli means this sauce packs a  flavour punch. Just split open the casings and crumble the meat into the pan to brown off, pushing with a wooden spoon so  it breaks up as you do.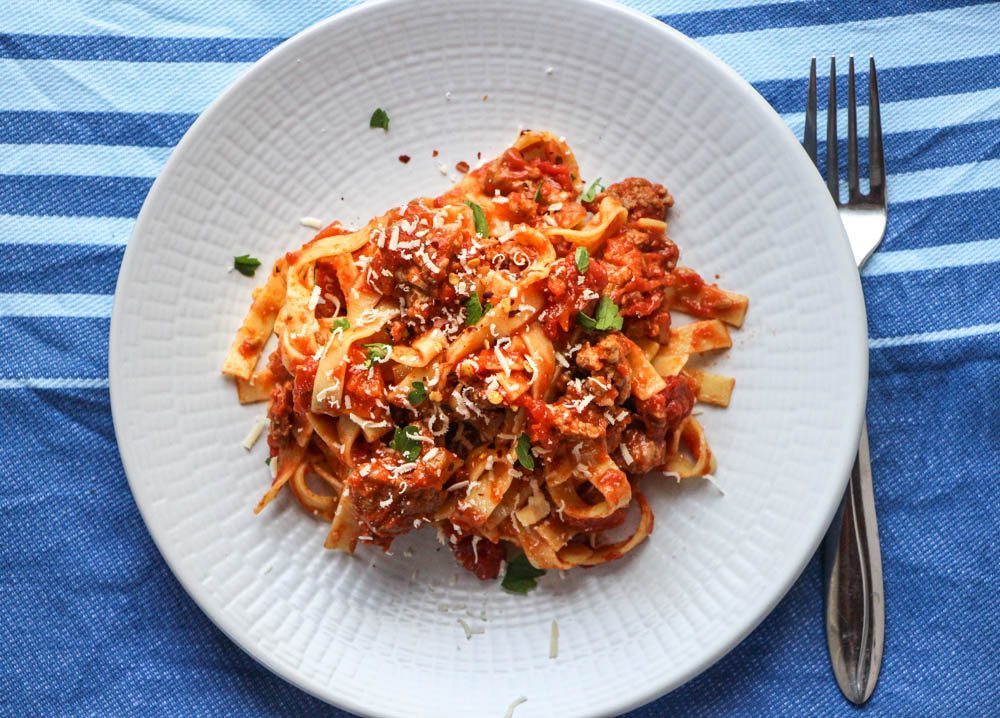 Use any pasta you like here, and add extra chilli if you like things hot!
Fettuccine with Pork, Fennel and Chilli
Author:
Prep time:
Cook time:
Total time:
This sauce packs a real punch. Perfect with fettuccine, but feel free to use whatever pasta you have in the pantry.
Ingredients
400g fresh Italian-style sausages
2 tbsp olive oil
1 celery stick, peeled and finely sliced
½ medium carrot, peeled and finely sliced
½ brown onion, peeled and finely diced
2 cloves garlic, peeled and finely sliced
1 tsp dried oregano
1 tsp fennel seeds, crushed
½ tsp dried chilli flakes
½ tsp paprika
salt
3 x 400g tins diced tomatoes
freshly ground black pepper
6 fresh basil leaves
500g fettuccine
grated parmesan (optional, for serving)
extra chilli flakes (optional, for serving)
fresh basil leaves, chopped
Instructions
Squeeze the sausage meat out of the casings and place in a bowl. Discard casings.
Heat a medium saucepan over medium-high heat and add the olive oil, celery, carrot and onion. Cook for 3 – 5 minutes, stirring every now and then, until vegetables are tender. Add the garlic and sausage meat and cook, breaking up the meat with the back of the spoon as it cooks, until meat is brown.
Add the oregano, fennel seeds, chilli, paprika, a good pinch of salt and stir to combine.
Add the tinned tomatoes. Pour a scant amount of water into each empty can and swirl around to catch the tomatoes left behind in the tins and add that to the pot. Season with salt, a good grinding of black pepper and throw in the basil leaves. Stir to combine and bring to the boil. Once boiling, reduce heat, cover with a lid and simmer for 45 minutes. Remove lid, increase heat and cook for 10 minutes to thicken slightly. Taste and adjust seasoning if necessary.
Meanwhile cook the fettuccine in boiling salted water until al dente (just cooked). Drain, then tip the fettuccine back into the empty pot. Immediately add a few ladles full of the sauce and stir to coat (this ensures the pasta doesn't stick together).
Serve in bowls with extra sauce on top. Offer grated parmesan and chilli for those who like it and top with a sprinkling of basil leaves. Eat hot!