As with most Italian biscuits, these keep really well so you may as well make a double batch. Best of all, it's all mixed in the food processor so this is super easy to make.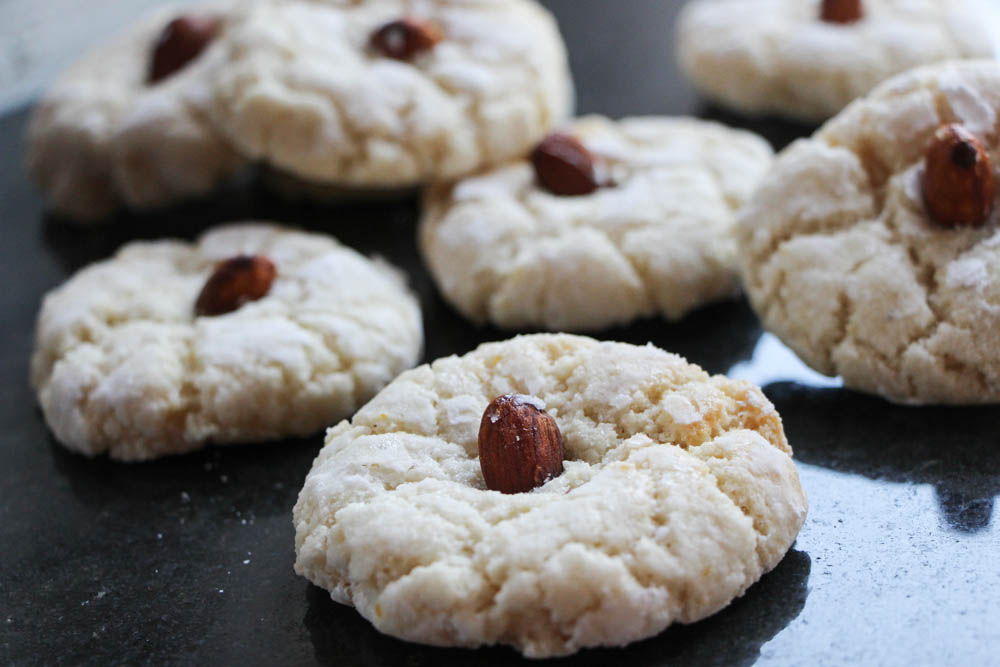 The liqueur gives these an authentic taste, but you can omit it if you don't want to buy a bottle especially, just add ½ tsp almond essence as a substitute.
Italian Almond Crackle Biscuits
Author:
Prep time:
Cook time:
Total time:
An old favourite that is super easy to make.
Ingredients
200gm almond meal
1 cup caster sugar
2 tblspn plain flour
1 tspn baking powder
2 egg whites
½ tspn vanilla extract
½ tspn almond essence
Zest of ½ a lemon
1 tblspn Amaretti liqueur
2 cups icing sugar
200gm whole almonds kernels
Instructions
Preheat oven to 170 degrees. Line two oven trays with baking paper.
Put the almond meal and sugar into a food processor and blitz for 1 minute. Add the plain flour, egg whites, vanilla, essence, rind and amaretti and process until combined, about 2 minutes. Cover and allow to stand for 30 minutes.
Roll mixture into balls, about the size of walnuts and flatten slightly. Roll into icing sugar and top with an almond. Place onto baking trays and bake for 15 – 20 minutes in the upper part of your oven in single batches until just starting to turn golden (you don't want too much colour).
Remove from the oven and allow to cool completely before storing in an airtight container.