You might think it's odd to grill nectarines but it really intensifies their sweet/sour flavour and they are a great addition to a summertime salad.  Adding chickpeas to this salad gives it substance and you could eat this as a light, complete meal as it's packed with nutrients.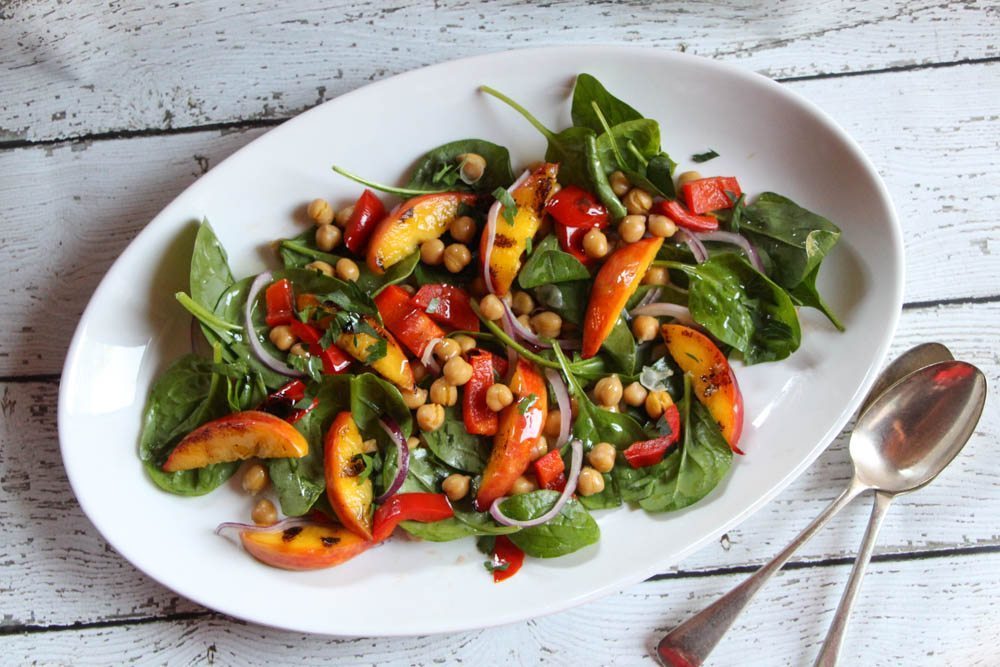 This is a really festive, vibrant salad, perfect for a barbecue alongside chicken, lamb or steak.
Grilled Nectarine, Capsicum and Chickpea Salad
Author:
Prep time:
Cook time:
Total time:
A fresh and unusual salad using grilled nectarines.
Ingredients
Olive oil
1 red capsicum, seeded, pith removed
3 nectarines, cut into segments
200g (1/2 tin) chickpeas, drained and rinsed
½ red onion, finely sliced
100g baby spinach leaves
a good handful of fresh flat leaf parsley, chopped
3 tbsp olive oil
½ tsp Dijon mustard
½ tsp honey
2 tbsp red wine vinegar
salt
freshly ground black pepper
Instructions
Add a little olive oil to a a barbecue plate or grill plate over the stove and grill the capsicum until char marks appear and capsicum is tender. Remove and chop into small chunks. Grill the nectarine segments for 30 seconds each side, or until char marks appear. Set aside.
Place the capsicum, chickpeas, spinach and parsley into a large bowl.
Place the olive oil, Dijon, honey and vinegar into a small jar. Place the lid on and shake vigorously to emulsify. Add to the chickpea mixture. Season with salt and pepper and gently toss to combine.
Arrange the salad onto a platter and place the grilled nectarine segments over the top