This is the prefect pasta dish to make during summer when tomatoes are in their prime and you don't want too much heat in the kitchen.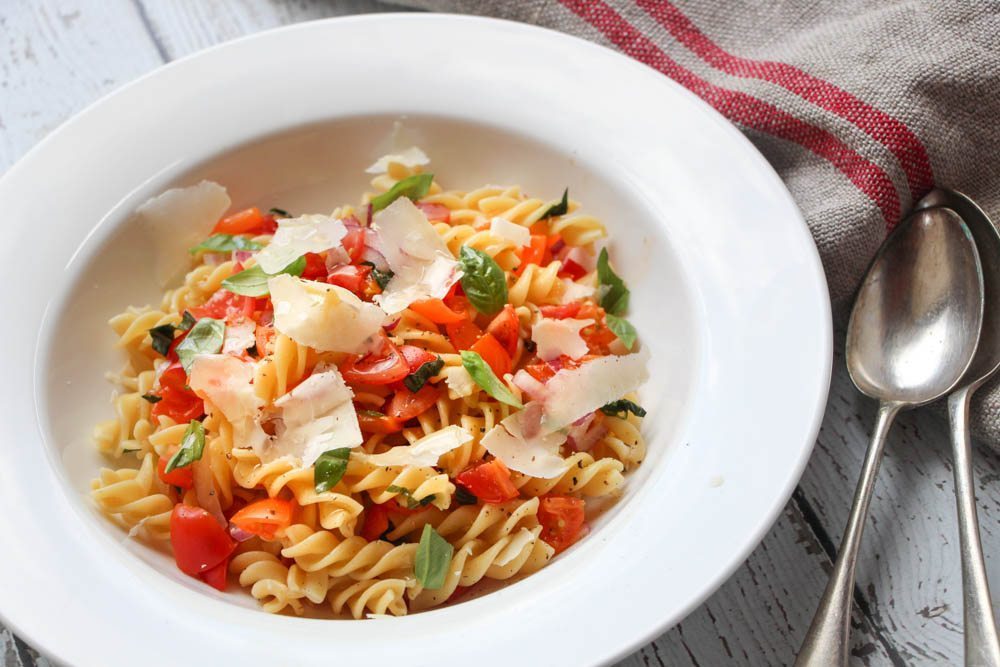 This is really fresh, simple and just the way I like to eat. You could substitute fresh bocconcini for the parmesan if you like. The fusilli are the perfect shape pasta to trap all the flavour of the vinaigrette into their grooves, but you can substitute any pasta type you have on hand.
Fusilli with No-Cook Fresh Tomato Sauce
Author:
Prep time:
Cook time:
Total time:
Keep the heat out of the kitchen with this easy no-cook fresh tomato sauce.
Ingredients
500g cherry or baby Roma tomatoes
½ red onion, finely sliced and chopped
2 garlic cloves, peeled and finely sliced
a handful of fresh basil leaves, torn
¼ cup olive oil
3 tbsp white wine vinegar
salt
freshly ground black pepper
400g Fusilli pasta
parmesan cheese, optional, for serving
Instructions
Cut the tomatoes into quarters and place in a large bowl. Add the red onion, garlic, basil, olive oil and vinegar. Season with salt and freshly ground black pepper and toss together to combine. Set aside for the flavours to develop while you cook the fusilli.
Cook the fusilli in a large pot of boiling salted water until al dente. Drain, then immediately add to the tomato mixture. Toss everything together to evenly combine. Add a splash of olive oil if the pasta is dry.
Serve immediately topped with shaved parmesan if desired.