This is a really simple dish with plenty of flavour.  Casarecce are perfect for this dish as they are thicker than normal pasta and hold up well to this robust sauce.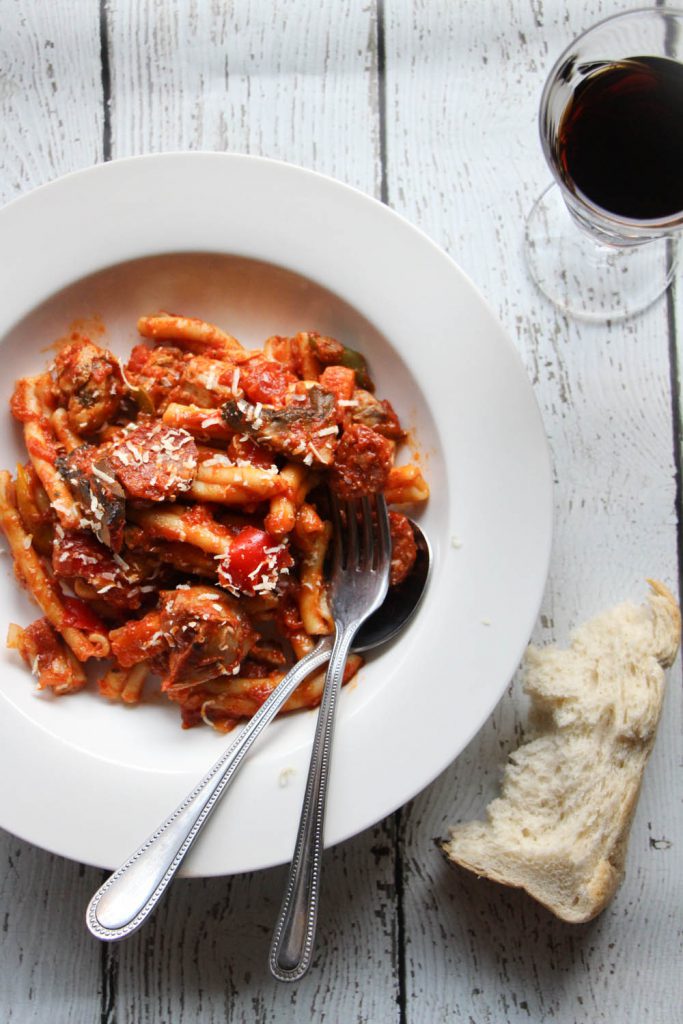 This is a hearty meal, packed with chicken, meaty mushrooms and full of smoky flavour from the chorizo. This also makes a great pasta bake, just tip it all into an oven dish and grate over plenty of tasty cheese before baking until golden.
Casarecce with Chicken Chorizo Cacciatore
Author:
Prep time:
Cook time:
Total time:
A one pot meal full of Italian flavour.
Ingredients
Olive oil
2 brown onions, peeled and sliced
1 celery stick, peeled and sliced
1 carrot, peeled and diced
2 red capsicums, cut into large slices
1.5 kg skinless chicken thigh fillet, cut into large dice
150gm Chorizo, peeled and sliced
Salt
Freshly ground black pepper
2 cloves garlic, peeled and sliced
2 portobello mushrooms, roughly chopped
1 tbsp dried oregano
1 tsp dried chilli flakes
1 tsp paprika
1 tsp dried fennel seed
2 x 400g tins diced tomatoes
1 x 700g jar passata (pureed tomatoes)
½ cup water
400g casarrece pasta
freshly grated parmesan, for serving
Instructions
Splash a few tablespoons of olive oil into the pot and add the onions, celery, carrot and capsicum and saute on medium heat for 5 minutes, or until onions are translucent. Add the chicken pieces, chorizo and garlic. Season with salt and pepper and cook, stirring every now and then, until chicken is browned. Add the mushrooms, oregano, chilli, paprika and fennel seed and cook for a further 1 – 2 minutes, or until mushrooms start to soften.
Add the tinned tomatoes, passata and water and stir to combine. Season with a little salt and pepper and bring to the boil. Reduce heat and simmer, stirring every now and then, for 30 minutes.
When the sauce is almost done, cook the casarecce in a large pot of boiling salted water. Drain and add straight into the pot of sauce. Stir to combine the pasta and sauce then remove from the heat and serve with grated parmesan and crusty bread.