This recipe is a classic example how good Italian food originated. It's dinner time, you've been too busy all day to plan dinner and you need to rustle up something to feed the family, pronto.
The first time I made this dish was a night when we had planned to go out for dinner, then as the day went on, the kids were tired, my husband was held up at work, and we decided to just stay home and order take-aways.  I live in a remote town and the take-away choices are limited to popular chain burger or fried chicken shops, or Asian noodles (that my kids won't eat) so I opened the fridge, grabbed some leftover chicken and scrounged around for whatever I could find, served it up topped with an egg (which always somehow brings a dish together) and this was the result. Delicious!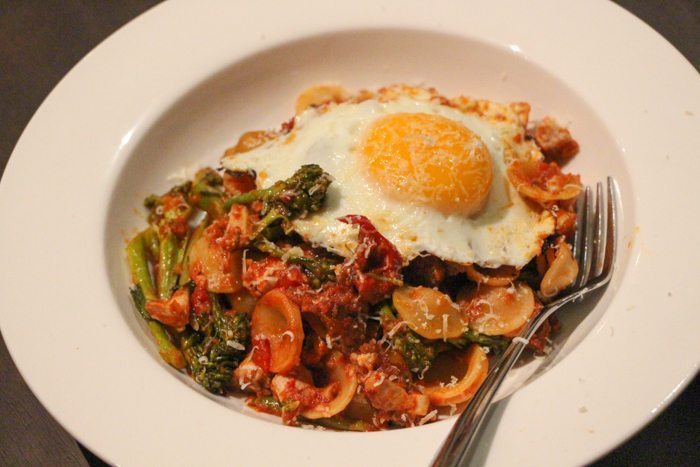 I have used Cappeletti (loosely translated as "little hats") but any pasta would work here. Adding pasta to whatever ingredients are lying around is an easy and economical way to make a hearty meal without fuss. Mix this up by using whatever you've got lying around, or what your family likes.  It's waaaaay better than take-away and on the table in next to no time!
Cappeletti with Broccolini, Cacciatore Sausage, Chicken, Roast Capsicum, Tomato and Fried Egg
Author:
Prep time:
Cook time:
Total time:
The sausage, chicken, egg and broccolini make this pasta dish a complete meal.
Ingredients
1 tblsp olive oil
2 cups Tomato Pasta Sauce or Passata
1 head of Broccolini, cut into small florets
1 garlic clove, peeled and finely chopped
150gm Cacciatore sausage, finely sliced
½ cup jarred roasted red capsicum, cut into strips
2 cups cooked chicken, skin removed
Salt
Freshly ground black pepper
400gm Cappeletti pasta
4 eggs
Freshly grated parmesan cheese, to serve
Instructions
Heat olive oil in a large sauté pan and add the Tomato Sugo. Add the broccolini and garlic and stir to combine. Cook over medium heat until broccolini is tender. Add the Cacciatore sausage, capsicum and chicken and stir. Season with a pinch of salt and a grinding of black pepper.
Meanwhile, cook Cappeletti in boiling salted water until al dente. Drain and add directly into the pan with the sugo. Toss to combine.
Meanwhile, in another pan, fry the eggs until cooked to your liking.
To serve, spoon some cappeletti with sauce onto each plate. Top with a fried egg and a good grating of parmesan.