This is a great way to get your big breakfast on all in one.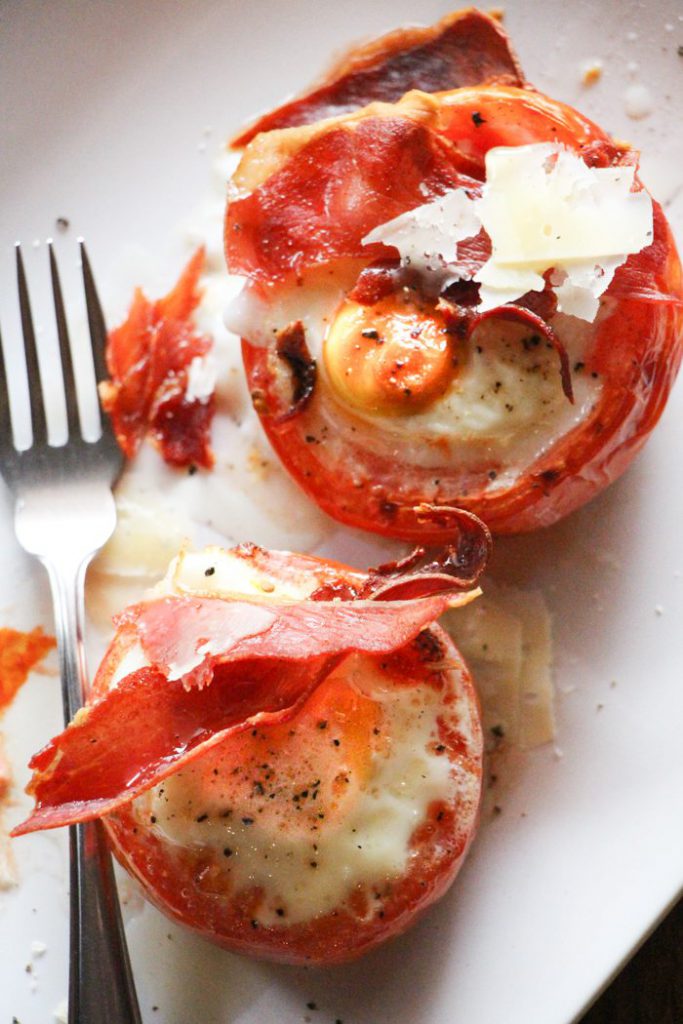 All you do is use a spoon to scoop out all the flesh from the inside of each tomato so it looks like a little cup. Add a couple of spoonfuls of pasta sauce, a sprinkling of oregano and then carefully crack an egg inside. Bake in a moderate oven ( 180C) for 15 minutes, or until the egg sets (or cooked to your liking). While they're cooking, place a strips of prosciutto onto an oven tray and bake until crisp.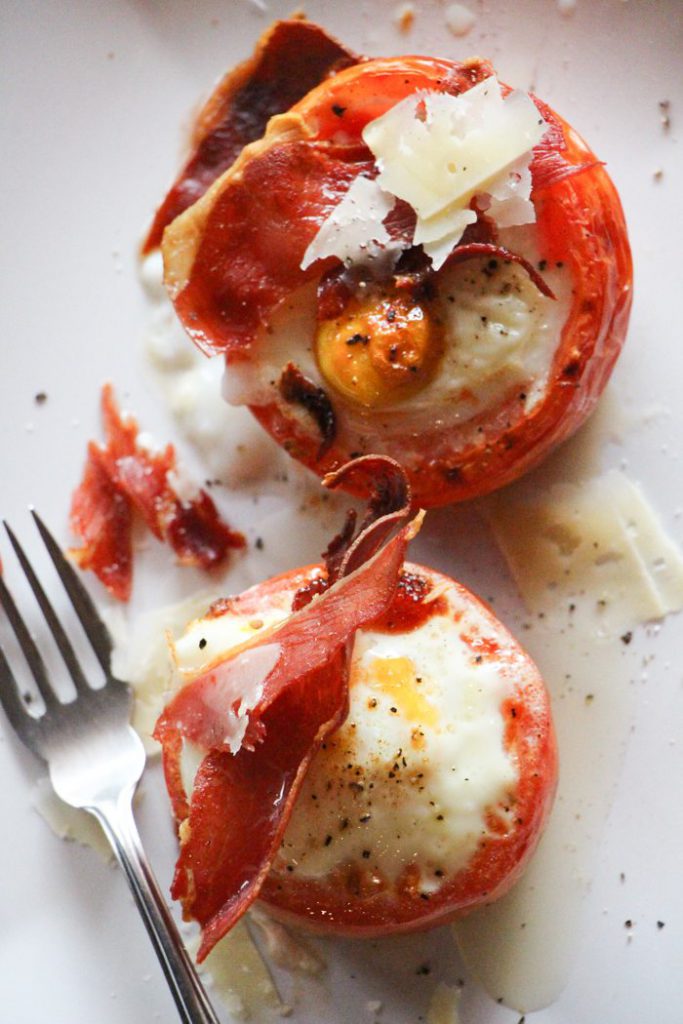 Once the prosciutto is crispy and the eggs are set, remove from the oven. Top the tomato cups with prosciutto, a good grinding of black pepper, salt and shaved parmesan.  YUM!! Baked eggs – Italian style!!
Tomatoes with Baked Eggs and Crispy Prosciutto
Author:
A whole meal in a tomato! This is really delicious and easy to make.
Ingredients
2 large tomatoes
Salt
Freshly ground black pepper
4 tblsp tomato pasta sauce
½ tsp dried oregano
2 eggs
1 slice prosciutto
shaved parmesan, to serve
Instructions
Preheat oven to 180 degrees. Line an oven tray with baking paper.
Cut the tops of the tomatoes and scoop out the flesh. Season the inside with salt and pepper. Add two tbsp sauce and ¼ tspn oregano per tomato. Place on the oven tray. Crack an egg into each cavity. Bake for 15 minutes.
Pull the tray out and lay the piece of prosciutto on the tray. Return to the oven and cook for another 10 – 15 minutes, or until the prosciutto is crisp and the eggs are set.
Place a tomato on each plate, add ripped up shards of prosciutto and top with shavings of parmesan. Season with a little salt and pepper and serve.
Serves 2