My kid's favourite dessert ever. This cookies and cream cheesecake is simple to make, requires no cooking and is absolutely delicious.
I'm not going to lie, this is decadent. Oreos are up there with the most calorific cookies you can buy, but there's good reason for that. Intensely chocolatey, they turn this creamy cheesecake into a very naughty, ultra delicious treat.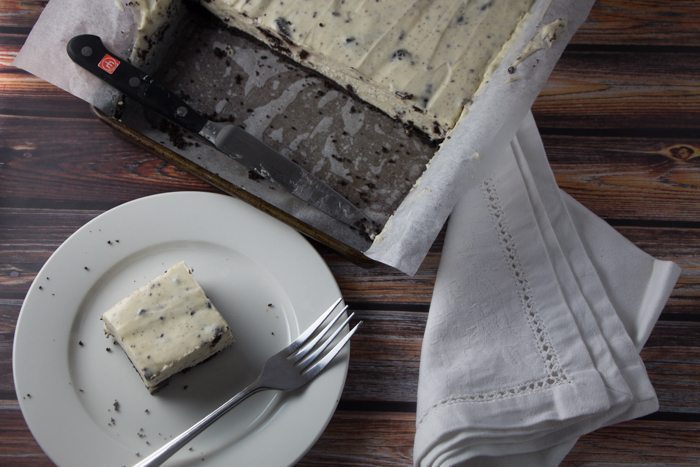 You can, of course, make this into a round traditional 20cm springform tin to make a round cheesecake, but it is very rich, so I like making it like a slice so we can cut smaller squares.
Cookies and Cream Cheesecake
Author:
Prep time:
Total time:
An Oreo biscuit base and a creamy white chocolate cheesecake filling, this is bound to become a new favourite.
Ingredients
400gm Oreo Biscuits
80gm melted butter
750gm Philadelphia Cream Cheese, room temperature
1 cup caster sugar
1 tspn vanilla extract
2 cups thickened cream
6 tspn powdered gelatine, dissolved in 1/2 cup boiling water
400gm white chocolate, melted
Instructions
Place 250 gm of the Oreo biscuits into a food processor and process to fine crumbs.
Add the melted butter and combine.
Line a 20cm x 30cm baking tin with baking paper, leaving two sides overhanging.
Press the biscuit crumb into the base of the tin, ensuring it is as level as possible.
Refrigerate while you make the filling.
Beat the cream cheese, sugar and vanilla with electric beaters until smooth.
Add the cream and continue beating until combined.
Stir in the gelatine mixture and the melted chocolate.
Chop up the remaining Oreos and stir through the mixture.
Pour over the biscuit base, cover with clingwrap and refrigerate until set.
Cut into slices to serve.