A very moreish salad, this flavoursome side packs a punch with it's sweetness and earthiness.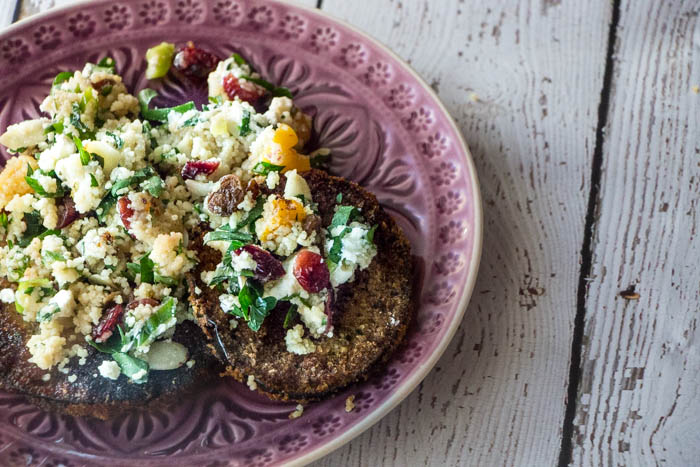 The eggplant give an almost meaty texture to a beautifully vibrant salad. This is a great vegetarian meal on it's own, or pair it with a simple roast chicken or lamb.
Crumbed Eggplant and Jewelled Couscous Salad with Feta
Author:
Prep time:
Cook time:
Total time:
Crispy crumbed eggplant with a flavour packed couscous salad is a winner with your next roast chicken or lamb.
Ingredients
I large eggplant, cut into 1 cm round slices
2 eggs, lightly beaten
2 cups dry fine breadcrumbs
¼ cup grated parmesan
olive oil, for shallow frying
2 cups Couscous
2 tbsp chicken stock powder
3 tsp ground cumin
2 tbsp olive oil
juice of 1 lemon
100gm flaked almonds, toasted
1 handful of fresh parsley, chopped
1 handful of fresh coriander, chopped
1 handful of fresh mint, chopped
1/2 red onion, chopped
200gm dried cranberries
200gm dried apricots, chopped
Salt and pepper
200gm feta, roughly crumbled
1/2 cup Greek yoghurt
Instructions
Place whisked eggs in a bowl. Place breadcrumbs mixed with parmesan cheese in another bowl. Place a frypan on moderate heat and fill to a 1cm depth with olive oil.
Dredge the eggplant slices in egg, then coat with the breadcrumb mixture. Shallow fry for 2 minutes each side or until golden. Drain on absorbent paper and set aside.
Place couscous in a heat proof bowl, cover with boiling water and the chicken stock powder. Stir, then cover with clingwrap for 10 minutes to absorb.
Remove cover, fluff up with a fork and add the spices, fresh herbs, dried fruit, flaked almonds, onion, olive oil, lemon juice and mix to combine. Season with salt and pepper.
To serve, place eggplant on a plate, top with the couscous salad. Sprinkle with crumbled feta and dollops of yoghurt. Serve at room temperature.