This chicken and broccoli pasta is a healthy meal for all the family that's ready on the table in minutes.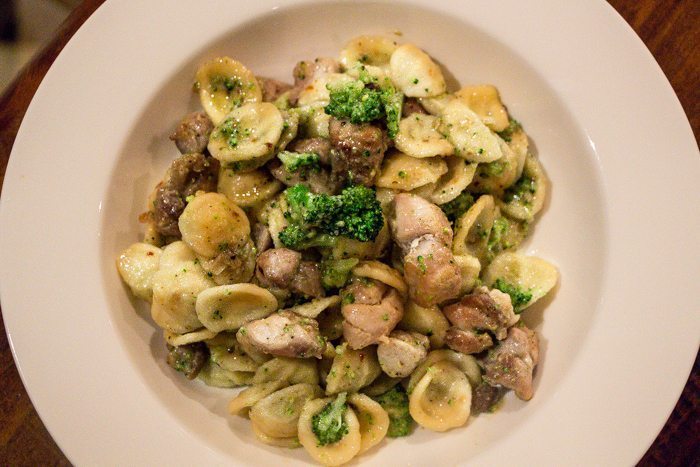 Orecchiette (meaning little ears) are one of my favourite shapes of pasta. You can make them yourself if you have the time and patience, but it's easier to buy them at the supermarket. Their slightly toothsome texture means you don't need as much as you think to fill your belly. Teamed with inexpensive chicken thigh and a boost of vitamins from the broccoli – this is fresh, fast family food – Italian style – at it's best.
Orecchiette with Chicken and Broccoli
Author:
Orecchiette with chicken and broccoli – a healthy family meal ready in minutes.
Ingredients
4 chicken thigh fillets, cut into small chunks
Olive oil
Salt
3 cloves garlic
250gm orecchiette pasta
2 handfuls broccoli florets
½ cup parmesan cheese, grated
freshly cracked pepper
Extra parmesan and chilli flakes (optional)
Instructions
Place a port of water onto boil. Add a good pinch of salt and once boiling, add the pasta. Cook as per packet instructions or until almost cooked.
In the last minute of cooking, add the broccoli florets and continue cooking until the pasta is al dente and the broccoli is tender. Drain in a colander, reserving a cupful of the cooking water.
Meanwhile, splash a little olive oil in a frypan and cook chicken over a high heat until golden. Season and set aside.
Place ¼ cup olive oil into the same pan, heat moderately and add the garlic. Sautee for 1 minute. Return the chicken to the pan. Add the drained broccoli and orecchiette and stir to combine. If it looks a little dry, add some of the reserved cooking water. Add some cracked pepper to taste, then sprinkle with the grated parmesan.
Remove from heat, stir as the parmesan melts.
Serve immediately with extra parmesan and chilli flakes if desired.